Hiking is America's (and the world's) most desired activity. Notice that I didn't say "most popular", because, let's face it, walking in the woods is not that easy. However, it is truly a rewarding experience. It is challenging, but you will feel tremendous – physically, emotionally, mentally, and even spiritually. If you had come across this article, then I assume you have already decided on a hiking trip, and now you want to know just what to take with you. Well, fear not, I have you covered. Here is the most comprehensive list that my friends and I have come up with.
Before you read every item, I recommend printing the following checklist and using it as you pack for your next hiking trip: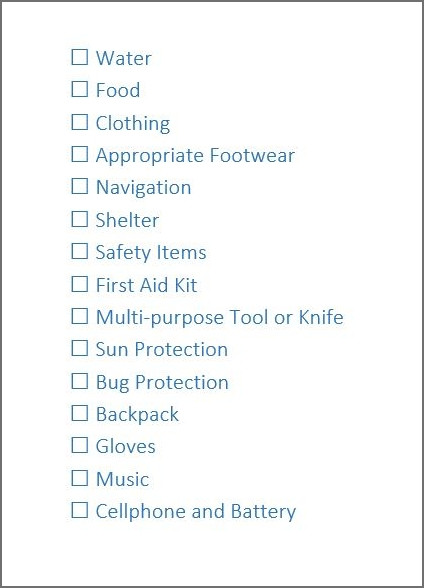 Water
Water is, of course, the number one thing to have on a hiking trip. You must stay hydrated at all times. The recommended amount to drink on a hiking trip is 1 liter/34 ounces every two hours. I've written a detailed article explaining why and how it can be accomplished.
Without enough water, your muscles, mind and whole body cannot function, and you risk really harming yourself. Consuming low amounts of water will leave you thirsty, and you may also be susceptible to altitude sickness and hypothermia.
It is recommended to bring extra water as well, and an even smarter move is to have with you a water purifying device.
Food
Naturally, you would also need energy on your trail, and that requires food. You probably won't be able to "live off the land" like in a Jack London's book. You will need to carry some nutritious snacks that will keep you walking. A trip that takes a few hours probably does not demand a food that needs preparation. On the other hand, if you intend to camp in the wild, consider packing serious meal ingredients – but make sure you know how to cook while camping. Aditionally, I put together a good list of food to pack for camping, feel free to check it out.
Some of the food that I recommend bringing includes:
Wraps and pitas – a great "container" food that can hold your meal without a need for plates and utensils.
Vegetables – nutritious veggies are always full with vitamins and minerals, and they can keep you going whether you're a vegetarian or not.
Trail mix – a hiker's favorite snack. Nuts, dried fruit, granola, and all of it is packed with energy-providing nutrients.
Marshmallows – a classic food to eat by the campfire.
Tuna and crackers – a combination that can serve as a lunch on the go.
Prepackaged and freeze-dried meals – they don't require cooking.
Additionally, if you're already bringing extra water, it's best to have a bit more food as well. You don't know what can happen during your hike that will keep you out more than expected or planned. You may get lost, you may enjoy your hike so much that you would like it to last more, you may get injured, or find yourself in a difficult terrain. Extra food is the way to keep your energy and morale up and running.
Clothing
It goes without saying that you should wear comfortable clothes for your hiking trip. But you may also consider packing extra clothing, and maybe even rain gear. When you dress in layers, you allow your body to adjust to changing weather as well as activity levels.
Also, when it comes to hiking clothing, remember these important rules:
Avoid cotton, as it keeps moisture close to your body. You can wear dri-fit shirts, pants (such as hiking pants for women) and other clothing that bring the sweat up from the skin to the surface and thus keeping your body dry.
Always carry a hiking hat, it keeps your head from the sun's heat and rays, and can even help in a case of a rain. I strongly recommend the breathable sun hat, a perfect hiking accessory. Pick a hat with a drawcord that can be adjusted, and especially one that guarantees to block at least 98% of the ultraviolet sun rays. Look for the seal of approval by the Skin Cancer Foundation before you decide what hat to purchase.
Also, it is recommended to wear wool socks. Wool socks are the best hiking choice, they control temperature and serve as a cushion to your feet. They provide you with the maximum comfort, and, unlike the plain socks, they don't slip to the bottom of your shoes.
Speaking of socks, the best wool socks for hiking and walking have to be Merino Wool Hiking & Walking Socks (3 pack), an Amazon's Choice product with thousands of positive feedbacks. Their high quality material (merino wool) makes sure you are comfortable and dry in any season and any weather. They also have a ventilation mesh that removes the sweat. In addition, they are cushioned and padded, so that you don't get blisters and aching feet while walking in them. It goes without saying that these are the most ideal socks for any hiker.
You can also use a bandana. It's a must-have items that hikers adore. They have multiple uses, being utilized as face masks, napkins, headbands, and so on.
Clothing also depends on time of the day and the season, so make sure you read about the best time to hike.
Appropriate Footwear
Trail shoes are great if you plan a short day hike that does not involve a heavy pack and/or technical terrain. If you plan a longer hike, carry heavy loads or plan to hike a tougher and more technical terrain, consider wearing hiking boots for better support. Your shoes must have quality ankle support, and of course, be of the correct size. I have mentioned the helpful wool socks earlier, your footwear needs to have some gap around the feet, a room for your socks. Shoes and socks are a significant part of any camping checklist.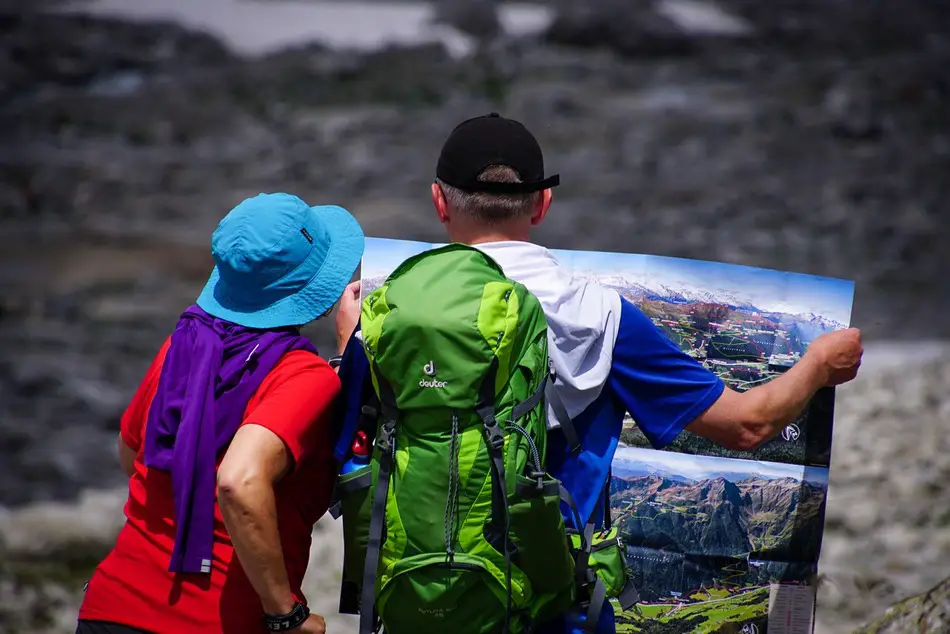 Navigation
Maps, compasses, GPS devices – everything falls under the category of navigation. There are no street signs on your trails, you should be capable of knowing your route and direction. Apart from telling you where you are or how far you still have to go to reach your destination, a map, compass or GPS can assist you in finding water, campsites, and even an emergency exit route if necessary.
Still, do not rely only on a GPS device. It is very much recommended to have a map and compass with you as a backup. They are small, don't take a lot of room in your backpack, and are easy to carry. Better safe than sorry. I have even compiled a list of tips that can help you choose the best compass for your hiking trip, so check it out, too.
Here is more info on using a map and compass:
Shelter
Shelter is another essential part of your survival, as I explained in another post. It is highly necessary if your trip lasts for more than one day. A good shelter saves you from exposure to harsh conditions, from the scorching sun, chilly low temperatures, rains, winds, bugs, snakes and reptiles. You will feel much safer, sleeping with something above your head and around you.
Therefore, you will need to bring a tent. Sure, it will probably be the biggest item attached to your back, but you cannot spend the night in the wild without it. If you're traveling in a group, you can take turns carrying the larger objects, such as the aforementioned tent.
Tents and survival shelters come in all shapes and sizes. We have progressed a lot since the times of a simple tarp stretched on a few sticks. Today you can purchase a shelter that accommodates several people at once and come packed with features, such as:
Insulation
Floor
Inner dividers that separate the shelter into several compartments
Portholes
Reflectors
Waterproof coating – especially needed if you are camping in the rainy conditions
Ventilation
Mesh covering on doors and windows that stops insects
If you're taking a vehicle, consider using a roof rack tent
These and other features can turn your shelter into a small home away from home. You can safely rest and sleep there, prepare and consume food, play games, read, listen to music, and so on. Make sure you know what the best way to heat a tent is.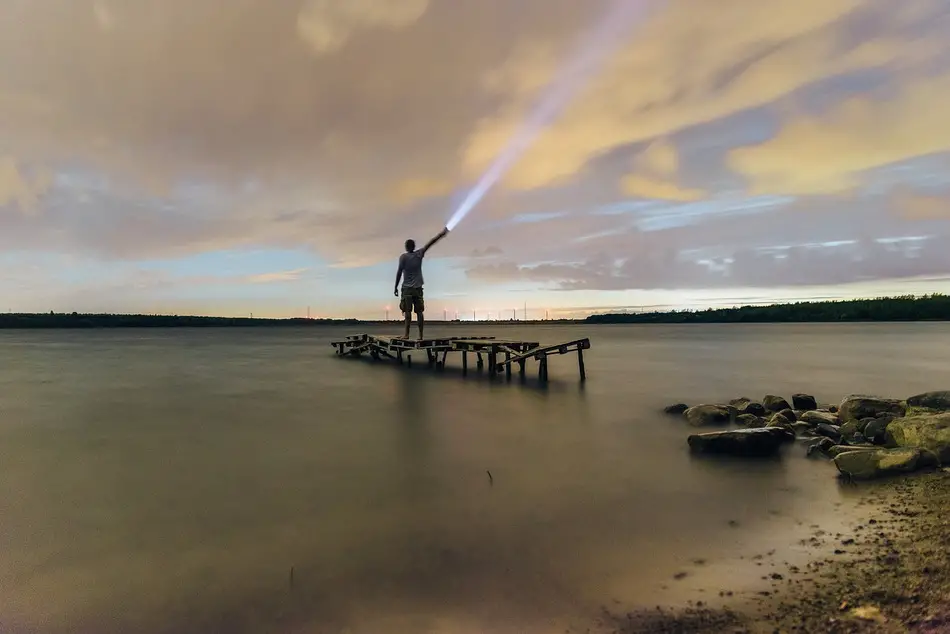 Safety Items
In the safety products and items category, we can find light, fire and a whistle.
The warmth of the fire along with hot beverages can help prevent hypothermia. Starting a fire is also a good way to signal for help, in case you find yourself lost or injured, and unable to move on or continue along. Bring matches, lighter, flint or anything else that can be used to start a campfire. Make sure you put the fire out in the morning or after your break. Fire safety first!
Also, if you get lost, it's a good thing to have a whistle with you. It is better to use the whistle than scream your lungs out. This way you will be heard for longer distances. When using a whistle, use three short bursts. This will make your call sound different from the bird sounds and hoots of the forest around you. Keep making that triple whistle until help arrives.
If you're out when it's already dark, bring with you a flashlight or headlamp. Not only will you see the road better, but you will also be able to read the map, if necessary. I made a list of emergency flashlight recommendations and also a list of best camping flashlights, you should really check them out.
First Aid Kit
This is an absolute must! A first aid kit is your loyal companion in times of need. On a long hike away from the civilization, you cannot know just what might happen to you. The kit can literally save your life until help arrives or you reach safe haven, and your injuries are treated. This is why a first aid kit always appears in any list of crucial survival gear.
Pre-packaged first aid kits for hikers and travelers exist, make sure you have one in your backpack and it includes such items as:
Band-Aids
Gauze
Medical tape
Antiseptic wipes
Multiple bandages
Scissors
Single use saline
Eye bandages
Burn cream
Antibiotic cream
Sting wipes
You should also pack whatever prescription medicine you're taking regularly. Get familiar with the items inside and know what they treat. You can never know when you will need them, and let's hope that you never do.
You should also know exactly what the purpose of every item in the first aid kit is and how it can be used. This following informative video will help you to learn:
Multi-purpose Tool or Knife
There are limitless ways in which you can use a knife of a multi-purpose! For example, it allows you to cut strips of cloth into bandages, remove splinters, fix broken eyeglasses, open a bag of delicious and nutritious trail mix, cut a tangle of cord free from your backpack and perform many different repairs on your gear, in case they are needed. For an advanced hiker or survivalist, here are all types of survival knives and how to choose the best one for you.
If you need a reliable, versatile – and affordable – multi-purpose tool, then look no further than Morpilot 25 in 1 Multitool (available on Amazon). This stainless steel multitool includes knife, wire cutter, pliers, screwdriver, bottle opener, can opener, and so forth. It's sturdy, yet compact and lightweight, you can take it anywhere with you. Comes also with a safety lock, a nylon sheath and 1 year satisfication warranty.
I also suggest you check my list of top 10 best multitools.
Backpack
A good and durable backpack is what separates a tiresome hiking experience from an awesome one. Almost everything you're carrying will go in it. Which is why it must be comfortable and serve you for many trips in the future. It is also advisable to get a backpack with a rain built-in cover. Additionally, many packs come with a flexible net pocket on their side, where you can store a water bottle for an easy reach.
For the best hiking experince, I recommend you get TETON Sports Scout 3400 Internal Frame Backpack, a bestselling backpack from Amazon. This high performance and high quality backpack has it all: internal frames, adjustable belts, padded back panel and shoulder straps, multi-purpose compartments, and more. It fits anyone – men, women, young and adults – and is an ideal companion for a 2-4 days long hiking adventure. Hundreds of 5 star reviews can't be wrong!
Sun Protection
Sun protection can be important during both hot and cold weather. For instance, you'll need sunglasses when you are above treeline and there is a skin-scorching combination of sun and snow. This will protect your eyes from snow blindness.
And then there is the sunscreen. As the song goes, "Wear sunscreen. If I could offer you only one tip for the future, sunscreen would be it". The sunscreen will prevent sunburns and protect your skin from cancerous rays. Bring a tube or a spray with a good level of SPF, and apply it every couple hours while you're outside. Sun protection is an essential part of any hiking trip planning.
Bug Protection
Bugs can be a great hiking nuisance. The outdoors often have them buzzing nearby. But don't let this deter you from going on a hiking trip. An old faithful bug spray will keep the gnats, mosquitoes, flies, ticks and other insects away from you. Some sprays offer as much as 8 hours of anti-bug defense and protection!
But if you have doubts about the effeciency of the repellents you buy at the store, then Sawyer Products Premium Insect Repellent (from Amazon) is the right choice for you. This extremely effective protector guarantees that no gnats, flies and mosquitoes will ever bother you. It's completely  safe for adults, children, dogs and equipment. And, with thousands of positive reviews, this is the right choice for a bug repellent.
Gloves
A pair of high quality, lightweight gloves are especially necessary in cold, late year hiking trips. They deserve a separate mentioning from the clothing. Also make sure yours are waterproof, to keep you dry and warm if the rain suddenly surprises you. And it can get even worse in the winter, when your gloveless fingers will freeze, and the whole hiking experience will turn painful and unbearable.
So get yourself a pair of good gloves and enjoy hiking in a chilly weather or high altitudes.
Music
If you're planning to hike for an entire day, whether alone or in a group, some music can boost your step and morale. You can use headphones, earbuds or a portable speaker. A speaker, by the way, requires only 3 hours of charge, and then it can be played from morning to evening. I know, I know, most of us prefer just the sounds of nature, and this item is completely optional. Then again, you can alter between the sounds of the birds and the sounds of Beyoncé.
Cellphone and Battery
No, I don't encourage you to take your smartphone with you and stare at it while missing the wonders of the nature. However, a cellphone can be quite useful and even necessary. If you have mobile data and good reception, you can use it for things like:
Navigation
Calls to emergency services in times of need
Calls to your friends to brag about where you're at
Take photos and videos of your travels
Information – find out about your surroundings, the animals you've spotted, and whether or not you can eat from the plants you've encountered
Listening to music
In addition, you should carry a portable battery to give your phone that extra charge it needs after several hours. It's especially important in case of an emergency. A dead phone could mean a dead owner… Such a battery is usually very small and will not add more weight to your backpack.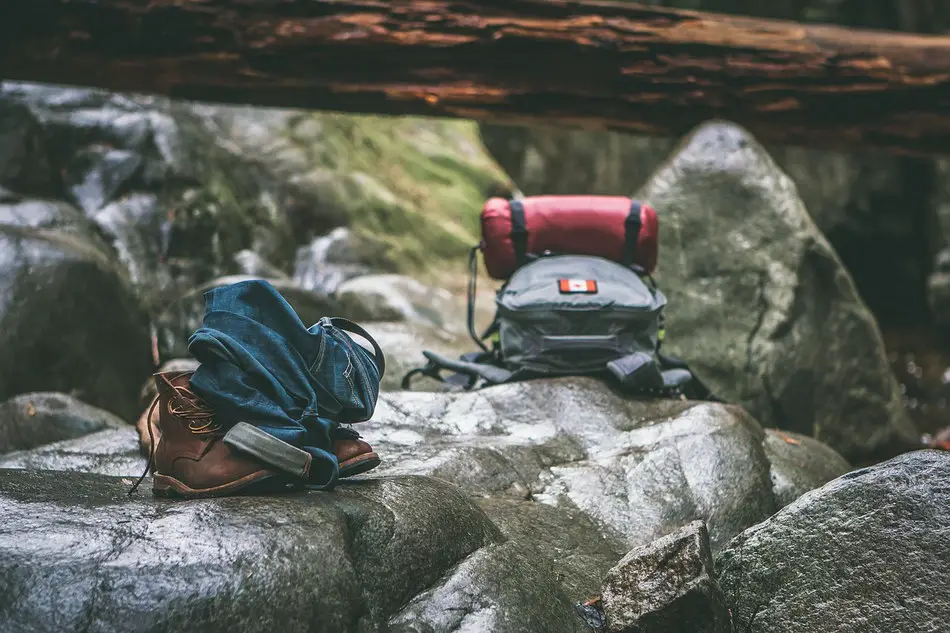 What NOT to Bring to a Hike
Now that you know what to bring, here are a few items that are not recommended for your trails.
Jewelry – come on, really? Who are you going to impress in the middle of the woods? Not only is jewelry a completely redundant accessory on a hiking trip, you can easily lose it, and then regret the oversight of taking it with you.
White clothing – it won't be white for long. A white shirt or pants will look terrible after an hour of walking, with all the sweat, dirt, mud and dust color settling in. Instead choose gray, camo or just colorful clothes.
Jeans – while they have the reputation of being a universal clothing, they are usually limiting and uncomfortable during the long hikes.
Cotton clothing – again, a material I won't recommend wearing during the hikes. Just go for synthetics, they dry quickly and let your skin breathe. As mentioned earlier, while cotton absorbs sweat, polyester does not absorb most of liquids and lets the sweat dry away.
Related Questions
How do you carry water on a hike? There are 3 major types of water containers. You can use a regular water bottle, a collapsible water bottle, or a hydration pack. Each item has its pros and cons. I invite you to read my article on water and hiking, where you can also find further information about these containers.
How do you purify water when hiking? If you are not carrying enough water, you can purify it from a water source. There are many quick and thorough methods, such as boiling, chemical treatment, cloth filtration, UV purification, and so on. Again, I have a very comprehensive post on water purification that you simply must read.
How should I prepare for a week long hike? The answer is "baby steps". Start with short walks that you can take 2-3 times a week. See how it feels and build your stamina. Wear the same clothes, shoes and backpack that you would during the week long hiking trip. Then challenge yourself for even longer walks. Also, I advise to read my article about backpacking for beginners, it's full of useful information.