Hiking boots are crucial for anyone who wants to hike any terrain freely while feeling as if they are walking barefoot. But, in order to hike with a smile on your face, you have to choose the right pair for your needs.
So how do you choose hiking boots? When choosing hiking boots, follow these steps:
Know what type you need
Test how durable and stable they are
Make sure the boots are warm
Make sure the boots are water resistant
Check whether they feel comfortable and not too heavy
In this article, I cover everything you need to know regarding how to choose hiking boots that fit your needs. I will also recommend a few of the best hiking boots for this year (see immediately below), and even talk about treating blisters and solving different boot problems. So let's get started.
How to Choose Hiking Boots
Select the Correct Hiking Boot Type
There are three major types of hiking boots:
Backpacking boots: If you intend to go on a long trip that includes both day and night, and pack a heavy load, then these are the boots for you. They come in high-cut that wraps above your ankle. This gives you the full support you require. These boots are designed both for off-trail as well as on-trail travels. They are highly supportive and durable, partially thanks to their stiff midsoles.
Hiking shoes: This model is low-cut and has flexible midsoles. This makes the hiking shoes ideal for a regular day's hiking and walking. There are backpackers who prefer to choose trail-running shoes when they are about to go on a length journey.
Day hiking boots: The models of these boots range from mid-cut to high-cut. They are perfect for much shorter backpacking trekking, as well as for hiking during the day. These shoes have no problem being flexed. However, they don't have the same durability and support as the previously mentioned types.
Know the Important Components of a Hiking Boot
The parts and materials of a boot are the deciding factors that influence its weight, durability, resistance to water, flexibility, how breathable it is, and so on. Let's break down the hiking boot's components and have a thorough look at them. The following image highlights the boot parts that I will discuss.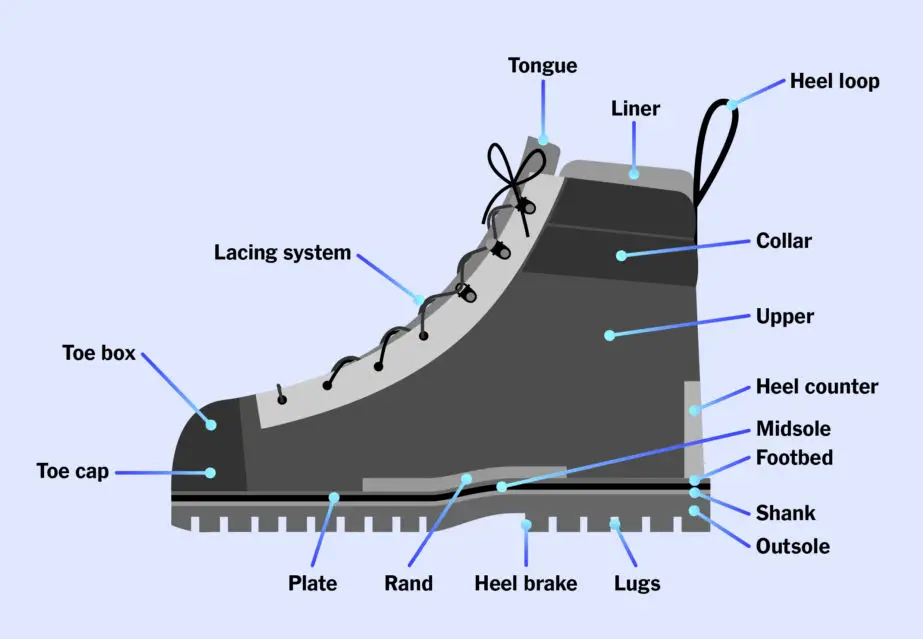 Outsoles
Rubber: The main material for hiking boots' outsoles is usually rubber. Some outsoles, especially in the mount climbers' shoes, includes carbon to make them extra hard. A harder outsole means a much more durable boot, although it can get slippery if you don't hike on a trail.
Brake: This is the heel area of the outsole, right after the arch. A well-defined heel brake helps preventing you from sliding down. A very useful feature for steeply declining surfaces, such as a hillside.
Lugs: Lugs are those bumps that you see on the outsole. Their main purpose is to supply traction. The thicker and the deeper they are, the better is the grip on the surface. Additionally, lugs that are widely spread give even more traction, and they also stop mud from getting stuck between them.
Midsoles
The midsole provides the boot with cushioning, thus protecting your feet from all kinds of shocks. It also determines the stiffness of the boot. You may think that stiff boots are not good for you and that they feel uncomfortable. In actuality, they are great and suitable if you plan to go for a long hike, especially on uneven and rocky terrain. Stiff boots provide a lot of stability and comfort.
The midsoles are mainly made of one of these 2 materials:
Ethelyne vinyl acetate (EVA): A cheaper and more comfortable material, with diminished weight. The density of this material changes between different spots of the midsole. For instance, it's denser in the forefoot area in order to give a better support.
Polyurethane: This material is considered being more durable. Because it's firmer than the EVA, it's widely used in boots made for mountaineers and backpackers.
Internal Support
Shanks: Located between the outsole and the midsole, the thin shanks function as load-bearers. They provide additional stiffness. Some of these inserts cover ½ of the midsole, while others are as long as the midsole itself.
Plates: They are also located between the outsole and the midsole. If the boots come with shanks, then plates are inserted beneath the shanks. Plates add protection to your feet by preventing bruises caused by rocks and roots.
Uppers
The upper part above the sole has its own features and materials:
Synthetics: Modern hiking boots and their uppers quite often feature materials like nylon, polyester or synthetic leather. Their advantages is their lower cost, short break-in period and less weight than the leather models. They also can be quickly dried, which is always a good thing when travelling in a wet or snowy weather. The downside is that they usually have more outer stitches, which can lead to a quicker wear.
Full-grain leather: While full-grain boots require an extended period of break-in time before you rake them on a long hike, they are well known for their quality. They offer excellent resistance to water and abrasion, as well as reliable durability. While not as breathable as other types of leather or nylon, they are widely used for backpackers who go on long treks across tough terrains while carrying additional load.
Nubuck leather: This is a variation of the previously mentioned full-grain leather. The leather went through a buffing process to receive a suede-like texture. It's water-proof, highly durable and anti-abrasive. Nubuck hiking boots are also known for their flexibility, but it takes a lot of hiking before they achieve it.
Split-grain leather: Breathable, lightweight boot uppers are often made by a combination of nylon (or nylon mesh) and split-gran leather. This type of leather is created by removing the rough inside of the cowhide, leaving only the smooth outside part. This lowers the boots' price, but in the results the boots become more abrasion-prone and less waterproof. Some models come with liners to compensate for this and provide with additional water resistance.
Insulation: Some mountaineering models come with extra insulation made from synthetic materials. The insulation makes the hiking boots warmer, which is a huge plus when you are hiking on icy or snowed surface.
Vegan: A more recent trend in hiking boots, vegan-friendly footwear. It means that no animals were used in the production of these shoes.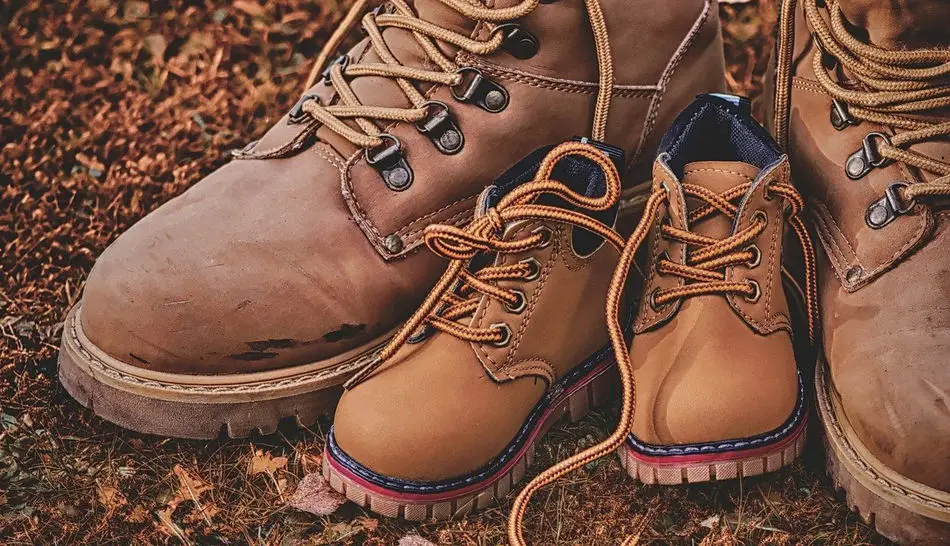 Choose the Right Fit
Now that we have an understanding of how the hiking boots are constructed and what they are made of, here are a few important tips you must know before choosing the right fit of your next hiking boots:
Size: First, you should know the size of your boots. For complete accuracy, you can measure the length, width and arch of your foot, or consult a seller at the store.
Trying boots at the end of the day: During the day, your feet tend to swell a little bit, and so, at the end of the day, they'll be at their largest size. This is the best time to try new boots that will fit your feet.
Orthotics: If you wear them, then bring them with you when you try the new boots on, as they have an impact on the boot's fit.
Socks: When you wear appropriate socks that are accustomed to you, then it's much easier to assess the required fit and the feel of the new boots.
Feel: Spend time with the boots to really feel them. Take a stroll in the store, try maybe walking up and down some stairs, and really see how they feel "in action" as much as possible.
Online shopping: If you purchase the boots online, consider buying boots from a brand you are familiar with and have worn before. Companies almost never change their foot models, and chances are they will fit you perfectly.
Knot: The way you lace the boots changes the way they fit. So, consider changing knot strategy if necessary.
Here is a great video from IntenseAngler that gives further information on choosing the best hiking boot:
Preserve Your Boots
If you wish to enjoy your brand new hiking boots for many more years to come, here are a few preservation tips:
If you're planning a particularly long trip, pack a waterproofing treatment. Your boots will definitely feel much more limber and protective after being treated during the trek.
Be careful not to expose leather boots to too much water, as a wet leather might shrink and lose its shape.
A boot tree is an excellent invention that can recondition your well-travelled boots.
For extra comfort and flexibility, treat your boots with silicone and waterproofing wax.
Know How to Treat Blisters and Other Boot Problems
Your new hiking boots can be high-quality and super-comfortable, but there is always a chance you'll suffer from some discomfort, such as blisters, injuries and other foot problems. Here are a few common problems you may encounter, and also how to solve them:
Blisters
Even the most seasoned hiker can suffer from blisters. They are even worse when it's wet and the skin is much softer. But this is how your organism reacts to friction. Boots that are too big can create friction because they don't flex where your foot naturally flexes.
Pay attention whether the blisters keep pestering you after your boots are no longer new. If you've been wearing the correct socks that don't create additional friction, then it's time to invest in a proven solution against blisters. Get a good footbed, such as the highly recommended Carhartt Insite Technology Footbed (from Amazon). This synthetic insole will firmly support your feet, keeping them well-positioned inside the boot and preventing those horrible blisters.
Toenails
If you're undertaking a particularly long hike, and your toes get somewhat blue or black, then they should be treated. This is caused by swollen feet that repeatedly strike the toes against the boot. It can also appear when the toenails are too long, or when the heel cups don't fit snugly. Hiking down a hill for a long time causes the feet to get smashed against the forward part of the boot. Any of these, or a combination of them, can result in weirdly colored toenails.
The basic remedy to this problem is clipping the nails. In addition, you need to give the toe some space, so strap the boots tightly to keep the feet in the boot's rear end. You can also skip stringing the eyelets that are closer to the toes. If all this fails, either see a bootfitter who can resize your boot, or purchase hiking boots that are at least half a size bigger.
Toe Chop
This happens you're breaking in brand new leather boots. Once these sturdy boots begin to flex, the uppers create a deep wrinkle that stabs your toes.
To avoid feeling like you're wearing an axe above your toes, break in the new boots of much shorter walks at first. Don't attempt a long hike after you feel comfortable in them. If this fails and you still experience the toe chop, a professional cobbler is always the best solution. A cobbler has the right tools to give your boots the right shape that does not harm your feet.
Soles
Thousands of steps per day create a lot of pressure on your soles, especially on the balls of the feet. Tender feet feel tremendously sore and unpleasant. In some cases, a nerve in the feet's center gets bigger, causing the toe to feel like they are burning or tingling (this is known as Morton's neuroma).
The main culprit is inadequate padding inside the boot you've chosen. Thankfully, the insoles can always be replaced. Keep the replacement insoles around, especially when you are trying new boots on. A bootfitter can also trim or decrease the thickness of the insole. Of course, if are a suffering from a pinched nerve, a surgical intervention could be in order.
Numb Feet
Sometimes the boot can feel great, and there is nothing wrong with it. But if a foot is considerably narrower than the shoe, we instinctively secure the laces much tighter than necessary, supposedly to feel a better fit. As a result, the feet turn numb because of the pressure applied on them.
The solution is not to tighten your laces, but rather pad the inner space. Get felt pads from any shoe store and stick them on the inner surface of the shoe's tongue. Your feel will enjoy the extra comfort, as your instep is cushioned by these pads. If the pads don't work and your feet got inflamed at this point, visit a podiatrist to get injected with cortisone.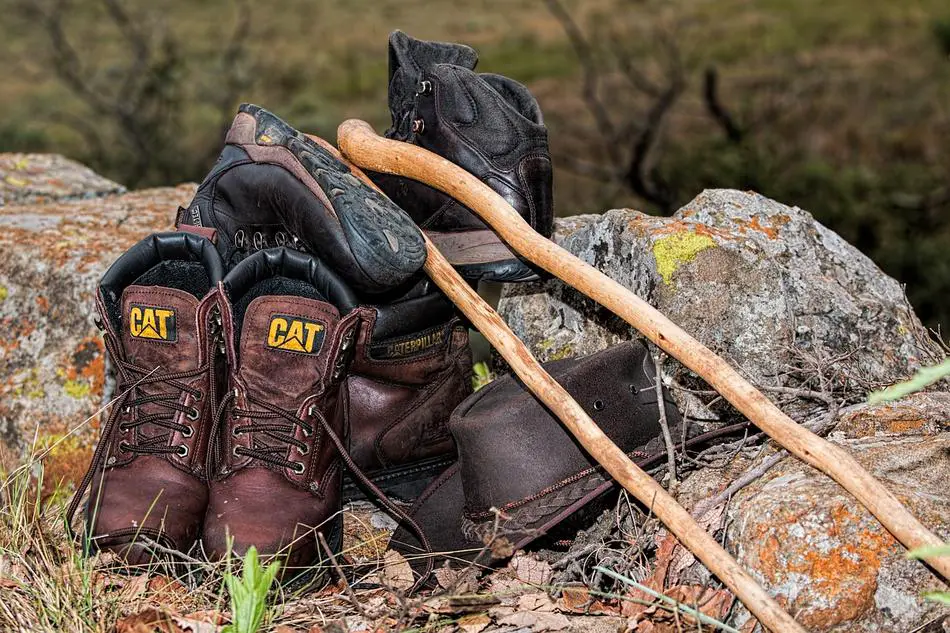 Top 5 Hiking Boots
Now that we know everything there is to know about hiking boots, how to choose them and even how to treat all sort of injuries, let's have a look at 5 of the best hiking boots you can get this year from Amazon:
Related Questions
What other equipment do I need to take on a hiking trip? If you're planning a long trip, then you probably need to cook. There is some basic cooking equipment that you should pack, like a firestarter, pot and utensils. Naturally, you will need water and food. You need to have appropriate footwear and clothes, as well as navigation means and first aid kit. If you need a more detailed list, I invite you to read my article about what you should bring for a hiking trip.
What do I need to know if I'm hiking alone? Hiking solo is quite an experience. Make sure that you tell the people you know, as well as the park ranger, what your planned trail is. Study the terrain before you visit it, to be prepared for any surprises. Bring enough food, water and appropriate equipment. Remain on the trail, don't wander off to explore an unfamiliar territory if you're not experienced enough. Additionally, please read 20 tips for hiking alone that I wrote.