Whether you are living the off grid lifestyle, training for extreme scenarios, or just enjoying your weekly camping and hiking trips, it is crucial to be prepared for any given situation. Millions of people in the U.S. and around the globe visit national parks and go on hikes, but many of them get lost, seriously injured, or even worse. You need the absolutely best survival gadgets if you wish to live and see another day.
In this article, I decided to share with you some of the best survival gadgets and gear of the current year, so that you will be ready for every possible situation. You don't have to be an expert survivalist, just know the important tools that you should have on you when the worst happens. This way, you will never be surprised by anything, and you will definitely overcome the odds.
So, let's have a look at some of the best gadgets for your survival in 2020 and understand why you need them. Most of them are available on Amazon (unless stated otherwise) and linked to their product pages. Further down the article, I will also explain how you can choose the right survival tools and answer several related questions. If you wish to skip to a gadget category that interests you, here are quick links to the categories:
Best Water and Food Related Survival Gadgets
There are many purposes for starting a fire in the wilderness, from keeping yourself warm, to cooking, to keeping animals and insects away for your safety. This terrific survival fire starter is wind-resistant and easy to use. However, this is not just a survival fire starter, it's a 3-in-1 emergency tool! The survival fire starter is also equipped with a compass and a 150 DB SOS whistle.
Here are some more features of this great tool:
Windproof and weather resistant
Can be struck up to 15,000 times in order to start a fire
Large scraper: Use the extra-long scraper to easily and quickly spark a flame on the tool's magnesium rod.
Fits anywhere: The firestarter rod is only 5.5", which means you can easily store it in your car, camping gear, survival kit or wherever you choose.
Click here to read more reviews and compare prices.
There's no life without water! Therefore, no matter what activity you choose to do, whether it's hiking, camping, climbing or just taking a walk outside, you should have clean water with you. The LifeStraw water filter is an amazing survival gadget! It uses a filter that can remove up to 99.9% of parasites, bacteria and microplastics from the water, giving you clean drinking water wherever you are.
The microfiltration membrane of the device can remove all kinds of bacteria, such as salmonella, cryptosporidium, E. coli, and giardia. Basically, you can add water to the LifeStraw from any water source and immediately get clean water that you can drink.
This is not just any water filtration device. The LifeStraw has been thoroughly tested in laboratories to insure it is safe and reliable to use. The filter provides up to 1,000 gallons of safe and filtered water for drinking. This amount is more than enough as the average person drinks less than this amount in a whole year. Just watch this excellent video from CNET and see how LifeStraw actually saves lives across the globe:
Other great features of this gadget:
Completely BPA free
Ultralight and easy to carry anywhere
No batteries needed
Immediately filter water from rivers, lakes, and streams, and safely drink straight from this device
Click here to read more reviews and compare prices.
This amazing portable camping stove allows you to cook food and boil water in merely minutes, while at the same time you can charge your cellphone or other electronic devices. Use sticks and twigs around you to feed the fire, so there's no need for fuel.
The BioLite Campstove 2 comes with an integrated 2600 mAh battery to charge your electronic devices, and also a LED dashboard. This way, you easily control the speeds of the fan, and also get actual data about the strength of the fire and the battery level.
So, how does this cool device work?
It captures waste heat from the fire thanks to the attached heat probe. Then, this heat is converted to electricity using a thermoelectric generator. The fan is powered and electricity is being sent to a USB charging spot, with excess power stored in the internal battery. Lastly, the fan inside injects air back to the burn chamber in order to improve combustion and also create an efficient and clean burn.
What else?
4 different fan speed settings
Aluminum legs that are lightweight
Protective barrier from inner burn chamber
Charge electronic devices with or without fire
Click here to read more reviews and compare prices.
This fabulous gadget is a camping cookware set approved by the FDA that combines many useful pieces to fit from 1 to 5 people, depending on the set you choose. You can choose between a set of 9, 12, 13, 18, or 23 pieces. It is light, compact and small, yet has everything you need in it.
Here is what this cookware set contains (differs according to the set you choose):
The following refers to the 23-piece set:
1 Pan
3 Pots
2 Dishes
5 Bowls
1 Soup bowl
1 Fork
2 Folding spoons
1 Tool card
1 Loofah
1 Nylon bag
1 Survival bracelet
This may look like many items to carry, but worry not. This great gadget is very lightweight and you won't even feel it in your backpack. It is made of high-quality anodized aluminum and weighs only 0.96 LBS/0.43 KG!
The kit comes with an oxford bag to store all the cooking pieces in it. Simply hang it on your backpack, or put it inside. And just like that, you are all set for lunch or dinner in the wild.
Click here to read more reviews and compare prices.
An easy way to start a fire is using a lighter, but this is not your ordinary lighter. This lighter is designed especially for outdoor activities and the survivalist, and here is how: it has a waterproof design so water don't get inside the lighter, even when it's raining. It is also flameless and windproof, so it's perfect for many outdoor activities like hiking, camping or even start a fire in an emergency situation to keep warm or signal your location, no matter the weather condition.
Other great features of this lighter are:
USB rechargeable (lithium battery)
No gas or butane needed to operate it
2 hours full charged
Easy and convenient carry thanks to its thick lanyard
High-quality and durable (Zinc alloy and ABS)
Click here to read more reviews and compare prices.
Best Survival Flashlights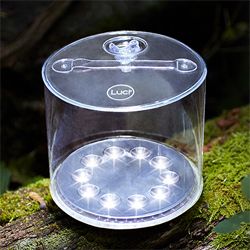 This patented survival gadget is all about providing lighting even in the most extreme scenarios. The most wonderful thing about the Luci Survival Solar Air Lantern is that it does not need batteries, electric outlet or any type of fuel. You just leave in the sun, and after it's charged – you can inflate the lantern and benefit from hours of reliable lighting.
The lantern comes full with awesome features:
Four distinct modes – low light, medium light, high light and flashing light
Completely waterproof
Lightweight, can be easily packed and carried
Provides bright light wherever you are – in a tent, on a boat, in the woods, and so on
Ten white LEDs
A fully charged lantern can give light throughout the entire day and night
Can be submersed in water (up to 1 meter / 3 feet)
Comes with a variety of protections again short circuit, overcharge and overdischarge
Manufacturer's warranty for 1 year
Guaranteed quality, up to all international standards
The Solar Air Lantern is marketed by Survival Frog, one of the world's leading survival stores. Survival Frog offers a 50% discount on second lantern, but that's not all. You also get a paracord survival kit for free with every two lanterns that you purchase. This pocket-size kit includes a very long piece of strong paracord and 10 important survival items wrapped inside of it.
This video demonstrates how this wonderful lantern works:
Click here to read more reviews and compare prices.
A great item from 1TAC, now offered with a significant discount. This little beast of a flashlight produces 1200 Lumens of strong light that illuminates everything! It's made of aircraft grade aluminum, so you know for that it's sturdy and highly durable. It's also waterproof and scratch resistant, and can be your trusty companion for many years to come.
Some of TC1200's features include:
Size: 5 by 1.9 inches
Weighs 5.6 oz with batteries
The immensely strong TC1200 lamp can last 100,000 hours
Five light modes, including SOS and strobe light
Remembers the last selected light mode after being switched off and on
Patented overheat protection
Specifically designed to prevent rolling and slipping
The lens is anti-reflective and ultra-clear
The flashlight head can be used for self-defense or to break glass
Click here to read more reviews and compare prices.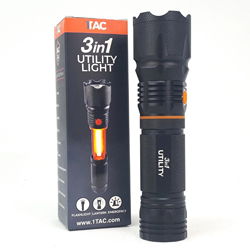 A flashlight provides you with light in dark times and places, and also allows you to signal for help in emergency situations. This 3-in-1 utility flashlight does all this and more. Using this flashlight, you get:
Flashlight: Bright 1,200 lumens with 20X zoom
Lantern: Ultra bright lantern that extends from the handle of the flashlight
SOS beacon: Red SOS strobe mode if you find yourself in an emergency situation
The flashlight comes with a magnetic base which works hands free and is made from aircraft made aluminum, making it very durable. It comes with 5 modes, which are high, med, low, lantern, and SOS beacon.
Click here to read more reviews and compare prices.
This is one of the best flashlights in the market today, and with a score of 4.4 out of 5 from over 14,500 ratings on Amazon, you can understand why.
This tactical flashlight is long lasting and very bright. You can light up a whole room or simply focus on specific objects that are up to 600 feet away! A single AA battery is enough to operate this flashlight.
It features 3 different setting; High, low, and strobe. It's perfect for both indoor and outdoor activities, including inside the house, walking the dog, hiking, camping, fishing and much more. The J5 Tactical V1-Pro flashing is super tough, compact, water-resistant, and can even survive being dropped 9-foot high. Even if you drop it into the deep water by accident, it can still temporarily function.
Other great features of this flashlight are:
Has a LED bulb with up to 300 lumens
You can zoom in and out with it (spotlight and floodlight)
Highly resistant: Resistant to drops, shocks, and water
Batteries: Compatible both with regular batteries as well as with rechargeable batteries
Click here to read more reviews and compare prices.
Best Navigational Gadgets
This great device allows you to signal for help no matter where you are. The Garmin inReach Explorer+ uses the global Iridium satellite, making conversation available between two devices. If you wish to use the Explorer+ feature to activate an SOS system or contact the search and rescue monitoring system (works 24/7), you'll need to get a satellite subscription feature.
The device is waterproof and comes with a rechargeable lithium-ion battery. When you pair the Garmin inReach Explorer+ with your own cellphone, you can access and even download colored aerial images, US NOAA charts and more. If you prefer to use the device on its own without pairing it with your cellphone, then know that it comes with GPS routing and preloaded DeLorme TOPO maps.
The device is also equipped with:
Digital compass (built-in)
Accelerometer
Barometric altimeter
Click here to read more reviews and compare prices.
You may think that you have your cellphone or GPS device with you, so why have a compass as well? There may be times when your electronic devices will break or malfunction. You can find yourself in an area without cell or satellite coverage. That is why a compass and especially this Eyeskey Multifunctional Military Lensatic Tactical Compass, an Amazon's Choice product, can be a real lifesaver.
This tactical compass features an aluminum casing, which is also waterproof. The compass comes with a floating compass dial. It is very easy to orientate with the dial, as it features a 360-degree scale. It is also resistant to different shocks it may get on the way, you can survive many drops and other accidents. Also, because it uses a professional-grade lensatic design, it is lightweight and you can easily fold it to a compact size.
The device is military-grade, which means years and years of serious use in any weather condition, even the most extreme weather conditions.
Here are more great features of this tactical compass:
Fluorescent: The fluorescent in the compass allows you to easily read it even at night time.
Pouch and lanyard included
Does not require batteries or electronic devices in order to work
Metal cover: Protects the compass from drops and bumps
Rotating ring: To keep you on your course.
Converstion chart: For easier estimation of distance, angle and gradient.
Click here to read more reviews and compare prices.
If you find yourself in an emergency situation, then this amazing device allows you to call for help. This GPS device keeps track of your location and with it, you can send your coordinates if you find yourself in an emergency or trouble. It also allows you to rely messages by text between goTenna devices that are in a distance of 4-mile radius.
What makes this device so special? You can send SMS messages and locations without the need for a network tower, router or phone service. It is an independent device that works solely for your survival. With the goTenna Mesh, you can use the chat one-on-one, chat in groups, and also send and receive emergency broadcasts.
Want more? The goTenna app allows you to access maps for free and offline. The goTenna Mesh comes without a screen, so remember to install the app on your cellphone to use it properly.
The encrypted networking of the mesh keeps the info private and the system works all over the world.
Click here to read more reviews and compare prices.
Best Shelter and Safety Gadgets
Just think about it. No matter where you are, no matter what the condition is outside, you have an emergency survival shelter with you at all times. Is this amazing or what? With a rating of 4.7 out of 5 from more than 500 votes, and being Amazon's Choice, this is a must-have gadget and gear for any survivalist!
This is an emergency tube tent that is engineered and designed for 2 people. It is light and compact (8.7 ounces), so that you can take it absolutely anywhere. It is well-built and features material that is puncture-resistant and extra-thick tear, as you can see from the following video:
Here are more great features of this amazing gadget:
Keeps you warm and dry: The Life Tent keeps you warm and dry in any situation. It is waterproof as well as windproof. It's made of extra-thick polyethylene, which is puncture-resistant and tear-resistant, and also locks out rain, snow, and wind.
Survival whistle and paracord drawstring: The tent features 120-decibel survival whistle that cuts through wind and trees, so you can alert rescuers at a distance of up to 1 mile away. It also comes with a 550lb nylon core Para-Synch Technology drawstring, which you can use in order to tie down or repair gear.
Not just a tent: If you can't find anywhere to tie the paracord, then you can use your 8×5 foot mylar tube tent as an improvised survival shelter, emergency sleeping bag, or even as an emergency blanket.
Easy to use: You can set up the tent in no time, and when you're done using it, easily fold it into nylon stuff sack.
Reusable: All items of this amazing gadget are 100% reusable.
Click here to read more reviews and compare prices.
The name of the product says it all. This is an emergency sleeping bag to keep you warm and safe in extremely harsh and cold weather conditions. Another Amazon's Choice product with a score of 4.7 out of 5 from over 750 ratings. Let's understand what makes this product such a huge hit for the survivalist.
This emergency sleeping bag keeps you warm and basically serves as a survival shelter. It comes with a 120-decibel survival whistle that can cut through trees and wind. This helps you signal your position in case of an emergency or if rescue is needed, while staying warm and safe.
This sleeping bag is made of 26um extra-thick mylar material. It features a coating that is tear and puncture resistant. This allows the bag to stand up to extreme conditions, such as rain, snow and wind. The bag is, of course, windproof as well as waterproof, in order to keep you warm no matter the weather conditions you're up against.
More great features of this item:
Lightweight (4.1 ounces)
100% reusable
Reflects up to 90% of body heat back to you
Bright orange color to be very visible for rescuers
Folds up into a waterproof stuff sack
Store it anywhere you like: hiking bag, car's glove box, backpack, survival bag
Click here to read more reviews and compare prices.
A first aid kit is a must-have whenever you go on an adventure or some other activity in the wild. You never know what can happen or what situation you may encounter, and a survival first aid kit can save your life, for real!
This amazing first aid kit is color-coded, therefore it does the thinking for you even in an emergency, when you're stressed or panicking. Even if you travel on your own, this kit is a real lifesaver. Here are some of the tools and gear it includes:
Knife
Handsaw
Signaling mirror
Multitool
Poncho
Breathing mask
Emergency blanket
Bandages: triangular, crepe, knuckle, square, large, butterfly, and more
Whistle
Sting relief wipes
And much more…
The bag is suitable for any outdoor activity and adventure. It is made of 600D polyester, which means it is waterproof and keeps all items inside the bag dry at all times. You can attach this bag to a backpack or even hang on a belt (depends on the size of bag you choose to purchase).
The bag comes in 3 dimensions: (12"x 8"x 6"), (7.5" x 6" x 3.5"), (9" x 7" x 4") and, depending on the dimension, weights between 1 LBS to 3.25 LBS.
This bag has organized compartments, so that you can get whatever you need from it very fast. As I mentioned earlier, everything is labeled and color-coded, and there's even a first aid guide.
Click here to read more reviews and compare prices.
Another great Amazon's Choice item for the survival. With a score of 4.9 out of 5 from more than 900 ratings, these emergency blankets will keep you warm anytime, anywhere.
These thermal blankets are designed especially for emergency uses. They feature advanced dual-size aluminum to keep 90% of your body heat in an emergency and survival situation. The blankets are windproof, waterproof, and also moisture-proof. This way, your body keeps warm and dry in situations when it's wet, rainy, damp, and in cold places and environments.
What else?
52″x82″ & 2 oz
Blocks rain, moisture and snow completely
Ideal for hiking, camping, climbing, backpacking, and other outdoor activities
Designed to prevent hypothermia as well as shock in extreme weather conditions
Click here to read more reviews and compare prices.
Additional Survival Gadgets and Tools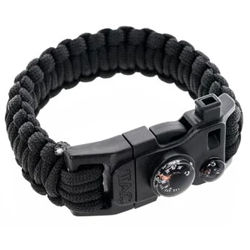 This is a must-have device for your survival. The 1TAC Paracord bracelet is made of military-grade parachute cord and features a strong paracord, which is 9' and can hold tension resistance of up to 550 LBS. During an emergency, you can unravel it and deploy the cord to your use. You can make a tourniquet, tie it if needed and more. It is good for any kind of weather.
The 1TAC Paracord bracelet also features the following:
Stainless steel striker/cutter in order to create a spark that will start a fire
Whistle for survival purposes
Compass
Thermometer
Metal striker to cut paracord as well as inner strands
Durable plastic clasp
Hidden 8-function multi-tool with scraper tools, screwdrivers and wrenches
Click here to read more reviews and compare prices.
Every real survival needs a high-quality knife with him in the wilderness. Full tang high carbon steel blade, this knife can help you gather materials for building shelter, getting fire started, open cans, cut bandages, dress wounds and much more.
This knife weighs 13.7 ounces and is 10 inches long. It's very comfortable and feels balanced in your hand. Also, there's an oversized bolster to keep your hand, so it won't slip toward the blade when you lean into the cut.
Want more amazing features of this knife?
Military-grade
Comes with a loud emergency whistle
"Priorities of Survival" – Pocket guide by Bear Grylls
Comes with firestarter rod that is built-in
Click here to read more reviews and compare prices.
Let's just start by saying that this amazing device has a rating of 4.6 out of 5 on Amazon, with over 5,000 ratings and, of course, it's an Amazon's Choice product. Now, let's have a detailed look at the Gerber Suspension Multi-Plier.
It's a reliable, tough and very easy to operate and handle multi-plier. It comes to tackle and handle any situation in your way, indoors, outdoors and in the wilderness. The durable stainless steel multi-plier features 12 different tools, and has a butterfly design for easy and convenient grip.
Here are some more features of this great tool:
Knives: Straight blade knife for fine-tuning cutting or a serrated blade.
Philips screwdriver
Flathead screwdrivers
Wire cutter/stripper
Lightweight yet very strong
Comes with a ballistic nylon sheath
Click here to read more reviews and compare prices.
Whether hiking, trekking, skiing or engaging in any other outdoors activity, it is crucial to keep your feet dry. These amazing socks do just that and more. They are super light, comfortable, and keep your feet dry and cool during walks, runs, cycling and other activities.  They are suitable to stand even in harsh and tough environment like water and mud. Waterproof as well as windproof, they are still breathable thanks to the special three-layer design. These are the socks you want in your next outdoor endeavor.
What else?
Waterproof and windproof, yet able to quickly spread sweat of the feet during movement to the outside of the socks.
100% seamless to avoid irritation and yarn chaffing
Great flexibility for comfort wear
Ideal for activities like hiking, trekking, climbing, cycling, fishing, skiing, skating, wading and more
Three-layer material
Click here to read more reviews and compare prices.
How to Choose Survival Tools?
You should always be prepared for the activity you're about to do. But, there are different situations that can surprise you. That is why it is highly important to be equipped with the right tools to keep you safe and get you out of trouble.
When choosing survival tools and gear, there are six factors to consider: Type, use, size and weight, practicality, durability and versatility.
Use: You should always know how to operate the devices and gear that you're bringing along with you. Some devices require learning, but once you use them a few times, their operation comes easily and naturally.
Weight and size: These parameters differ from one device to another. So, it is important that your survival tool won't be too heavy to slow you down, but will be sturdy enough to get the job done right. Luckily for you, most survival tools these days are lightweight and even ultra-lightweight, like the famous LifeStraw water filter for instance.
Type: There are a lot of different items in the survival category that are designed for the same tasks and purposes. So, how do you choose? When it comes to survival, there are 3 essential tools you must have with you: a water filter, compass, and flashlight (you may consider a first aid kit too). Then, on the second level, you can find GPS, blanket, firestarters and other survival tools. Remember to always choose the necessary gear for your specific activity that is also optimized to the environment. Try centering your gear around water, warmth, shelter and a beacon system to assist the rescue services to find you. Again, always take the gear required for your specific task and activity.
Versatility: Basically, versatility means minimizing your backpack by combining several survival items into one device. Having different tools that can be used for many purposes saves you room in your backpack and allows it to be even lighter. Don't forget to consider the other factors I've just discussed here. Good examples of versatile tools are the multi-tool, the cookware kit, and the 3-in-1 utility flashlight.
Durability: This is also a very important factor to consider when choosing a survival tool. You want an item that will do the job well and last for a long time. A survival tool that will break or fail in the middle of its operation can be the difference between life and death. Don't try to combine multiple items and pieces into a single device, as it may not work and will probably fail when the time comes. Naturally, there are exceptions, like the aforementioned multi-tool, which is designed for the purpose of combining several tools into one. If possible, try choosing items that are durable and strong enough to handle many different tasks.
Practicality: Your backpack should contain only items that are necessary for your activities and goals. You don't want to pack redundant heavy items that will surely slow and tire you down. Study the terrain and the essence of your future activity, and bring only what you really need. The longer you are outdoors and in the wilderness, the better you'll be with less devices and less burden on your shoulders.
Related Questions
How should I store my survival gear? It is best to store your survival gear and items in a dry place. Humidity, water and moisture can damage your items, even if it's high-quality gear. Don't risk water damage to your equipment! This may lead to mold, and then the gear will malfunction in moment of truth when you most need it. Of course, some specific items may require different storage, so always follow the manufacturer's guides and instructions for every item. Also, if you want your items to last for a long time, remember to take good care of them by cleaning and maintaining them as instructed (if necessary. Some items do not require cleaning at all).
How should I carry my survival gear? This depends on the items, so some can be stored inside the backpack, while others are best to be placed in outer pockets for easier and faster access. For instance, you should carry an emergency tent in or at the bottom of your backpack, while smaller tools can be placed in outer pockets for immediate access. You can store some crucial items on yourself, such as a knife or the water filter. Thus you insure yourself in case you lose your backpack to some unpredictable circumstances. Another thing to remember is to store the heavy items in the center of your backpack, for balance.
An additional way to carry your gear is using the MOLLE system that was developed by the armed forces. The system is used as a more convenient and useful way for the combat forces to carry gear. It is actually a backpack or vest with rows of nylon webbing on it. You can wear the vest under the backpack with the gear being modularly organized.
How should I organize my survival gear? Frankly, there is no single definite answer to this question. Some prefer to organize their items by type, others by categories or by activity. The thumb rule here is to organize them according to your personal preference. There are still a couple of guidelines when it comes to organizing your survival gear. It's recommended to organize your gear at all times: when you're packing it in the backpack, and also when it's being stored outside the bag. This way, you'll be able to hit the road faster when and if necessary. Remember to keep the items stored as easily accessible as possible, like placing essential tools in outer pockets.
What survival items are considered the most important? Generally speaking, the tools you'll need differ according to your activity and situation. In a nutshell, if I have to choose a few survival items at all times, I would go for the water filter (as you can't survive for long without water), firestarters (you must preserve body heat), survival whistle to signal my location, and a flashlight. You may also consider a survival knife for self-defense or to cut obstacles you may encounter on your way. My second tier will include of course a compass or GPS device and a first aid kit, so find a place for those in your backpack as well. Feel free to read more detailed information in my article about what should be in a survival backpack.
How to prepare a useful survival kit? As it's widely known, a recommended survival kit is one that contains only the items you really need at any given time. First thing's first, the most important things to have with you are water, food, shelter, and a signaling device. Of course, prepare the items required to the activity, terrain, situation and weather that you are about to face. If it's winter or cold outside, then warmth must be a high priority as well (firestarters, tent/emergency tent, sleeping bag, warm clothes, survival gloves). Remember, there is no one definite answer. Always consider the activity, terrain, situation and weather ahead of you.