Survival shovel is not just your ordinary shovel, and in this article I will share with you everything that you need to know about it. But the question is, do you really need a survival shovel? The short answer is yes, and soon you'll find out why.
You need to understand what a survival shovel is and how to choose one, since there is a great variety of shovels out there. If you wish to know how a survival shovel can be used, how to select it and maintain it, continue reading this comprehensive guide. I will also recommend the best survival shovels on the market. Let's begin.
Top Survival Shovels
What Is a Survival Shovel?
A survival shovel is a tactical tool that can be used in different outdoor situations, and not just for digging holes. In the past, a shovel was used for the purposes of entrenchment and evacuation, but as time passed, the shovels became more advanced and multipurpose.
Modern survival shovels can be used during hiking, camping, survival purposes and self-defense, gardening, and much more. Further down this article, I will explain the different and important uses of a modern survival shovel.
The most prominent advantages of survival shovels are:
Very handy
Lightweight
Can be used as a multi-tool
Can fold to be stored anywhere you wish without taking a lot of space
Do You Need a Survival Shovel?
If you live off the grid or enjoy hiking, camping, road-tripping and participating in different outdoor experiences, you will greatly benefit by owning a survival shovel. It is small and can be folded (depending on the shovel), easy to use and carry everywhere you go, even inside your backpack. You can use it to chop, cut, dig, build a fire, set up a camp, help you climb, fight and defend yourself against predators and wild animals, repair equipment, and so much more. More uses are listed in the next part of the article.
What Are the Different Uses of a Survival Shovel?
A survival shovel (being a tactical tool) has many different uses, as you already understood. Bear in mind that since there are many shovels on the market these days, not all are suitable for all the uses listed below. With that said, here are all the different things that can be done with the help of a survival shovel:
Dakota fire hole: A Dakota fire hole is used when you wish to make a fire, but don't want other people to see the flames or smoke of your fire. Using a survival shovel, you can easily make a Dakota fire hole in 5 steps: dig a hole for the fire, dig an air hole, connect the holes at the base, build your fire, and mark your camp to easily find it later.
Free a stuck vehicle: If you get stuck with your vehicle, whether in the sand, mud or snow, use a survival shovel to clear the tires and axels, and free your stuck vehicle to continue your journey.
Cut branches: Some survival shovels feature a serrated edge. This may come in handy when you need to cut branches during a hike or use these branches for firewood. Alternatively, consider browsing my recommendations for best survival axes.
Clear brush: No need to use a machete while hiking or walking in the woods or an overgrown hiking trail. Simply fold the shovel tool at 90 degrees and swing away to clear brush off of your way.
Outdoor toilet: That's right. Most of the times, there are not a lot of options for an organized toilet break during hiking, backpacking or other trips. That is why using the survival shovel, you can quickly and easily dig a latrine hole and at the end cover it up.
Start a fire: Some shovels allow you to unscrew the handle portion, to find a fire starter inside. Next, all you need to do is to repeatedly hit a flint against the shovel's sharp edge until a spark is created. An alternative way will be using a knife or any other object that is made of metal. I have a separate article on how you can start fire without matches or a lighter.
Fishing: Some multi-tool shovels come with a fishing spear to help you catch fish.
Break ice: You'll find an ice axe in different multi-tool shovels to break ice if necessary.
Search and rescue: If someone is getting caught in a sticky mud or a snow avalanche, you can use the shovel to quickly dig and free that person.
Self-defense: You never know who you will encounter on your journey, so a survival shovel can be used as a self-defense tool as well, especially against wild animals and predators.
Help with climbing: If you need support during climbing, you can use the shovel during climbing or hiking.
How to Choose a Survival Shovel?
Survival shovels are becoming more and more popular these days, which results in a wide variety of different shovels to choose from. In this section, I will explain the important factors to check when you select the shovel that best suits your needs and budget.
Purpose
This is probably the most basic factor to consider when choosing a survival shovel. You can choose either the classic shovel or the multi-tool shovel, and I will address to it as the next factor. Therefore, ask yourself; what do you plan to use the shovel for? If you're the kind of person who enjoys outdoors activities on a regular basis, then you need a survival shovel. But which kind?
Let's say you enjoy to embark on camping trips in the winter. In that case, you'll need a tactical shovel that can dig through a ground that may be frozen. On the other hand, if you prefer an easier camping trip and don't want to take a lot of tools and items with you, then you should choose a multi-tool shovel that can help you achieve various tasks, like building a fire, cut, dig, open cans, and more.
Versatility (Multi-tool Survival Shovel VS Classic Survival Shovel)
The multi-tool survival shovel is a lot more versatile than your classic survival shovel. Again, ask yourself if you really need one, since it's more expensive. The stock of the multi-tool shovel is collapsible and consists of 2 or 3 sections that can be screwed out. The stock is hollow on the inside, and this is where various tooltips are stored.
Multi-tool
Here are some of the different tools a multi-tool survival shovel features (depending on the type, brand and model):
Knives: For gutting fish, hunting tasks, cutting and self-defense.
Fishing spear: A sharp and accurate spear for fishing.
Compass: Know your location at all times, especially in the wilderness and where there is no cell signal.
Fire-steel: Getting a spark to start a fire, even in harsh conditions and bad weather.
Ice axe: Break ice and make your way easier when it's snowy.
Emergency whistle: Comes in handy when there is no other way or form of communication to inform of trouble and emergencies.
Bottle opener: Always good to have one with you, especially after a long hike or around the campfire with a cold beer in hand.
Hatchet: A survival hatchet is always a nice addition, some shovels are capable of functioning as hatchets and chop wood.
If you decide to get a multi-tool shovel, know that it takes longer to set up compared to a tri-folding design (see next section).
Tri-fold
A tri-fold shovel offers less versatility and options than the multi-tool, but it's very reliable, durable, and also resistant to environmental conditions. If you choose this type of shovel, it's best to get those that come with a threaded locking system for secure assembly. The tri-fold design is used by soldiers and military personnel, specifically compact design that features a polymer handle.
Shovel Head
The head of the shovel is the part that will be doing most of the work, so it's extremely important to check the material it is made of. In order to enjoy a survival shovel that will last for years and years to come, look for a durable shovel head that is built from a strong material, like heat-treated stainless steel or reinforced nylon.
Heads that are made of metal are heavier, so it's easy to use them for entrenching. However, know that you will need to sharpen metal head often, something you don't have to do when it comes to nylon heads. Make sure that the head is thick and solid. Therefore, if you are able to bend it using pressure, it's no good for purposes of survival and it's not strong enough.
I recommend that the thickness of the head would be up to 2 mm, and the head is made from carbon steel, since it's very durable, can last for a long time and remains sharp for years. Also, because carbon steel has a hardened finish, it's perfect for the purposes of scraping and digging.
In addition, pay attention to the shape of the head. If you want to be able to dig intensely in tough terrain, or use the shovel as a weapon for self-defense, look for heads that feature serrated edges. Almost all heads of survival shovels are designed with a sharpened point and serrated edges. Some may offer a serrated edge on one side of the head and a straight blade on the other. The different configurations allow you to use the shovel for sawing and chopping as well.
Here is a video that demonstrates how the shovel head can be used for various tasks:
Handle
The handle is another factor to consider before purchasing a survival shovel. You want to have a good grip of the shovel so it will be easy to use as well as comfortable. It's easier to use shovels that feature longer handles. However, it may be less convenient to carry the shovel due to the handle's length and being heavier as well.
If you choose a shovel with a shorter handle, it will be easier to carry and use, but bear in mind that when digging, you'll probably need to bend more. There is a great solution for this, as some survival shovels feature adjustable handles.
When looking at the material of the handle, these are the most common ones:
Steel handle: Steel handle is strong and durable. That being said, bear in mind that when you dig, you may feel some shock reverberate through the handle.
Polymer handle: Polymer handle is strong and lightweight, which makes it perfect for all outdoor activities, and basically for taking it with you everywhere.
Wooden handle: A wooden handle is great when it comes to absorbing shock with flex in the handle. However, there's always a chance that the wood would snap or produce splinters, even in hardwood designs. A survival shovel with a wooden handle is ideal for campers who want a long-lasting shovel.
Weight and Portability
When it comes to survival, you want to have a shovel that is durable, strong, high-quality, but also lightweight and easy to carry. And yes, there are such shovels in existence. For a lightweight shovel, look for ones that feature a carbon steel design head. However, don't overlook the handle as well, and search for shovels that feature polymer handles, since they are the lightest.
If you prefer a compact shovel, then go for the tri-fold survival shovel. When the shovel is compact (and foldable), you can store it in your car or stuff it inside your backpack or daypack without it taking space or being too heavy to carry.
The average weight of most shovels is between 0.5-1.87 pounds, depending on the functionality, materials and design of the shovel. If your primary use of the shovel is more for general camping use, then this factor is not a deal breaker and therefore less important.
Durability
You're about to invest in an important tool for you, so it's best that it will perform flawlessly and for a very long time. When it comes to durability, I recommend getting a shovel with the head made of carbon steel. It's extremely durable and will last for many years. Also, look for shovels whose heads are treated. The blade may suffer a lot of stress during digging, chopping, sawing, and other tasks and activities.
If the head of your shovel is not coated, it will corrode with time and rust at the edges where the blades get most of the impact. At the end, you will have to get a new shovel.
If the head of the shovel is clear-coated or powder-coated, it will last longer, since this coating will protect the head from impact and various environmental conditions. Heads that are powder-coated are resistant to corrosion, they have rugged surface and are free of friction experiences during chopping and sawing.
Another thing to remember, is that some shovels will need to sharpened with time (depending on the use), especially those that come with a stainless steel head. Shovels that are based on nylon won't need to be sharpened.
Sheath
A sheath is also a factor you may want to consider, even if it's not as crucial as the previously mentioned factors. Almost all survival shovels feature sharpened edges, so there's always a danger of getting cut and injured even when you're not using the shovel or when it's folded. The sheath will protect your shovel from scratches, damage, dirt, and more, but will also protect your backpack (or any other thing) from getting cut by the shovel's edge.
Not all brands provide the same sheath. Some offer a sheath only for the head of the shovel, while other provide a carry bag to store the entire shovel.
Cost
I recommend to look for a high-quality shovel that will last for a very long time while answering all your needs. Only then, see if it fits your budget. If you try to save money and go for cheap models, there is a chance that the shovel won't last for long or won't be as effective as anticipated, which will force you to get a new shovel. Therefore, first look for a high-quality shovel, and then base your budget accordingly.
Tip: Try searching for shovels and manufacturers that offer a lifetime warranty on the blade and craftsmanship. Because they are willing to grant you a lifetime warranty, it probably means that their tool is of very high-quality and that they have complete faith in it.
How to Perform Maintenance of the Survival Shovel?
I've mentioned that getting a high-quality shovel (which is made from durable materials) will ensure it lasts for a very long time and won't lose its effectivity and functionality. However, keeping regular and easy maintenance of the shovel will most definitely secure its continuous use for many years.
Here is how I recommend maintaining your survival shovel:
Clean the shovel after every use
Clean and oil the hinges
Take care of any part or component that needs your attention
Always keep it in its sheath when not in use
When you follow these steps regularly, you will guarantee that your shovel is clean, sharp, free of dirt, damage and corrosion, and will be 100% ready to perform all necessary tasks. You don't want your shovel to disappoint in any potential survival situation.
What are the Best Survival Shovels?
Now I would like to recommend some of the best survival shovels you can purchase today. They differ in various aspects, and the prices vary as well. So once again, consider your needs and decide on your budget. And remember: don't compromise on quality, you will need to have a very reliable shovel in your backpack.
This survival shovel is one of the more expensive shovels, but only because it is so good! A high-quality shovel that takes 3 months and 60 different procedures to make, this shovel is the total package.
It is made of martensitic stainless steel and aviation aluminum, with the head designed from thin to thick. It is extremely durable and basically unbreakable. It features a 10 mm joint part, allowing the head of the shovel to bear 1060 lbs.
A foldable shovel that can be opened with a single button touch, adjusting the angle ranged 0-150 to your tasks and needs. But wait, there's more. This shovel is a multi-tool, meaning it comes with 24 different tools to help you achieve your goals, be it to survive harsh and dangerous conditions and disasters, or simply enjoy your next camping, fishing or off-roading trip.
Here are some of the tools that this shovel includes:
1 x backpack
3 x handles
2 x extension tubes
1 x wire saw
1 x survival whistle
1 x camping knife
1 x bottle opener
1 x camera support
1 x fire starter
And more…
So, what can you do using this shovel besides starting a fire, whistle for help or open a bottle of beer? You can easily cut through wood and other things, using the shovel as an axe, and even sharp it to your needs.
Dig fast as soil falls easily from the shovel thanks to the changeable thickness on the shovel's blade. Use it as a jack and change it to any position you like, as it can withstand a weight of over 1T!
You can also chop by using this shovel, use it for self-defense, break ice on the road or a window thanks to the shape and hard edge, and much more, allowing you to achieve 32 different functions in one shovel. Last but not least, this shovel comes with a lifetime warranty, and that's a huge plus.
Technical details:
Gross Weight: 3.97 pounds
Net Weight: 3.2 pounds
Original Assemble Length: 75.5cm/29.7in
Head Size: 8.07in (L) * 5.9in (W)
Assemble length: 755mm/29.7in
Handle length: 520mm/20.5in
This great folding survival shovel is made of military grade carbon steel and aluminum, which means it is extremely strong, durable and will last for many years. It also features a unique switch mechanism, allowing you to pull the slider and switch modes in a few seconds. It is also a multi-tool, so with the shovel, being it a 16-in-1 item, you'll also receive the following tools:
Knife
Fire starter
Screwdriver
Ice pick
Hammer
Bottle opener
Wire cutter
And more…
One side of the shovel's head can be used as a saw, so you can easily dig, saw, chop and more. It comes with a storage bag for easy carry and storage whether in your backpack or in the trunk of the car. As for warranty, the company offers a 1 year warranty for manufacturer defect.
Technical details:
Shovel's head: 8.7" x 6.6"
Length: 24.4" – 36.6"
Product dimensions: 10" x 6" x 2"
Weight: 3 pounds
This is a folding survival shovel made from high strength manganese steel alloy, with shovel board 0.25 cm / 0.1 inch thickness. It is very strong and durable for any task on your mind. Comfortable to work with an easy grip and non-slip handle.
So, what can you do with this shovel? Dig, chop, saw (one side of the head can operate as a saw), entrench, cut, pick, peel skin of animals, slice food and vegetables, start a fire, crack ice, break a window, and much more. Here are some of the tools included with this multifunctional survival shovel:
Knife
Hex tool
Fire starter
Bottle opener
Emergency whistle
Survival cone
Screwdriver
And more…
Technical details:
Length: 67cm/26.4"
Size:16*13cm/6.3"*5.1"
Net Weight: 1118g/2.46 lb
Gross Weight: 1290g/2.70 lb
Product dimensions: 26" x 6" x 1.2"
The shovel can be adjusted to 3 different lengths and comes with a storage bag to easily put it in the backpack or the car. As for the warranty, the company offers a 1 year warranty.
iunio has made its goal to design and develop products that truly make a difference and change your outdoor experience for the best. They always provide the best possible items, tools and equipment for those who love and enjoy the outdoors.
Now, let's talk about their survival shovel. It is made of high carbon steel and you can adjust it to your needs, since you can extend it and then fold it when done. This shovel is also multifunctional, so here are some additional tools that come with the shovel:
1 x ice axe
3 x extension bars
1 x fish scaler tool
1 x fire starter with whistle
1 x wire saw
1 x flashlight
1 x compass
1 x screwdriver bits set (6 screwdriver bits)
1 x safety hammer
The shovel is reinforced with extra thickness on the shovel board, so it's very strong and durable even in tough and harsh conditions. Both the head of the shovel and the extension bars are made of high carbon steel, which I highly recommended earlier in this article. All of this makes the shovel extremely strong and resistant to wear, so you'll be able to enjoy it for many years. The grip of the shovel is made of rubber, which makes it highly comfortable to use.
The shovel also comes with a tactical waist bag for an easy carry and storage, and as for the warranty, the company offers a lifetime warranty, as well as options for replacements or a refund if you're unsatisfied with the product.
Technical details:
Shovel's head: 7.87" x 6.10"
Length: 38"
Weight: 4.84 pounds
Product dimensions: 38" x 6.22" x 1.89"
If you don't need a multifunctioning shovel with all the extra tools, and you're just looking for a good survival shovel that is folding, portable, lightweight and not expensive, consider this one.
The Co-Z mini folding shovel is a mini-shovel, so it's small. It's made of carbon steel, resistant to rust and anti-deformation, making it ideal for digging, sawing (one side of the head features zigzag tooth), chopping, shoveling, and more. Because of the high-quality material that this shovel is made of, it will last for a long time.
The blade is reinforced and highly durable, so you can easily dig even into gravel, sand, strong ground, and so on. You can use this shovel as a crowbar to break up and handle hard clay soil and tree roots, as well as to pry stones. You can saw branches, dig holes in the wilderness, and so much more! Be it camping, hiking, home work, gardening work, or survival situations, this shovel does the job perfectly.
It is small and lightweight, so it's just like having an extra tool in your backpack without it taking space or you even feeling it. Better safe than sorry, right?
All you get here is a light, portable, folding shovel and a carrying case, but you don't really need more than that, since this shovel can handle all or most of the tasks that you require from it.
Technical details:
Head Size: 6.3" x 4.7"
Handle Length: 11.8"
Weight: 1.81 pounds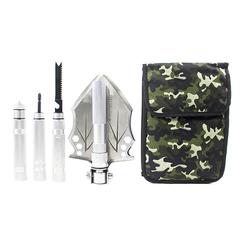 This is a great multifunction shovel that features 12 tools in 1, while still remaining lightweight for an easy carry everywhere. The Stealth Tact Shovel is separated into modular sections, so you can add or remove sections according to your needs, adjusting to make it longer or shorter. If you need more leverage, add sections. If you find yourself in a tight spot or want more movement, simply remove sections.
When you fully extend the shovel, it is 32.5″ long, and when it's fully collapsed, it is only 12″ long, making it very easy and convenient to carry and store wherever you wish.
This shovel also comes with a special lock system named "lock-in-place." This system guarantees that each section of the shovel remains secure, even during hard pressure and tough conditions.
Here are the tools that come with this shovel:
Knife
Saw
Hatchet
Hoe
Glass breaker
Philips head screwdriver
Hex wrenches
Bottle opener
Fish scaler
Fire starter
Watertight compartment
This is really a great shovel that functions as a multi-tool, but is also lightweight for ease and convenience. Because the shovel is made of 440C steel and ultra-light aircraft aluminum, it is both extremely durable, strong, yet remains lightweight. Last but not least, you also receive a camo carrying bag along with the shovel.
Technical details:
Length (Extended): 32.5″
Length (Collapsed): 12″
Material (Head): 440C Steel
Material (Handle): Ultra-Light Aircraft Aluminum
Weight: 46.4 oz/2.9 pounds
Read more reviews on Survival Frog store
Final Verdict
Okay, so now it comes down to what I think is the best pick. It is worth mentioning that all the shovels here are top of the line and perform awesome. However, if I had to choose, I would go for the Stealth Tact Shovel Modular Multifunction Entrenchment Tool.
I like the fact that it is a multi-tool, yet pretty light. That means I can do anything with this shovel, and it's not too heavy on my hands during work or on my backpack when I carry it.
I also like the "lock-in-place" system that locks all sections together, sparing the concern that the shovel will separate during work. And, of course, the fact that I can adjust it from 12" to 32.5" is a great plus as well. Not that you can't find that in the other shovels, but this one has almost everything the others offer, and still it's lighter than the rest. Which is highly important when you're working or in a tight, survival situation.
The last thing I liked is the price. It's not cheap, but it's also not expensive at all, as compared to what the shovel offers when it comes to functionality and durability. So Stealth Tact Shovel Modular Multifunction Entrenchment Tool is basically pretty good to every budget. You get a decent shovel that is not too pricy and can last for a long time.
Further Reading
As you can see, a survival shovel can be an extremely useful survival tool. However, this is not the only thing that you must have in your arsenal as you face challenging survival situations. You must be armed with knowledge, preparedness and appropriate equipment.
For instance, you need to be aware what are the necessary survival qualities, as well as the most significant survival skills.
You also must be equipped with the right survival backpack and some additional survival gadgets. But don't invest too much money in your gear – find out what the most affordable survival items are.
Feel free to browse my blog for further information on survivalism, as well as camping and living off the grid. Stay safe out there!