Survival hatchets are essentially a staple tool for not only survivalists but avid campers and outdoorsmen alike. Hatchets are not the same as axes; they are completely different in design as well as in their purpose. Therefore, before picking the right survival hatchet for you, there are several things you should know.
Below are some pointers that you should follow before you purchase a hatchet. Aside from market reviews, one should know the parts of the hatchet and what purpose they serve.
Best Survival Hatchets
Preview
Title
Features
More Details
SOG Camp Hatchet
• Highly reliable
• 3-inch blade
• Has a hammerhead
SOG Survival Hawk
• Survival + self-defense
• Lightweight
• Built-in ferrocerium fire starter
Schrade SCAXE2
• Durable and efficient
• Ferro rod in the handle
• Blade designed to cut anything and split wood
Zombinator Survival Hatchet
• Resistant to rust and corrosion
• Multi-functional tool
• Has seat belt cutter and glassbreaker
Kershaw Deschutes Hatchet
• Designed to sustain frequent use and impact
• Comfortable grip
• Slightly heavier than the rest
What is a Survival Hatchet?
Many people often confuse hatchets with axes and tomahawks. At a glance, they all have similar features. However, they are different in their design as well as in their purpose.
A survival hatchet is a one-handed striking instrument with a sharp blade on one side and a hammerhead on the other that may be used to chop and split wood. A hatchet is portable and light, making it ideal for carrying with your gear or in your backpack.
You might wonder why you should choose a survival hatchet over an axe or tomahawk. The answer is quite simple: the size and design of such a tool make this type better for your backpacking needs than larger tools with a similar purpose. Survival hatchets work as:
A portable chopping weapon
Multi-purpose camping tools
A defense weapon
These are just some of the things to expect from choosing survival hatchets as part of your outdoor gear. It may come in different forms, but all share the same characteristics, making them great outdoors.
Features of a Survival Hatchet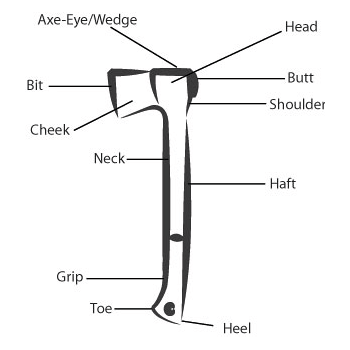 Several distinct features make a hatchet different from its close counterparts. The parts of a survival hatchet include:
Head: Considered the most essential part of a hatchet, the head can be described as a sharp metal end that is specifically designed to split wood. In the hatchet's, head there is also:

Heel: Top of the blade
Toe: Bottom of the blade
Cheek: Flat sides of the head

Butt: Essentially, the back portion of the head of the hatchet, almost all but portions of hatchets are flat surfaced.
Neck: This portion of the hatchet is essentially the section that connects the head of the hatchet to the primary handle. Most hand axes and hatchets are made from a single durable material, usually some type of metal.
Grip: The grip of the hatchet is as vital as the rest of a hatchet's parts. Having an uncomfortable grip is probably one of the worst things that can happen when owning a hatchet. A hatchet that slips from your hand can seriously harm you. It's also not very useful in doing its job, which depends a lot on a steady grip.
The parts and materials that a hatchet is made of differ depending on the type of hatchet. For example, a survival hatchet may have a forged or carbon-alloy steel blade and a handle made from wood or fiberglass.
What Are the Different Uses of a Hatchet?
Survival hatchets are usually multi-functional. A hatchet can be used for small tasks like cutting kindling, splitting small logs for a campfire, and even a hammer. But there are many other uses of hatchet beyond chopping logs.
A hatchet can also be used as an effective weapon in combat or self-defense situations, where more common weapons may not suffice, in addition to traditional outdoor uses.
In addition to the multiple uses that hatchets bring to the table, there are various types of hatchets used for specific purposes. Hatchets do not just come in a single type. There are at least four different types of hatchets, and they are made to be of different designs or purposes.
Some of the most common types of hatchets include:
Splitting Hatchets: Splitting hatchets are the bread and butter of many survivalists. Splitting hatchets are specifically designed to split wood, just like the function of a regular-sized ax.
Camping Hatchets: This type of hatchet is a favorite for campers, obviously by the name itself. The camping hatchet is designed to provide more versatility and features to avid campers.
Survival Hatchets: The majority of survival hatchets are designed with minimalism. For the most part, survival hatchets are smaller in size, have a flat, lightweight head, and are easy to handle. Although they don't prove to be super effective in chopping wood like the splitting hatchet, survival hatchets tend to have more survival features.
Tomahawks: The tomahawk is often designed with a straight handle. Tomahawks usually have a shorter blade.
Once you know the different types of designs and the purpose it serves, you are much closer to finding the perfect survival hatchet for you. Remember, although all the hatchets above are made to chop, some are better than others.
What is the Difference Between a Hatchet and an Axe?
The hatchet and the ax are probably the most confusing tools when trying to discern one from the other. Yes, both are incredibly similar in their sharpness and design. However, these two are different tools made for various purposes.
Hatchets are essentially mini axes focused on doing smaller and more precise tasks. However, axes are specifically designed for two-handed use and are larger and longer in size.
Survival hatchets are commonly used for:
Clearing brush: Survival hatchets can cut through younger trees or any thick vegetation that needs to be cleared.
Splitting kindling: Survival hatchets are perfect for cutting or splitting smaller pieces of firewood.
Camping Uses: Survival hatchets can hammer tent stakes into the ground or cut rope in camping situations.
Self-defense: A survival hatchet can be used as a weapon for self-defense in an emergency.
Axe blades are larger, meaning they can cut through bigger pieces of wood than hatchets. Hatchet blades are small, making them lighter and more convenient to use. Axes typically require two hands because their size makes them heavier than hatchets and thus harder to control with just one hand.
In contrast, a hatchet is designed to be used with one hand, and its blade length ranges from 8 inches / 20 cm up to 24 inches / 61 cm. This makes it lighter compared to an axe's weight which can range from 5 lbs / 2.3 kg up to 20 lbs / 9 kg, depending on the size of the tool.
I wrote a separate comprehensive guide on survival axe, make sure you click to read it before deciding whether you need an axe or a hatchet.
How to Maintain/Take Care of a Hatchet
To maintain your hatchet and keep it in top shape, there are a few steps that you should take, including:
Regular Cleaning: Regularly clean your hatchet after each use, such as wiping the blade with a dry cloth and oiling it every few months.
Keeping it away from heat or moisture: Exposing your hatchet to heat can cause warping or damage, so keep this away from sources of extreme heat. Likewise, exposing your hatchet to high moisture levels can cause surface rust.
Use your hatchet correctly: Never throw it because doing so could bend or break its head, causing permanent damage.
Store your hatchet properly: Hanging it upside down is also helpful if you want to protect the cutting edge by preventing dust from building up over time.
Tips to Sharpen Your Hatchet
One of the best ways to keep your hatchet in top condition is to sharpen it regularly, using such tools as sharpening stones. Likewise, one of the best ways to sharpen your hatchet is to have it stable and in place when you are doing work on it. Don't have the hatchet move around here and there, as the slightest movement may affect the sharpness of your hatchet. Here are some essential tips for hatchet sharpening:
Clamp the hatchet's centerline parallel to the ground: Remember, when you decide to clamp down your hatchet on your worktable, you must make sure that the hatchet's centerline is parallel to the ground.
Angle the hatchet for sharpening: Be sure to sharpen both sides of the blade at an angle. The best way to do this is just to follow the angle that your hatchet's blade is already in. Look at it in fine detail and mimic the current angle.
Sharpen Consistently: Consistency is critical when it comes to blade sharpening. So make sure that when you decide to sharpen your hatchet often, stick to an ideal angle. Don't change it around too much, as it might alter the quality of your hatchet's blade.
Take your hatchet to a professional for sharpening if you're a beginner or don't have the proper tools for DIY sharpening. Blade sharpening services will make sure your hatchet blade is sharpened to perfection.
For more hatchet sharpening techniques, please see the following video:
Hatchet Safety Tips
Always keep safety in mind when using a hatchet. If you are inexperienced at using a hatchet, consider practicing on smaller pieces of wood first until proper techniques become more familiarized instead of trying out new techniques. Here are some hatchet safety tips for beginners and seasoned hatchet users.
Never cut towards yourself.
Do not chop frozen wood or any material that may be wet, decayed, or rotten. This will reduce the effectiveness of your hatchet and increase the chances of injury.
Use common sense when using a hatchet. For example, if you are tired, take a break before continuing to use it for further work.
Keep children away from where you are cutting. Children do not understand what can happen if they play around with dangerous tools like hatchets, so ensure their safety by keeping them at arm's length during usage.
Wear safety goggles to protect your eyes from flying debris.
Ensure your blade is sharp. The sharper, the better! Blades won't cut when dull, so make sure you sharpen them before using them again after detecting any damages.
Avoid cutting anything with metal edges. This damages your blade.
Check for damage. If the handle is cracked or split, it can easily break entirely during use. Ensure your hatchet's head and handle are firmly attached before using it again after detecting any damages.
Safety is always a top priority when using a hatchet, so make sure you wear protective gear, including eye protection, ear protection, and survival gloves. Always use common sense when using a hatchet and never use it near people or animals.
Top 5 Survival Hatchets
Now that we've covered the essential basics of hatchets, it's the time to look what the market has to offer. There are hundreds of survival hatchets out there that can serve their purpose effectively. However, some hatchets are way better than others.
Therefore, below are the most recommended five hatchets that are gaining popularity and dominating the market by storm. Check them out and see which hatchet is the right fit for you.
SOG Camp Hatchet is rated as one of the top hatchets to purchase in the market. It is not just because it is manufactured by one of the leading knife manufacturers in the market, SOG, but because it is also backed up by its superb functionality and design.
SOG Camp Hatchet is considered a highly reliable and lightweight survival hatchet. Many outdoorsmen, survivalists, even military personnel alike own it to accompany and support them on various activities or missions.
Features of SOG Camp Hatchet
SOG Camp Hatchet weighs approximately 16 ounces. It is less than a foot in length, making it an incredibly compact tool and easy to store and carry throughout your adventures.
SOG Camp Hatchet is equipped with:
A 3-inch blade on the axe head
A hammerhead on the opposite section
SOG Camp Hatchet is perfect for tasks that may involve pounding and hammering.
Furthermore, SOG Camp Hatchet is also equipped with a glass-reinforced nylon handle, which indicates that the hatchet is precisely made to be used frequently with little to no maintenance.
Click here to read more reviews and compare prices.
SOG Survival Hawk is a fascinating combination between a survival hatchet and a tomahawk. Not only is it designed to help you survive in the wild, but it is also a deadly and efficient killer. It is specifically designed to be versatile and functional, claiming the title of a true tactical hatchet.
This straight-handled tomahawk was specifically designed by an unnamed survivalist and former U.S. military contractor who saw the benefit of both the tomahawk and the survival hatchet. If it is good enough to be used by the military community, it is bound to prove effective for civilian use.
Features of SOG Survival Hawk
SOG Survival Hawk is roughly around 12 inches long with a weight of 1.2 pounds, making it an incredibly effective lightweight survival hatchet and ultimate survival tool.
The shaft of the SOG Survival hawk is made from glass-reinforced nylon. Additionally, the shaft has several survival essential features as well, including:
Built-in ferrocerium fire starter rod
Reflective paracord wrapped handle
Nail puller
Hammering head
Sharp multi-purpose blade
Any true survivalist would pick up this amazing hatchet-crossed-tomahawk tool. It provides numerous essential accessories for any survivalist, truly hard to go wrong with carrying a light, fast, and feature-rich tool such as SOG Survival Hawk.
Click here to read more reviews and compare prices.
Schrade SCAXE2 is an axe that has ranked up towards the upper echelon of the survival hatchet market. Schrade SCAXE2 has been rivaling the best hatchets out there due to its reliability, durability, and efficiency.
If you happen to find yourself in an extremely dire survival condition, Schrade SCAXE2 hatchet is the right one for you. Its multi-functional and tactical purpose makes it truly handy in a survival situation.
Features of Schrade SCAXE2
Schrade SCAXE2 has an addition that not many hatchets are equipped with: a Ferro rod in the handle. The Ferro rod is an essential survival tool as it helps create fire when necessary.
In addition to the Ferro rod, the hatchet has:
A blunt pommel end. This can be effectively used for any pummeling, pounding, and striking tasks.
Hammering capabilities. This hatchet is ideal for hammering in nails, wooden stakes, tenderizing a recently hunted meat, or breaking rocks and stones.
A specifically designed blade. The head of Schrade SCAXE2 is equipped with a blade specifically designed to chop and split wood as well as other materials that you may think of cutting to pieces.
Schrade SCAXE2 can be used in various extreme weather situations because of its stainless-steel head and because the handle is made out of high-quality rubber, making it a hatchet resistant to moisture. You better believe that Schrade SCAXE2 can give you a solid and comfortable grip.
Click here to read more reviews and compare prices.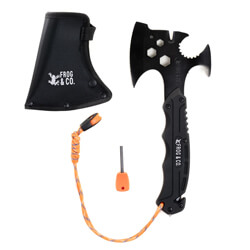 Zombinator is a hatchet that has caught many survivalists' attention due to its mean and unique design. Zombinator is a multi-tool survival hatchet design to provide you with various features to give you the best chance of survival when needed.
Features of Zombinator Survival Hatchet
First off, the blade of Zombinator is made out of 420 stainless steel, a material that is resistant to rust and corrosion. Furthermore, it is tempered to be an incredibly durable, strong, and sharp hatchet.
Zombinator has several survival functions to choose from. These include:
A head for hammering/pummeling jobs. It can also be used as a pry bar to force open a door.
A section of the head can also help pry out nails. This is effective when you are someone who loves construction activities.
Includes four hex sockets which are carved as part of Zombinator's head. The sizes include 3/8, 7/16, 1/2, and 9/16
A seat belt cutter. This proves useful in case you need to use them in car crash situations.
Glass-breaking feature. Although the whole hatchet itself is a glass breaker, a section on the head also has a glass-breaking feature.
Zombinator weighs slightly heavier than the average hatchet in the market. Specifically, it weighs around 1.7lbs. However, the small extra weight surely makes up for the multitude of features that the Zombinator provides.
Click here to read more reviews and compare prices.
Kershaw Deschutes is a rising star in the market due to its minimalistic and mean-looking design. Kershaw Deschutes might be the most simplistic hatchet you'll find in the market.
Features of Kershaw Deschutes Hatchet
Kershaw Deschutes is 14 inches in length and weighs approximately 1.5 pounds. So for the average hatchet in the market, Kershaw Deschutes may fall a bit heavier than the other hatchets available in the market. But this comes with the design.
Kershaw Deschutes is slightly heavier. It is a survival hatchet made to chop and split wood effectively.
The heads are forged with 3Cr13 stainless steel, a highly durable material for any hatchet.
The wedge blade of the head is designed to sustain frequent use and impact. This makes it a strong and highly durable hatchet ready to take down any outdoor tasks.
And finally, Kershaw Deschutes' handle is a tan-colored, glass-filled nylon handle. The handle itself comes with a rubberized attachment that assists any owner of this hatchet in grip comfort and usability in moist and wet environments.
Yes, Kershaw Deschutes may not be the prettiest and most enticing-looking hatchet out there. But who needs a hatchet to look enticing and excellent for survival? Compared to its rivals in the market, what it lacks in looks makes up for its raw power and full functionality when you need it most.
Click here to read more reviews and compare prices.
Final Verdict
From my experience, Schrade SCAXE2 is the best survival hatchet on our list. It is a high-quality hatchet that has risen up toward the top of the survival hatchet market. Schrade SCAXE2's dependability, durability and efficacy have made it a rival to the finest hatchets on the market.
If you find yourself in an extremely terrible survival scenario, Schrade SCAXE2 hatchet is ideal for you. Its multi-functional and tactical usefulness distinguishes it from other survival gear. In addition, Schrade SCAXE2 can withstand various severe weather conditions, since the handle is composed of high-quality rubber, making it a hatchet resistant to moisture.
Conclusion
Survival hatchets are an incredible tool to have, whether you are a survivalist or not. These types of hatchets have multiple features to them that you can practically use in the daily.
Just remember to know your hatchet and maintain them. These are incredible tools, but frequent use may reduce its quality; hence, it is very important for you to maintain them from top to bottom.
Now that you know how to choose the best survival hatchet, how about guides for some other survival tools? Feel free to visit my article on choosing the best compass, choosing the best multitool and choosing the best paracord.
Safe journey, my friend!