Maybe gloves are not on your high priority in everyday life, but when it comes to outdoor activities, survival and keeping safe, gloves are there to protect your hands from injuries and harm. They will help you work longer and harder without fear of hurting your hands. Which is why you definitely need the best survival gloves.
Today, you can find all sorts of gloves on the market. The selection is large, therefore you need to know how to choose your next survival glove. In this article, I will share with you everything you need to know about:
The need for gloves
Types of gloves
How to choose your gloves
What the best survival gloves of this year are – click here to skip to the list
So let's begin.
The Need for Gloves
There are different situations where survival gloves are necessary, whether it's indoors or outdoors, during work at home or in the wilderness.
Here are some main activities and situations, in which you would want to have gloves with you for full protection:
Riding a motorcycle
Shooting or hunting
Operation of machinery
Use of electronics and computers outdoors
Harsh/cold/snowy weather conditions when you're outdoors/in the wild (camping, trekking, hiking, climbing, and so on)
Types of Gloves
The variety of gloves today allow you to choose from basic gloves all the way to extremely technical gloves. Depending on your use, you will need to choose the gloves that best suit your activities and the weather.
Work gloves: These types of gloves can either be simple, or made of jersey-knit cotton, heavy leather and hides. They are designed to protect your hands from sharp objects, rough materials, lumber debris, rocks, branches, and so on. They also protect your hands from blisters and sharp edges of the tools you are operating.
Cold weather gloves: These gloves are designed to protect your hands in cold weather. Some gloves can be waterproof and even protect against snow. These gloves may be bulky and so, not be suitable for hard work and use. As for tear resistance and durability, they may change according to the material used for these gloves.
Technical gloves: Thin gloves that can be made from synthetic material. Their palm is usually grippy and a bit textured. Technical gloves are designed for excellent dexterity in order to operate tools, parts and guns. They provide protection from scrapes as well as skinned knuckles. Some technical gloves feature reinforced palm or leather and can come with additional padding on the sections of the palm, back or the hand or fingers. These are excellent gloves for many activities. Thin gloves can also be worn inside the cold weather gloves or heavy gloves, as a liner. Bear in mind that if you use these types of gloves constantly, then they would last for a few months only.
Flame resistant/Flame retardant gloves: Don't be mistaken, as these gloves are not the same. Flame resistant gloves are made of inherently non-flammable material, and so they won't melt when they come in close proximity to extreme heat and flames. On the other hand, flame retardant gloves are treated chemically to burn slow or extinguish by themselves. It is best to consult an expert before choosing between the two if you need these types of gloves.
Tactical gloves: Most tactical gloves feature elements from both work and technical gloves. This means that they provide great dexterity and can be more durable than your average technical gloves. Most of the times, these gloves will be reinforced in the knuckles and the back of the hand. This type of gloves is a bit pricier than the other gloves. However, you don't always have to go for the most expensive one just because a specific brand manufacturers them. Even cheaper tactical gloves can be enough for your purposes.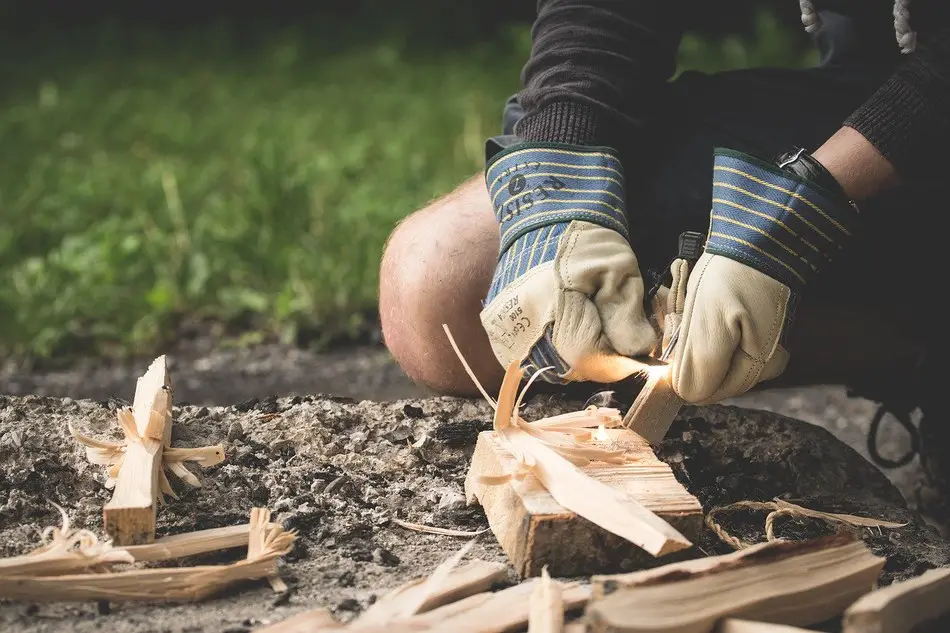 What to Consider When Choosing Gloves
Before choosing and purchasing your gloves, there are a few key factors to consider, so you'll know to choose the gloves that are best suitable to your tasks, activities and goals. Let's have a look at those factors now.
Protection: The primary goal of the gloves is of course to protect your hands and fingers. Good gloves should protect against cuts, splinters, combat scenarios, blisters, cold weather. Again, this protection differs according to the type of the gloves. Knuckles are highly susceptible to cuts, breaks and splitting. So, a good pair of gloves will protect them.
Ease of Use: It is important that your gloves will be easy to use with. A good pair of gloves are the ones that allow you to work with easily and safely at the given task at hand. If your task requires fine dexterity, you don't need thick and cowhide gloves. If you intend to chop wood or move stones, then your gloves should be more than nitrile-lined polyester. In any survival situation, it is advised to have a few pair of gloves with you in order to rotate and change when needed.
Grip: Grip is important just as protection is. Some gloves will feature a palm that is nitrile-dipped and specially designed finger pads to assist in grip. There are even gloves that feature magnets built into the finger tips. This is designed to help pick up screws and nails that fell on the ground. Different gloves feature different grip abilities. So again, choose the type of glove that suits your needs, goals and tasks.
Durability: One thing you have to know is that you're going to wear those gloves. It's inevitable that gloves will tear with time and use, so have a few pairs of gloves with you for backup use. So, it is important to choose high-quality gloves (according to the task at hand), so you'll be able to do the job properly and at the same time protect your hands. But, remember that gloves will eventually tear, and this changes from one type of glove to another.
Insulated gloves: These are the gloves that are able to keep your hands warm. Choose them if you're about to face cold or freezing weather conditions. However, you should remember that the more you work with your hands, the less you'll need the type of gloves that feature an extra layer of insulation.
Waterproof: Consider these gloves only if you really need them. They can be used when fishing, handling fish, reaching into water, or when it's pouring rain. Nonetheless, these types of gloves are not mandatory in your backpack.
Touchscreen compatibility: This factor is not as important as the ones above, but still one to consider. Think if you need a pair of gloves that are compatible with a touchscreen, be it working with a laptop or smartphone outdoors, in the wilderness or when it's cold. This factor can be considered as a bonus.
Remember, survival gloves will need to endure the harshest challenges and conditions. See how they are being put to the test in the following video:
Top 6 Survival Gloves
Now that you know the purposes of the gloves and the factors to look for when choosing a pair, let's have a look at some of the best survival gloves on the market today.
An Amazon's Choice with a score of 4.6 out of 5 from more than 1,000 ratings, these are an all- purpose gloves! They feature form-fitting trek dry material that keeps your hands cool and comfortable. The secure fit is provided thanks to the Thermo Plastic Rubber hook and loop closure. The durable microfiber helps extend the glove's life.
What else?
Durability is improved thanks to a reinforced thumb and index finger
Adjustable for touchscreen
Great durability and dexterity thanks to the synthetic leather
Easy storage with nylon carrier loops
Can be washed in the washing machine
Click here for more reviews.
These tactical gloves provide you perfect and full protection, thanks to their double stitching and reinforced palm for heavy duty. Dual-layer synthetic leather palm provides superior grip, and the anti-skid gridding adds grip capabilities.
What else?
Adjustable wrist Velcro allows increased dexterity and easy movement
Made of breathable material, which is also odor-free and features a functional vent design
Suitable for work both in hot weather as well as in mild winter seasons
Developed and designed for special operations units and police
Great for the following activities: hiking, climbing, cycling, motorcycle riding, airsoft, paintball, and other outdoor activities
Click here for more reviews.
Magpul introduces its most lightweight and tactile glove. It offers protection from abrasion and maximum dexterity. These technical gloves provide full protection during work with minimum impact to the hands, even on fine motor skills.
What else?
Durable synthetic construction
Terry backed thumbs
Touchscreen compatible
Tough synthetic suede for dry or wet grip
Lightweight and durable
Click here for more reviews.
The 5.11 tactical gloves feature ruggedized leather and heavy-duty nylon that withstand rugged and robust tasks. Designed with shape-retaining and fast-drying material, so they are perfect for tasks and work in wet and oily environment. Superior comfort and fit is achieved due to a hook and loop closure that come with a reinforced pull tab.
What else?
Features superior flash and slash protection, protecting your hands even in harsh environments
Has an elasticized wrist that helps keep out debris and moisture from your hands for full comfort
Form-fitting construction for enhancement of dexterity and maximizing control
Highly breathable gloves, which make them excellent for work in warm environments
Sleek construction makes sure you are provided the right amount of warmth
Reinforced palm and fingers
Click here for more reviews.
At a first sight, these gloves may not seem like survival gloves. However, they provide you with both warmth and protection, and that's exactly what you're looking for in gloves in order to survive and protect your hands. These gloves are ideal for work in cold environments and cold weather, and also for work that requires manual dexterity.
The gloves provide you with natural protection due to its green ragg wool outershell. You are protected from the cold also thanks to the 40g of thinsulate insulation as well as the fleece lining.
What else?
Knit cuff protects your hands from drafts
RefrigiWear has an experience of over 60 years
Outershell (100% ragg wool) is made of the warmest and natural material you can find
Click here for more reviews.
These tactical gloves provide amazing protection and strength. Double stitched synthetic leather panels and extra padding on the palm in order to absorb shock. The back of the gloves feature breathable TrekDry fabric, so that your hands are kept dry and cool even in the warmest weather conditions and environments.
What else?
The Thermoplastic Rubber (TPR) knuckle protects your fingers from impact
Great durability thanks to the dual-layer internal fingertip reinforcement
D3O palm padding helps absorb and dissipate high-impact energy
Can be washed in the washing machine
Click here for more reviews.
Final Words
I hope this article was helpful to you, and now you have the complete grasp of how to choose the absolutely best survival gloves. As I mentioned earlier, good gloves are a must in your survival equipment. They will protect your hand and serve you in any situation.
Naturally, gloves are not the only survival equipment that you need. I encourage you to read my article on what should be in a survival backpack, as well as specific articles on survival knives, gadgets and compasses.
And always remember, a smart survivalist is a prepared one!