The need to go off the grid and stop relying on the power lines has significantly risen in the recent years. More and more free spirits wish to be mobile, to be independent of the country's infrastructures, to be green and enjoy a clean energy source. Portable solar panels are the ultimate answer to these needs and desires.
Just think of all the potential applications once you get the best portable solar panel possible. You can power your tiny house, homestead or RV. You can charge and use the panel with other portable appliances and devices, even if you are camping in the middle of nowhere. You will harness the power of the sun from any location and use it to your full advantage without leaving a carbon footprint.
But what exactly is this year's best portable solar panel? There are several excellent products available, and I reviewed them for you, hopefully making your choice an easier task. Every item is also linked to its Amazon page, where you can read more reviews and compare prices. But first, I will explain a few basic things about these solar panels and how they are evaluated. If you wish to skip directly to the full reviews, click here.
What Are Portable Solar Panels?
Portable solar panels are solar panels that can be easily transported and installed whenever you need them. They work precisely like any other solar panel. They have photovoltaic cells, which help transforming direct sunlight into electrical current.
A photovoltaic cell is mostly two adjacent parts of a semi-conducting material, such as a silicon. When particles of light (AKA photons) enter such a cell, they set electrons free from the atoms, which creates an electrical current.
How to Choose the Best Portable Solar Panel?
1. Select the Appropriate Technology and Materials
First of all, we need to check what technology was used when making a solar panel. The most widespread make is the crystalline panels. They are used in both off-grid and on-grid solar panel systems. Usually there are monocrystalline and polycrystalline models. The former are more recommended, since they are more efficient, thus more suitable for portable needs. I will explain the factor of efficiency further on.
Next, we have the thin-film panels. This technology is favored by some, thanks to their reduced size and better flexibility. But again, we need to consider efficiency, and theirs is somewhat lower than the monocrystalline type's. If you go for a thin-film portable solar panel, you will earn more mobility and maneuverability, but sacrifice some efficiency. Your personal preference will decide which technology is the right one for you.
2. Inspect Solar Panel's Efficiency
This is probably the most important factor, since it can influence the other factors. Efficiency tells you at what rate the energy is converted from the sunlight to DC current that powers your home and appliances. Higher numbers result in smaller panels, which weigh less, are more portable and perform much better.
The bottom line is that efficiency means quality, and you should always strive for the top-notch product. Why drag a bulky model, when a smaller efficient panel can do the same job without encumbering your mobility?
3. Prioritize a Lighter Weight
Weight was mentioned earlier. It goes without saying that you need to choose a light (yet reliable) model, otherwise the very purpose of portability is defeated. If you're camping, if you're on the move, a low weight panel has a huge advantage. Some of them are foldable and have USB charging ports, which is another big plus.
4. Decide on Panel's Utilization
Deciding on the best portable solar panel for you involves knowing what you will be using it for. Naturally, a boat or an RV camper demand a much larger system with a greater power output, as compared to a few mobile phones and tablets taken on a hiking trip.
You need to know how much total wattage (W) you require and choose a panel that produces no less than that. For example, if your mobile home needs a 100W power, then get a solar panel that does not go below this value.
Generally speaking, if you need to charge your phone and recharge a few batteries, then a 45W solar panel should be more than enough for this level of usage.
5. Test Ease of Installation
Make sure you get a solar panel whose installation you can handle without any effort, sweat and tears. Go for the panels that do not require any special skills or tools. I can personally guarantee that any panel recommended in this very post can be assembled and set up in a matter of minutes, if not less.
Some of the models simply need to be unfolded and quickly secured to one spot. Several of them come with an adjustable kickstand. Then you only need to connect to your system, usually with an included cable or cord. Some panels have ports on their sides, others have connectors that require plugs or alligator clips. Again, pick the product that feels comfortable to you and answers all your needs.
Top 10 Portable Solar Panels
This model is considered being one of the best portable solar panels in existence. Renogy's solar kit will power your RV in no time. Just think about it, this kit will enable you to add more devices and appliances to your mobile home – up to 400W in total!
The kit includes an 8 feet cable, which lets you connect the battery and the charge controller, and you can immediately start using the kit. And even if you parked under a shade, you can set the solar panel a few feet away, under the sun, and enjoy the best of both worlds – cool RV climate and free solar energy.
Under the appropriate conditions, the Renogy kit's power output is truly astounding. If the day is sunny and you connect the kit during the early hours, you will be able to enjoy about 500Wh in a day. This amount of energy should be more than sufficient to charge any battery in just a couple of hours.
The device is also highly safe. It comes with a negative grounding controller, which is extremely useful if your motorhome is negative grounded. In addition, it weighs about 20 lbs. and cannot be folded.
All in all, this is a highly recommended solar panel. It's highly efficient and is capable of producing wattage between 100W and 400W. If you're serious about producing clean and free energy, free of the power grid, then this is the right device for you.
Click here for more reviews.
As you can see, many others include Renogy products in their top lists of solar panels:
This portable solar kit is the smart choice for the smart off-gridder. The Zamp Solar product will efficiently power up any RV and charge all your batteries in a record time. It's durable and highly reliable, so you can take it anywhere you'd like: to a road trip or to camp in the outdoors.
Zamp Solar 120P is capable of producing 30-40 amperes a day, which should be more than enough for any mobile home. It works with both 12V and 6V batteries, therefore you are not limited in your battery choice. It can be easily connected to your power system, either through a SAE port or directly to your battery.
The Zamp Solar 120P weighs 35 lbs. and can be folded if necessary and carried in an included bag. No wonder it's considered by many to be the best foldable solar panel on the market. With 120W output, you will never be dependent on an electric hook-up. Moreover, the material used in making this panel is the aforementioned monocrystalline. Coupled with an anti-reflective system, its solar cells absorb more light and output more energy.
The bottom line is that Zamp Solar 120P is very versatile and effective, which makes it a great solar panel and one of the best on our list. It can produce a lot of power even under cloudy or dim conditions, which is always a huge plus since you are not limited by the weather conditions.
Click here for more reviews.
This portable solar panel can be universally adapted to any mounting system. It's also highly efficient. Under ideal conditions, it outputs 500Wh. However, thanks to the bypass diodes, it can overcome shade and low light without any noticeable drop in the performance.
This HQST Solar model is designed to last for decades. Thanks to the multilayered lamination and the encapsulation material, the cells perform at their peak even after many years. Add a corrosion-resistant frame, and you got yourself an excellent addition to your power system.
Not convinced yet? The panel's glass is tempered, anti-reflective and extremely transparent. It resists impact, snow, water, high winds and flying particles! You can enjoy the free energy produced by this product with a very minimal maintenance and parts replacement.
It weighs just 16.5 lbs. and can fit on any rooftop, RV, campervan, boat or tiny house. The solar cells are polycrystalline and highly efficient. On the back of the panel you can find MC4 leads with a waterproof junction box, which enables a simple plugging to your power system. All in all, this is a great and affordable addition to your off-grid life. With HQST 100-Watt 12-Volt Polycrystalline Solar Panel, you are prepared to any scenario and any weather.
Click here for more reviews.
The ECO-WORTHY products live up to their name, by efficiently producing clean energy from the clean solar source. This specific model is also highly durable and well-known as one of the best folding solar panels. The corrosion-resistant frame is made of aluminum, which ensures that the panel will serve you for many years under all weather conditions, including heavy snow, rain and strong winds.
This polycrystalline model also comes with an extensive range of safety mechanisms, as it protects against:
Overload
Overcharge
Overdischarge
Reverse connection
Any of these can harm your system and devices, so it's a good thing that the makers of this portable solar panel kit took care of these potential problems.
The ECO-WORTHY DC-FP40-1 can be easily set up and operated. You just unfold it and connect the battery clips to your battery. It's a great solution if you are camping, hiking, driving, or even need to utilize a watering system that has a solar pump. It weighs 12 lbs. and produces wattage of 40W.
The bottom line is that this is a trustworthy and very affordable solar kit for anyone who does not need a lot of power output. It can be transported anywhere with ease, you just carry it like a briefcase. And with the aforementioned durability and several protection, this is undoubtedly a portable solar panel that you should give a try.
Click here for more reviews.
Another awesome solution for those of us who travels in RVs and campervans. Go Power! GP-PSK-130 130W Portable Solar Kit has a very impressive energy output. If the sun is out, you will enjoy up to 130W in an hour. The kit also comes with an in-built 10 amp solar controller.
This solar panel kit is made of durable materials and demands very little maintenance. It's foldable and weighs under 29 lbs. The setup is quick and easy, the panel will be up and running in minutes. The kit does not require a permanent placement on your roof. It can be easily installed and removed to be used elsewhere, even to charge a battery of your car, boat or ATV.
The kit is especially designed to fully absorb the sun energy, thanks to its foldable and adjustable legs. It also comes with a sturdy nylon bag for the convenient carry and storage.
Basically, this is another great way to live and travel while using the solar power. The investment into this model quickly pays off. You can use it as the main power source for your mobile home, or as a supplemental solar panel to those you already have on your home's rooftop.
Includes a carrying case and SAE & XLR plug adapter.
Click here for more reviews.
This little portable beast can be your trusty road companion. The Nomad solar panel produces 28W energy and comes with USB connecting option, to charge all your other portable devices.
It is suitable for almost any weather thanks to the waterproof layer. A detachable kickstand helps you to place it at the best angle that corresponds to the sun's position in the sky. This smart device is operated by highly intelligent electronics that ensure the best possible energy output to help you charge your:
Cell phone
Tablet
Camera
Batteries
And other items.
In fact, it takes just a couple of hours for this device to charge a 30Wh power bank.
The Goal Zero Nomad 28 Plus Solar Panel also comes with a LED indicator. The indicator gives you a lot of a useful info (solar conditions, speed of charging, etc.) that assists to adjust the panel angle in order to maximize the solar energy absorption and electric energy production.
Another great feature is a dynamic auto-restart, which puts this portable solar panel above other similar models. The device remembers the recent power flow and knows how to react if it was temporarily disconnected. If it was disconnected due to the bad, sunless weather (and not due to reaching the fully charged level), it will automatically reconnect and continue its operation without any need of interference on your part. So you can just relax and enjoy the free, green energy without any worry.
It's a small, truly portable device that weighs just 3 lbs. and can be taken anywhere with ease. Consider getting the Goal Zero Nomad 28 Plus Solar Panel if you mostly need to power small electronic devices and charge a battery bank. It's highly reliable and will serve you for many years to come.
Click here for more reviews.
This portable solar kit features not one, but two foldable 50 Watt solar panels with high quality monocrystalline cells. The kit is highly efficient (15.4%). It can function as:
Generator ready kit
Battery ready kit
Or even both at the same time
The ACOPOWER's solar kit comes with a charge controller. The latter protects your system from a variety of electrical hazards: reverse connection, overloading, overcharging, overheating and short-circuiting. In addition, the corrosion-resistant aluminum frame protects against all sorts of climates and weather, ensuring a safe outdoor utilization.
The solar kit's design is very detailed, you can immediately see that a lot of thought went into designing this device. It has corner protectors, handle, latches and kickstand legs, among other features. The legs can be adjusted to ensure the optimal intake of the solar energy.
The ACOPOWER UV11007GD is also very versatile. The MC-4 connectors enable you to plug into any generator, while the alligator clips fit any 12V car or boat battery (be it gel, flooded or sealed).
All in all, this is a solid yet lightweight option, you can easily fold it, carry in the included bag and install in moments on any RV, house, boat, and so forth. Give it a try!
Click here for more reviews.
No list of best portable solar panels is complete without mentioning this fine product from Goal Zero. Some of its features resemble the previously mentioned ACOPOWER UV11007GD:
2 50W solar panels
Monocrystalline cells
Corner protection
Kickstand to match the sun's position for optimal energy absorption
Bag for easy carrying
Highly efficient
The entire design of this model makes sure that it can withstand the harshest environment and serve you even in emergency situations. It includes tempered glass and durable aluminum frame. By the way, the kickstand is removable, in case you wish to mount the panels in a flat position.
The exclusive feature that distinguishes Boulder 100 from other competitors is that it can connect only with 8mm jacks and in parallel. This makes the entire system even safer, as it remains within the 12V output.
The Goal Zero Boulder 100 weighs less than 26 lbs. You can carry it like a briefcase and take on any off-grid adventure or just use it at home.
Click here for more reviews.
This impressive 30000mAh solar power bank stores enough electricity to charge any Apple or Android devices more than once! Connect your GoPro cameras, mobile phones, tablets, and so on – the LICORNE 30000mAh Solar Power Bank Charger will serve them all! It's absolutely ideal for your daily life, as well as any social gathering, camping trip, hiking, and any other type of adventure or vacation.
The charger comes with 6 USB quick charge and Type C output ports, which mean it can use the solar energy to charge 6 different devices at once. It also supports wireless charging.
LICORNE 30000mAh Solar Power Bank Charger is highly durable, made from dustproof, shockproof and waterproof materials. It also includes a powerful flashlight with 3 modes: Strobe/Strong light/SOS.
Click here for more reviews.
What Are the Uses of Portable Solar Panels?
Thanks to their mobility and small size, portable solar panels can be used in many locations and situations, some of which were mentioned earlier:
Off grid living
Camping
Fishing or hunting trip
RV and caravan
Van
Boat
Backyard of any ordinary house
Anytime you need a device charged, such as a laptop, smartphone, portable TV set, and so on
Naturally, some devices need more wattage than the others. Make sure your portable solar panel is capable of powering them. Here is a list of common appliances and how much wattage they require: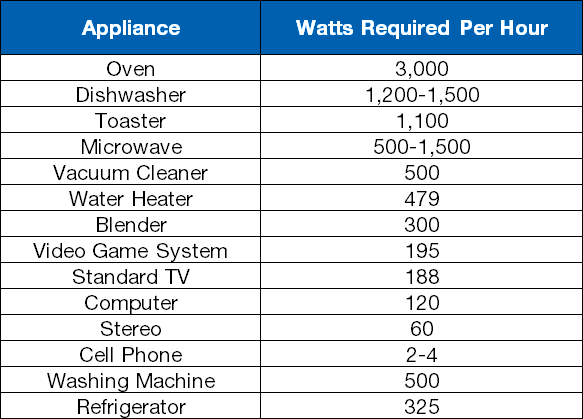 How to Install a Portable Solar Panel?
It's highly recommended to install your newly purchased portable solar panel according to the manufacturer's instructions. Nonetheless, here are a few general guidelines:
Before you begin setting up the panel, locate its charging cable. This cable connects between the solar panel and the battery or the solar generator it's supposed to charge.
Find the best location for your new panel. This can be the roof of your house, or even an open space in front of the house. The important part is that the location receives a lot of sunlight during the day hours.
Attach the panel's kickstand as instructed.
Using the aforementioned cable, connect the panel to the battery or the generator as instructed. You should be able to see the results once the solar energy starts operating and charging your devices.
Here is a video that demonstrates how you can easily install the Renogy 100 panel:
How to Maintain a Portable Solar Panel?
Make sure that the solar panel is not warm before cleaning.
Using a hose, spray water on the side that faces the sun to wash down most of the dirt and dust.
Give the surface a more thorough wash with water and a sponge or a mop. You can add soap to water.
Hose the panel down again, to get rid of the remaining soap.
Remove any leaves, dirt, and debris that are stuck to the panel's bottom surface and its stand.
When necessary, replace parts of the panel according to the manufacturer's instructions.
How Long Do the Portable Solar Panels Last?
If you go for a quality model, like the ones I recommended earlier, then you can enjoy them for 20-30 years or even more. Proper maintenance will pay off in the long run. I have a few friends that enjoy the panels bought all the way back in the 80s, so just imagine for how long you can enjoy the modern, top quality solar panels.
Getting the best possible portable solar panel can lower your off grid expenses. See the linked article for more information on costs of living off the grid.
To distribute the eneregy you get from a portable solar panel, I suggest connecting it to a solar generator – see the linked post for top recommendations for the best solar generator for off grid living.
I hope this article was able to answer every question you have about portable solar panels. They can truly make a huge difference in your off-grid life!