Shelter and survival go hand in hand. In my experience, this is what we automatically feel the need for, whether we're just camping for fun or facing extreme survival challenges.
So why is shelter needed for survival? A shelter can protect you from severe conditions, such as extreme heat, cold, wind and rain. It has a microclimate where you can rest, sleep and hide from animals. A shelter is also the base where you store your water, food and essential equipment.
This is, of course, just the short answer. Let's delve further into this subject, see how the shelter protects you and what you need to know to make your own shelter.
The Reasons Why a Shelter is Necessary for Survival
Exposure in a harsh environment can be deadly. If you find yourself in the wild, in extreme climate conditions, you should find or make a shelter even before you find water and food. A good shelter will protect you from variety of uncontrollable factors:
It will provide shade from sweltering sun.
It will shield you from icy, cold winds and low temperatures.
It will keep you safe and dry in case of a rain.
It will hide you from nearby predators, insects and snakes.
These factors are not to be taken lightly. For instance, hypothermia is not just something that happens to the mountain climbers in the movies. An unsheltered person can succumb to it in mere minutes. Your body can rapidly lose more heat than it creates, even if it's not winter time. If you are fatigued, hungry, low on energy, attacked by rain and wind – then you must have a shelter, before hypothermia sets in. Hypothermia quickly leads to the shutdown of the circulatory system, including the heart, and eventually – death.
A good shelter is essentially a microclimate that functions as your safeguard against the aforementioned elements. At first you don't even need something sturdy and permanent, especially if you're well-clothed. You can even find a natural shelter, like a cave. You can even take refuge behind big trees and rocks, so that they serve you as a windbreak. If you have a tent, there are many ways to successfully heat a tent and create your own microclimate. Alternatively, a camping air conditioner can keep everything chill, but of course those are not always available in an emergency situation.
A shelter also serves as your temporary base. You can store your food, water and equipment there, lowering their chances of being damaged by the weather or consumed by animals. Ideally, you should erect the shelter near a good water source, because lugging heavy water containers to your base can be a tough chore.
A shelter is an excellent place to rest and replenish your energies. This is where you can sleep during the night, especially if you're exhausted or feeling ill. Several hours of good, protected sleep can make all the difference. A shelter can also improve your morale and give a sense of order and focus, amidst whatever circumstances you're facing.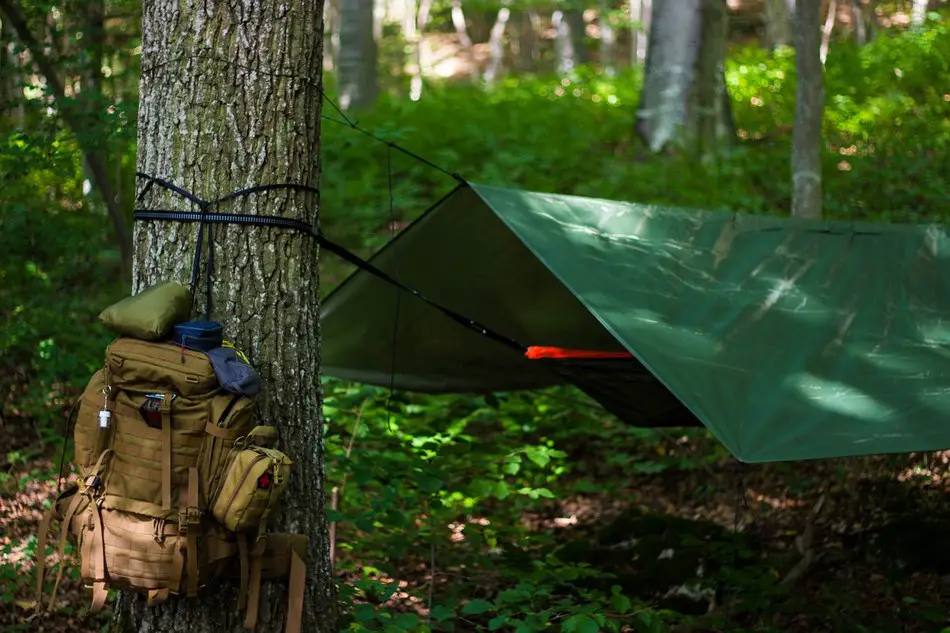 How to Quickly Build a Shelter in the Wilderness
Unless you are equipped with a tent or can find a dry cave, there are useful methods of quickly establishing a shelter, even if it's a temporary one. Keep in mind that you don't want to build a shelter that's too big. A large shelter will require too much of your energy to build it and is harder to keep warm. A shelter needs to be just the right size to hold your body heat as well as your equipment.
A popular sheltering solution is a lean-to. You find several strong and long sticks and lean them against a tree or a rock. Ideally you'd want to lean them at an angle as close to the ground as possible; you'll be more difficult to detect, and more protected from the wind. Make sure you have sufficient space for you and your company.
Once you've made the basic framework of your lean-to, simply cover it with nearby natural debris. These can be small branches and sticks, leaves, moss and grass. They will provide you with both insulation and camouflage. Compact them as best as you can, so that they will not be blown away by the wind.
Always remember that this is just a short-term solution. A lean-to needs to be maintained on a daily basis, but it's not the ideal place to stay at for longer than a few days. If you plan to camp in the woods for a long time, consider purchasing a quality camping tent or a portable shelter and adding it to your survival gear.
Here is a different method of building an emergency shelter with minimal equipment:
A word for those of us who dare to go on a survival vacation. Some of the locations provide you with a hut, some with a basic equipment. However, for those who really want to test themselves and push the limits: you will probably need to build your own shelter. Be prepared for this posssibility.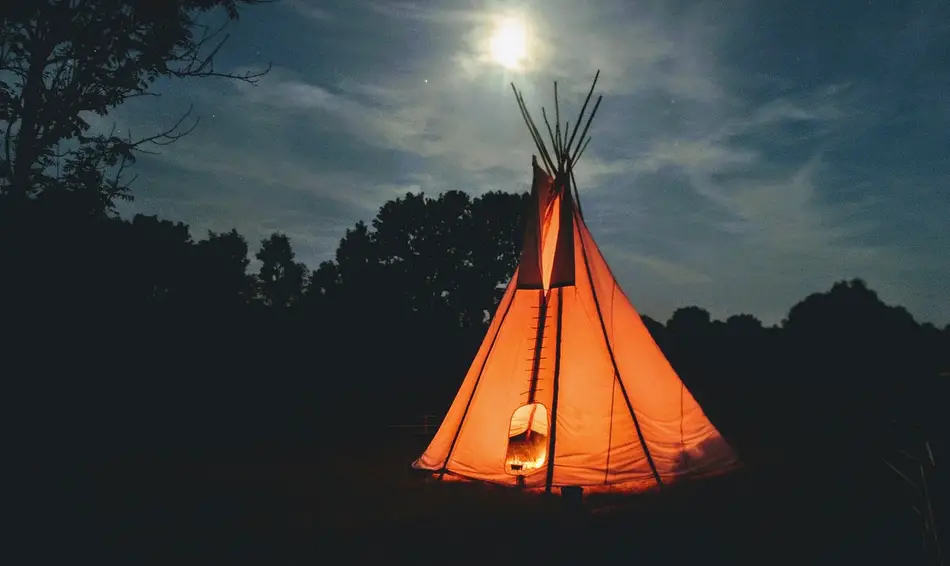 What are the Best Emergency Shelters and Tents?
Some of the best survival shelters come in different sizes and packages. Emergency shelter is a must in times of extreme conditions when Mother Nature turns loose. The best tents and shelters have all the safety features to keep the people inside safe from danger. Here are some of the best survival shelters and tents, based on personal experience and feedback from friends. I linked all of them to their Amazon pages for your convenience.
Life Systems Survival Shelter (2 Persons)
This tent works well for all campers or anyone who may be stranded in the middle of nowhere. It holds up to two people inside, and it can be a lifesaver in emergency situations. If anyone is caught by the cold weather, it creates a warm internal microclimate for the bi-standards. This is one of the best tents for hikers who may get in a bind when the temperatures drop. Click for more information and reveiws of Life Systems Survival Shelter (2 Persons).
Tube Tents
Tube Tents are one-piece tents which are well insulated, they have floors, and are easy to spot with its bright orange color. The insulation is an aluminized coating and the fabric is nylon. It is designed to set up in between post or trees and comes with 23′ of rope and 4 – 9″ stakes made of zinc-plated steel. The dimensions are 82″ X 36″ and sleep, two people. Tube tents come in handy for emergency shelters and camping. Click for more information and reveiws of Tube Tents.
Coleman Sundome Tent
This high quality (yet affordable) tent rightfully deserves the Amazon's Choice ribbon. Extra durable and completely durably, it will protect you from the harshest weather. The tent has a D-shaped entry doors that tightly closes after you get inside. You select a different size that fits the number of people in your company, up to 6 people – or you can just but it for yourself. Click for more information and reveiws of Coleman Sundome Tent.
Core Instant Cabin Tent
This tent can be set up in sixty seconds flat. It is ideal for the family or a large friendly gathering and holds up to nine people. Two queen sized mattresses can easily fit inside and are the perfect height for anyone to stand up comfortably. The outer material is waterproof and it has an adjustable vent on the ground. Inside there are dividers for separate rooms and the walls have pockets for storing stuff and keeping everything organized. It comes with all the setup devices and has a port for an electrical cord which closes when it is not in use. Click for more information and reveiws of Core Instant Cabin Tent.
Core Dome Tent
This tent is made of polyester and holds six people comfortably. There is a ground vent which is adjustable and has a hook to hold a lantern for light. It also comes with pockets for storage and organizing and it has a one-year limited warranty. Click for more information and reveiws of Core Dome Tent.
Vango Storm Shelter 800
This is one of the most durable shelters created and they are perfect for hikers in the toughest weather conditions. This shelter holds 8 people safely, and it is bright orange in color with reflectors. It has a porthole for the persons inside to check the weather conditions outside. The seams are taped, and the shelter is completely waterproof from the floor to the roof. There are flysheet vents with mesh to eliminate condensation and add ventilation inside the emergency shelter. It can be placed on the ground in wet conditions and remain dry inside. This shelter can be set up within one minute and has thick insulation to keep the interior warm in the coldest temperatures. Click for more information and reveiws of Vango Storm Shelter 800.
Rab Bothy 2 Person Group Shelter
This shelter is made from waterproof and windproof polyester fabric and has seats on the inside which are also waterproof. It holds 2 people and is used for camping and emergency situations. There are vents and windows to keep ventilation going and for checking weather conditions. The color is bright orange with reflective piping for visibility. Click for more information and reveiws of Rab Bothy 2 Person Group Shelter.
Related Questions
Can you survive without shelter? It depends on the conditions you're in. In a mild weather, you can cozily sleep under the night sky. But even then, you must have a sleeping bag for the minimal protections from the bugs and other inconveniences.
How do you make a fire pit? A fire pit is a welcome addition to any shelter. Basically, you dig a shallow hole in a nearby ground and surround it with rocks. Light the fire only in the hole. Keep it close enough for warmth, but not too close so that the lean-to or tent won't catch fire.
How to repel bugs? Unless you have an actual repellent, use your fire to keep the pesky insects away from your shelter. Feed green wood to the fire, the emerging smoke will chase the bugs away. Consider putting some mud on the exposed parts of your body for additional protection.