So you're planning to go camping and enjoy nature, clear your head and just relax. Well, it's obvious that you need a tent! But as simple as getting a camping tent sounds, there are a few things to consider.
Your camping tent can be the one thing that will make your trip amazing, or turn it into a horrible experience. With a big outdoors market, there are a lot of companies that offer their products and services, and this includes all kinds of tents as well. As you can guess, the quality of camping tents varies between different manufacturers.
You want your tent to withstand wind, be waterproof, keep you dry and warm, and be compatible with 3 seasons or even all 4. You would also want it to be comfy and have enough room for everybody to rest and sleep inside. In other words, what you want and need is the best camping tent possible. So, before you get lost with the incredible variety of tents that can be purchased these days, I have researched the subject for you.
In this article, I will go through the best camping tents you can find anywhere. I will also explain about the types of tents, how to choose a tent and what size of tent suits you. Let's begin, shall we?
Table of Contents
How to Choose a Camping Tent
Estimate the Needed Space and Occupancy
One of the most important factors when getting a tent is knowing its size and how many people can stay in the tent. Tents range from a 1-person tent to tents for entire families and even pets.
A 4-person tent will be enough to occupy 4 people without their gear. If you wish for your gear to be inside the tent or to have more people inside, you'll need a bigger tent. There's also the consideration of height, if tall people want to stand and stretch out inside the tent. Remember, that the larger and bigger the tent, the more difficult it will be to set it up. Always choose a tent that will have enough space for everyone inside, so that everyone feels comfortable and not cramped.
Choose a Tent According to Seasons
By default, most available tents are considered 3-season tents. This means that these tents are suitable and protective during the period that lasts from warmer months of spring time to warmer months of fall. 3-season tents offer a lot of ventilation as well as protection against the elements. They provide good privacy and keep bugs outside the tents.
3-4 season tents offer some additional extras which prolong their use. These tents are suitable for the entire spring season as well as the fall. This, of course, depends on the climate that the tents are subject to. These tents have less ventilation than the 3-season tents, but retain a lot more warmth and are very versatile.
4-season tents are the best you can find, although you probably won't need them. These are actually special tents that are suitable for any season, from fall to summer, but are especially designed to handle cold weather conditions. They offer little to no ventilation, and their rainfly extends almost to the ground in order to provide a solid roof. These tents are expensive and heavy. The people who mostly use them are mountaineers. As you can see, a 3-season tent is more than enough for camping in a nice weather during the spring or summer.
Decide on Access to the Tent
Most tents that are designed for 4 people (or less) will include one door only. Bigger tents may have several access points to them, where extremely large tents can have up to 4 doors. Having more than one door can actually be more comfortable and easier for people to get in and out of the tent, without stepping on each other. This is a nice feature and factor to consider, but also not a crucial one.
Measure Length and Footprint
When it comes to tents, a footprint is the overall size of the area that the tent covers. Don't just look at the occupancy of the tent (as covered above), as it is important to check the actual measurements of the ground that the tent covers when it's set up. Checking footprint and occupancy helps you know the real size of the tent and whether it fits and right for you.
Another important factor that was mentioned is length. If you, your friends, or family members happen to be tall, you should choose a tent that will suit them. Some tents are not built for tall people, so either don't stretch inside or choose a suitable tent for tall people.
Take Weight and Size Into Consideration
This may or may not be a crucial factor. Allow me to explain. If you take your tent inside a car and park near the camping area, then weight and size are not such big factors. However, if you plan to backpack and carry the tent yourself, then you would want a lightweight and small tent. Some people suggest taking a big tent when travelling in groups. Just see that you have no trouble transporting a big tent to your desired destination.
Select the Most Suitable Ventilation
During the summer and months that are known to be warm, it is important to have air moving through your tent for ventilation. This helps to cool the tent and also to bring in fresh air in order to get rid of bad odours. In months that are colder, you'd want to retain heat inside the tent. This ventilation is usually achieved through small mesh screens near the top of the tent. The ventilation can also come from windows, mesh door covers or small vents near the foot of the tent. In the 3-4 season tents, you will also be able to close these ventilation openings in order to trap the warmth inside. Make sure that your tent suits your needs and the season. You don't want to be "cooked" inside a hot tent without enough ventilation during those hot summer months.
Check How the Gear Can be Stored
A lot of tents today come with special pouches, so you'll be able to keep things and gear you wish for quick access. Other tents may have hanging storage options as well. One new addition to tents these days is the gear loft. You will usually find it in tents that are smaller that don't hold a lot of weight. You can keep your most important gear there and they are quite spacious.
Select the Correct Materials
There are two primary materials that are used in the construction of tents: polyester and nylon. Most tents are made of polyester, as it is resilient to weather and cheaper. The downside is that it can be heavy to carry. Tents that are more expensive make use of nylon, which is lighter and thinner.
As stated earlier, there are tents made of canvas, but although being extremely durable and insulate great, they are very expensive and very heavy. These tents will last for centuries, but are less recommended due to price and weight.
Frames and supports are made of three primary materials: Aluminum, fiberglass and carbon fiber. Fiberglass is the cheapest, most common and the strongest of the three. However, it is a bit heavy. Aluminum is not frequently used, but it is also a strong material and cheap. Nonetheless, it may break more easily. Carbon fiber, on the other hand, is the newest used material of the three. It is quite flexible and strong too and more expensive.
No matter the material you choose, your tent must be seam sealed. If it's not seam sealed, your tent will suffer from leaks. Also, consider getting a tent with a tub-style bottom, as it will keep away standing water from getting inside the tent.
Add a Groundcloth
Most tents have decent floors, but some come with a groundcloth. This is another layer that is placed down first in order to prevent the bottom of the tent from punctures. Groundcloths are tough and thick, even more than the bottom of the tent. This is a wise investment to protect your tent in difficult environments and places with sticks and rocks on the ground. Groundcloths come more with expensive tents, as they add to the total price of the tent.
Consider Adding a Rainfly
Rainfly is a cover over the tent. It makes sure that the tent is in fact waterproof. The rainflies can be attached or come as separate pieces. Separate pieces allow you to take them off when you don't need them covering the tent. This improves the inside ventilation. Cheaper tents are usually the ones that come with an attached rainfly. Consider if you need it or not, depending on the expected weather and the location where you will be camping.
Check Ease of Use and Setup
While camping and solo tents tend to be easier to set up, larger tents can be more difficult and complicated. Not to worry, as you can find online detailed guides and even setup videos to help you out. If you are camping in a group, you won't have problems setting even a large tent. But, if you are going camping on your own, it's best to choose a tent that is easy to set up.
The following video from Justin Yapp, for example, explains how a tent can be quickly set up.
What Are the Types of Camping Tents?
As you know, tent is an essential part of camping, since a shelter is always a necessity. Before you choose one, you need to understand a few basic things about tents. There are two primary types of tents for camping, and they are the cabin tent and the dome. These two types are the most popular when it comes to camping tents, especially because they are affordable and easy to set up and use. If you're starting out camping, these two are the best ones for you.
There are other types of tents as well, depending on your activity. Backpacking tents, for example, are more spacious and lightweight. This works perfectly for you, since you have to carry the tent with you during hikes. So, if you plan going hiking to a faraway location, you will probably need a backpacking tent, not a camping tent. These tents are more expensive, because they are much lighter in weight, and a buyer needs to pay more for this important feature. This can be an ideal tent for you, even if you are only a beginner backpacker.
Another type of tent is the rooftop tent or truck tent. These great tents actually turn your car or truck into a space to enjoy outdoors. Simply attach them on top of your van or SUV using rigid floor for space. These tents can be a bit expensive, but they make sure that just in a few minutes you can leave the ground and relax on the top of your van. This can also provide you with additional security, since you will be removed from whatever wanders or crawls on the ground.
The last type of tent I'll mention here is the canvas tent. This is an old type of tent, but you can still purchase it these days. Most of the people and campers don't use this type of tent, because it is significantly heavier, and can also be more expensive than modern tents. The advantage of having such a tent is that it is almost indestructible. It is also ideal and suitable for camping in extreme weather conditions.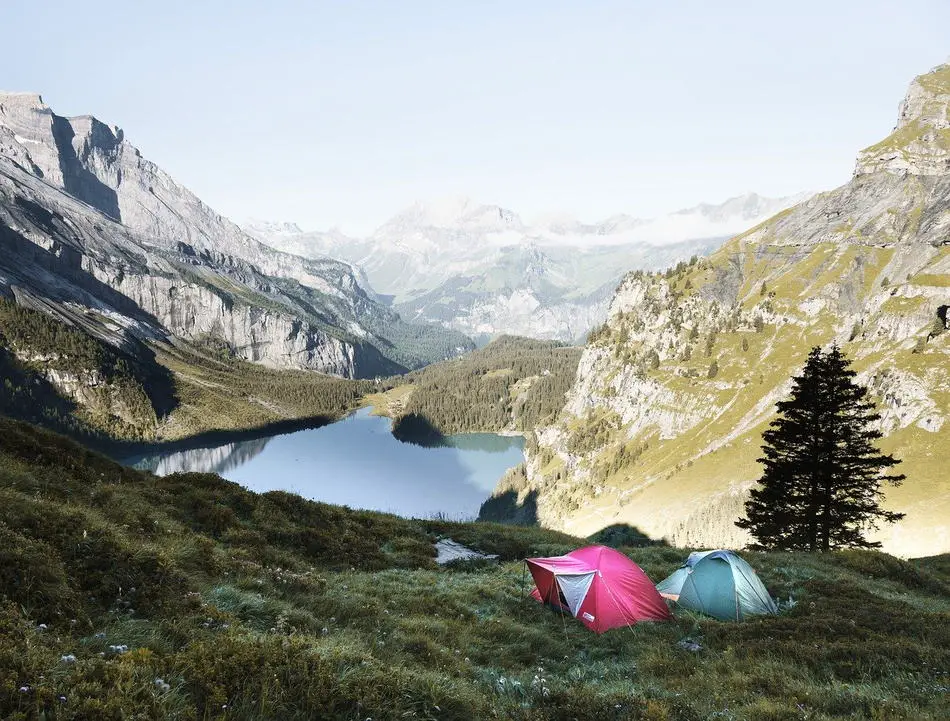 What Tent Size Should You Pick?
I've talked a bit about tent sizes earlier in this article, but it's worth mentioning that manufacturers tend to exaggerate about the amount of people that can sleep comfortably inside the tents.
Let's take a 2-person tent for example. Most of the time, such a tent will be too tight for two people who are average-sized. You can say the same about tents for 3-person, 4-person, 6-person and even 8-person. So, what do you do? First, I suggest that if you plan on camping and sleeping as four people in one tent, then you should get a 6-person tent to make it comfortable for everyone. Second, you can use the following guide to help you out.
The following guidelines show how most camping as well as backpacking tents actually feel.
1-Person Tent
Comfortable for only 1 person with the gear stored in the vestibule.
2-Person Tent
Incredibly spacious for 1 person, a lot of space to store your gear. May be a bit tight for 2 people with their gear in the vestibules.
3-Person Tent
Feels palatial for 2 people with interior gear. Also fits two sleeping pads that are wide. Comfortable also for 2 people with a small child or even a dog. Will be very tight for 3 people/adults who are average sized.
4-Person Tent
Feels palatial for 2-3 people with interior gear. Tight but can be possible for 3 people with a child or a dog. Very tight for 4 people who are average sized.
6-Person Tent
Feels like a luxury for 4 people with gear. Too tight for 5-6 people.
8-Person Tent
Feels palatial for 4 people with gear. Comfortable for 6 people, but only if some of them are children.
10-Person Tent
Palatial for 4 people with gear. Comfortable for 6 people with gear. Will be tight for 8 people or more.
Small vs Large Camping Tents
Now, let's have a look at the pros and cons of small vs large camping tents.
Small Tents: Pros
Less likely to suffer from wind damage
Compact and lightweight
Easy to set up and find a suitable campsite
Small Tents: Cons
Can be and feel pretty tight and cramped inside
You have less room inside for gear, kids, dogs
Sleeping pads that are low-profile only
Large Tents: Pros
You may have room to stand up and even stretch
Compatible with cots and air beds
Comfortable and have a lot of space inside
Large Tents: Cons
More prone to damage from wind
Heavier and bulkier than a small tent
Requires a big campsite in order to set it up
Here is another useful video that can help you to decide the size of your future tent:
Top 15 Camping Tents
Now it is time to see and review some of the best camping tents on the market today. I have arranged them by their size, from the tents suitable for 1-2 people to the huge 12-person camping tents.
I know this is an article about camping tent, but I couldn't leave this tent out of the list. Sure, it is a mountaineering tent, but it can serve you for camping at any given day.
An Amazon's Choice, with a score of 4.7 out of 5 from over 1,350 ratings, this is probably the best 1-person tent to have. Loaded with a lot of features, you want to be fully protected and comfortable even and especially when camping alone.
The tent sets up quickly and easily thanks to its unique freestanding design, which includes clips that immediately can be connected to the poles made of durable aluminum. The walls of the tent are mostly mesh, and this means you enjoy increased ventilation. You're fully protected from the rain and the poly taffeta floor has a coating of 2000 mm.
The zippers are very durable and this tent comes with extra-large #8 zippers both on the doors and the vestibules. Being a mountaineering tent, it's more than enough for your next camping adventure.
More great features of this tent:
Full protection against water and UV damage
Extra storage space thanks to the vestibule
Equipped with gear loft, storage pockets, guy-ropes and stakes
Click here to read more reviews and compare prices.
This 3-season tent is made of high-quality material that is also water resistant. It's lightweight, strong, easy to set up and compact when closed.
This tent is suitable for 2 people (may be a bit tight, but manageable), and you get added height as well. There's extra ventilation, and the tent, of course, comes with a rainfly and vestibule, giving you room for your gear.
There's a single pole which locks into a frame position. This means that setting up and taking down the tent is pretty easy, although some practice may be required. This is an excellent tent for both camping and backpacking due to it being lightweight and easy to carry.
More great features of this tent:
Suitable for any occasion in the spring and summer (camping, hiking, backpacking, trips and more)
Durable, waterproof, breathable and made of material that is environmentally friendly
Lifetime warranty from Rakaia Designs
Click here to read more reviews and compare prices.
This is a 3-season tent that is awesome for both camping and backpacking. Because it is a backpacking tent as well, you already know that it is lightweight and easy to carry, weighing only 6 pounds/2.72kg.
Whether you decide to camp in the forest, beach or the desert, this tent provides amazing shelter and protection against everything that may be in your way. The 75D ripstop polyester rainfly protects you from rain and keeps you warm and dry inside. Also, due to the tent's design, you can move it and relocate to a different place without having to disassemble it!
Setting the tent up is very easy, and it has enough room for 2 adults. As for your gear and even boots, you can store them in the tent's vestibules.
More great features of this tent:
Durable, lightweight and breathable, keeping you dry and comfortable inside
Rain protected, no fear of leaks, and bathtub floor design protects from wet ground
3-season tent that is perfect not only for camping, but also for hiking, backpacking, expeditions, kayaking, fishing, and car camping
Click here to read more reviews and compare prices.
Another great camping tent that is also an Amazon Choice with a score of 4.5 out of 5 from more than 10,000 ratings! Colman have been manufacturing tents for decades and are known to be a good starting point for beginners. They offer a great and high-quality tent for your money, simple as that.
The Sundome tent by Colman is a terrific camping tent for the summer. It can be suitable for the fall and spring as well, but will not be ideal when it's getting cold. The sealed seams, rainfly and welded tub door protect the tent, its windows and door even from a very heavy rain.
The tent can fit three people inside it, but it will be much more comfortable for two. It may be a bit heavy for backpacking, but for camping and taking it in your car, it's ideal. It also features extra ventilation and even comes with a vent on the floor in order to pull cool air inside during the night and let the warm air out of the roof vents.
Like stated above, this tent is less ideal for cool and cold weather, but does the job perfectly most of the year.
More great features of this tent:
Great tent for small families, or people and their dogs
Not too expensive
Tested for wind and rain, so its strong frame is able to withstand winds of 35+ mph
Large windows as well as a ground vent make for great ventilation and airflow
E-Port: allows you to bring electrical power into the tent
Easy and quick setup in minutes
Click here to read more reviews and compare prices.
The Moko camping tent is a 4-season tent. This means that it is suitable for any kind of weather, and it is easy to set up in only minutes. It may not be suitable for a very bad winter, but from the first of spring through mid-winter, this is a great tent to have.
It is a comfortable tent for 3 people, and because it is made with some extra durability, it can weigh a little more than other tents. The tent also includes a large covered vestibule, which makes the rainfly a bit smaller. However, you do get a waterproof tent that keeps the water and rain outside.
The tent features three fiberglass poles and is designed to withstand even extremely bad weather. Also, the 500D Polyethylene is treated as a fire retardant. For a warm weather ventilation, the tent comes with small top vents and a rear window. If, for some reason, you feel kind of cold, you can seal off everything, including the vestibule.
More great features of this tent:
Very strong construction, making it stable against the rain, wind, and even snow
Easy setup
High-quality and very durable: 2500mm+ waterproof
utdoor storage for gear with protection against the weather
Click here to read more reviews and compare prices.
I've already mentioned that Kelty is one of the brands you can trust with your eyes closed. Today they are definitely one of the best brands for camping tents. Kelty products can be a bit expensive, but they do not compromise on quality one bit! So, when you purchase a Kelty tent, you can rest assured you're getting one of the best camping tents available.
With a score of 4.5 out of 5 from more than 400 ratings, it's no surprise that this is an Amazon's Choice product.
As for the tent itself, you can get the Kelty Salida for 1-person, 2 people and 4 people. The 4-person tent is spacious and enough for you and your friends or family. Maybe a bit tight for 4 people, but good enough for 3 people.
The tent is made of polyester and netting and offers great ventilation, especially in hot weather. You can also use the full rainfly and protect the tent from rain, making it waterproof. The tent is also great in cold weather and even though it is not a 4-season tent, it can handle any season perfectly.
Everything with the tent is color coded for quick and easy setup and if you wish, you can add a groundcloth, but it's not mandatory.
More great features of this tent:
Easy entry D door
Internal pockets for storage
3-season tent
Lightweight
Click here to read more reviews and compare prices.
Many manufacturers focus on single tents or tents for two people. But, that does not mean you can't find a high-quality tent for three people or more. The Weanas Professional Backpacking Tent is one of them.
This is a 3-season tent that is perfect for two people, but good enough for three as well. This amazing tent packs into a case when closed. It's very lightweight, and therefore it's very easy to carry. The tent also provides great ventilation for the summer and when it's warm. However, because it is a 3-season tent, you can also close everything and keep it warm inside when the weather is cold. The tent's rainfly and sealed seams make sure everything inside is dry, even in harsh weather conditions.
The tent features two doors as well as a large vestibule.
More great features of this tent:
Suitable for 1-4 people, but will be perfect for 2-3 people
Multi-purpose tent: the tent can also be used as a storage room when closing the outer layer
Professional fabric makes the tent waterproof (waterproof index: over 4,000mm)
Easy to install
Comes with strong aluminum poles and can withstand high pressure
Click here to read more reviews and compare prices.
This 3-season tent is suitable for 4 people. But here is how it really feels: it's luxurious for 2 people, comfortable for 3 people and can be a bit tight for 4 people. Now, for the features of the tent itself.
If you're under 170 cm, you have room to stand inside the tent. The poles and material of the tent are high-quality made. There are 2 large doors, and it is very easy to set this tent up. It provides great ventilation and pockets for your gear.
On the other hand, it's not suitable for heavy wind because of its height. Also, the design of the tent is asymmetrical. Overall, this is a good camping tent that allows you to open the rainfly in different combinations. When the rainfly is zipped down, you get space (two big vestibules) for your gear.
Rain is kept away (even heavy rain) thanks to the tent's rainfly and stout poles that are made of high-quality materials. Good ventilation is provided due to the three high kickstands vents. There is also a low vent in the door, and this provides airflow.
More great features of this tent:
Large doors and vestibules keep the entrances of the tent dry
Durable and rugged 7000 series aluminum frame can outlast almost any storm
Packs to 8 by 25 inches
Minimum weight of 12 pounds
Click here to read more reviews and compare prices.
Whether you're going camping with the family, friends or just want some extra space, the NTK Cherokke GT is a great tent to have.
This tent is suitable for 5-6 people. I would say it feels best for 5 people and some gear. As for 6 adults, it may be a bit tight. It's 9.8 by 9.8 foot dome camping tent that is very easy to use and set up. It comes with only one door, but has plenty of room inside for everybody.
This tent comes with a cover rainfly, which is double-layered to keep you warm and dry inside. Also, the heat-seamed thermoplastic coating offers UV protection. The floor of the tent is tub-styled and is anti-fungal as well as fire retardant.
The tent is a 3-season tent, and that means that it is not a tent for the winter. Sure, it can handle weather that is a bit cooler, but not cold weather. Ventilation in this tent is great, which makes it an ideal tent for the summer. However, you can't close it completely, so it may be too cold to use after mid to late fall.
More great features of this tent:
Durable, strong and elastic due to high-quality material
Breathable micro mosquito mesh that keeps away mosquitos and very small insects
Floor material prevents fungus, leaks, and keeps you protected and dry
Click here to read more reviews and compare prices.
Another Amazon's Choice tent, this weather-resistant dome tent is suitable for 6 people. It's both cozy and spacious, an ideal tent for a family or group of friends. The tent comes with ropes, steel stakes and a flysheet to protect against the rain.
Some of its features include:
Lightwegitht: only 13.3 lbs when packed.
Safe and stable: a highly dirable fabric prevent rain and dew from seeping into the tent.
Design: the tent comes with storages bags, a lantern hook and, and a port for electrical cord.
Easy and quick setup: 2 people can set Pacific Pass Camping Tent in less than 5 minutes!
Click here to read more reviews and compare prices.
Amazon's Choice tent, scoring 4.4 out of 5 from over 2,000 ratings. This great tent has so many features to keep everyone happy, comfortable and protected. It comes with a screen room. This means that you can peacefully lounge without worrying about bugs. Also, you get extra ventilation in a room that is separate and screened in, ideal for sleeping in during warm nights.
You can enjoy enhanced air circulation thanks to the extended window awnings. No need to close the windows and at the same time, you're protected from the rain that does not get inside the tent. The tent is equipped with storage pockets for your stuff and gear.
More great features of this tent:
Resistant to harsh weather conditions thanks to needle holes that are hidden inside the tent
The frame is designed to handle even strong wind
Zipper protection: added protection from rain and weather
Floor is waterproof as well
The inside of the tent is big enough for 2-queen sized airbeds, and you even have room for stretching out
Setting the tent up takes max 15 minutes
Carry bag for easy storage
Click here to read more reviews and compare prices.
The Coleman Octagon 98 tent is suitable for 8 people. It will feel luxurious for 4 people, comfortable for 5 people and maybe a bit tight to 6 people.
This great tent is perfect for sleeping, using it as a shelter or for group gatherings. The tent features a high ceiling so you can stand in it, the interior is spacious and even the window zippers tie back, makes it feel like 360-degrees curtains.
The tent comes with 2 doors. Entering and existing the tent is very convenient due to the "hinged" front door that swings open and closed. It offers good ventilation, it includes door mats and there's even a room divider.
The downside of this tent is that it is quite heavy, and setting it up is a little bit harder than other tents. But, because you're going as a group, you'll do just fine. Also, there are no vestibules and no access to the vents from inside of the tent.
Overall, this is a good camping tent for families and small groups who want to enjoy a few nights outdoors.
More great features of this tent:
Excellent protection against rain thanks to the full zippered rainfly and taped seams
Exclusive weathered system
Color coded pole attachment for easier tent setup (can take up to 15 minutes)
The inside of the tent can fit two queen-sized airbeds
Click here to read more reviews and compare prices.
This Ozark Trail is a 10-person tent that feels comfortable for 6 people and a bit tight for 8 people or more. With that said, it is worth mentioning that it is still a great tent, especially for families and groups. The tent serves as great shelter on camping trips during fair weather.
What I love about this tent is that you can separate it into 3 rooms using dividers (to get past the rooms, you'll need to un-clip and re-clip). In order to keep the rain out of the tent, you'll need to seam seal it, and bear in mind that this is a pretty big tent. So, it is best use in nice and fair weather as I've stated above.
There's room in the tent if you wish to stand inside, good ventilation and front awning option. However, it is made of material which is less high-quality than other and previous tents I've mentioned in this article. It is heavy, bulky, and won't withstand heavy wind. Also, it comes with a single door and no vestibules.
Overall, it is a fair tent for big groups and families, but if you are camping as a smaller group, it's best to choose a different tent that I've mentioned in this article.
Click here to read more reviews and compare prices.
The NTK Arizona GT Sport Camping tent is perhaps the best tent you can find if you need a tent for 10 people. In 2016, this tent was rated #6 in the USA for the best family tent.
This 3-season tent is a huge two-room tent. It comes with a divider as well, so you can split it to more rooms if needed. Although it is a big tent, it weighs only 30 pounds/13.6kg and packs small to its size.
Mesh, vents, large window and screen doors, provide air flow for great ventilation. When it gets colder, you can use the rainfly to cover the tent and close everything else to keep the warmth inside and the cold and rain outside.
The tent features breathable polyester Mosquito NO-SEE-UM micro net fabric as well as seamless heavy duty anti-fungal polyethylene, keeping you protected and dry. Sure, this tent may be a bit pricy, but it's the best possible tent for its size if you don't want to compromise on quality and comfort.
More great features of this tent:
2 doors and 3 windows
Full coverage rainfly for protection against rain
Easy and quick setup
Full protection from mosquitos and even the smallest insects
Click here to read more reviews and compare prices.
If you've decided to go out camping and you're a real big group, you'll probably need a big tent. When it comes to big tents, the options are pretty limited. You see, tents for more than 10 people are pretty rare and can be a bit expensive, but I have the perfect solution for you.
The Ozark Trail Instant Cabin 3-season tent is a 16X16 feet, L shaped tent. This means that you can fit inside it 3-queen sized airbeds or 12 sleeping bags for 12 adults. Even with the airbeds or the sleeping bag, you are still left with plenty of space for your gear.
The tent is very easy to set up and take down thanks to poles being pre-attached, so even a tent this big takes you no longer than 2 minutes to set up. The tent is a bit heavy (around 60 pounds/27kg), but if you need and want your own private cabin, this is the best tent to get.
It is worth mentioning that this tent is not ideal for winter camping, since it lacks heat retention, so it won't do well in extremely cold weather. However, it is a great tent for all other seasons, as it is a 3-season tent (or cabin).
More great features of this tent:
7 windows you can fully close
Vents that keep the tent cool during the summer and can also be closed in bad weather
Rainfly can cover the entire tent for protection against rain and water
Click here to read more reviews and compare prices.
In Conclusion
Congrats, you have reached the conclusion of this article. I sincerely hope that now you're more knowledgeable regarding how to choose the best camping tent and what the camping market has to offer.
Naturally, there is additional equipment that you should research before going camping. But I have you covered about the rest of the camping gear, too. Feel free to read my article on the essential camping checklist to learn about the necessary equipment you should pack. I would also recommend specific posts on best hiking boots, camping flashlights and compasses.
See you on the trails!