There is nothing like camping! Whether you're camping solo or with your beloved ones, camping is both thrilling and calming experience. You get good exercise, fresh air, you challenge your limits and improve your survival skills. The biggest question, however, is what essentials you should pack when you go camping? What is the ultimate camping checklist?
Generally speaking, you don't need a lot of gear to enjoy camping and to experience the outdoors. On the other hand, it won't hurt if your campsite has some of that cozy feeling that your actual home has. That does not make you soft, it simply eliminates some unnecessary worries and inconveniences, so that you can fully enjoy your stay in the wild. And if it's your first trip in the nature, then you definitely need to know what stuff to bring to cover all the bases. You don't really have to buy all these things, see if you can loan or rent them somewhere. After a few excursions, you will be experienced enough to know what to pack so that all your camping needs will be met.
So, based on my friends' and my personal camping experiences, as well as on some online research, I've compiled a printable camping checklist that you can use to figure out what to take on your journey. You need to be thoroughly prepared and organized before you head out, since there is no convenience store in the woods. Use your common sense when you go through the list, some of the items might not suit your destination, while your personal preferences and needs should be included even if I don't mention them.
Table of Contents
Camping Checklist of Campsite Items
1. Shelter
The basic essential, keeps you safe from the elements, the predators, the insects. So of course, bring a tent or a portable shelter. Pack all its parts, the poles, the stakes, everything. Some modern tents don't even require all this work and can be set up in minutes. The tents have progressed a lot in recent decades, you can find affordable tents with a lot of handy features.  The tents range in sizes, from a small tent for 1 or 2 individuals to large shelters that can accommodate entire groups and families. You can also go for a roof top tent, which is always an excellent choice.
2. Backpack
No hiking can be imagined without the trusty backpack. This is where you will be carrying all the essentials, food, water, tent, tools, and so forth. Everything is organized within or around the backpack, and should be within a reach. I would suggest going for a backpack with internal frames, to move the weight away from your shoulders.
3. Sleeping Bag
The guardian of your sleep. Get inside, get warm and drift away. Choose it according to the complete guide for sleeping bags. An alternative to a sleeping bag is an air mattress. However, it requires packing an air pump plus a mattress repair kit.
4. Pillow and Blankets
Pillows are a great addition to your sleeping arrangement. Various pillow types are available. There are inflatable pillows, which weigh nothing and have a good support for your head. Other pillows are made of shredded foam or other compressible materials. They resemble the ones you have at home and are very snug. Hybrid pillows are the ones that combine the previously mentioned styles; they are mostly made of an air bladder plus foam coating. Additionally, if you do not intend to sleep in a sleeping bag, bring a good blanket.
5. Table and Chairs
This is something that might not sound essential, but it will make a lot of difference for your camping experience. Just imagine, having a meal under the clear sky, but like a civilized person, sitting on a comfortable chair, with the food and the utensils spread on a portable table. Purchase chairs made of durable materials that can serve you for years to come. Camping tables should be very stable, so notice their legs when you're buying them. A good idea would be purchasing a table with adjustable legs, so that it can stand steadily on any surface, flat or uneven. They should also be easily cleaned and folded.
6. Lantern
Make your campsite more welcoming with a LED lantern. You don't need to stumble around in the dark, whether outside or inside the tent. Just hang a lantern and find your way with not effort.
7. Flashlight or Headlamp
This can be an addition to the lantern, or something that you take with you when exploring. A flashlight is a very useful item, it can light up the inside of your backpack or a dark place that you're about to enter, such as a cave or a cabin. Don't forget to pack extra batteries! If you are looking for recommendations, here are a list of the best emergency flashlights and a list of the best camping flashlights.
8. Navigational Items
Map, compass and/or GPS. You must be confident about your whereabouts. A map can be useful in an area with no reception. A combination of a compass and a map can help you plan your route as well as find the way back if you're lost. Choosing a quality compass can be somewhat a challenge for a novice, but I got you covered – here is my article that tells you exactly how to choose a compass.
9. Whistle
In a case of emergency, use a whistle to communicate with other hikers or emergency services. Some compasses come with an included whistle.
10. Water Filter or Purifier
You can't carry all the water for the next several days, so you will probably need something to purify water from a nearby lake or river. There are many methods and devices that can help you filtering and purifying water in the wild, some are quick, some take time, some are thorough, and some are basic. This article is not enough to cover all existing methods, but luckily I have already written a detailed post about the best ways to purify water.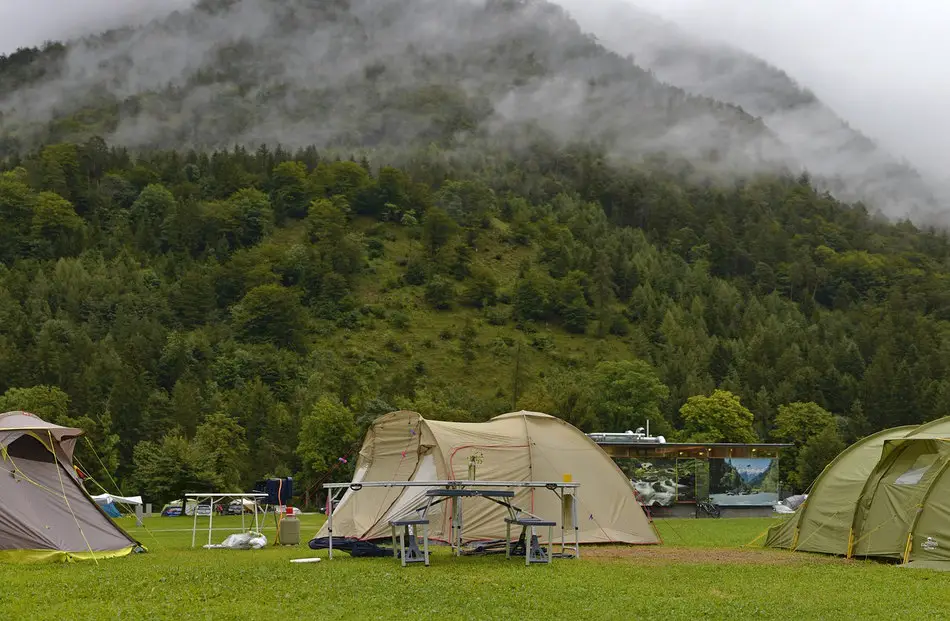 Camping Tools
Axe or saw. Consider bringing a small axe or saw to cut the gathered wood to smaller pieces, before you build the campfire. I have prepated a separate article that helps you choosing a survival axe for all your needs.
Duct tape. The universal repair item. You can do so much with it: fix a torn tent or a broken pole, seal packed food, make a rope, and so on. You can even treat various injuries (at least temporarily), such as a blister or a sprained ankle.
Hammer. You cannot just stick the tent stakes into the ground, you will need a good mallet or a hammer for that very purpose.
Multi-purpose tool. It can serve whatever needs you may have, even the unplanned ones. A compact multi-tool includes tons of useful tools that you can use in every possible situation, be it fixing, cooking or even self-defense. A good multi-tool should have a knife (maybe even a survival knife), a screwdriver, pliers, scissors, an awl, a bottle opener and other common instruments. You should always carry it in your backpack or on your belt. A good multi-tool a crucial part of any survival gear.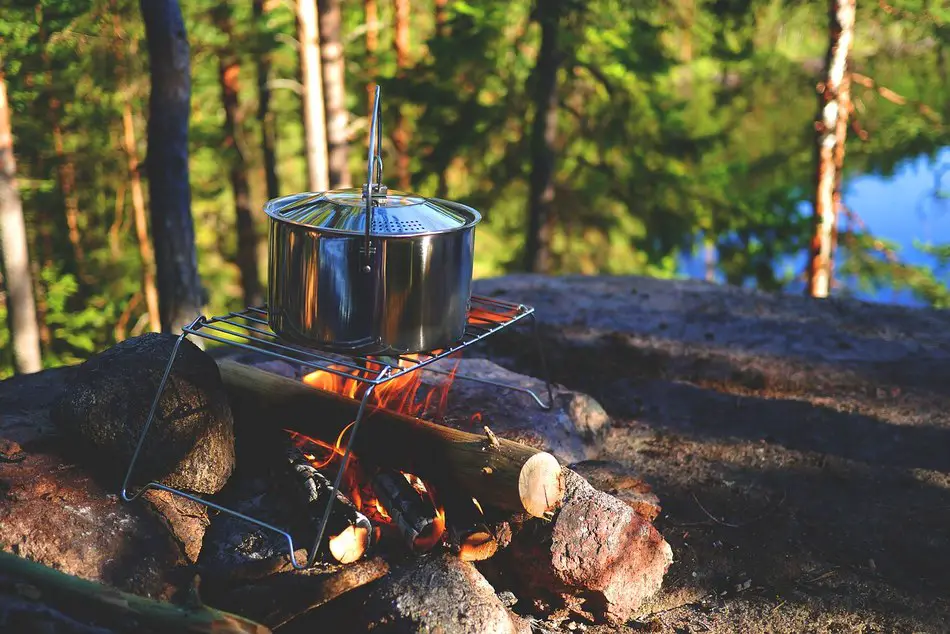 Kitchen and Cooking Items
Food. The obvious number one item. Eating right while camping is highly important. Pack energizing snacks if you are heading for a short hike. Bring full meals if you are camping for several days. You can prepare them at home, wrap in foil and place in a cooler. Pack them in the order you plan to serve them. Naturally, you would probably want to cook some of the food at the campfire, for the complete experience. In this case, take the items mentioned further down this list. See the following article for a complete list of what food you should bring to camping.
Water. Pack enough to be always hydrated. If there is a clean water source nearby, refill the bottles at every chance you got. I have an article on this blog that goes into further details regarding how much water you should carry and in what containers.
Forks, spoons, knifes, plates, napkins. Bring the eating utensils, but preferably not the plastic and disposable kind. Enjoy nature without polluting it.
Cooking utensils. Think what you use at home, and bring exactly that. You can buy a set of utensils that answers all your cooking needs and desires. This can include knives, spatula, tin opener, corkscrew, tongs, grater, wooden spoon, peeler, cutting board, bowls, and so on.
Seasonings and condiments. If you don't want to eat bland food, bring whatever spices and sauces you enjoy at home.
Cooler. As mentioned earlier, the food you bring from home should be in a cooler, so that it doesn't go bad.
Thermos and cups. What can be better than enjoying a cup of coffee in the wild?
Pots, pans, post holder. If you're preparing your meal over the fire, you will definitely need these.
Lighter or matches. Another obvious item, you will need something to start the fire.
Dish soap, sponge and dish towel. Clean your pots, plates and utensils immediately after the meal. Don't let the leftovers rot and attract insects.
Garbage bags. Don't leave trash behind you, your campsite should look the same after you depart from it.
Stove and/or grill. For more advanced cooks, who wish to take their campsite meals even further. Don't forget to bring the fuel or coals. I have written a separate guide on how to cook while camping, I'm certain it will prove to be useful to you.
Here is a video that demonstrates what cooking items you should pack when you go camping:
Clothes and Shoes
Underwear. You are going to be sweating a lot, so moisture-wicking underwear is the recommended choice. This is one of the most basic and essential items in hiking clothes.
T-shirts. Again, pick the moisture-wicking and/or dry-fit type.
Socks. Your best friends in the whole world. But don't go for the cotton socks, get wool or synthetic ones.
Pants/shorts. Just like with the T-shirts, purchase the ones that dry quickly and don't let the moisture accumulate. Ladies, consider getting comfortable hiking pants for women.
Footwear. Pick shoes or boots that are suitable for the terrain you'll be walking on. The most suitable footware is what should be brought to every hiking trip. Also read how to select hiking boots.
Long sleeve shirts. These are excellent both during the day (sun and bugs protection) as well as during the cold nights.
Weather appropriate clothes. The evenings can get seriously chilly, even in the summer. Pack a fleece or a lightweight jacket. If the weather is going to be rainy or very cold, bring appropriate pants and jackets, long underwear, warm hat, gloves, and everything else you need to keep warm and dry while hiking.
Sleepwear. If you plan a comfy night and don't want your regular clothes on you at all times, bring separate sleepwear.
Tip: bring a bag for your dirty laundry, so that your sweaty underwear won't get mixed with the clean one.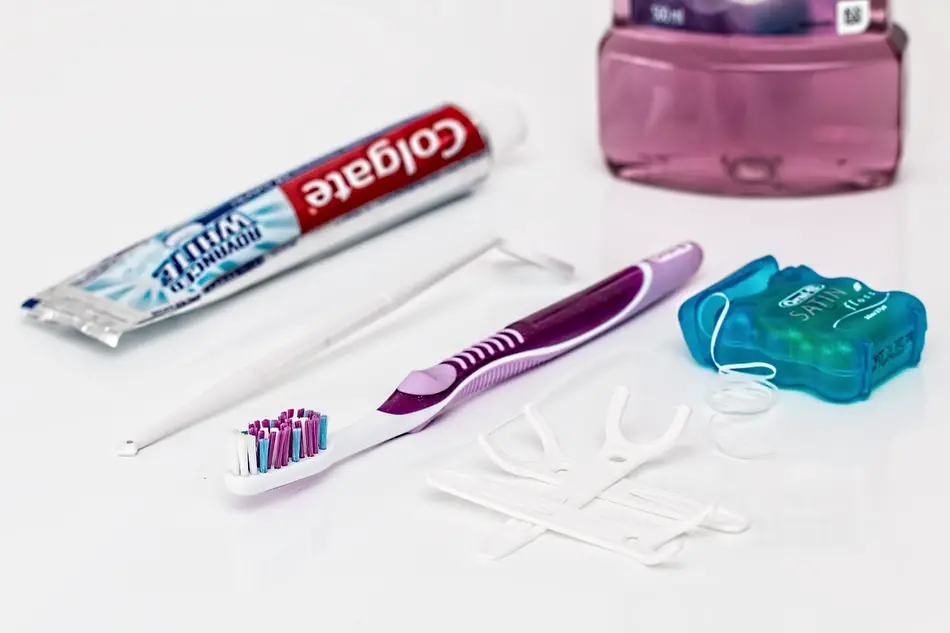 Hygiene and Health Items
Toothpaste, toothbrush, dental floss.
Soap (preferably in a plastic case).
Towels.
Toilet paper.
Hand wipes/baby wipes.
Hand sanitizer.
Sun protection. This includes a hiking hat, sunglasses, and a proper sunscreen.
Feminine products.
Lip balm. Can be a real lifesaver in any weather.
Flip flops for the shower.
First-aid kit. A critical item. It should have everything needed to immediately treat an injury, a burn, a cut, etc.
Your prescription medicine. Pack whatever you're taking regularly, as there won't be any drugstores around.
Additional toiletry. Take whatever you always use. This could include items such as shampoo, lotions, comb, cosmetics, shaving kit, and so forth.
If you were wondering how it's possible to remain clean while camping, here is an excellent video from Ronny Dahl about camping hygiene.
Personal Items for Camping
Cellphone + charger. Yes, this might sound like a banality. After all, you didn't go into the woods to stare at the screen and browse social media. However, a cellphone is a good invention that can prove to be useful. You might need to find some information online, call your family home or even call emergency services should something bad happen. A phone with a charger should even be added to your survival backpack.
ID. Simply keep it nearby, for whatever purpose that might rise.
Cash or credit card. You can stop on your way in any supermarket for supplies, instead of hauling them all the way from home. Furthermore, you might need to pay for a park entrance or camping ground services. Or you might find out that you don't have enough gas to make it back, and you have to stop at a gas station. All these scenarios require payment.
Camping grounds reservation. If you've reserved a spot in advance, print the confirmation and take it with you in your wallet, just in case.
Books, cards, board games. Whether you enjoy hiking alone or in a company, take some entertainment with you.
Final Words and Tips
I sincerely hope that the above list was useful to you. I'd advise to print it and place near you, while you're preparing for your camping trip. There are a couple of additional things that I should mention. While planning for the trip, keep in mind that the campgrounds tend to be busy on weekends and holidays. So either leave early on Friday morning, or, if possible, camp on weekdays. You should also get there as early as you can in order to set up your camp before the sunset and the dark.
Additionally, if you're travelling with the family and kids, consider bringing another family along. Kids will play with other kids, and the adults can relax together.
As you pack your camping gear, see that there are not tears, broken parts, expired goods, and so on. This will save you tons of trouble in the future.
When you park and leave the vehicle for the camping adventure, make sure that your car will drive you back when you return. It should have enough oil, water in the radiator, gas and air in the tires. The trunk should contain a spare tire (with air in it), as well as jumper cables or an emergency car battery.
Keep in mind that packing is only one part of a successful trip. I highly recommend that you read my guide on how to plan a camping trip.
I would also like to direct you to my guide for a backpacking beginner for additional tips and important information.
And finally, keep in mind that you don't have to spend hundreds of dollars on camping equipment – here is a buyer's guide on low cost camping gear.
After you're done with all this packing and preparation, after the list was checked, all that is left is to enjoy the camping to the fullest!