Roof rack tents are the latest trend among outdoors enthusiasts. Initially they came into existence in the Australian Outback, where, as the saying goes, everything wants to eat you. And so, the adventurers looked for a way to safely camp above the ground, on the roof of the car. The roof tent solution quickly became popular all around the world.
The most attractive feature of the roof-top tents is how easily they deploy. Once attached to the car's rack, you can simply unfold the tent and extend the ladder. Today you can encounter these smart tents at almost every campsite. They also save you the need to look for additional space, since all you need is just to park your car, and you're set. Unlike the regular tents, the roof rack tent does not occupy another large space near the parked vehicle. And it's just as comfortable as any other camping tent!
With so many new models of roof tents appearing on the market nowadays, how do you know which one to choose? I will gladly assist you with this task. I will review what roof rack tents are considered this year's absolute best and link to their pages on Amazon. After that, I will explain everything there is to know about this type of tents, so that you'll have the most complete information before you make a decision.
Top 10 Roof Rack Tents – Reviews
Our list opens with definitely the most superior rooftop tent of them all. Unlike some of the tents further in the list, Tepui Explorer Kukenam Rooftop Tent can accommodate a group of three people. It can function as a reliable and safe shelter in any weather, as its ripstop poly-cotton material will protect you from the fiercest winds and rains.
In addition to the ripstop feature, the fabric also resists mold and filters out the UV rays. Thus, it lasts for many years while always guaranteeing your protection. The walls of the tent include meshed openings that add a nice ventilation to the inside area. This way, you are always comfortable and never hot. And if you need some additional space to store your equipment, the tent comes complete with 4 big pockets on the inside.
But the comfort doesn't stop there! Tepui Explorer Kukenam Rooftop Tent has a foam mattress for the flooring, and you can relax and rest upon its high-density structure. In fact, you can fully transform this rooftop tent into a home away from home. Bring in your sleeping bags, your electronic entertainment devices, a change of clothes, and enjoy a safe, cool and quiet night on the roof of your car.
And in case you were wondering, installing the tent is a piece of cake. Just attach the included brackets to the rack, and proceed from there according to the instructions. You will have your portable roof tent ready in no time! It can be just as easily dismantled and stored away until your next trip. Happy trails!
Click here for more reviews.
This is a very useful and versatile roof rack tent, as it universally fits different types of vehicles:
As long as your vehicle is equipped with roof rails and cross bars, TMB Pop Up Roof Overland Tent can firmly sit atop the vehicle. The tent was precisely and carefully crafted, ensuring the most comfortable stay at any location and under any weather.
While it's somewhat heavier than the rest of the tents on this list (140 lbs.), it still can be handled with ease. The TMB Pop Up Roof Overland Tent installed, set up and dismantled in a short time, without overburdening your journey. It's made of quality materials, ensuring long-term durability and resistance to all sorts of external conditions.
The interior is quite spacious. The tent can be quickly opened, and then supported with sturdy arms that secure its open state. The interior also includes memory foam mattress, 2 inches thick.
The item comes with extra storage bag, ladder and 6 month warranty. TMB Motorsports are a highly reliable company, and they will gladly compensate you if you find anything wrong with the product (and the chances are very slim).
As you can see, this tent has it all: sleek design, inner comfort, outer protection and enough space to host a small group of travelers. The durable materials it's made of (polyester canvas, aluminum frame, plastic hard shell) make sure that TMB Pop Up Roof Overland Tent will always be with you in many future adventures. This is truly one of the best roof rack tents in the world.
Click here for more reviews.
Ever wanted to camp in a palace?! The Tuff Stuff Ranger Roof Top Tent is incredibly spacious, and you also get an annex room with every purchase. The solid aluminum structure is big enough to accommodate a small group of people. Two people can comfortably sleep in the main room, and the annex can be used for additional bed, mattress, or even a dining table with chairs.
The floor is covered with a highly dense foam mattress. The waterproof, ripstop fabric extends this rooftop tent's durability even further. The tent also has awnings and windows, which help to ventilate the interior and create a pleasant atmosphere.
If you decide on getting this model, here is a pro tip: If you fold the retractable metal ladder, then the annex can have even more free space. It is also important to completely install the main part before you add the annex section with a zipper.
The Tuff Stuff Ranger Roof Top Tent is especially designed to accompany you in lengthy travels. Once you set it up, you can enjoy all the possible comfort and deep sleep that you usually get at your permanent home. It's a smart investment that pays off in extra convenience, something that's rare to find on a camping trip.
Click here for more reviews.
This is a more adventurous tent model, especially suitable for a Jeep Wrangler's roof (and also other vehicles, of course). Smittybilt is a company that's been around for over 50 years, and their professionalism and craftsmanship are clearly expressed in this roof rack tent. Wherever you're about to travel, be it a forest, a desert or a mountain, this high quality tent will be your trusty companion. Full with features and made of superb materials, the Overland Tent will not disappoint.
Some of the features include:
Netted windows that allow you to enjoy the view as you rest inside the tent
Full protection against bugs and other invaders, thanks to the same nets
Great ventilation
Thick mattress, big enough for a group of two sleepers
Lightweight structure
Ripstop polyester walls and roof
LED strip near the roof that gives you additional light while you settle for sleep
As you can see, this is way more than what you would expect from a basic roof top tent. And if you intend to house more than two people, an annex tent can be added and effortlessly connected below the main tent. With all this in mind, you can see why Smittybilt Overland Tent has its rightfully earned place on this list of the most recommended roof rack tents.
Click here for more reviews.
This item is actually an improved model that was released after Yakima started working together with Poler, another famous outdoor gear company. The result is a high quality and durable rooftop tent, the Skyrise. Skyrise Tent features Poler's look and coloring, and Yakima's superb structure and frames. The combination of the two brands earned a lot of positive reviews from campers around the world.
Yakima Skyrise Rooftop Tent fits precisely on any suitable roof. It looks good on any SUV or other vehicle, and you can choose whatever color or size you desire. Wherever your vacation or off-grid adventure takes you, this rook rack tent will feel like a second, personalized home. Who said that a tent can't be functional and stylish at the same time?
The Skyrise's framing is made of aluminum, making it a lightweight yet solid construction. The setup takes less than quarter an hour. The fabric of the walls does not weigh much as well. Additionally, the materials ensure that you can breathe easily and the air inside will never feel stuffy. The mesh panel adds to the unobstructed airflow. The tent is also equipped with a large mattress that covers the entire floor and has a washable cover.
All in all, this is an outstanding choice for any camper, whether you're a newbie or a veteran traveler. You won't be bothered by any weather, and you can really camp in style. Just let Yakima Sunrise take care of you!
Click here for more reviews.
This aerodynamic tent is quite famous, thanks to its ability to transform into a small house, suitable for 2 people. It comes with a thick mattress that ensures deep sleep during the night.
The tent's structure includes a pair of gas springs, which allow an instant transformation from the folded form into the tent.
Installation can be done literally by anyone. This rooftop tent comes with all the tools and instructions necessary to install it on your vehicle's roof.
Weighs only 100 lbs., yet Offroading Gear Rooftop Tent is incredibly sturdy and safe.
Click here for more reviews.
If your vehicle is somewhat on the smaller side, then this tent is the right choice for you. It will comfortably accommodate you and another person all year round.
With Tepui Explorer Ayer Rooftop Tent, you are safe from winds, heavy rains and other elements. This is thanks to the tough materials it's made of, 260 g poly-cotton fabric and 600D ripstop. In addition, it includes mesh panels that allow the air to flow and ventilate the inner space, in order to prevent stuffy atmosphere.  The tent comes in two colors, tan and blue.
This rooftop tent also comes with a thick and dense foam mattress (2.5''). Need space to store your equipment? The tent has 4 huge inner pockets for all your storage needs. Need extra protections from the weather? Spread the canopy. Need more room? A separately sold annex can extend your tent for extra space and extra protection against the seasonal weather.
In conclusion, Tepui Explorer Ayer Rooftop Tent is quite a comfortable solution for those who travel solo or in pairs. It weighs just 100 lbs. and snugly fits on a small car or SUV. It's also an Amazon's Choice product, so you know that it's high quality and quite popular.
Click here for more reviews.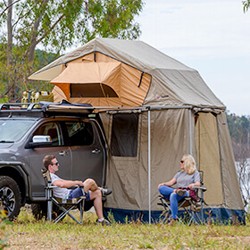 This is not a tent, but rather an annex, a great solution for anyone who wishes to extend their roof rack tent. ARB 804100 Simpson III was designed especially for the summer vacations, with its ventilation and materials creating a pleasant climate on the inside. No longer will you have to suffer through humid, sticky summer nights. Thanks to this tent annex's design, the air flow makes sure you have a deep and refreshing sleep.
The ARB 804100 Simpson III Annex is also quite useful in other seasons and types of weather. It has a fly sheet that repels the heavy rains. If the weather gets particularly cold or wet, the large windows can be sealed tight.
This rooftop annex is also incredibly lightweight, only 13 lbs. It can be easily set up and just as easily removed and folded. It has a lot of inner space and very affordable. Can function as additional quarters or a changing room. And it's only 24'' by 7'' by 7'' when folded, so that you can store and transport it without any additional hassle.
All in all, while it's not an actual tent, the ARB's annex can be used to extend your existing roof rack tent and make your vacation even more comfortable.
Click here for more reviews.
The Airbedz tents are built to last. They stand tall against the winds, rain and harsh weather. Thanks to the waterproof layer and solid structure, this roof rack tent keeps you safe throughout the night. The walls and roof are also UV resistant, making it safe to stay inside during the sunniest days.
These tents are highly durable. Their base is actually an insulated aluminum honeycomb. The tent also includes a foam mattress. It's very dense and non-deforming, ensuring a good sleep for all people inside.
The canopy is made of ripstop material, adding another factor to the tent's durability. It functions as a rainfly and also has the sky view option.
If you're still not convinced how good the Airbedz by Pittman Outdoors are, then know that it only takes a couple of minutes to set them up or disassemble for easy storage. This product also includes a telescoping ladder for quick and safe climbing.
Click here for more reviews.
This item is quite similar to the previous one, being a product from the same series. It also has:
Weather resistant design
UV resistant roof and walls
Sky view in the canopy
Extra protection from rain
Insulated aluminum honeycomb base
Non-deforming and dense mattress
Telescopic ladder
The difference is that this model is a hard shell. As discussed earlier, hard shell roof tents are considered being sturdier and even more durable. The downside is the added weight, but your vehicle can probably handle the extra weight with easy.
So you get the same comfort as the soft shell Airbedz model, but with more protection and durability. I think it's worth it to give this tent a try. While all the tents on this list are high quality, Airbedz by Pittman Outdoors offer a shelter that can serve you for years to come.
Click here for more reviews.
What You Need to Know Before Getting a Roof Rack Tent – Buyer's Guide
Roof Rack Tent's Advantages
Easy transportation: It's on the roof of the car, you don't need to carry it on your back or drag from the trunk.
Easy setup: Just release the straps, open the tent and extend the ladder or the poles.
Easy camping: You don't have to search for a clean and flat spot. Any campsite or parking lot, where your vehicle is already parked, is enough.
Safety and protection: You're above the ground, so no animal will bother you.
In-built mattress: Unlike with a usual tent, you don't need to pack a mattress and fit it into the tent. The roof-top tents come with an in-built mattress, so you just pop them open and lie down to sleep on comfortable bedding.
Save room inside the car: Since there is no sleeping bag or tent inside the vehicle, whoever rides at the backseat will appreciate additional legroom.
Roof Rack Tent's Disadvantages
Pricing: It usually costs more than a regular tent, but it's worth the investment, thanks to the advantages listed earlier.
Remains on the roof: This can be somewhat of a minor hassle, removing it from the roof between the camping trips and then installing again. Also, it can create some drag as you drive, although probably barely noticeable. Again, in my opinion, the listed advantages easily outweigh the minor inconveniences.
If you wish to learn more about the pros and cons of roof-top tents, here is an excellent video that discusses this topic:
Roof Rack Tent Specs
Compatibility: It is up to you to check whether or not your rack is compatible with a roof tent. See the owner's manual to be sure.
Weight: Many roof rack tents weigh over 100 lbs. Can your rack handle this weight? This is another thing to check on your own as you make sure that the car is compatible. If necessary, contact both rack and car manufacturers for additional information.
Dynamic weigh capacity: This is your car's capacity to handle the tent's weight as you drive. Again, contact the two manufacturers if you don't have the necessary specs. Many car owners get a brand rack instead of the factory rack. The brand racks (Thule, Yakima, and so on) usually have a larger weight capacity, but you should check the specs nonetheless.
Static weight capacity: In most cases, your vehicle's roof and rack can support several sleeping people with their equipment. The tent itself is usually very sturdy, and you can comfortably and safely sleep inside. But to be on the safe side, check these specs as well. Calculate the weight of the tent plus your company plus the gear, and then consult with the manual or the manufacturers.
It goes without saying that an RV is not the right vehicle for this type of a tent, since it's already a home of its own. Click here to read about self-contained RVs.
Roof Rack Tent's Features
Size: A rooftop tent can comfortably accommodate 1-3 people. Naturally, you are limited by the size of your car's roof and the various weight specs (see above). Notice that a tent should also have enough space for some movement, so you wouldn't want to overcrowd it. If your family or group is larger than 2-3 persons, consider getting a big ground tent instead or adding an annex to the rooftop tent.
Soft shell or hard shell: A soft shell is somewhat similar to a regular tent, where the roof and walls are made of canvas. This reduces the weight and the price of the model. Hard shells weigh more, yet offer additional protection during the toughest weather and the transportation. While you'd think that a soft shell tent is easier to set up and unfold, the hard shell type can do the same even quicker. It just easily pops up, like a box.
Structure and material: This expands the previous point. You need to be sure that your tent, be it a soft shell or a hard shell, is made from waterproof, durable materials. And I'm not talking about the roof and the walls, but also the frame, the floor mattress and the ladder. The ladder and the frame should probably be made from aluminum or any other material that guarantees being lightweight yet durable. The canvass should be nylon, especially ripstop nylon. It's also lightweight, and a very breathable fabric, too.
Ease of setup: A crucial criterion in a roof rack tent's choice. The vehicle roof is a small space, so you don't want to work a lot on it as you install and set up the tent. The installation should be an easy process. Make sure you follow the instructions to the letter and use the recommended tools, and the whole process will be over in a matter of minutes.
Annexes and accessories: For additional comfort and safety, you might wish to choose a tent that has some of these additional features:

Canopy for extra protection from the rain, snow and winds
Inner pockets on the walls to hold some items you might need during the nighttime
Annexes for additional space
Skylight openings to enjoy the stars as you lie beneath them
Related Questions
Can a roof rack tent deal with all sorts of weather? Most of the rooftop tents are produced with the outdoor conditions on the mind. They usually are sturdy and waterproof, especially the ones I recommended in this article. Thus, they can withstand almost any kind of weather.
How do I take care of my roof-top tent? You can simply vacuum it from time to time. Also, get a bristle brush and clean the tent from the outside. Do it on a daily basis, to prevent dust from accumulating on the exterior. For a more thorough maintenance, take a sponge and soapy water, wash the canvas and let it dry under the sun.
What kind of a vehicle do I need for such a tent? SUVs probably suit a roof rack tent the most. A truck is another good option. Usually, any car that allows a roof load limit over 170 lbs. should serve the purpose. This is why something like a hatchback or a sedan is probably not suitable to carry the tent.
What if I'm interested in a regular tent, to place on the ground? I'm glad that you asked, because I have a post about why a shelter is necessary, as well as a post on the best ground tents for camping and survival.