It's impossible to imagine camping or survival gear without a good flashlight. When you are in a dark area, you no longer can rely on your eyes. It can be extremely dangerous and irresponsible to venture into the unfamiliar woods without seeing what lies ahead of you.
You might ask, isn't an ordinary flashlight or even a phone enough? The answer is simply no. You specifically need a camping flashlight. There is no auxiliary lighting in the wild, there are no city lights, and therefore a regular flashlight will simply not suffice.
By choosing one of the best camping flashlights, you can benefit from the following advantages:
Light up your path to avoid trips, falls and injuries. The forest's floor is not like the urban pavement, there are roots, rocks and holes everywhere. A powerful camping flashlight will prevent any unpleasant surprise on your path.
Self-defense. A strong beam will blind an attacking animal or person. Additionally, the flashlight can be used as a blunt weapon.
Save your phone's battery. You will need it for other more important tasks, like making a call or taking pictures of your vacation. Using it as a flashlight is wasteful, you will need your phone charged at all times.
It functions as an emergency signal. If you're separated from others, you can use the flashlight as a beacon. In the dark night, your light is guaranteed to be seen for many miles.
I hope you are convinced at this point that you definitely need a camping flashlight. Luckily for you, I did an extensive research and came up with the best camping flashlights this year has to offer. All models are linked to their product pages (mostly on Amazon), where you can read more reviews and check current prices. I will also explain how to select the right flashlight for you.
Top Camping Flashlights – Overview
How to Choose the Best Camping Flashlight?
Brightness
A flashlight's brightness is measured in lumens. More lumens equal stronger brightness. 300 – 1000 lumens are more than enough for your camping needs. Less than that and you get a dull, useless light. More than that, and the light might blind the spot that you're trying to illuminate, making it impossible to see what you're pointing the flashlight's beam at. Nonetheless, sometimes a highly bright flashlight can be extremely useful.
Some flashlights come with low, medium and high levels of brightness, and you can switch between these settings. A low setting can be useful if you're trying to find something in the tent. In this case, a dim light is actually your friend, as you don't want to blind yourself while you're looking for objects in a small space. This setting also conserves the battery. And once you go outside, you can switch to a higher setting.
The brightness level can also affect the beam distance, which is how far the light can reach before it dissipates. Normally, you would want a flashlight that guarantees the greatest beam distance.
Light Modes
Besides the brightness settings, some flashlights come with additional helpful modes.
Strobe mode – a helpful feature in emergency situations. It causes the flashlight to operate as a blinker. You should seriously consider getting a model with this option, if you foresee a potential emergency. Should you encounter such a situation, the strobe mode will signal for help. Also, go for the white strobe light, it's more visible than the red option.
Red light mode – an alternative to the dim setting. But unlike the white light, your pupil will not shrink in the red light, and you can freely use it inside the tent. You can use the red light mode to read a map or a book without bothering your tent partners.
Lantern – some flashlights come with an additional wide lens. They can be hanged in order to function as a lantern that floods the nearby area.
Weight
Portability is an important issue, since you usually carry a lot of items in your backpack and probably don't want a large flashlight that adds a couple of pounds to the total weight on your shoulders. However, bigger flashlight have their advantages as far as other characteristics are concerned: they can be more durable, brighter, have a longer beam distance, and so on.
Size
Flashlights vary from small keychains to heavy models as big as your forearm. Eventually, it is up to you to select a flashlight that you feel comfortable enough with its dimensions and weight. A small or middle sized flashlight might be enough for the basic camping needs and chores. All flashlights recommended in this article are very portable, while also very durable and reliable.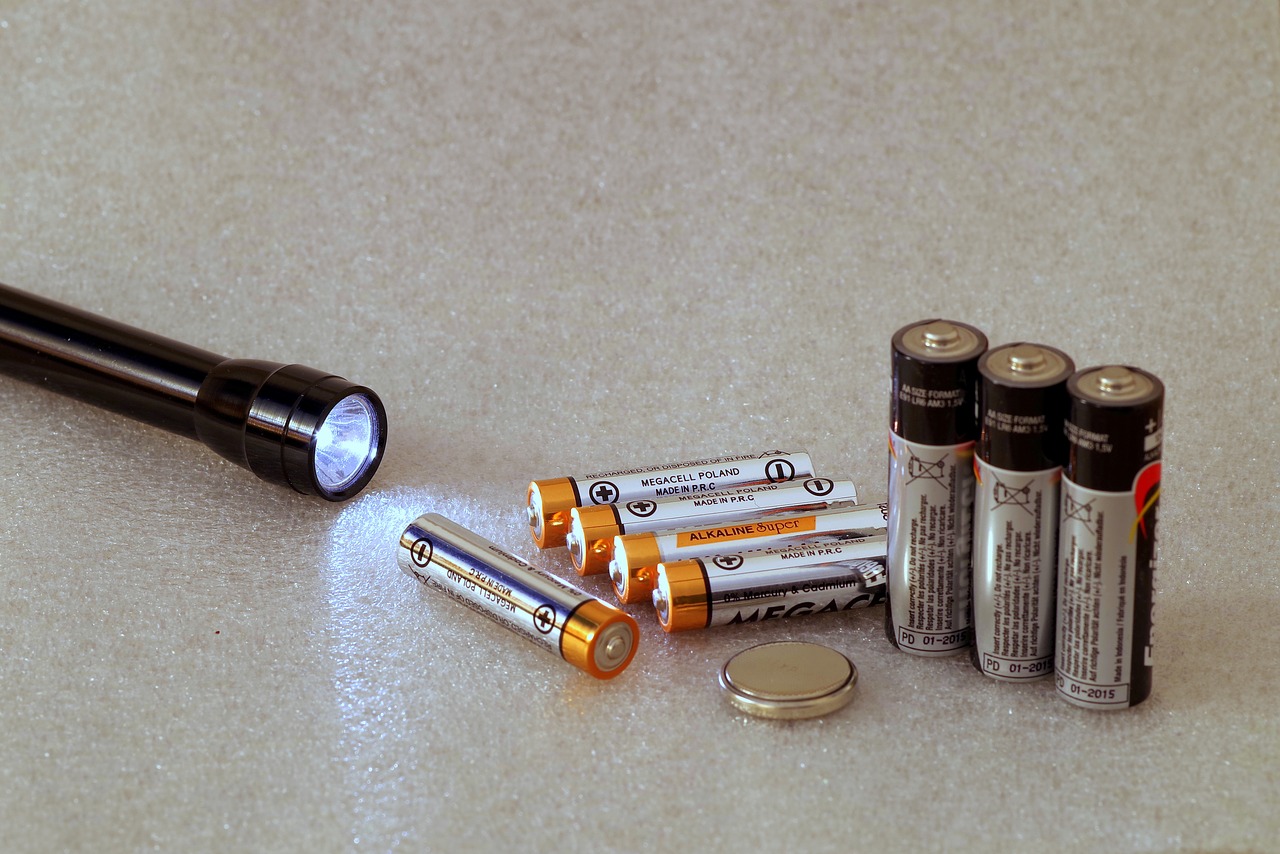 Power Source
Batteries are not the only way to power your flashlight. As a general advice, I would even suggest having a second flashlight that works from a different power source, in case new batteries are not available at the moment.
Batteries. The obvious choice, as most of the flashlights are operated by batteries. You must bring extra batteries with you! How many batteries you should bring? The recommended rule is to bring enough so that you can change batteries on a daily basis. Your flashlight uses 2 AAA batteries every day, and you're going away for 4 nights? Bring 8 AAA batteries plus the fresh ones that have just inserted into the flashlight. The batteries usually come in AA, AAA or CR123A sizes, there are no advantages to either size besides a slight difference in weight.
Rechargeable flashlights. A rechargeable flashlight saves money in the long run, since it does not require a change of batteries. Keep in mind, however, that your campsite needs to have some sort of an electric hookup, otherwise you will not be able to recharge. If you're unsure whether or not you will have a constant power outlet on your trip, bring along a backup flashlight just in case.
Solar flashlights. While it's a great option that saves batteries, they have their limitations, too. They cannot be recharged in a very cloudy weather, or during the night. If you run out of juice before the nightfall, then you are stuck without the light. This type of camping flashlights should only serve as a backup.
Faraday flashlights. These are also called shake flashlights, because you have to shake them to create a power source. On one hand, you can rest assured that they will also produce light. On the other hand – your hand will get tired. After a day of camping activity, the last thing you desire is vigorous hand exercise. Moreover, the produced light is pretty feeble, even if you shake the flashlight for several minutes. Just like in the case of solar powered flashlights, use this one only as a secondary backup.
Runtime
Runtime (or run time, however a manufacturer spells it) is the time in hours during which the light goes from full brightness to 10%. In some models, the light gradually diminishes with time; in others, it can be completely bright, and then instantly vanish.
The runtime should fit the way you use your flashlight. If you just need it for a few moments, then a short runtime will suffice. Longer usage (for example, if you walk or read at night) requires longer runtime, naturally.
The runtime is affected by brightness. Higher level of brightness shortens the runtime. Which is why it's a good thing to have a flashlight that comes with a dim setting: when used, it can extend the runtime.
Runtime is an essential aspect of a good fliashlight, especially if you plan a long hike at the night hours.
Durability
Many of the cheaper flashlights are usually somewhat fragile and aren't built to last in the outdoors and in extreme situations. You need a sturdy flashlight (usually built from stronger materials) that can serve you for years to come. Durability usually comes with a tag price, but it's an investment that quickly pays off – you won't need to buy a new flashlight for every trip.
Additionally, your flashlight should fit the kind of trip you're planning. If your trip involves a lot of water (kayaking, camping by a water body, and so on), then get a waterproof model. If there will be a lot of climbing, and you might drop or bang the flashlight against the rocks, then get a model that it guarantees to survive this kind of adventure. An impact-resistant flashlight is a welcome tool under any circumstance. Make sure you select a model that is tested by being dropped several times, thus earning the impact resistance mark.
Miscellaneous Characteristics
Bulb – LED bulbs are preferable to other bulb types, they produce stronger lights, the battery drain is lower and the impact resistance is higher. Krypton and incandescent bulbs are less desirable for the same reasons, they are inferior to the LED bulb's performance.
Beam – the inner reflector controls how the light is spread from the flashlight. There is the flood beam, which is useful when you move around at the campsite. There is also the focused spot beam, a good option when you are running or looking around for your route and need the light to reach longer distances. Some flashlights are adjustable, which means that they can switch between the two types of beams.
Switches – the flashlight's control should be comfortable and instantaneous. Some flashlights come with a safety lock, or a bezel that can only be rotated with both hands. Others have an insta-beam switch that works without clicking. Some are operated by push buttons, others by sliders. Choose the one where the controls suit you the most.
Design – go for a flashlight that will not roll on a terrain in case you drop it or put it down. You wouldn't want a second flashlight to look for the first one that got away. The handle should also be knurled, not smooth, to increase your hold.
Budget
Flashlight prices can range from a couple of bucks to over $300. When deciding on your budget for a camping flashlight, you need to consider two opposing factors:
Do I want to invest too much in a flashlight, especially if camping is an infrequent activity for me?
Do I want to compromise on quality by getting the cheapest flashlight?
Only you know the right answers to these. Firmy decide on how much you wish to spend without having any second thoughts later.
Recommendations
After taking into the consideration all above points, check what other people are saying about the flashlight you decided to get. For instance, you can go on Amazon and see how the people review every camping flashlight there is. After trying several flashlights by myself and reading responses from satisfied customers, I came up with the following list of recommendations.
Top 12 Best Camping Flashlights on the Market
This flashlight has rightfully earned its spot among Amazon's bestsellers as well as the first place on our list. Its CREE LED light is particularly bright and can be set to 5 different modes:
Low
Medium
High
SOS
Strobe
As you can see, it has a setting for every possible situation. But that's not all.  The powerful beam has the power of 400 lumens, and the LED is has 50000-hour lifespan.
The runtime is 20 hours, during which the light will never dim. The flashlight is powered by a rechargeable battery.
In addition to all that, the Anker Flashlight is highly durable and waterproof (IPX5-rated). It can fit in your pocket, and the anti-slip design guarantees a firm grip. With thousands of positive reviews, you can't go wrong with this flashlight.
Click here for more reviews.
The Streamlight 75458 is not only an excellent flashlight, but a self-defense weapon as well. It can blind any intruder or attacker, and also lead you through the darkest of woods to the safety of your camp. It's also big enough to be used as a club. It fits perfectly in any palm, and its design prevents the hold from slipping.
The LED bulbs are 3 watt Luxeon, guaranteed for provide you with light for 50,000 hours. Shock-resistant and water-resistant, this flashlight is a real survival tool. You can cycle through several light modes, with the lower settings being more capable of extending the runtime. The flashlight is pricier than most of the item on this list, but it's regarded as a highly professional and long-lasting product, so give it a chance.
Click here for more reviews.
In many ways, this flashlight resembles the Anker Rechargeable Bolder LC90 LED Flashlight. However, there are some differences and advantages. The Fenix flashlight already includes 2 CR123A lithium batteries. It can be powered by the two of them, or by a single Li-ion rechargeable battery.
It's tactically designed, with the switch on its tail enabling an instant activation. The brightness is 1000 lumens (slightly more than the Anker's product), and the LED bubs are guaranteed to last 50,000 hours.
The Fenix PD35 has a very comfortable design, it fits firmly into the palm of your hand or in the pocket. The material it's made of is aircraft-grade aluminum. Nonetheless, it's also lightweight (only 85 grams), so you can carry it anywhere without noticing its weight's addition to your gear.
Another unique feature is the indicator that tells you when the batteries run out of juice. This is highly important, and not many flashlights have this feature. With the low power indicator, you will never be caught off-guard when the batteries are exhausted.
Click here for more reviews.
One of 1TAC's leading product, this flashlight is a cutting-edge technology. Though small in size, this powerful flashlight produces a powerful beam of 1200 lumens. The TC1200 Lamp lasts an impressive period of 100,000 hours, so you can be sure that this flashlight will serve you for many years ahead. Some additional features include:
5 different light modes, such as strobe and emergency flashing
Durable aircraft-grade aluminum body
Slip-resistant grip
500 meters zoom
Waterproof
Anti-reflective lens
Sturdy enough to be used for self-defense or as a hammer to break window glass in emergencies
Overheat protection
Click here for more reviews.
This is an Amazon's Choice item, and you get 2 for the price of 1! These are probably the smallest flashlights on the list, but they are exceptionally powerful. You can feel safe with them at the outdoors, as their light output is 2000 lumen and the beam distance is 200 m.
These flashlights are conveniently designed, and they allow quickly switching between 5 different light modes, as well as zooming and adjusting the beam's focus range.
BINWO's flashlights are made of superb aluminum alloy, making them extremely durable. They are also water-resistant and slip-resistant, which are always welcome features for a camping flashlight.
The miniature size is actually a plus, as you can easily carry them in your pocket or hand. Easily operated with one hand, this is precisely the flashlight you need if you're looking for a powerful yet discreet companion.
Click here for more reviews.
Like the previous recommendation, this flashlight is also small yet powerful. With brightness of 300 lumens, it's an impressive output for a flashlight of this size. This tactical tool is widely used by the military, police and emergency services.
Like with many other models, this one's beam is also adjustable. You can switch between wide and focused mode, as well as between high, low and strobe options.
The J5 Tactical V1-PRO Flashlight is tough and durable, and you can attach it to your pocket with an equally strong pocket clip. It's powered by one AA battery, either a disposable or a rechargeable one.
This item's price reflects its abilities and range of performance, so you don't overpay for what you get. Small, indestructible, water-resistant, ergonomically designed – what else do you need? This can be the perfect camping flashlight that you are looking for.
Click here for more reviews.
An eco-friendly and long-lasting choice. Operated by a rechargeable Li-NMC battery, which means you don't need to dispose of countless used batteries, thus reducing your negative impact on the environment.
But wait, there is more. The runtime is an impressive 48 hours, so you don't have to recharge that often. So in addition to being green, you save money on batteries and you are less dependent on a power source.
The Goal Zero Torch 250 Flashlight comes packed with several extra features:
Solar panel to recharge from the sun
Hand crank to recharge manually
USP port for electrical charge
The same port can also charge your phone
Various light modes: red light, flashing light, flood light
The brightness is just 250 lumen, but you can switch to lower setting and extend the battery usage. And finally, it's waterproof. With all these recharging options and features, maybe this is the flashlight that is absolutely right for you.
Click here for more reviews.
Here is a video review of this flashlight: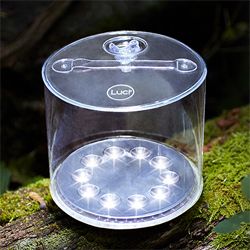 This incredible invention is marketed via the famous Survival Frog store. The Solar Air Lantern does not need electricity or batteries to shine. Just let it be charged by the sun, and it will provide you with up to 24 hours of light. While it's not strictly a flashlight, this patented lantern can light up your campsite, car or any other type of shelter.
In any bug out scenario, it's important not to rely on unavailable power sources, and the lantern does just that. It features 10 white LEDs, a quick shut off button and overcharge protection. In addition, the Solar Air Lantern is dust-resistant and waterproof, and therefore it can serve you even in the most extreme circumstances. Comes with a 1 year guarantee from the manufacturer.
Click here for more reviews.
ThruNite Archer stands out on this list thanks to a feature not available for other flashlights. It has an ultra-dim "firefly" setting, which creates light of only 0.2 lumens. No other flashlight reaches such a dimness. This feature is highly important for the nighttime, the firefly mode can help you with the chores without blinding you. After your eyesight adjusted to darkness, the last thing you want is a pain from an uncomfortably strong light source.
In addition to chores, the extra dim setting can help you with the following:
Search the tent or settle in it, without bothering other people
Accompany you outside as you head towards the bathroom
Read a map or a book before you fall asleep
Another useful feature is the flash (strobe) light. This flashlight can output a quickly pulsating, 500 lumens strong light. It's a very important option if you need to signal for help, should you face an emergency.
Besides these unique features, ThruNite Archer is built to last. It has a simple and intuitive control, only two buttons. It also comes with a belt clip + lanyard. You should really consider getting this flashlight, especially if you foresee a lot of movement and chores in the dark.
Click here for more reviews.
This impressive flashlight can illuminate object 800 m away and outputs 6000 lumens. It has two levels of brightness, and you can switch to the lower setting if you don't need a strong light beam and wish to prolong the battery life. With 9000 mAh of battery capacity, the flashlight guaranteed is to have a long runtime.
The flashlight also has multiple safety features: it's protected when it's being charged and when it charges other devices. Did I mention that you can charge your cell phone from this flashlight?!
The BUYSIGHT Bright Rechargeable Searchlight has a high waterproof rating, making it an ideal companion even in the rainy weather. It's also impact resistant, so it lasts longer than a regular flashlight.
It also comes with a comfortable handle that guarantees a good grip. This model is lightweight and very portable. The manufacturer (BUYSIGHT) provides a life-time warranty. This is a flashlight that you can definitely trust.
Click here for more reviews.
With 6000 lumens and 800 m beam distance, this is one of the most powerful flashlights you can get. It's perfectly designed for camping during the night. It's very versatile and is more than just a flashlight, since it comes with a built-in lantern that floods and lights up the entire tent.
The extremely high brightness is achievable thanks to the CREE LED. You can also easily adjust brightness from high to low and save batteries. The light output difference between the two settings is 3:1, meaning that you get 10 hours of uninterrupted runtime on high setting and up to 30 hours on low setting.
The flashlight is powered with 4 rechargeable batteries. You don't have to worry about any power surges when you recharge them, as this smart flashlight has several automatic protections, including against overcharge and over-discharge. In addition, the flashlight has a USB port and functions as a power bank so that you can charge your mobile phone.
Another important feature of this GEPROSMA model is that it's completely waterproof. Furthermore, it can be mounted on a tripod. This flashlight is somewhat bulky, but it's easy to handle. It can be hanged or carried anywhere, which makes it very portable. All in all, as far as camping flashlights go, this one is an excellent choice.
Click here for more reviews.
Although this flashlight is the last on my list, it's actually a personal favorite, thanks to its particularly long runtime. It has 3 settings and can run an impressive number of hours in each setting: 16 hours in high setting, 77 in low and 117 in eco-friendly!
The Maglite ML300LX is available in 2 sizes: 2 batteries and 3 batteries, the latter has a longer runtime. If you exhaust the batteries, you can effortlessly remove them and replace with spares. Naturally, you can also use rechargeable batteries (not included), and along with the eco-friendly mode, you will save money in the long run while remaining eco-conscious and not wasteful.
The Maglite ML300LX is somewhat expensive as compared to other models, but the eco-friendly mode plus the high durability are a great trade-off. The beam distance is 406 m and the maximal brightness is 625 lumens. This might not sound as impressive as other models, but it's more than enough to enjoy camping at nighttime.
Click here for more reviews.
Related Questions
What other items, besides a camping flashlight, should I pack? Making a camping or survival backpack deserves a separate discussion. Basically, you should tend to your immediate needs, which means that you need to bring water, food, shelter, emergency items, knife, and so forth. Here is a more detailed list of what should be in a survival backpack, and here is the essential camping checklist.
Will a camping flashlight help me if I hike alone? As mentioned earlier, it can be a great emergency beacon. However, if you intend to hike and camp on your own, without a group, you need to notify someone at home where you're heading, as well as visit the ranger station on your way. Here are more tips on hiking alone.