From time to time, it is good to go out on a camping trip. It benefits your physical and mental well-being. It gives you time to relax and enjoy the nature of our beautiful Earth. And, you can bond and strengthen your relationship with friends and family.
However, in order to plan a camping trip that will be perfect, benefit all parties and be a real trip to remember, there are some factors to consider. In this article, I will cover everything you need to know about how to plan a camping trip.
These are the steps you will need to take as you plan a camping trip:
Choose your destination
Reserve a campsite
Learn necessary campground rules
Prepare the gear required for the trip
Plan meals and snacks
Assemble the gear and load the car
Now let's get into more details about every step.
Choose Your Destination
The absolutely first thing to do is to choose the camping trip's destination. If you plan to make the trip on your own, the choice is easier, as you know where you'd like to go. However, if you plan a camping trip with friends or family with kids, it is important to choose and plan a destination that everyone agrees on. This way, you avoid any tensions during the trip, and everyone will be happy.
Choosing the camping trip destination will depend on:
Who is coming to this trip?
Are you planning just to camp only or to engage in other activities?
When are you planning to go and for how long?
How are you planning to get to the campsite?
Once you answer these questions, you will be able to start planning a camping trip that will suit all involved parties. Let's break it down a bit further.
Who is coming to this trip?
Every camping trip is different. There are solo camping trips and hikes, trips to take with the family, friends, couples trip, and so forth. As stated earlier, when you go on a camping trip by yourself (or just with another person as a couple), it is much easier to decide where to go and how to choose a destination that answers your needs.
However, when going out as a family with the kids, it is important that the place you're going to will be friendly to kids, and include activities and schedule suited for their age. This can be in the form of a playground or other available activities for them, so they won't get bored and won't nag during this trip.
You can "practice" this by taking walks with the kids, letting them fill water containers, and camp at the backyard or even in the car with them, thus allowing them to experience what camping is all about. Don't forget to teach them about safety at the campsite. Another option is to go camping with family's friends, so that your kids will have other children to play with.
You can also decide going on a camping trip as a group. In this case, you should all agree on the destination, and also equally divide the gear, equipment and appliances between all members.
Are you planning just to camp or to engage in other activities?
During the camping trip, you can engage in other activities: hiking, fishing, kayaking, biking, swimming, climbing, and more. Consider what you as well as each of the members enjoy and are interested in doing during the trip. Plan the activities for this camping trip according to everyone's main interests. It is important that everyone have fun during the trip and engage in activities they are fond of.
Remember that choosing the activities you are planning to engage in will also determine your destination, as well as the gear and equipment that you should pack. For example, if you are planning to kayak, your destination should be eligible for this activity, and the gear you pack needs to fully cover your ability to enjoy such an activity. National parks have various activities available, and they are listed on their websites for your convenience.
Another important thing to do is to check if there are any legal requirements for the activities you're planning during the camping trip. Whether you're planning to go hiking, haunting, boating or fishing, some places may ask that you have a license or permits (like a hunting permit) for these activities.
If you're planning on going to theme parks, it is advised to book the tickets in advance, and thus avoid wasting time or getting stranded outside a park.
Not sure what activities to partake in, especially if you're with children? Here is a nice video that lists 19 camping activities:
When are you planning to go and for how long?
The next step will be to decide at what time of the year you will embark on your trip. If you're a novice camper, it is best to avoid camping during the winter, at least at first. Some seasons may be more challenging than others, and you want your camping trip to go as smoothly as possible.
The best time to go out camping is when the days are sunny and the nights are not extremely cold. If you plan the camping trip during the winter or when it's raining, you'll need to prepare properly with suitable clothes, as well as with a tent that's waterproof, can withstand strong winds, keeps warmth in, and so on.
It is highly advised to check weather condition at all times before going on the trip, even during the summer, so that you won't be surprised by bad weather. Also, decide for how long you're planning to go as well as the total distance of the trip, so you'll know how much food, water, clothes, gear and equipment to pack.
How are you planning to get to the campsite?
There are several types of ways to embark on a camping trip. There is:
Tent camping
RV camping
Backpacking (combines hiking and camping)
These are three different ways of camping. Choosing the way to camp will also determine the amount and type of gear and equipment you'll need to pack and carry, as well as where you will be camping.
If you choose to backpack, you will be hiking, then camping to rest, and then continue on your hike. If you decide to camp using an RV, you will need to find appropriate places to park, but camping will be more comfortable, especially when it comes to facilities, bathroom and use of electronic devices.
First time campers can use their car in order to get to their campsite, as it is much easier and more convenient. If you decide to use the car, make sure there's an available place to park your car.
Backpacking is suited to more experienced campers. It's not advised if you are new to camping trips or if you plan to camp with kids.
Private Campground or Public Campground?
Campsites can be private or public. At a private campground, you will most likely find a pool, washrooms, laundry room, and sometimes even a recreation hall. At a public campground, you will usually not find all these utilities.
If you wish to enjoy camping, yet have access to restrooms, running water and canteens, then you should choose a private campground. You can also go for the primitive way of camping (yes, it's a real thing), which means travelling to a remote destination and setting a camp there. Starting your own fire, and enjoying nature at its best. Primitive camping allows you to enjoy nature without the noise of other people, in a secluded area.
However, bear in mind that there are no washrooms, bathrooms or clean water sources like in a private campground. You will need to carry sufficient amount of water for everyone. Also, consider bringing a water purifying device or tablets, in case you need to purify water sources for drinking water, but we will talk about gear and equipment later on in this article.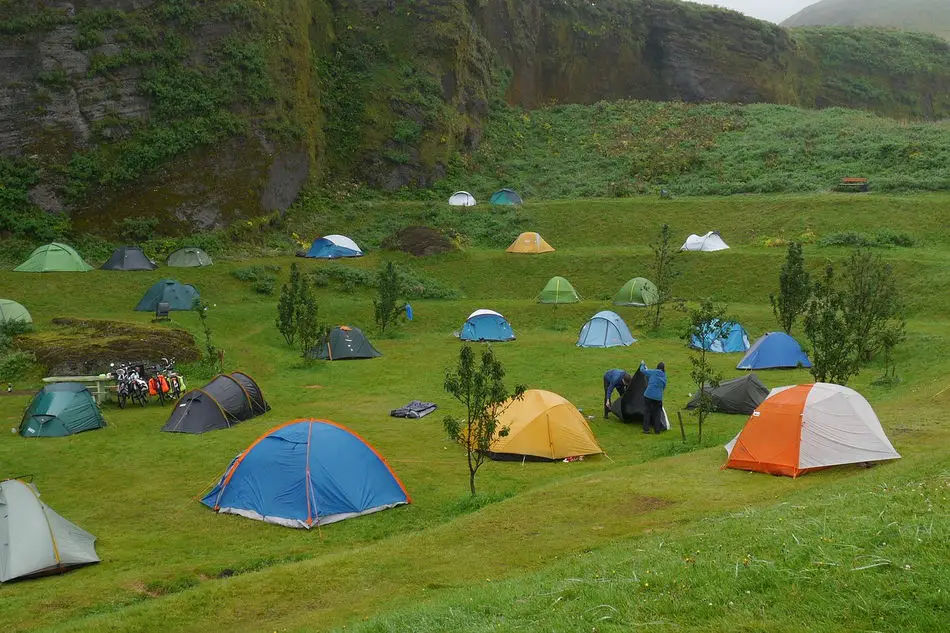 Reserve a Campsite
As I've stated above, most private campgrounds offer such services as access to water, washrooms, laundry rooms, canteens, and others. However, there are other factors I'd advise to check before choosing a campground.
When choosing to camp in the back country (not a private campground), look for the following:
Privacy: The less strangers there are in your vicinity, the better your camping experience will be.
Space: Enough room to set up the tents, cooking and eating area, playing area for kids, parking for the car, and so on.
Ground surface: Even surface with no stones or abundance of debris is preferable.
Shade: You don't want a sun stroke to ruin your vacation.
When choosing to camp in a private campground, here are a few factors to consider:
Tents and campfires: Check whether tents and campfires are allowed on the specific private ground. If tents are allowed, check if there are any restrictions about the number of permitted tents.
Picnic tables: Are there picnic tables available and if so, how are they placed, randomly or centrally?
Extra charge: Are there extra charges for services in the private campground?
On-site attendants: Check if there are any on-site attendants.
Pets: Can you bring pets along to the campground?
First aid station: Check if the campground has a first aid station. If it has one, know the hours during which it operates.
Firewood: Check whether you can use fallen firewood from the area, or whether you would have to purchase firewood in advance.
Wildlife and insects: Check if the place has any problems with wildlife and insects that can be of burden, or even worse – life-threatening.
Seasonal restrictions: Are there any seasonal restrictions on the campground? For instance, no fire allowed during a specific period of time or month.
Driving: Can you drive to the campground, or is it not accessible for vehicles?
ATV: ATV is an all-terrain vehicle. Check if they are allowed and the need for a license to operate it.
Another tip I can give you is this: before choosing a campsite is to check reviews from previous visitors. This will help you get a feel of the place, services and other aspects. Also, talk to veteran campers and ask for their advice and opinions about choosing a campsite.
After you chose the campsite that suits you the most, you should know that some campsites require reservation. This can be done on the phone or online. Other campsites operate on the basis of first-come-first serve, so it's important to know how a campsite operates in order to secure your spot.
If the campsite is working on the basis of first-come-first-serve, then you should arrive there as early as possible to secure your spot. Bear in mind that this is extremely important during holidays, as many people go out to enjoy camping.
If the campsite requires reservation in advance, then you should try and book a spot months in advance. This will allow you to choose from a variety of campsites as they aren't over-booked just yet. That being said, the most popular campsites even require booking close to a year in advance.
Learn Necessary Campsite Rules
In this section, I will go over some campsite rules and share tips according to those rules and restrictions. Different campsites have different rules, so let's understand what all this means.
Rules concerning vehicles: You will find that some campsites allow only one car per group to enter the ground, so that everyone will have enough room to park. In this case, load all the required gear and equipment on one vehicle and drive with it to the campsite. Vehicles will be allowed only to enter and leave the site, and park in the designated area. Parking off-road is not allowed.
Rules concerning noise: Campsites also have rules when it comes to making noise. Commonly, from 10 PM to 6 AM you are asked to keep quiet and not make any noise. This is an important rule, which allows every camper to enjoy his or her rest, peace and quiet. In areas of trout fishing, you should keep quiet as well. This is because the noise may scare the fish away.
Rules concerning sanitation: You come to a clean and organized place, and this is exactly how you should leave it. This is called the "Leave No Trace" rule, and it is well known among camping enthusiasts. Clean after yourself, and don't litter or throw garbage into streams, lakes and other water sources.
Rules concerning fire: You probably know the general rule when it comes to fire – do not leave it unattended, and extinguish the fire completely before leaving. However, some campsites have more fire-related rules. There are campsites that do not allow to start a fire at all, while others may allow it, but only during specific times of the day. Campsites that allow to start a fire expect you to do so only in areas that are dedicated for this purpose, while using rings, stoves or fire grills. As for all kinds of explosions and fireworks, these will probably be prohibited. All these rules were made for your own safety and the safety of everyone around, nature itself included.
Rules concerning pets: Most campsites will allow you to bring your pet, but it must be put on a leash all the time. Of course, there are specific areas where pets are not allowed, like areas designated for swimming for example. Your pet should always be by your side or in reach, and, of course, under control. Bear in mind that rules concerning pet vary between campsites, so always check before you take your best friend on a camping adventure.
Prepare The Gear Required for the Trip
Camping requires to be equipped with the necessary gear and have the right quantity of the gear. You don't want to lack anything that may be of importance. On the other hand, you don't want to take too much gear with you, otherwise your backpack and bags will get too heavy to carry.
How can you know what to pack and the right amount of it? In this case, I would suggest using this camping checklist. The checklist will assist you according to your planned activities, so you won't forget anything and know exactly what to purchase and take on the trip.
If you are planning a solo trip, do not pack too much, since no one else will help you to carry that extra weight. If you are going on a camping trip as a group, you can divide the gear and equipment between all members, so that gear carrying becomes a much easier job.
Remember, when you're going out on a camping trip, you should have enough water, food, suitable clothing and shelter. I already mentioned using a checklist to know exactly what to pack, and here is a quick list of the gear and equipment that you should pack on your next camping vacation:
Tent (including poles and stakes): You can take several tents with you or a tent big enough for a group. There is a wide variety of high-quality camping tents today, from a tent to 1 person to a 12-person tent. You can see several excellent examples in this article on best camping tents and how to choose them.
Sleeping bags. If you're unsure what type of a sleeping bag you need, here is my article on choosing a sleeping bag for your camping trip.
Sleeping pads
Clothes: Choose hiking clothing that is appropriate to the weather. During the summer and warm days, wear breathable clothes and dri-fit technology. This keeps the sweat away from your body and keeps it cool. Also, wear synthetic or wool socks. If the nights get a bit chilly, have a lightweight jacket with you.
Footwear: Wear shoes or hiking boots that are suitable to the terrain. Here is a very useful article that explains how to choose the best hiking boots for your needs.
Raingear: This includes waterproof clothing, boots, 3-season tent, and so on.
Sunscreen
Sunglasses
Hat
Bug spray
Cooking gear: This includes pans (if you plan on cooking on a campfire) or a stove, utensils, plates, glasses.
Chairs and tables: Make sure you have the best campign chairs for this trip.
First aid kit: I made a list of the best first aid kits, feel free to visit it.
Water purifier
Lighter/matches
Flashlight
Multitool: A versatile item that can include up to 20 of highly helpful tools. It can serve you in so many situations, such as cutting ropes, opening cans, fixing your gear, and so much more. You should really check my article on best multitools for detailed information on how they can help you on your trip or even in daily activities.
GPS device
Compass: In case there's no signal or satellite reception where you're planning to hike.
Cash
ID card
Cellphone and charger
Trash bags
This may seem like a lot of things to carry, but again, if you're camping as a group, you can split the items among the group members. Keep in mind that your backpack shouldn't be more than 25%-30% of your body weight.
It is wise to test and check that all your gear and equipment work properly, so you won't encounter problems or unpleasant surprises during the camping. Set the tent up and then fold it back, try purifying water using the purifying device, see that the flashlight works, and basically make sure everything is good to go. There are more imporant tips to learn, so check my article on camping tips for beginners.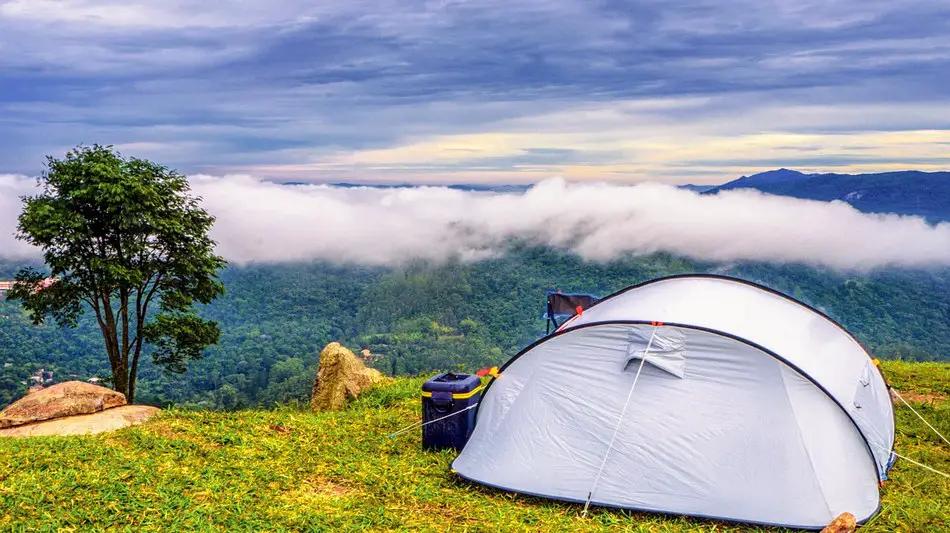 Plan Meals and Snacks
Can't go camping without food, right? Well, good news. There is a variety of meals and food to pack with you for camping, and it's really nutritious as well as delicious.
It goes without saying, but the longer your trip is, the more food you will have to pack to cover every day of the trip and every member of your group. I know I said that you shouldn't pack more than needed, but when it comes to food, the more the merrier.
Camping meals don't take too much space in the backpack, they are not heavy at all. Therefore, it is best to have reserves rather than getting stranded without food.
If you are planning a solo camping trip, then you know what you like, dislike and can eat. If you are planning a group camping trip, then check with all members regarding their preferences, favorite meals, restrictions of diet, allergies, and so on.
You can prepare the food in advance at home or purchase prepared camping meals. You can slice and cut vegetables and fruit, or even marinate meat at home. Anything you can prepare at home is much better than on site. It saves you time and allows you to get to camping cooking straight away.
Perishable foods should be stored in coolers (bring ice coolers if needed). You can also use them to store water bottles and beer, in order to enjoy cold beverages on a sunny day. Just make sure you have enough space for everything.
If you want to see the variety of delicious prepared camping food available, click this link to visit the ReadyWise store. You'll be able to enjoy meals like cheesy lasagna, creamy pasta with chicken, noodles with beef, apple cinnamon cereal, pasta alfredo with chicken, and much more!
Also, have a look at a detailed article I wrote about food to pack for camping (the ultimate checklist).
I have mentioned some of the appliances, but make sure you have everything needed for meal preparation and for eating it comfortably at the campsite. Here is a list of appliances you may require and that I recommend taking:
Pots and pans
Utensils
Plates
Glasses
Cutting board
Sponge and dishcloth
Table cloth
Firewood
Lighter/matches
Now that you have everything, you need to learn what to do with all this equipment and food. At this point, I would like to redirect you to my article that explains how to cook while camping. It gets into more details on preparing your outdoor cooking area, lists methods of cooking and has tons of tips and quick recipes.
Assemble the Gear and Load the Car
You're almost done, but there's one last thing to do – and that's preparing the car for the trip and loading the gear and equipment onto it.
First, make sure the car is ready for the trip. Check that the engine oil's level, as well as the water in the radiator. Make sure the car's battery is full and it starts. Check that you have enough fuel for the road and that the air pressure in the tires is just right for the designated terrain.
Also, this may sound obvious, but make sure the car is clean (especially the interior). It is much more fun and comfortable driving in a clean car that smells nice, especially if it's a long drive.
Last but not least, I would recommend having in the trunk the following:
Engine oil bottle
Car battery charger: Never get stuck with a dead battery. There is a highly recommended charger on Amazon, called Clore Automotive Jump-N-Carry JNC660 1700 Peak Amp 12 Volt Jump Starter. It reliably performs even under the toughest conditions, bringing your battery back to life and safely getting you home. You should really check it out.
Air pump for car tire
Car windshield cleaner/water: Clean your windshield from dirt, sand and especially flying bugs that may smash on it during the drive
Your car is ready for the road, and now it's time to load it with the gear. Anything you can put in the car (that does not need to be at home or the fridge), load it a day before the trip. You don't want to forget anything or load the car under pressure, during the few hours or minutes before embarking on the road.
This means loading the car with the backpack, tents, sleeping bags, chair, tables, cooking appliances, clothes, bug spray, etc. Just don't forget to take the food and the water containers out of the fridge, as well at the day of the trip.
Recommended Camping Sites
I have selected some of the best and recommended camping sites across the USA, Canada, UK and Australia. Now, all you have to do is pick a spot, and off you go to an unforgettable camping experience.
Recommended camping sites in USA
Acadia National Park, Maine: This is a great place if you love nature, full of glorious natural attractions. For instance, you could hike all the way to the top of Cadillac Mountain and enjoy the morning sun rising, being the first in USA to enjoy the sunrise. Acadia National park features 3 campgrounds. Blackwoods campground is open all year, however a permit is required from December to March. Seawall campground is open from late May through September, and Schoodic campground is open from late May until Columbus Day.
White Mountain National Forest, New Hampshire: A great area for hiking and enjoying stunning sights, especially during the fall when the foliage turns shades of yellow, red and orange. The forest is accessible all year, and backcountry tent camping is also allowed.
Shenandoah National Park, Virginia: With over 500 miles of trails that lead to various amazing places, like waterfalls and wilderness, there's plenty of space to hike and connect to nature. One special attraction, yet a rather tough challenge, is the hike to Old Rag Mountain, which is 8 mile long. There are 4 different campgrounds that are open during the spring, summer and fall.
Denali National Park, Alaska: 6 million acres of open land! Wildlife and trails that are perfect even for veteran and experienced hikers. Need I say more? Both beginners and pros will enjoy hiking routes suitable for their level, with most of the trails starting close to the visitor center and range from easy to moderate difficulty levels. Other trails start more deep in the forest. The park has 6 campgrounds, and backcountry camping is allowed with a free permit. If you wish to use your car, only Riley Creek is reachable by a vehicle. In order to get to the other 2 sites, you will have to use the bus. The park is open according to the weather. There are some parts of the park that are open all year, while other parts are open from mid-April (to private cars). During the fall and winter, you can enjoy a variety of activities, from skiing to dog mushing.
Crater Lake National Park, Oregon: Here's something for you – hanging out in a sleeping volcano! When you are swimming in Crater lake, you're actually swimming in the deepest lake in USA. The lake is also (according to scientists) the clearest as well as the cleanest source of water in the country. You can camp at Lost Creek or Mazama. Lost Creek is designed only for tent camping, and is open from early July to mid-October. Mazama has some electric hookups if you're planning to camp with an RV, and is open from June 3 to October 9. Backcountry camping is allowed, but only with a permit. Here is a video that showcases this wonderful camping site:
Recommended Camping Sites in Canada
Ovens Natural Park, Nova Scotia: This is the most beautiful campsite in Nova Scotia. It's a private campsite that features more than 180 acres of forest trails and land, stretching along the Northern Atlantic Coast. Your choices of camping range from rustic cabins to tent camping and RV camping. Great attractions in this park include hiking, kayaking, gold panning and museums.
Alice Lake Provincial Park, British Columbia: This is a friendly campsite, full of adventures and perfect for families. The campsite is next to Alice Lake, with the area rich with pine trees and green fields. The park has a lot of hiking trails, and on top of that you can also enjoy such activities as swimming, fishing, cycling, and even canoeing. Because it is a popular park, it gets crowded, so it's recommended to reserve a spot in advance.
Gros Morne National Park, Newfoundland and Labrador: The location of the park is on Newfoundland Island, in the Long Range Mountains. The surroundings feature green cliffs, rivers, blue streams and trails for hiking. There are a number of campsites to choose from and reserve a spot: Green Point, Shallow Bay, Trout River and Berry Hill. If you're not fond of tent camping, the place offers you cabins, which are equipped with living rooms, bedrooms, and kitchenettes.
Lawrence Parks, Ontario: You will be camping right next to the famous St. Lawrence River, where you can enjoy tent camping under the open skies and gaze at the stars. If you prefer staying in a cabin, the campsite features more than 100 cabins. You can also camp with an RV. Attractions include swimming, scuba diving and visiting many of the historic sites in the vicinity, such as Boldt Castle, Fort Henry, and Village of Rockport.
Mount Robson Provincial Park, British Columbia: Here is your opportunity to camp at one the most famous mountains in the Rocky Mountains of North America, standing tall at 4,000 feet high. The park is known to be magical and majestic, with a breathtaking view of snow at the peaks of the mountains.
 Recommended Camping Sites in UK
Turner Hall Farm, Cumbria: This is a basic and small campsite, located in the Duddon Valley. Stroll and hike on high ground and enjoy the rivers. This is a perfect site for natural camping with basic facilities. The site is open from April to October.
Brighouse Bay, Dumfries and Galloway: Surrounded by no less than 1,200 acres of walking country, this campsite is quite amazing. It offers stunning views and sights over the Irish Sea. This park (which is also award-winning) features a swimming pool, games room, bar, family room, bistro, function suite, toddlers' pool and corner. The site is open from April 18 to October 31.
Bay View Farm, Cornwall: This small campsite features an amazing view and great facilities. Children will also find what to do and will be able to enjoy the Shire horses. Just around the corner, you can engage in fishing at Polperro village. The site is open all year long.
AYR Holiday Park, Cornwall: Stunning views to the Rocky Headland, this is a terrific camping site for beginning campers. The campsite is quiet and peaceful. Only a short walking distance from there, and you will find the attractions of St. Ives. This includes beaches, fish and chip shops, bars, cafes, and more. The site is open all year long.
Blackberry Wood, East Sussex: This is the #1 site according to Cool Camping, and it is located in a woodland. It's full with wonderful clearings, where you can sit on logs, use a fireplace and enjoy some toasted marshmallows. The Jolly Sportsman, one of the best gastropubs in South England, awaits you at only 10 minutes by foot from the campsite. The site is open from April to September.
Recommended Camping Sites in Australia
Coffs Harbour, New South Wales: This is one of the top coastal campgrounds in Australia. It's surrounded by forests, beaches and the ocean. The journey there can be an amazing road trip as well, being a 5-hour drive from Sydney, with a lot of places to stop by on the way.
Millaa Millaa, Queensland: If you're not familiar with the famous Millaa Millaa falls, it's time you should. Think of a paradise and then multiply it. You're surrounded by mount Bartle Frere, the highest mountain at Queensland, as well as by lush rain forest.
Flinders Ranges, South Australia: This place lets you experience what true Outback is all about. Hiking and exploring an amazing landscape that's 540 million years old! I would suggest travelling during the winter, because during the summer the temperatures and heat are unbearable and can even be life threatening.
Daintree National Park, Queensland: Beaches, wildlife and an endless rainforest. Sounds good? The Noah Beach camping ground is only 50 meters from the shore and is covered by mossy trees. Is this heaven right there or not?
Kalbarri, Western Australia: This is a place for anyone who is interested exploring the west coast. It features incredible views during hiking, white striped rock formation and river gorges. Also wildflowers flourish and bloom during the right season, filling the entire place with hypnotizing colors.
Final Words
Well, there you have it. I sincerely hope I was able to answer all your questions, and now you feel more confident and prepared to start your camping trip, perhaps a first of many. Now that you know how to organize a camping trip, nothing stops you from fully enjoying it.
Always keep in mind to stay safe out there, constantly ensuring that no one in your party is hurt or lost. Stay hydrated! If you're unsure how much water you need to carry and drink, here is my short article on the right amount of water to drink while hiking.
Keeping warm is also quite essential, especially during the colder weather. There are several successful methods to heat the tent, and also to start a fire even without matches or lighter. The significant information in these two articles could be a real lifesaver.
Happy trails!