Everyone loves camping, but most of us hate the cold nights. Which is why camping usually takes place in the summer. However, many great solutions exist. There are proven ways to heat your tent, even in the winter. So don't let the cold and the snow ruin your plans!
In this post, I will tell you about the different tent heating methods that you can apply, the heating devices that you can use, and what are their advantages and disadvantages. I will also go through several safety rules as well as additional ways to keep yourself warm during the night. So let us being with the heaters, shall we?
Use an Electric Heater
This one is probably the most basic yet efficient way to heat a tent. Naturally, an electric heater will require a power source, so you have to check the campsite ahead for the power availability. The campsite of your choice must have an electric hook-up that can serve any camper's needs. Keep in mind that you cannot use your daily cord extension to connect to the hook-up. You will need to be equipped with a proper fitting that comes with a circuit breaker. This is the only way to connect to the campsite's hook-up and then operate your electric heater.
Electric Fan Heater
As I mentioned earlier, you need to rely on campsite's hook-up, which is a smaller power source than the one you have at home. The hook-up is usually limited to 5 amperes. If you choose an electric fan heater (and many do), you will need to purchase one that is suitable for camping. With that in mind, let's look at the electric fan heater's advantages and disadvantages.
Advantages:
Fast heating of the entire tent. You can activate it before going to bed or when you wake up, to make your stay more pleasant.
Does not weight a lot and can be easily moved and transported.
Takes care of the condensation that accumulates in the tent, a problematic side effect of winter's cold morning.
Low price.
Disadvantages:
The heated air can get too dry and stifling.
The fans are automatically operated by a thermostat and therefore are making noises, particularly when they turn off and on. This might interfere with your sleep.
As a tip, I recommend placing your electric heater above the ground and away from the walls of the tent. The walls might flap because of the wind, which will tip the heater over.
If you're looking for a good electric heater for your tent, one of the most popular and most affordable electric heaters on the market is Givebest's Ceramic Space Heater (from Amazon). It has 3 modes (high heat, low heat, fan only) and an adjustable thermostat control. It's completely portable, and you can also hang it by its handle. It's small (will fit any tent), very quiet, yet high performing. This heater will warm any space in minutes!
Electric Radiator
Bringing an electric radiator to the campground might sound as if you're trying to have a luxurious and pampered camping experience. But the idea is not that far-fetched. Let's go through the radiator's pros and cons, and learn how you can use it to heat your tent.
Advantages:
Works really silently. Radiators filled with oil do not produce the noise that you usually hear from the fans as they constantly turn on and off.
It still produces heat after you shut it down.
Unlike in the case of an electric fan heater, the air is NOT dry and stifling.
Disadvantages:
Longer heating times, the heat output is not instant.
The electric radiator can be bulky, transporting it with you is not an easy task.
The heat might not reach every corner of the tent, especially the spots where you sleep. But it does a great job in the center of the tent, where you can change clothes before going to sleep, or when you're preparing to head out after you wake up.
Please notice that while the radiator might not reach the sleeping areas, you can purchase a model that combines fans, to spread the heat further. Keep in mind that such a unit can require a certain level of power supply, so check if the local electric hook-up does not limit the radiator's performance.
One of the safest and best performing electric radiotors ever is Pelonis Electric 1500W Oil Filled Radiator Heater (with hundreds of positive reviews on Amazon). This incredible radiator has it all: 3 heating options, 5 temperature settings, LED display, sturdy wheels to move it around the tent, quiet operation, and above all – it's a very reliable source of heat! It's also very safe: it comes with an over-heat protection, and if it's accidentally knocked over – the tip-over safety switch shuts the radiator off. Take this radiator with you on your next trip, you won't regret it.
Electric Halogen Heater
An electric halogen heater has become a more popular option in the recent years. It does not require a lot of power, yet it produces tons of heat. Just like with other electric heaters, let's see all the pros and cons.
Advantages:
Works silently, so that you can enjoy the quiet of the night.
Not just produces heat, but also a glow, which give an additional warm feeling to the tent. It basically can function as a light source inside your tent.
Does not weight as much as an electric radiator, which makes the transportation much easier.
Starts producing heat much faster than a standard radiator.
Disadvantages:
A standing halogen heater is a potential fire hazard. Some sites even ban those and do not allow to bring them in. The immediate solution, however, is purchasing a hanging version of this heater, one that does not stand on the ground.
Just like with the radiator, the heat might not reach the areas where you lie down for the night.
Some halogen heaters are designed specifically for the campsites where you are limited to 5 amps. Again, it is better that you go for the hanging model. Suspend it from the hook inside the tent, away from possible fire hazards as well as children's reach. You can even put a table directly beneath the hanging heater, so that a taller adult will not walk into it (should the size of your tent allow this).
A halogen heater is a very modern tent heating solution, I would actually highly recommend to try it. You can connect it through a timer, so that it does not stay on during the night, but lights up again in the morning. It does give any tent that desirable home-like atmosphere, with the heat and the cozy glow it makes. And the best hanging halogen heater for your tent is DONYER POWER 1500W Electric Heater (on Amazon). Its dual halogen heating pipes quickly raise the temperature, producing a 360 degrees circle of warmth. The heater hangs from an adjustable chain whose length you fully control. The manufacturer guarantess a long lifespan and your full sastifaction with this halogen heater.
Electric Blanket and Thermal Blanket
This kind of heating solution will mostly heat you and not the entire tent, although it all depends on the electric blanket's heat output and the volume of the tent. On the other hand, if you dress warmly and use something like a hot water bottle inside the sleeping bag, then an electric blanket can be redundant.
In any case, electric blankets also require a power hook-up. They have a few advantages over the bulkier heaters. They cost less, and can be easily rolled, stored and transported. Electric blankets come in different sizes, and some of them can even be powered by USB! Some of their categories are:
King size blankets
Double blankets for much harsher, colder nights
Foot blankets, for the very important task of keeping your feet warm when you sleep
Electric wraps
Car blankets that are powered by your vehicle's lighter
Electric throws – much softer and more flexible than the usual blankets, you can cover yourself in them while you're sitting outside the tent
Thermal blankets – they have no cords to plug in, as they are made especially for an emergency or when there is simply no power nearby
Speaking of thermal blankets that require no power, I warmly recommend getting Arcturus Heavy Duty Survival Blanket from Amazon. This highly rated blanket will keep you warm in the coldest weather. Moreover, it can also be used as a ground tarp, a shelter or an additional tent insulation. This durable blanket is also extremely versatile, it can protect you from cold, heat, wind and water. No wonder it was selected as an Amazon's choice item! You simply must take it with you on your next trip.
Wood Stove
Now, this type of heater is slightly more complicated than the electric solutions – those can be activated with just a flick of a switch. A wood burning stove has a few advantages and disadvantages of its own.
Advantages:
Silent operation, won't interfere with your sleep.
Very impressive heat output.
Lengthy period of steady warmth.
Does not need an electric hook-up. This means that you are free to explore and cover more area in your travels, since you don't have to stick only to the campsites that have the hook-ups.
Disadvantages:
Some models are not easily transported due to their sizes and weight. But then again, superb portable models do exist, so consider shopping for those.
You tent must come with a flue – a duct or an opening that carries the fumes out.
As you can see the disadvantages I just mentioned have immediate solutions. However, if you already have a tent and it is not the right type to host a stove, then maybe a tent stove is not for you. The stove should only be placed in a tent made of fire retardant fabric and equipped with a flue flap. Having a CO (carbon monoxide gas) alarm is also a great precautionary measure, as it will warn you against accumulating fumes. In addition, the wood stove should be situated above a heat resistant mat.
If all these safety rules are followed and you have the right tent for the task, camping with a wood stove can actually be quite a pleasant and authentic experience.
A wood stove can also be quite helpful inside a house. It will keep you warm when the power is out.
Try a Hot Water Bottle
This usually works with metal or hard plastic water bottles. The water should be heated almost to the boiling point, and your regular plastic bottle from the supermarket will not survive this. Get the largest bottles you can find, more water equals more stored heat. Heat the water over a fire in a pan or a pot, and then carefully fill the bottles with the hot water. Place the bottles in several places in the tent. The heat will be slowly released during the night, and the inside temperature will rise. A low cost, low tech method to heat your tent.
The water might still be warm in the morning. So another thing that you can do is to grab a couple of those bottles and put near you. This will give you a boost of warmth as you wake up, making the overnight camping experience much more enjoyable.
Here is a good video that shows the use of hot water bottle while camping:
Heat the Tent with Heated Stones
This method is somewhat reminiscent of the previous trick with the bottles. There are a couple of differences. The heated stones have an advantage over the bottles, because the stones will warm your tent must quicker. On the other hand, they do not retain the heat for too long.
Look around your camping spot and find a few good stones. They can also be found near a water source. Lay the stones down as close to the campfire as possible. Don't place them inside the flames! You won't be able to remove them from the fire, and naturally, burnt stones should not be brought into the tent.
About 30 minutes before you turn in, wrap the hot stones (be careful!) in a cloth and, just like with the bottles, place them strategically all over the tent. Preferably, you should place them where they won't be accidentally touched, like in the corners. The wrapping cloth should protect your tent from the hot stones. And there you have it, a simple warming solution. As I said, they last less than the bottles and might cool down in a matter of three or four hours. However, if it's not too cold outside the tent, this will create a nice warm climate inside the tent that will serve you throughout the night.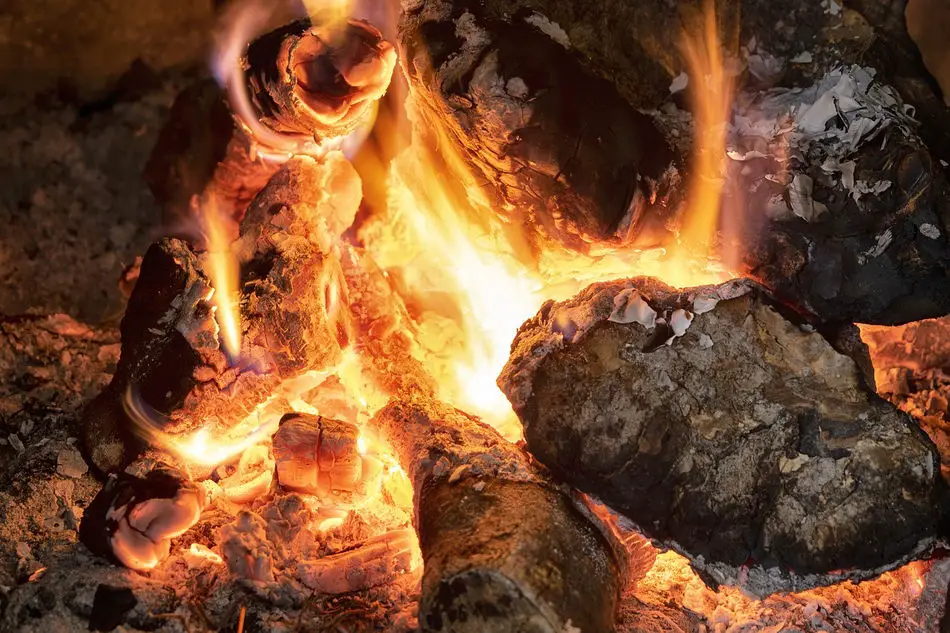 Place the Tent Above Campfire
This method should obviously be used only after the fire is extinguished. What you should do first is to dig a trench as wide as the tent. Start the fire inside the trench, burn a lot of wood in there. The more coals you eventually get, the better. And finally, fill that trench and place your tent above the former campfire. During the night, the heat will be steadily released to warm your place of sleep.
Now, if you wish to try this unusual method, don't place any floor insulation. It will mirror the heat back into the ground instead of warming up the tent. The method, by the way, is similar in principle to pit cooking. In this ancient cooking method, people would fill a hole with burning wood. Once the fire dies down, they add meat to the hole, and the hot ground steadily cooks it for several hours.
Of course, while intriguing and challenging, this method is not perfect. You would need to spend quite some time for the trench to be ready, which means you will set up the tent late at night, in the dark and the cold. Also, you would have to extinguish a perfectly fine fire, and what campsite is complete without a campfire nearby? Then again, if it's not much of a hassle, you can build another campfire outside your tent.
Improve Tent Insulation
And finally, tent insulation. You should use insulation in a combination with any of the methods described earlier. An insulated tent holds the warmth in and directs it back at you.
If a summer night is not too cold, tent insulation is enough on its own. It will simply keep your body heat inside.
Tent insulation can also work well with a one of the best camping air conditioners, if you need your tent to cool down instead of warm up.
Important Safety Attributes of Every Tent Heater
Should you decide to go for a tent heater, there are several safety features that you should be aware of when purchasing one.
Automatic cut-off. This is a very essential feature that will keep you safe after you drift off to sleep. Even if a heater is advertised to be used during the whole night, it is much better and safer to have one that turns off on its own after a few hours.
Overheat protection. Another important safety feature is a heat sensor that turns the heater off when it gets too hot. Both gas heaters and electric heaters have this option built in.
Tip-over switch. An excellent heater attribute that can save you from your own mistakes. Someone can unintentionally tip the heater over in their sleep, or when they step outside the tent. A tip-over switch automatically shuts the heater down, and everyone is safe.
Tent Heater Safety Precautions You Should Follow
While the aforementioned automatic features are terrific, there are some basic safety rules you should follow when dealing with a tent heater.
User's manual. Make sure you've read and followed the manual that comes with the heater. Don't just rely on your personal understanding of how it works. Thoroughly read manufacturer's instruction, especially the safety and maintenance section. This is highly important! Pack the manual with your other essential camping gear.
Plugging in. It is advisable not to plug the heater in with other devices and appliances. It should be plugged in on its own, otherwise a wire might be tripped, which will cause sparks and fire.
CO2. You'd be better off with a heater that does not release the dangerous and silent CO2 gas. A tent with such a heat source would require good ventilation, but that would mean that the tent won't be fully insulated. Go for a cleaner heater, for extra safety.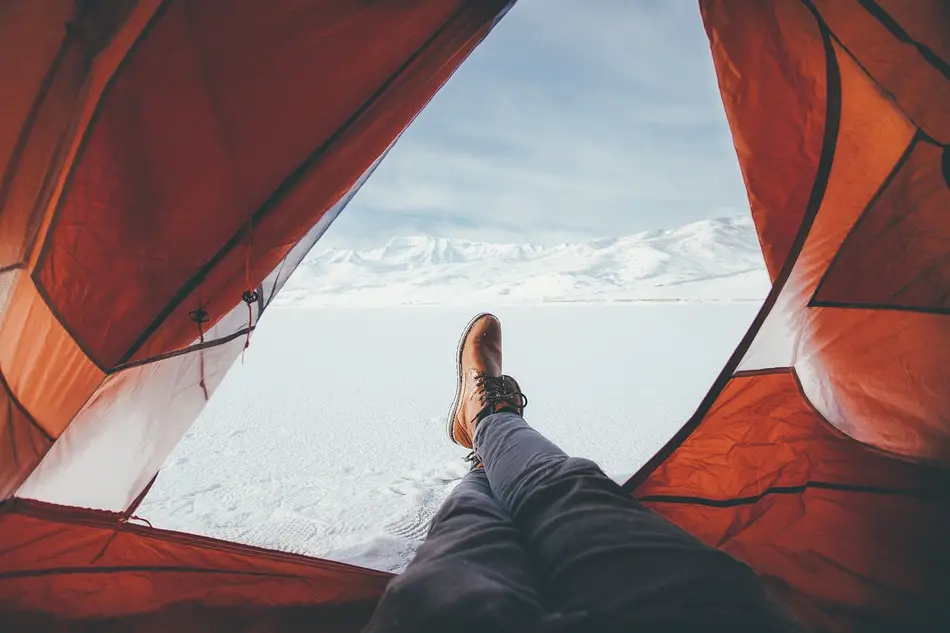 7 Tips on How to Be Warm Inside a Tent
A tent heater is not the only thing that you and your tent partners need to keep warm. You must supplement its effort with the following items and methods.
Tent Carpet. This might sound like an unusual camping items, but they add a lot to the tent's warmth. It's especially recommended if you plan to sleep in the tent for more than just one summer night.
Hand and foot warmers. It is important to keep your extremities warm, so you really should pack these!
Sleeping bags. I highly recommend going for a 4-season bag, it can serve you all year long. You can also go one step further. Bring a blanket or a duvet to put over the sleeping bag. Additionally, you can purchase a thermal liner that will make your sleeping bag even warmer.
Warm clothes. This one is no-brainer, you can wear your base layers as you go to sleep. It is important, though, not to wear too much in your sleeping bag. You don't want to sweat and create moisture while you're inside of it. Moisture will cool down and eventually make everything colder.
Hot water bottle. This one is obviously a low tech, low cost solution. I would advise putting a hot water bottle inside the sleeping bag BEFORE you get inside. This will give an initial warmth boost to the bag before you turn in for the night.
Food. Here is another no-brainer. A cold body demands more calories to produce heat. Eat a snack or even something warm before the sleep for an extra warmth.
Ground insulation. The ground beneath the sleeping bag will steal the heat. A useful solution would be placing a blanket under the bag. Another solution is purchasing inflating mats.
Remember, you cannot survive without a shelter, and a warm shelter is a must! When you are facing harsh conditions, you only have a few hours to make a shelter, just like the survival rule of fours says.
Final Words
As you can see, there are numerous solutions and choices to heating a camping tent. Feel free to select the one that suits you the best. Never compromise, even if it costs an extra buck or two, because heat is an extremely important commodity at the outdoors. Make sure you know how to operate your heater, what safety features it has, and also use the tips I've mentioned by the end, to keep yourself even warmer. Stay safe (and warm) out there!