Hiking has quickly become everyone's favorite past time. If you're new to this hobby, then your first step should be getting the right equipment, which includes a hiking hat.
Hiking hats are inseparable items of this fun yet challenging activity. In this article, I will discuss why hiking hats are needed, what their styles and shapes are, how you choose one that fits you, and how it should be washed. And most importantly, I will recommended the best hiking hats that this year has to offer.
Let's begin, shall we?
Top 5 Hiking Hats
Do You Really Need a Hiking Hat?
Yes. You really need a hiking hat and there are several reasons for that. The main reason is that a hiking hat protects you from the hot sun, which can cause damage to your head and body during hiking, due to a heat stroke.
Besides from covering your head and protecting it from the sun rays, the hat also provides some shade to your face and eyes (although in order to fully protect your eyes, it is best to wear sunglasses as well during the hike). Hats that feature large brim also provide protection to your neck.
Later on in this article, I will cover the different types and styles of hiking hats, so you'll see and understand what I mean.
Hiking Hats Materials
Not all hiking hats are the same, and that is why you can find hats made of different materials, according to the style of the hat and the season it is designed for. There are hats that cover only the head and others that cover additional body parts, such as the neck. There are waterproof hats and those that are not.
Hiking hats are usually made of the following materials:
Cotton
Nylon
Wool
Polyester
Polypropylene
Rayon
Leather
Acrylic
Let's now match the hat and the material it is made of to the seasons:
Best hats for cooler weather – If you're hiking in cool weather, select hiking hats that are made of wool, leather, knit acrylic, fleece and fleece blends. During the autumn and winter seasons, look for hats that are water-resistant and feature inner lining, earflaps and insulation. This will give the best protection for your head and ears from the wind, cold weather, low temperature and possible rain.
Best hats for warmer weather – If you're hiking during warm weather, then select hats that are made of cotton, bamboo, polyester, linen, and straw. During the spring and summer seasons, look for hats that feature wide brim, provide UPF sun protection, and come with ventilation as well as sweat-wicking inner bands.
The following video from Hiker J gives additional information on hats worn during the hot weather:
The Different Styles and Shapes of Hiking Hats
Now, let us cover the different styles and shapes of the various hiking hats on the market. The variety of hiking hats allows you to choose between: bucket style hiking hats, large brim sun hats, insulated hats (beanies), and ball caps (baseball style hats). Let's elaborate about each and every hat style to understand the difference between them.
Bucket Style Hiking Hats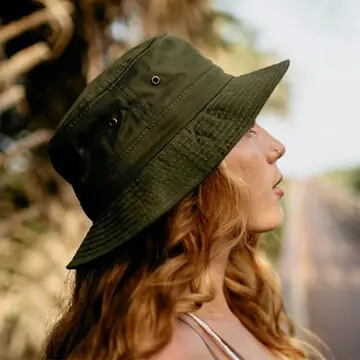 This hat was first conceived in the early 1900s and during fall and winter of 2019, it started gaining popularity once again. Back then, the main purpose of this hat was to protect from the rain due to it wide downward-slanting brim, as it was mostly worn by Irish farmers and fishermen. This hat is considered quite "regular", which means that it does not feature drawstrings or anything basically that allows you to adjust the hat on your head. As for the material of this type of hat, it is usually made of cotton.
The bucket style hiking hat is quite stylish. The hat is foldable and easy to store or pack away when not in use, even in your pants' pocket.
Large Brim Sun Hats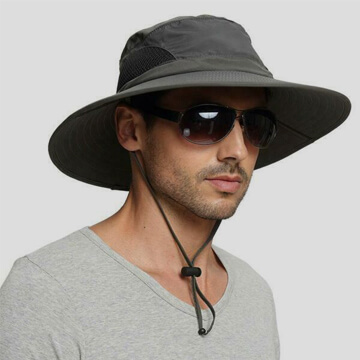 This hat provides protection to your head, neck, and even part of your face. A lot of physicians recommend a minimal brim of 3 inches or more to enjoy full protection from the sun's UV rays. Some hats may feature a drawstring closure to adjust the size and fit of the hat to your head, but it's best to check with the specific hat before purchasing.
The hat is designed for outdoor use, protecting you from the sun, may feature breathable mesh vents, and even waterproof. Yet, every hat may have different features and characteristics, so it's best to always check.
Later on in this article, I will recommend about some of the best hiking hats in the market to choose from.
Insulated Hats (Beanies)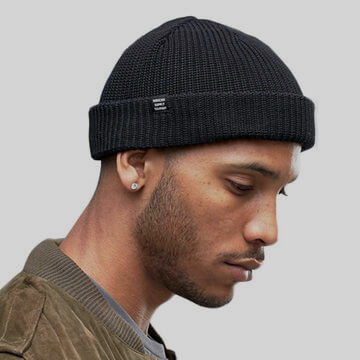 Beanies are made from different materials like acrylic, spandex, merino or even a combination of a few materials together. This type of hat is mostly used during cold weather, as it keeps the head warm. It is also very soft and comfortable to wear. A recommended way to wear a beanie is not to pull over the ears, but rather just somewhat away from the face. Additionally, select one that's loose and has ribbing, but not a turn-back cuff, this will give more height to the face.
Ball Caps (Baseball Style Hats)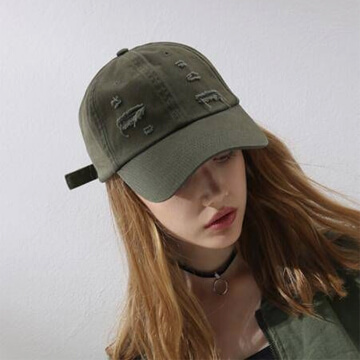 A ball cap comes in different styles and designs, and doesn't feature a large brim. There are many great ball cap hats in the market, so you can find lightweight hats as well as hats that dry fast thanks to the material they are made of. Basically, this hat is more recommended for spring/summer seasons, although it does provide protection from the wind and the rain as well.
Tip: If you're looking for a hat to be 100% waterproof, look for a hat that features the Gore-tex technology to ensure it remains perfectly dry.
How to Choose a Hiking Hat
When choosing a hiking hat, there are a few factors to consider, which I will now list.
Season
I've mentioned it earlier in the article, that there are hats recommended for cold weather and others more suitable for warm weather according to the materials the hats are made of. Choose the best hat to the season so you won't be cold in the winter, keep your head dry if it rains and enjoy ventilation during the summer or hot days, as well as get protection for the neck and face from the sun's UV rays.
Material
The material of the hat is a very important factor. You want your hat to provide you with protection, but also be comfortable and last for a long time. When choosing a sun hat for example, make sure that it features a high UPF-rating, moisture wicking, abrasion-resistant and also (or most importantly) feels comfortable on your head. If you want to be protected from the sun, don't wear a hat if it's possible to see light shining through its fibers.
Width of Brim
I've mentioned earlier in this article that a lot of physicians recommend to wear a hat with a minimal brim width of 3 inches for full protection from the sun rays. The FDA recommends to wear a wide-brimmed hat of tightly woven opaque fibers, with a brim width of at least 4 inches. With that said, when we're talking about hiking, it's best that the brim of the hat won't be so wide or floppy, so it won't intervene with your field of vision.
UPF Rating
The UPF rating of a material shows the amount of UV radiation that it lets through to the skin. If a material has, let's say, a rating of 50, then only 1/50 (or 2%) of ultraviolet rays pass through the material, while 98% are blocked. The most important parameter of this rating is the tightness of the weave in the fabric used. Still, other factors like the type of the fiber and amount of stretch, dyes, construction, treatments and condition of the garment, whether it's brand-new or worn-out also have influence on the level of UV protection. It goes without saying that it's important that your hat will protect your head (and maybe other parts of the body too) from the sun rays.
Fit
Always wear a hat that fits the size and shape of your head, so it will be comfortable during hiking. It the hat is too tight on your head, you won't feel comfortable and it will ruin your day as you won't stop messing with it. On the other hand, if the hat is too loose, then it may swing on your head or fall over all the time, especially if it's windy.
Face Shape (Optional)
There are 6 different face shapes and some hats can be more suitable for a certain face shape than the other. With that said, it is more of a fashion statement, so this factor is more optional than the other.
Long face shape: You will look best in hats that feature wide brims, sunhats, cowboy hats, or hats that cut across the forehead.
Round face shape: An angular style hat works best with this shape of face. A retro-style hat like a fedora or cloche will look good.
Square face shape: The best option here are hats that feature wide brims, sun hats, cowboy hats, or hats that cut across the forehead.
Heart face shape: The best hats for this face shape are a fedora, baseball cap, or newsboy.
Diamond face shape: Select something like a pork pie that has a shallow crown, or perhaps a pull-on that you can wear further back.
Oval face shape: Any type of hat looks good here.
How to Wash a Hat
You want your hiking hat to be clean and smell good, which will help it look and feel good, but also last for a long period of time and many hikes. That is why in this section, I will show you how to wash different types and hats. Let's begin.
How to wash a baseball cap – To clean a baseball cap, take a bucket and fill it with hot water. Then, add some gentle laundry detergent into the water. Now, soak the baseball cap into the water for approximately 30 minutes and when it's all clean, simply rinse it in cold water, making sure there is no soap left on the hat. Stuff the hat with paper towels and let it dry. Tip: Try not to clean or wash the hat in a washing machine even if it's possible. The reason is because you may damage the shape of the hat.
How to wash a sun hat – Because water can damage and harm straw if used too much, cleaning a sun hat may be a bit challenging. However, if you use small amount of water, the hat will be fine. So, take a colorless microfiber cloth and gently clean the hat by sweeping it over the surface of the hat. If you need to remove scuff marks from a straw hat, gently buff an artist gum eraser. As for oil and water stains on the hat, better look for a specialty straw hat cleaner.
How to wash a knit hat – Many knit hats can be washed in a washing machine by using a lingerie bag. Start the washing machine on cold cycle and let it fill minimum halfway. Then, add the hat and wash it with same colors. Add mild detergent and let is wash for an hour. Remember to run the washing machine on a program of "spin only". When done, let the knit hat dry.
How to wash wool and felt hats – If you have a felt hat, then you should also purchase a felt-hat brush in order to clean it properly. Clean the hat by using the brush gently in a circular motion. No need to get the brush wet. This will remove dirt as well as debris from the hat. Heavier stains may require a professional cleaner.
Recommended Hiking Hats
I would like to recommend now about some of the best hiking hats you can purchase today. Of-course, these hats may serve you in almost any outdoor activity, as they are designed to protect you and your head from the sun and its UV rays.
I know it says fishing and safari, but like I just said, these hats can serve you in any outdoor activity, hiking including.
This hat is made of 100% polyester and has a rating of UPF 50+ protection from the sun's harmful rays. It features breathable mesh panels for ventilation, allowing your head to stay cool even during hot days. The hat's wide brim also protects your face and neck from the sun's rays and heat.
Other features of this great hat are its drawstring and drawcord, allowing you to easily adjust its fit on your head for full support and comfort. It's also superlightweight, windproof, water-resistant, dries quick and washable.
This hat is unisex, so it's perfect for both men and women.
Click here to read more reviews and compare prices.
Another unisex hiking hat for both men and women. Made of 100% nylon, this hat has a rating of UPF 50 Sun Protection, but the cool thing about it is its protection technology, Omni-shade and Omni wick.
The Omni-Shade technology allows to block both UVA and UVB rays, thus preventing sunburns and long-term skin damage. The dangerous UV rays are blocked thanks to the UV-absorbing yarns that comprise the tightly woven construction. The Omni-Wick technology manages moisture during your hiking and outdoor activity. What it does, is moving moisture from your skin into the fabric, and there it spreads across the surface in order to evaporate fast as possible, thus keeping you and your clothing cool as well as dry.
The hat weighs 3.68 ounces and comes with an adjustable toggle at the back of the hat and an adjustable chin strap for full comfort, fit and support. The hat's brim protects your head, face and neck from the sun, and the mesh breeze-inducing vent keeps you and your head cool.
Also, there are at least 13 different colors to choose from.
Click here to read more reviews and compare prices.
A unisex bucket hat for hiking and any other outdoor activity that is on your mind. Manufactured by CHOK.LIDS who were founded in 2016 and since then, producing reliable and simple products, like this fine hat.
Made of 100% cotton, this hat looks good for any occasion, it's stylish, lightweight and easily packed when not in use.
Air that flows through the eyelets keep your head dry and cool and as for colors, there are 25 amazing colors to choose from, just take your pick.
Click here to read more reviews and compare prices.
This unisex baseball cap is made of 100% polyester and has a rating of UPF 50+ to protect you from the harmful sun rays.
The cool thing that I liked about this baseball cap, is that it features 3-panel foldable bill design. This means that you can actually fold it and put it into any pocket, back pack, or hand bag if you're not wearing it. So, you can take it anywhere and anytime with you, and that's really cool!
The material of the hat is breathable and moisture wick, so your head is kept dry and cool. It comes with a buckle closure on the back and a stretchy and adjustable strap for a perfect fit and comfort.
There's also a lifetime warranty and the hat is available in 14 different colors.
Click here to read more reviews and compare prices.
Another awesome unisex hat from Lenikis. This hat is made of 100% polyester, has a rating of 50+ UPF that provides 98% protection from the harmful sun rays. But, maybe the best feature of this hat, is its flap, which protects your neck, ears, and back of the head from the heat of the sun, giving you full protection.
The brim is wide to keep the sun rays away from your face and neck. The polyester fabric is water repellent and dries fast as well, so you can wear the hat without worrying getting wet even in wettest weather conditions. Breathable mesh as well as net vents keep your head dry and cool (the mesh is not waterproof).
There's also an elastic drawstring and an adjustable chin cord to fit the hat perfectly to your head, so no wind will blow it away as it sits comfortably on your head during hiking.
The hat is also easily packed to store away when not in use. It's outstandingly lightweight – weighs 0.11 kg only.
Available in 4 different colors: light-grey, black-grey, green, khaki.
Click here to read more reviews and compare prices.
Final Words
Hiking hats are highly significant part of any hiking trip. They protect you from the sun, improving your entire hiking experience. Make sure you get one that fits you well, preferably from the recommended list above.
Hiking hats are not the only gear you should take with you. I posted a couple of useful articles to help you, such as the complete guide on hiking clothes, a post on hiking pants for women and a post on choosing hiking boots. Naturally, clothes are not the only thing to take on a hiking trips, so carefully read my list on everything you should bring for a hiking trip.
Happy trails, my friend!