Boondocking draws more and more attention in the recent years. Thanks to the crowded cities and their polluted air, people tend to search for their own spot in the nature. And while doing so, they also wish to have as small impact on the environment as possible.
Boondocking is the perfect answer to such desires and intentions. It's an excellent way to have an eco-friendly vacation, away from the crowds.
In this article, I will share with you everything you need to know about boondocking. I will answer such important questions as: what is boondocking, where can you boondock for free, how long can you boondock, and more. So, think of this article as your complete boondocking guide. Let's begin.
A part of this article is also summarized in the following video:
What is Boondocking?
First thing's first, what is boondocking? Boondocking, which is also known as dry camping, means pulling off the highway and stopping at places that have limited or no facilities, while staying in your RV, car, caravan or Winnebago for free.
Boondocking basically allows you to camp off the grid, enjoy nature at its best (if you didn't stop at a parking lot), and use the tools and resources stored in your car, van, or RV. It's a quiet and peaceful way to camp with friends or family, and a chance to enjoy spectacular places and views.
Boondocking means that you are not connected to electricity, water source, or sewer. We are talking about parking your vehicle off the grid to stay for free. It's just you, your friends or family, your vehicle, everything you have with you, and a piece of land to stay in and enjoy for a while.
Using a vehicle to travel or live off the grid is a separate subject that deserves to be fully covered. Luckily, I already prepared a post on off grid RV living as well as on living off the grid in a van, feel free to check these posts out.
The following fascinating video from Long Long Honeymoon demonstrates what boondocking is all about:
Is Boondocking Legal?
In the US, boondocking is not illegal, yet there are rules and guidelines to follow in order to boondock properly and safely. The reason is that you can't just boondock your vehicle wherever you please. The purpose of these guidelines is to respect and protect the natural resources of the land.
If you've came across the terms "dispersed camping" or "backcountry camping", then you should know that this is how local, state and federal agencies refer to boondocking. These agencies actually encourage people to boondock, since it's a good and healthy way to relieve crowding at developed campgrounds. When campgrounds get filled and there are no more parking spots available, you will probably find "overflow campgrounds" available, which are areas and places to boondock. These places are designated areas for boondocking.
There will also be certain places and areas which are off-limits for cars and even camping, so boondocking is not an option there at all. That is why you should always check for rules and guidelines before boondocking at a specific location.
In Canada, boondocking is not illegal, yet there are rules and restrictions to follow. In Canada, almost 90% of the land is owned by the Canadian monarch and is designated "crown land" (41% is Federal Crown Land, and 48% is Provincial Crown Land). Technically, this means public land which means you can boondock there for free. With that said, residents of Canada are able to camp on crown land for up to 21 days in any one place in a calendar year for free. Campers who are not residents of Canada have to purchase a camping permit, which is regulated by the specific province. The costs as well as the rules may vary from one province to the next, but it should cost approximately $10 per person, per night.
Other boondocking options are parking in recreational sites, provincial and territorial site, municipal campgrounds, rest stops, and other places I will cover in this article.
Tip: The best and legal way to find crown land to boondock is using an official provincial or territorial map of Canada.
In UK, Boondocking is known as wild camping and legality depends on the specific country. In England and Wales (and Ireland too), wild camping is technically illegal, since the land is owned by someone, and so it is not public land. If you wish to enjoy wild camping in these countries, you'll need to have permission from the owner of the land. In Scotland however, as of 2003, wild camping was declared legal, when the Scottish government declared that wild camping would be legal across the country.
With that said, there are exceptions to the rule when it comes to England and Wales. Both Snowdonia in Wales and the Lake District in England allow wild camping that is "within reasonable limits". That means not show up with 10 RVs and park for a whole month. Make it reasonable. Dartmoor is another example where wild camping is allowed, but only for 2 consecutive nights and no more. However, Dartmoor has areas which are restricted, so it's always best to check before parking and wild camping.
Tip: The further you travel into the wilderness, the better the chances that your wild camping will be tolerated.
As for Scotland, there is an exception for wild camping and that is the western area surrounding Loch Lomond National Park, where camping and drinking alcohol is not allowed.
In Australia, boondocking is known as free camping, and it is legal, but not allowed everywhere. Australia has designated areas for legal free camping that can be free or cost a small fee. That is why you should always check that you boondock in a legal place that is not a restricted area to avoid being fined.
Boondocking Rules
So, you're about to boondock on your own and enjoy camping in nature with your vehicle, there are rules and guidelines to follow for the benefit of everyone. Because boondocking is basically camping with your vehicle, the rules below address both camping guidelines as well as guidelines for the vehicle itself. Here are some important boondocking rules to follow:
You are not allowed to park your vehicle along roadways if they can impede the traffic and safety of others.
Drive or tow your vehicle or RV only along established roads.
You can't make too much noise, in case it bothers the peace of other people.
Dispersed camping or boondocking is allowed, unless there are rules or regulations that do not allow it or state otherwise.
Many grasslands, forests and recreation areas have defined and specific areas where dispersed camping or boondocking is not allowed, so please follow the rules and guidelines that are stated.
The U.S. Forest Service may have rules and restrictions for the time length you can boondock on their land. Most have a 14-day limit, with some may allow up to 21 days. However, some may also require that you not return to the same area for at least 31 days.
Leave no trace and clean after yourself on national forest land (this is true to any place, but especially when it comes to national forest land).
Do not dump the tanks of your vehicle or RV on the ground as it is illegal. Find a legal dumpsite for this purpose.
Respect wildlife, keep them away from you and as always, pick up your trash and clean after yourself.
Park your vehicle 200 feet away from any water source like rivers, streams, lakes. This rule comes to preserve and keep delicate vegetation in the area safe and near the water sources.
Always be safe and responsible when it comes to campfires. Use existing fire pits when available and minimize scarring new rocks as well as damaging new dirt. Also, remember never to leave a fire unattended.
Don't harvest firewood, unless it states that it's permitted. If allowed, gather only dead downed wood if on national forest land. Also, never cut branches off live trees.
When boondocking on national forest land, use existing sites for this purpose, as this minimizes potential damage to the surroundings, soil, plants and wildlife.
Do not stay longer than allowed in national forest land. Read the signs and check regulations ahead to be prepared.
Don't block the view and interfere other campers. Be polite and allow everyone to enjoy the view and landscape while boondocking.
If boondocking with others, give other people some space. Just as you want your peace and quiet during your boondocking, so do they.
If boondocking on national forest land or with others nearby, try to turn off your generator (if using one) between 9 PM and 8 AM. Be kind and polite to others, and also try not to run the generator for the entire day, as it can easily ruin the experience for others.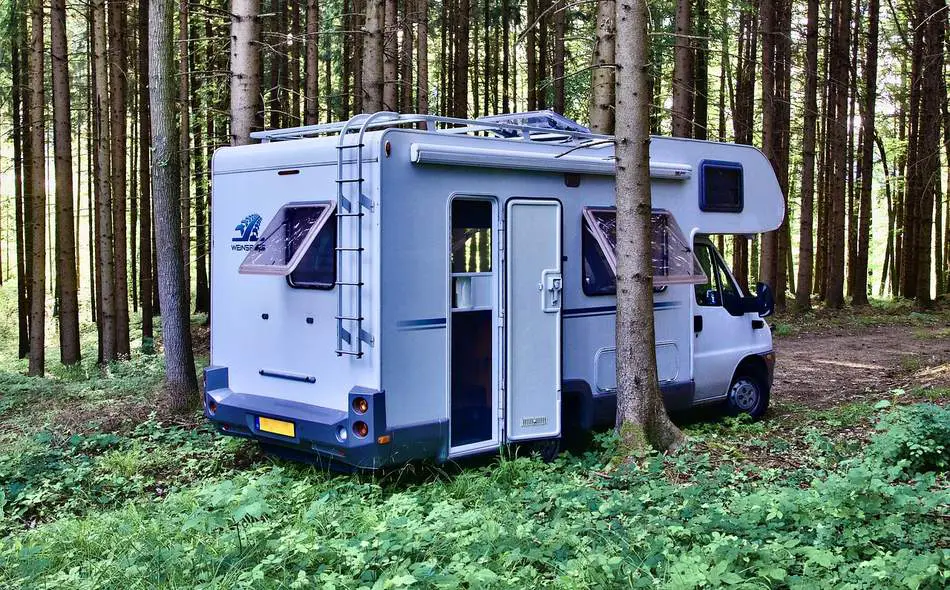 Where Can You Boondock?
There are different places where you can boondock, whether in nature or an urban area. There are two things to remember:
Not all places allow overnight parking.
Not all places allow boondocking for free.
Now, let's have a look at all the different places you can boondock in and even do it for free:
National forests and campgrounds – This is a great way to park your vehicle and enjoy nature at its finest, a wonderful boondocking option. Remember to follow the rules and regulations of the place and respect other people, campers, the environment and the surroundings.
BLM land – BLM (Bureau of Land Management) land is also a great boondocking option when you go out camping in the wilderness. Simply find a remote BLM land and boondock for free.
Walmart parking lots – In case you need to stop in the city, Walmart allows you to stay in their parking lots for up to 24 hours. This is also a great way to stock up and purchase groceries, food, water, resources, tools and anything you need for your boondocking trip. It is still advised to check with the specific Walmart store if boondocking is allowed in their parking lots.
Truck stops and rest areas – Usually, there is no problem for RVers or people with vans to stay overnight at a truck stop or rest area. However, stay safe, be polite and respect the people around you, as these places are not supervised.
Hotels and motels – If there is enough space and parking for the hotel visitors, then hotel management usually won't mind you boondocking for the night in their parking lot. If the parking lot is full or there are not many spots left, you may be denied, so check with the hotel just to be sure it's okay with them.
Visitor centers – During nighttime, there will be many parking spots available at visitor centers and you'll even have access to bathrooms and running water. With that said, it's best to check with the center that it's okay for you to park your vehicle there for the night.
Apartment complexes – This is the least favorite place to boondock, so you'll need to try and see what happens if there is nowhere else to park your RV. Some apartment complexes may have security that will not allow you to park there or even have your RV towed, so be careful when it comes to apartment complexes.
Other popular overnight parking lots – I've already mentioned Walmart and its policy regarding overnight parking. Besides them, there are other stores and businesses where you may be able to park at their popular parking lots, like: IHOP, Target, Dennys, QFC, Cabellas, Holiday Inn and more. Just to be on the safe side, always check with the store if it's okay for you to park there overnight.
How to Find Places to Boondock
Now that you know the different places where you can boondock and even for free, I would like to share with you some easy ways how you can find places to boondock:
Campendium – Thanks to Leigh and Brian of Aluminarium, you can use this site to find your next boondocking spot. It provides a huge list of campgrounds, boondocking sites and RV parks. On top of that, the site also provides high-quality reviews about the quality of the sites, road conditions, photos of the sites, compatible rig size for a spot, how the cell service is and more.
Ultimate Campgrounds – They have an app both for US and Canada where they provide a list that includes thousands of campgrounds with the ability to filter your search. This app was created especially for RVers, car campers, boaters, backpackers and other outdoor enthusiasts. With that said, you should know that the app lists more campgrounds than boondocking sites, but that can be useful as well since you can boondock there as well.
Freecampsites.net – This site is very similar to Campendium, however you may find here sites that are not listed on Campendium, so it's another good site to check and compare with.
iOverlander – Another great site where boondock sites are entered and updated by travelers themselves, whether they're travelling by vans, truck campers, and other short vehicles.
Google Maps – Google Maps is a great place to cross-check data you may have found about boondocking sites. Use Google Maps to complete your search if you don't find enough information on other sites. Google Maps may help you confirm that the site is on public land. You can also call the local office to double check and be 100% sure.
Provincial/territorial park websites – On these official sites, you'll be able to find information about boondocking, but also check for rules and regulations to know about and be on the safe side.
US Public Lands app – This app helps you find public lands with free campsites where you can boondock.
Asking a ranger – A more traditional way to find boondocking sites and places. You can stop by a ranger service station and ask a forest or park ranger for information. They have extensive knowledge of the place and everything around it, including road conditions, weather condition at different places, wildfires, where you can park an RV and more.
Recreation Sites and Trails BC – This is the official government site when it comes to recreation sites and trails in British Columbia, Canada.
Alberta Parks – Here you'll find a lot of information about sites and campgrounds (some can be reserved) in Alberta, Canada.
Best Boondocking Sites in USA and Canada
Now, it's time for the best part in this article where I will mention some of the best boondocking sites in USA and Canada. You've prepared everything for your camping trip and ready to hit the roads, so it's time to know where you should head and visit:
Clark Dry Lake (Anza Borrego State Park, California) – If you're new to boondocking and this will be your first time, you should start with this place. The park is free, very easy to boondock, and even though it is very popular and draws many visitors, campers and boondockers to it, there is still plenty of space for everyone without feeling crowded. During the spring and summer, the place gets covered with beautiful and amazing wildflowers, and the park also features badlands, slow canyons, and many places for hikers. You should know that if you'll need a bathroom, then the closest ones are in Borrego Springs, which is about 10-minute drive away.
Blankenship Bridge (Near Columbia Falls, Montana) – The coordinates of the place are 48.4641° N, -114.0726 ° W. If you want to be close to Glacier National Park, this is a great boondocking spot. The place is great for camper vans and small travel trailer, or even an off-grid trailer, yet too small when it comes to a big Class A motorhome. A dry camping area, meaning there are no amenities. Approximately 10 miles from the spot, there is the town of Columbia Falls in case you need supplies or a gas station.
Roads Around Canyonlands National Park – (Near Moab, Utah) – Moab is constantly being visited by adrenaline-junkies and outdoor enthusiasts, but it's also a great boondocking place. It may be more difficult today than in the past to find a good spot to boondock due to the popularity of the place, but you can find some BLM land just north of town where boondock is possible and for free. In case you need a restroom, you can find it in Sand Flats Recreation Area and Horsethief Campground. Just know that you'll have to pay a small fee.
Cook's Chasm (Near Yachats, Oregon) – The coordinates 44.2789° N, 124.1171° W lead you to simply pull off at the side of the road and enjoy the Oregon coast. This is an amazing boondocking spot for those who love the sea and ocean. If you need to purchase groceries and supplies, you can simply stop by at the small town of Yachats and even enjoy the sights of nearby Thor's Well.
BLM Land South of Joshua Tree National Park (California) – Every camper knows that visiting Joshua Tree National Park (at least once) is a must. On the BLM land here, you can find great spots for boondocking, like south of the park (33.6701° N, 115.806° W) is a BLM land that offers amazing scenes of the desert, a lot of wide and open spaces and camping there is free. Because you're also close to the national park, you'll be able to stock up on fresh water, especially during the summer and hot days. Also, 15 miles away, you'll find the town of Indio if you need to stock up on groceries and supplies as well.
Valley of the Gods Road (Near Mexican Hat, Utah) – Near the town of Mexican Hat, Gooseneck State Park, Monument Valley and Natural Bridge National Monument, lies an amazing boondocking spot. If you wish to be close to nature, natural wonders and enjoy amazing scenery, this is a spot to experience. If you park at the lot of Goosenecks State Park (37.17073 N, 109.92380 W), then you'll also be close to the San Juan River and enjoy a water fountain as well as have access to a bathroom.
When it comes to boondocking in Canada, the best places can be found in British Columbia, Alberta, and the northern area of the country. To find great boondocking places in these areas, I suggest you visit the sites I have recommended earlier in this article, under "How to Find Places to Boondock".
Here is a great video from Digitalphat on boondocking in Canada:
Boondocking Tips
In order to make your upcoming boondocking trip easier and more fun, I have compiled some important boondocking tips to follow. Here they are:
Come prepared – Some boondocking spots may be far away from stores, so it's best to come all ready and prepared. Therefore, bring enough water, food and toiletries for everyone. Later on, you'll be able to purchase more at the nearest local store.
Plan and prepare your meals ahead – When you prepare and freeze your meals ahead, you save time and will have less dishes to wash, leaving you more time to relax and enjoy your day. It may also reduce the need to go to the store when everything is ready.
Conserve water – One of the most important things to do when boondocking is conserving water, because you might park at a spot where a refill of fresh water isn't available. You can take shorter showers, use less water when washing the dishes, and try other ways to conserve water.
Use paper towels – Wipe the dishes and dirty plates with a paper towel first when you're done eating, as it will be easier to wash them, and with less water, too.
Bucket in the shower – Keep a bucket in the shower, so that it catches any excess water. Then, use that water to flush the toilet, as it will reduce the usage of water from the fresh tank and help reduce grey water.
Park away from other RVs and vehicles – This way everyone will have their own privacy, you won't block the view and scenery, and if you'd want to use a generator, chances are that the noise will disturb them a lot less.
Make the most out of the weather with your RV – Park your RV so you'll take full advantage of the weather. Example: if it's a sunny and hot day, then park the RV so that the side of the windows face the shade.
Consider getting a portable power station – Using a portable power station, you'll be able to charge different electronic devices, like your cell phone, laptop, hook up to it other devices and more. Read everything you need to know about portable power stations in the article I have written.
Keeping the night shades down – During hot days, it's best to keep the night shades down in order to keep your RV or vehicle cool.
Covering the tires – You should consider covering the RV's tires when it's hot in order to reduce damage from the sun.
Google Earth and Google Maps – Use both websites/apps to get a better sense of how the place and terrain really are, before you arrive to the spot.
Inform about your location – Let someone know where you will be staying, just in case something happens and you'll need assistance. Send friends or family members your GPS location and coordinates.
Off-grid communication – If you'll be staying at a place with no cell signal, consider getting an off-grid communication device for emergencies and just in case you'll need to contact someone. I have written a comprehensive article about devices for off-grid communication, so go and check it out.
Final Words
I sincerely hope that I was able to answer all your questions, and you are now ready to embark on your next boondocking adventure. Always remember to be respectful to the places and people on your path. This will truly turn your journey into a highly memorable and enriching experience.
As far as camping itself goes, I have a couple of additional useful articles that can help you get prepared for your next trip. My essential camping checklist will ensure you pack everything you need. If you need to take preparations one significant step further, check out my guide on how to plan a camping trip. It tells you everything there is to know about being ready and fully prepared before you leave the house.
And finally, no camping experience is complete without making some food at the great outdoors. My post on how to cook while camping shares all the secrets on making delicious and nutritious meals at the campsite.
Safe travels, my friend!