We continue our series of off the grid guides, and this time we are talking about living off the grid in a van. More and more people decide to leave the "regular" life behind and try living off the grid in a van or a camper, as they enjoy the open roads and the incomparable sense of freedom.
It may sound as if you're sacrificing a lot and that it is difficult to start living inside a van, but it is much easier than you may think.
Is it possible? Is it comfortable? Are you missing anything by living in a van? In this article, we will try to answer these and other questions, so let's get into it.
How to Find a Good Park Up Spot and Other Tips
So, you're either thinking about starting off grid living in a van, or you've already decided about it. Off grid van life dictates that one of the first things you have to do is to think about a spot to park your van or camper. Living in a van means you can drive and live anywhere you want, and park (almost) anywhere. This may change from place to place and from city to city, so if you decide to park your van in a city, here are a few tips you should follow:
Quiet spot: You would want to choose a place that is quiet and there are no people walking around you at nighttime. Therefore, do not park outside a business that is open for 24 hours or has a 24-hour security.
Search online: The Internet is a useful resource. Use a website like Parkopedia to search for parking lots and garages near you.
Several spots: Choose several spots to park your van, so that you won't park at the same spot all the time. If you keep parking at the same place and people there do not know you, it may raise suspicion. People may call security or the police on you. When you park at several places, people don't notice you that easily.
Camping sites: You can park your van in dedicated camp sites without worrying about any legal issues or troubles. If these camp sites have very limited or no facilities, this is known as boondocking, and you will mostly have to rely on yourself.
Truck stops and rest areas: Usually, truck stops and rest areas will allow you to park your camper overnight.
City side streets and parks: There will be times when you'll have to park your van in a city. You can try the parks and side streets, but be aware you're not disturbing anyone or breaking any laws. Simply try to blend in. Always park where it is legal or where local authorities accept presence of those living in their vans.
Wheel clamp: You should put a wheel clamp on the tire, no matter if you're inside your van or not.
Blackout curtains: Blackout curtains are perfect when you choose to live in a van. It allows you to turn the lights on inside the van. This way, no one on the outside will even notice there is anyone in the van.
If you can park your camper in a field or a farm, the tips above are not that crucial, but can still be applied. The tips above are mandatory if you decide to park in a city, so you won't disturb other people and won't draw any unnecessary attention.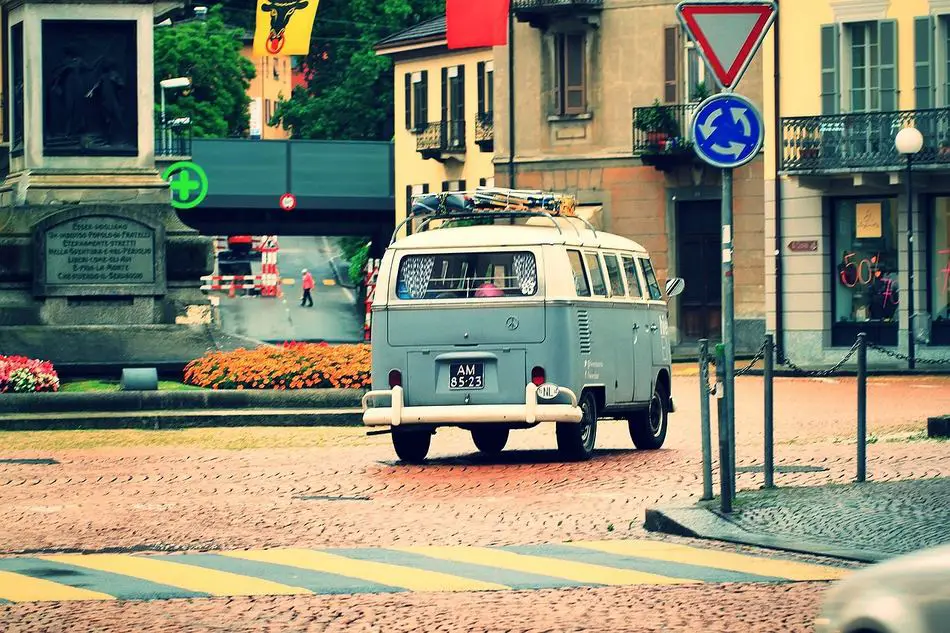 Solar and Electronics
Charging laptops, cellphones and other electronic devices are possible even if you live off the grid in a van. You can use 12-volt batteries which will charge your fridge, TV, laptop, cellphone and other devices and appliances. As a result, you can enjoy the life in a van just like in a regular home.
Using two 220Ah batteries, you can charge the following useful appliances:
Laptop
Water pump
Extractor fan
Sound system
Lights
Fridge
You can also use the batteries for chargers, to charge such devices as:
For this purpose, you will need a pure sine inverter.
In order to charge the batteries, you will need to install solar panels that use the sun's energy to power up the appliances and devices inside your van. I recommend installing two 100W solar panels on the roof of the van, and these will supply free energy power for everything in your van. You can also use a portable solar panel, which is an extremely useful invention.
But what would you do if it's a cloudy or rainy day, and the sun's rays are not strong enough for your panels? In this case, use a split charge relay. This means that your batteries keep on charging whenever the van's engine is on. This works whether your van is on the move or stationary. When the engine is on, it will charge up your batteries to give you the electric juice. I would also recommend at this point to check my article on best power systems and off grid batteries.
Charging Different Devices
Different appliances require different sockets in order to charge them. If you wish to charge a cellphone or a USB, a 12V socket it enough. However, if you need to charge your laptop or an appliance such as a food processor, you will require an inverter.
These inverters come in various sizes as well as power ratings. They basically convert the power in your 12V batteries into the 240V you are familiar with from home. Know how much power each device needs and how to charge it in order to be prepared.
As you understand by now, the van life does not have to be very limiting. Just watch how this couple has transformed their van into a cozy home on wheels:
How to Shower While Living in a Van
Off grid van living entails taking care of your hygiene. So now that you know where to park your car and how to charge your electronic devices and appliances, it's time to get some ideas on how and where to wash up and shower.
Showering in Natural and Outdoor Water Sources
If you live off the grid in a camper, then you're probably spending 80% of the time outside. So, one option to shower and clean yourself is by taking advantage of the outdoors and natural water sources. Lakes, rivers and waterfalls are great options not only to shower and clean up, but also to connect to Mother Nature.
Another option is using the different beaches across the United States, as many of them are equipped with showers. If you plan to use soap and shampoo, make sure it's eco-friendly in order not to harm the environment, the plants and animals.
Rinse Kit
If you're looking for a real proper shower, then you should consider getting a rinse kit. It is a portable outdoor camping shower which allows you to enjoy the proper shower that you crave even when living off the grid in a van.
Simply fill the kit with water and enjoy a shower outside of your van. You can also have solar shower bags, as they are very affordable these days and allow you to enjoy warm and hot showers. All you have to do is fill the bag with water and let it warm up in the sun. Then, hang the bag up on the van or a nearby tree and enjoy a warm shower outdoors.
24-Hour Gym
Another interesting option (as weird as it may sound) is to get a membership at a gym that is working 24 hours and has shower facilities. This way, you can wash up and use the showers whenever needed, and maybe even stay in shape at the same time.
How to Wash Your Clothes
Scrubba Wash Bag
As for washing and drying your clothes, consider purchasing the Scrubba Wash Bag (from Amazon), a pocket-sized portable laundry system. This amazing wash bag is waterproof and comes with a ridged washboard inside.
You simply put your clothes in the bag, add water and some washing powder or gel, seal the bag and scrub the clothes real good. Then, rinse the clothes, squeeze them and hang them to dry in the sun. No electricity required! This amazing invention is widely used by the military. Click the link or the image for more reviews.
Portable Washing Machines
A very comfortable and affordable solution is to get a small portable washing machine. These are very handy and can fit in every possible van.
Knowing People
Another option (although not available at all times) is get to know some good-hearted people or befriend with people who are willing to give you access to their washing and drying machines.
How to Drink Water
When you live off the grid in a van, the water issue is approached differently than in a case of living off the grid in a stationary home. At home you can have an access to various water sources, such as a well, a stream, a bore hole or a rain-collecting system. Because you are living in a van and always on the move, you will probably need to install a water filtration system to enjoy clear and clean drinking water.
How does it work? Water filtration system allows you to fill up your water tank with water from any lake and stream, and enjoy safe and clean water for drinking. On the other hand, such a system may be a bit costly.
You can add water to your water tank and without installing a filtration system. But if you would want to drink from that water, you will need to purify it in some way.
Food and Cooking
When you're living off the grid in a van, you save a lot of money. Therefore, you can consume large variety of products. You can drive or walk to the nearest supermarket and purchase a food that you desire at the moment, or you can have a meal plan.
What is a meal plan? A meal plan is purchasing only what you need once a week. This way, you avoid getting too much food which will go bad and then to waste. Also, do not forget that you need to plan the space in your van smartly and not stock it with unnecessary products.
If you have the right ingredients, you can make yourself a tasty meal, such as a pizza pockets, omelet, grilled cheese sandwich, French toast, and more. How? Using Hamilton Beach Sandwich Maker, a very highly rated item from Amazon. This easy-to-store hot sandwich maker is very affordable and has hundreds of positive reviews. It makes such a delicious dinner in minutes, and then you can easily clean it and store away. Click the link or the image to read more reviews and answered questions.
Also remember that you need water in order to cook, so create an easy-to-access water system whenever you need water for your cooking. You can also use free water from gyms, outdoor taps, graveyards, friends' houses and so on.
Heating and How to Stay Warm
A reliable heating source allows you to keep warm even inside your van. This ranges from hot water bottles to coal fires. You could be living off the grid with no money, but this still means that you have to provide yourself with the heating source, gas and electric provider. Nonetheless, it is quite possible to keep your van warm enough.
Woodburner
One great option to warm your van is to install a woodburner. It will keep you warm inside your van even when it's freezing cold outside. Wood and coal are easy and cheap to get, so this shouldn't be a problem.
Diesel Air Heater
Another option is to get the Vornado MVH Vortex Heater, an Amazon's Choice item. This little beast will smoothly control the temperature inside your van. It does not consume that much power, and it can operate for extended periods of time. More than that, it's really quiet, which allows a deep and comfortable sleep. This heater is very intelligent, as it keeps the selected temperature constant. It's also compact and can easily fit in any van. Click here for technical details and reviews.
How to Use the Toilet
Disposal of waste can be a bit challenging when you live off the grid, especially in a van that is always on the move. You have several options for when you have to use the toilet, so let's review them.
Porta Poti, Nature and Public Toilets
Sure, not the most convenient option to use when you have to go, but when living in a van, it's still a practical solution. Going in the nature or using public toilets is nothing to be ashamed of. However, aside from being a bit uncomfortable, this option still makes you rely on the grid.
Composting Toilet
This is probably the best option for you when you live in a van. Consider installing a composting toilet in your van. It takes the waste and turns it into soil. You can then take this soil and return it to nature, thus fertilizing the ground.
The composting toilet doesn't require any chemicals or water in order to operate. This makes it even friendlier toward the nature and the environment. You also don't need to empty it after every use.
How to Use the Internet
Free Internet
There is a free Internet in abundance anywhere you go, especially in the urban areas. You can park a van in a public place, turn on your phone or laptop and get free connection from most of the nearby business places, such as:
Restaurants
Diners
Coffee shops
Hotels
Gyms
Shopping centers, and so on.
Some of them are password-protected, but for a price of a small espresso you can get the password from a waiter. Alternatively, you can use a website such as WiFi Map that scans for free hotspots in your vicinity.
Paid Internet
If you don't want to rely on the "kindness of the strangers" or chase for free hotspots across the town, try a paid solution. There are quite a few off grid Internet options, which include:
Satellite Internet
Ham radio Internet
Unlimitedville
Cell phone Internet
All of them require a more detailed explanation, which I invite you to read in my article about off grid Internet.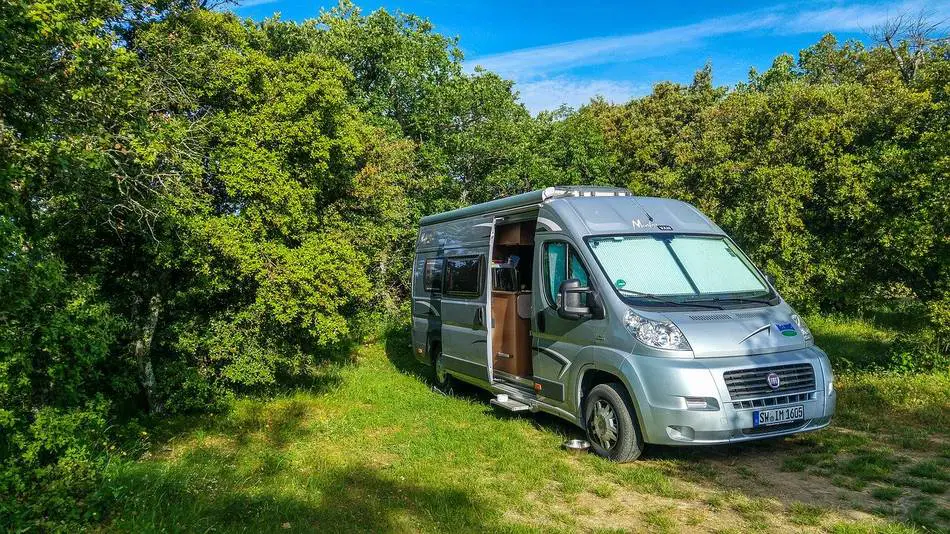 Safety
Safety may be a given when living in a home. But when you live in a van, it's crucial to stay alert and keep safe while stationary or on the road. Here are a few bullet points to consider regarding safe living in a van:
Always close all doors of the van, especially if you're currently living off the gird in a city.
Be aware and keep touch with the area and the surroundings.
Do not park your van in places that may be dangerous and unsafe.
Remember risks of natural disasters, stay protected and safe at all times.
How to Earn Money While Living in a Van
There are a lot of creative ways to earn money even when you are living in a van. Here are some of the possible options to consider:
Working remotely: Work from home (or the van in this case) is very much possible. You can find jobs on Fiverr, Upwork, or even become an Internet marketer, promoting products and services and earning commissions. You will most likely need to have a laptop and an Internet access. The jobs can range from content writing to graphic design, to coding jobs, to data entry, and so on.
Temp agency work: Temp agencies offer people opportunities to earn money on jobs that are short term. If you are skilled, chances are big that you'll score a decent temp job.
Seasonal jobs: You can find seasonal farm jobs all across the United States. Construction season can provide jobs to earn money, as well as commercial fishing seasons. In Western U.S., you may even find a seasonal job with crews that fight wildfires.
Delivery jobs: You can work as a delivery person for companies like Amazon, Wal-Mart and Uber. You may need to own a bike or a car in order to make these deliveries, as you won't be doing them with your van.
Use your own skills: Be creative! If you possess different skills or have knowledge that can be useful, advertise and offer your skills and knowledge on Facebook and Craigslist.
Final Words and Further Reading
As you can see by now, living off the grid in a van can be a challenging task, yet completely doable. While you might face some difficulties, there is a solution for every possible problem. Utilize your skills and environment, and you'll surely enjoy and prosper from this new lifestyle.
There are more challenges to overcome when you switch to off-grid life. Fortunately, I did some research and will gladly share it with you in my articles about how to prepare for off grid living and how much it costs to live off the grid.
If addition, at some point you might consider upgrading your van to a motorhome/RV/off-grid trailer. In this case, you should know beforehand what a self-contained RV is and how to make the off-the-grid RV living possible.