Recent years saw a considerable rise in number of people who wish to start living off the grid. Several factors are contributing to this trend, such as ecological awareness, desire to live independently, and this century's social changes. However, leaving the comfort of the urban life and starting your own off-grid homestead does require some investment. Is it possible, then, to live off the grid with no money?
In this article, I will give you an exhaustive list of every solution to this issue. You will learn how to live off the grid with no money, how to generate income, how to get paid to live off the grid, how to cut down expenses, and how to receive free help from the local community. Let's begin.
Find Free Land for Your Off-Grid House
When you plan to live off the grid, your first expense is purchasing a land. And if this deters you from starting an off-grid homestead, it is quite possible to find free land. It's not widely advertised, but it's certainly out there. Quite a few small towns and settlements offer free or cheap lots to whomever wishes to build a house there.
Free Land Offered in the USA
Throughout the United States, there are towns and farming communities that offer a free land contract. In exchange, you are usually required to develop the land and live on it for a minimal number of months or years. Sometimes you are also required to create jobs.
The reasoning behind giving free land is to attract more population into small settlements. Here are a few examples of such towns, grouped by states:
Alaska: Anderson.
Colorado: Flagler.
Illinois: Grafton.
Iowa: Manilla, Marne, Osceola.
Kansas: Lincoln, Mankato, Marquette, Osborne, Plainville.
Maine: Camden.
Michigan: Muskegon.
Minnesota: Claremont, New Richland.
Nebraska: Beatrice, Curtis, Elwood, Loup City.
New York: Buffalo.
Texas: La Villa.
As you can see, there are quite a few options. To help yourself choose between them, please see my article on best places to live off the grid in the United States.
Free Land Offered in Canada
As you know, Canada is an enormous country size-wise, second only to Russia. However, its population is only about 38 million at the moment of writing this article. Therefore, there are large underpopulated areas, where free land can be found. Just like in the US, there are many small Canadian towns interested in attracting additional population. As an incentive, they give land for free or for a very symbolic price, about 10 CAD per acre.
Here are just a few examples of Canadian towns and communities that offer free or extremely cheap land:
Craik, Saskatchewan
Crown Lands, Yukon
Cupar, Saskatchewan
Mundare, Alberta
Pipestone, Manitoba
Saint-Louis-de-Blandford, Quebec
Scarth, Manitoba
South Knowlesville, New Brunswick
Whycocomagh, Cape Breton
Here is a map that demonstrates the population densitiy throughout Canada. As the map clearly shows, there is a lot of potential to find a free off-the-grid property.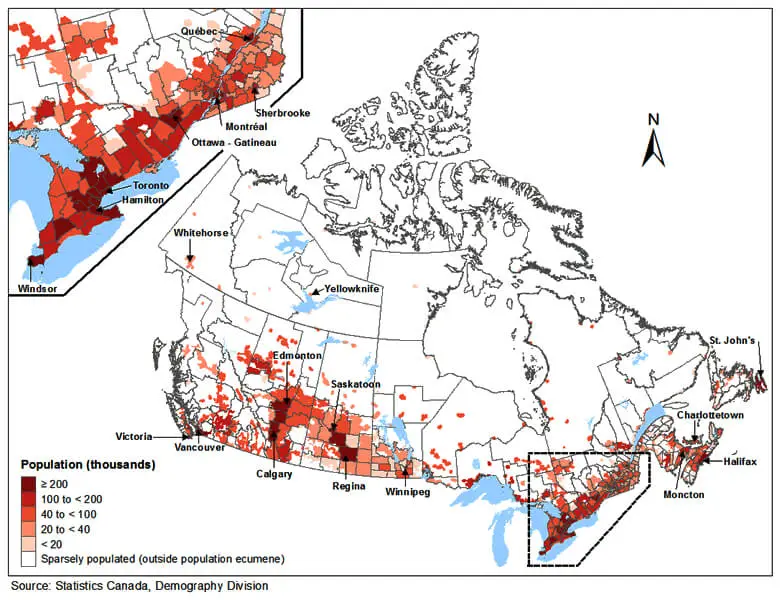 Free Land Around the World
While I earlier covered North America, you should know that free off-the-grid land may be available in other countries, too. It may not be advertised or even found online, mostly because these are very small settlements with no online presence.
If you wish to discover free or cheap land in your country, the best way to do so is probably contacting your ministry of agriculture or land development. There are many programs that encourage farming and settling of distant regions. You can also simply post a question on your local off-gridders' forum. You will be surprised how much relevant information you can find out by just asking instead of Googling.
Obtain Free or Low Cost Housing
The next step in establishing an off-grid homestead is building or purchasing a home. As I explain in my article on costs of living off the grid, a house is the biggest expense you are about to face. Nonetheless, there are a few options that can significantly reduce or negate this expense.
Get a Land With an Already Built House
Some lots come with buildings. As I said earlier, there are towns that offer free land in exchange for several years long residence. If the resident leaves, the house remains. Naturally, such houses demand a certain amount of repairment, but it's still cheaper and less time-consuming than building a new house.
And even if you plan to buy a land, you can still search specifically for a property that has buildings on it. A pre-built house can significantly help living off the grid with no money. Just make sure that the building is in a livable condition before buying the lot.
Build a Tiny House
Tiny house is an ideal solution for an off-grid beginner. Tiny houses are tremendously low cost. Alternatively, you can build one for free. They can be built in no time right on your property or anywhere else – and then easily transported to your lot.
Building a free tiny house requires construction materials. Use construction sites as a source for these materials. Contractors tend to buy too much sheeting, lumber, glass sheets, and roofing, and then just discard them nearby. You can also look near recently remodeled houses for any extra materials. Make sure you ask for a permission to take the materials.
Here is a great video from Exploring Alternatives about living off-grid in a tiny house:
Build a Natural Home
Just like the tiny house, a natural home can be built for free. The difference is that you will be using natural building materials instead of the manufactured ones. This requires some ingenious building skills, but the result can be quite wonderful. A few examples of such houses are:
Cob house: A building made from straw, sand, earth, water, subsoil, clay and/or lime. This is a traditional way of making an ecologically green house, which is perfectly suitable for the off-grid lifestyle. A cob house has thick walls, which can reduce external noises and keep the inside temperature steady.
Cabin: A log cabin is made mostly from wood. You can cut trees if you have them in your vicinity – as long as you have the appropriate permit, of course. The logs can be also used to make furniture, if you are skillful enough.
Yurt: Another traditional house, this large tent is widely used in Mongolia. It's easily moveable, but it's also strong against any type of weather. The materials should be waterproof, such as a vinyl skin or a canvas. You will also need wood, which can be found in the forest or near construction sites.
Live in an RV
An RV (or a camper/campervan/trailer/motorhome) does not have to be on the road. You can rent or get one for practically nothing, park it on your property, and use it as a quite comfortable home. RVs come with a lot of utilities that you don't have to install separately, such as a kitchen, sleeping area, shower, and restroom.
You can also check RVshare and browse their huge list of local RV rentals, focusing on those you can easily afford.
An option of living in a van also exists. Vans are smaller, but it's quite possible to live in them, as you can see in my post about living off the grid in a van.
Get Paid to Live Off the Grid
Use Your Off-Grid Skills in a Job
Instead of spending money, you can make money. There are tons of jobs you can take in your vicinity. These paid jobs require skills that you, as an off-gridder, already have. After all, living off-the-grid grants you a lot of experience and skills that many employers look for. Here are a few places where your skills are appreciated:
Farms
Park ranger stations
Fire stations
Campgrounds
Forestry organizations
In addition, you can work as a nature guide, either independently or employed by a local organization. You can guide trekkers, backpackers, and rafting enthusiasts, since by now you are already very familiar with the surrounding area.
Teach the Off-Grid Lifestyle to Others
As I stated at the very beginning of this article, more and more people are interested in living off the grid. Using your experience, you can become their guide, for a fee that both sides agree on. You can teach your skills to others either face to face, or online. Here are a few ideas.
Write a book on off-grid living. I did the same, as you can see from this link.
Start an online course, a webinar, a Zoom workshop, or anything else that teaches people via the Internet.
Run an actual, physical workshop on any topic you're experienced in: farming, raising livestock, crafts, building a house, building an off-grid power system, and so forth.
You can even cooperate with several other seasoned off-gridders and run larger workshops and courses. Each off-gridder will contribute from their experience, and this can turn into a day-long or even week-long workshop where any novice will enjoy studying.
Sell Your Produce
If you are producing more crops and livestock than you can consume, you can sell the excess produce. A lot of people will enjoy ecologically clean vegetables, fruit, nuts, berries, seeds, honey, eggs, milk, meat, wool, and so on. Remember not to sell everything, you will need seeds for the next season's crops. To learn how you can effectively manage your produce, see my article on off-grid farming.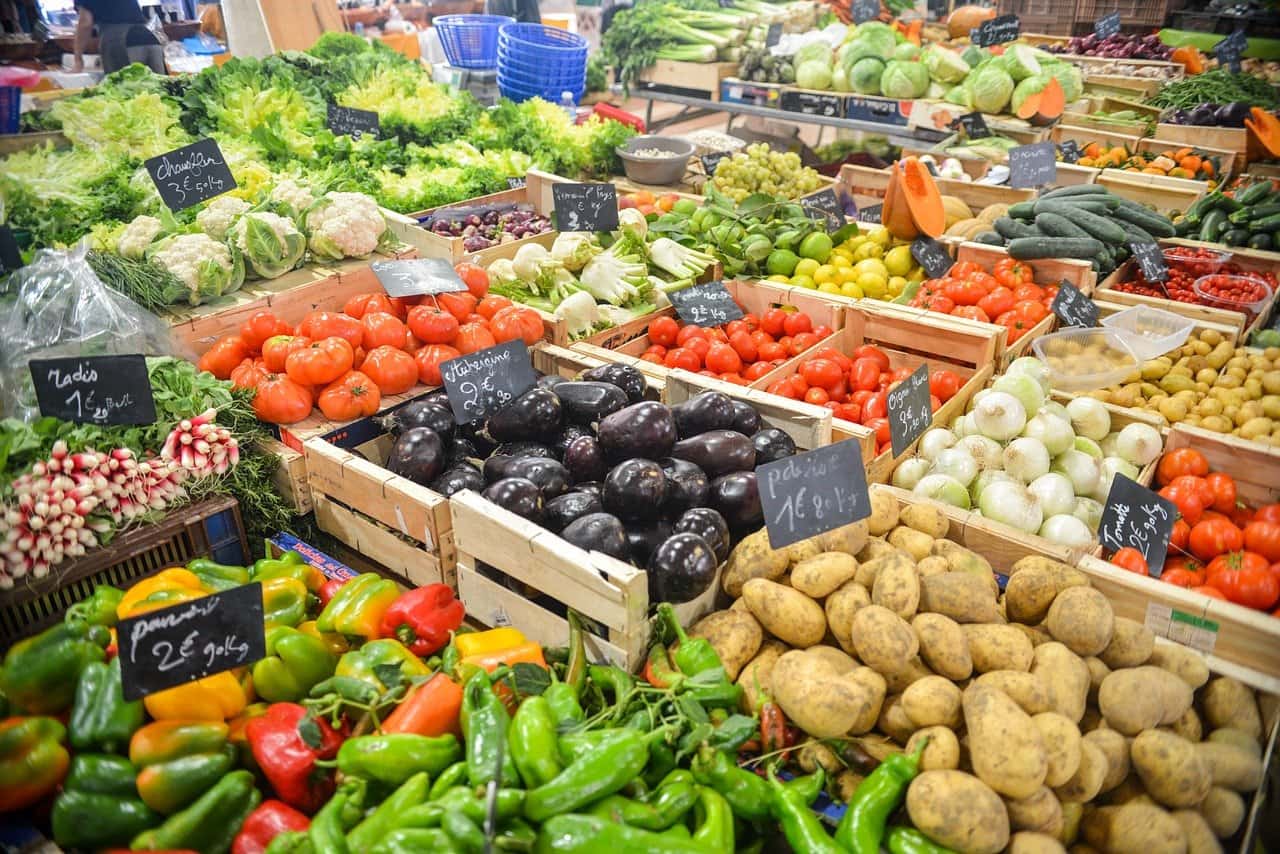 Manufacture Valuable Products
You can sell your excess produce as-is, or you can take a step further to earn even more money from your off-the-grid lifestyle. There are sought-after products which you can make and sell, such as:
Ointments
Oils
Herbal teas
Cheese
Fruit jams
Smoked meat
Again, if these are made from clean plants and animals, people will be willing to pay an extra buck for them.
Sell Your Handmade Crafts
Farming is not the only activity that produces sellable items. Use your skills to make unique items that can be sold in local shops or online, on such sites as Etsy or eBay. Almost any material can be used in the handicraft:
Wood
Glass
Leather
Clay
Metal
Paper
Bone
Stone
Textiles
Be creative and imaginative, enjoy the process of crafting, and enjoy the profits!
Run Your Own Business
This is the next natural step if you're already selling produce and crafted items. But you don't have to actually make physical products to start a business. A business can be any skill that you have, and a business can be online, too.
Think what you are good at and offer it as a valuable service to others. This can be literally anything: consulting, writing content, photography, knitting, teaching, and thousands of other options. Make sure you have the right equipment and free time to run your business while you run your off-grid homestead as well. You will also need to register your business and pay taxes, so check with your local authorities before anything else.
Rent Unused Land
Is there any unused space on your property? Are there parts not occupied by any buildings, crops or equipment? Maybe you can use this to make more money. For instance, place a small house there and rent it on Airbnb.
Another option, especially if that spare space is near a highway, is renting it to an advertising company. They can place a sign there, and you will get paid.
You can also rent the land to events, such as small weddings or gatherings, as long as you have the necessary permissions for it.
Establish a Campsite on Your Off-Grid Lot
You can also use the spare land to establish a campsite. Again, you will need every appropriate permissions, but once you have them – you can start working on this project. You can position a few cabins, dig a pit for the campfire, and even use surplus off-grid electricity for a charging station that the visitors will use to charge their mobile devices.
Start a Media Channel
Many people around the world are interested to watch what it's like to run your own independent homestead. You can video your activities and upload them to YouTube, Patreon, Instagram, or even TikTok – whatever will eventually bring you income.
No need to be shy, take a pride in your work and lifestyle, and share your life with the world. A substantial traffic from the social media can be translated into real money. You can get paid for the ads that show up during your videos, or you can promote a product for a commission.
If this sounds like an interesting option, you should get USKEYVISION Smartphone Video Vlogging Kit, an Amazon's Choice product for beginning YouTubers and streamers. It comes with a universal video microphone, tripod, smartphone clip, light, windcreeen, and bag to carry this kit. The kit has everything you need to start your own online channel and turn it into a source of income.
Become an Online Freelancer
If you don't have any spare time to start your own business or open a campsite, then simply look for online jobs that you can do whenever you can. Allocate a couple of hours during the day which can be used to go online and taking whatever available tasks you can find. These can be data entry, posting on social media, answering polls, writing reviews, rating products and videos, and so on.
These freelance jobs might not be too lucrative, but they definitely can add a noticeable contribution to your monthly income. You can find them on such sites and apps as Freelancer, Upwork, Fiverr, and a few others.
Grow Your Own Food
I mentioned farming earlier. One of the greatest advantages of living off the grid is that now you have a property for your own mini-farm. You can grow vegetables, herbs, fruit trees, and livestock! This delicious and clean food will surely cut down your expenses.
Running your own farm means taking care of several crucial tasks, such as:
Planting the right crops for every season
Irrigating and fertilizing plants
Storing and preserving the produce
Storing the seeds for the next season
Taking care of your livestock
Correctly figuring out the workload, so that the farming is not taking up your entire day
And before anything else, you need to test the soil, to ensure that it's right for farming. Loam soil, which is a combination of clay, silt, and sand, is considered the best soil for vegetables and herbs.
Explaining how to manage your own farm or garden is beyond the scope of this article. Which is why I would like to direct you again to my guide on off-grid farming. This article has everything you need to know in order to start growing your own food.
Procure Food by Fishing, Foraging and Hunting
If you live near a forest and/or a water stream, you can go out to hunt and forage food. But before you do, keep in mind that you can't fully rely on nature to keep your belly full, since most of the food out there is seasonal. Nonetheless, this can complement your diet, if you're mostly eating from your garden and farm.
First, let's take a look at foraging. You can gather edible berries, mushrooms, nuts, wild garlic, elderflowers, nettles, and more. There are certain rules and precautions while foraging. Learn about the plants in your surrounding area, know what you can pick and what can poison you. If you're foraging mushrooms, never pull them out, but rather cut with a knife.
Foraging can be a fun activity, as long as you know what you're doing. There is a highly recommended book on Amazon, The Forager's Harvest: A Guide to Identifying, Harvesting, and Preparing Edible Wild Plants. It has a detailed information on how to find plants that you can consume, when you can forage them, what parts you can actually eat, and much more. I would recommend getting this book if you wish to avoid potentially dangerous mistakes.
Hunting and fishing are another way to supplement your diet. The wild game can provide you with fat and protein that you probably can't get from any other source. All you basically need is a fishing rod, or a snare, or a hunting rifle. However, you must be completely aware what the law says regarding hunting and fishing in your area. Many animals cannot be hunted, either during certain seasons, or absolutely never. You will also need appropriate permits. The best way to approach this complicated subject is contacting a nearby fish and wildlife office. Never break the law and never harm the delicate balance of the nature.
Collect and Filter Water
Water is a necessity in any household. However, if you're off the grid, this often means digging a well. Usually, people hire a contractor to dig a well, which eventually costs a few thousand dollars, depending on how deep and how difficult the drilling needs to be.
If there are enough rains in your area, I would suggest using rainwater for your needs. It's free and widely available. Rainwater can be used, among other things, for:
Drinking
Cooking
Irrigation
Washing clothes
Washing the car
Washing the sidewalk
Refilling pools and fish ponds
After you collect the rainwater, usually into barrels, it must be filtered. First, the rainwater should be flown through screens and special filters. After that, you let the unfiltered sediment sink down to the tank's bottom. Don't disturb the water, and don't use the water near the bottom.
While all this sounds like a terrific method to get free water, you need to know what the laws and regulations say about rainwater harvesting. Australia, UK, every province in Canada, and every state in the US have different rules, some of them might prevent you from collecting rainwater. Luckily, I did a thorough research, and you can find the complete information in my article about how to harvest rainwater.
Join an Off-Grid Community
No man is an island. Even if you are a little bit of a loner, if you wish to live off the grid with as little expenses as possible, then get help from a nearby community – or join one. There are countless benefits to being in a community, all of them can potentially lower the costs of running an off-grid homestead.
A community is a limitless treasure of local information. The members of community can tell about local stores and their discounts, markets to sell your produce, best contractors to hire, job opportunities, laws and regulations you need to know in order to build, hunt or trade your produce, and so forth. Networking can get you knowledge that you won't find anywhere else.
Community members can share the expenses. For instance, you all can chip in to get farming equipment that you can use together. In other words, you don't have to carry a financial burden by yourself.
Any off-grid community has skilled people that can help you with a multitude of tasks. I'm talking about tasks that you neither have time nor enough experience to perform. For example, you need to make some electrical repairs and can never get to it? There is certainly someone else who can help you with those, for free.
A good off-grid community can provide you with much need support and cooperation. There are many communities of this nature around the globe. For the complete list, please see my index of off-grid communities.
Here is a look at the eco-friendly off-grid community in Wales:
Participate in a Barter System
Whether you live in a community or near a village or a small town, there is another way to cut down the costs of living off the grid. I spoke earlier about selling surplus produce or opening a business that provides your services and skills. Instead of asking for money, you can use the same things to receive products and services of approximately equal value in return.
A simple example: your chickens laid more than enough eggs. You also need to fix the roof. Your neighbor loves eggs and is a good handyman, particularly known for his roof-fixing expertise. You two can reach an agreement – supply him with enough eggs for a month, and he will repair that roof for you.
Honest barter system nullifies the need of being dependent on money. Eventually, this is what living off the grid is all about, the independence from governmental supervision and intervention. By bartering for goods and services, you enjoy the true and tangible value of your work.
Produce Free and Clean Energy
Along with independence, producing free and clean energy is a big part of being off the grid. You live without relying on polluting and heavily regulated energy sources. Instead, you enjoy energy that comes for free from natural sources. There are 3 most common natural energy sources.
Solar Energy
This is probably the most famous one, since you can see solar panels on so many houses. This is where you use the sun as your major electricity provider. The sunbeams hit the solar panels, which are made from photovoltaic cells. The cells convert the sunlight into electricity by letting the photons knock the electrons from the atom.
This creates a DC electricity. Many home devices and systems require the AC electricity, which is why the solar energy system also includes a DC-to-AC inverters. And finally, if you produce more than enough electricity, it can be stored in a battery and used on a darker day or during the evenings.
If you're looking for a highly reliable solar panel system, try Topsolar Solar Panel Kit. It has over 1,400 positive reviews on Amazon. It's affordable, yet has everything that an off-grid house requires. The panel can be installed on the roof of any house, farm, garage, RV, or campervan. It even comes with a solar charger controller, which fully protects the battery from short circuit, overcharge, overvoltage, and reversed polarity. It's durable, easily mounted, and comes with a 25 years warranty.
Hydropower
Hydropower is the use of water to generate energy. If your property has a water stream, it can be utilized to produce free electricity. Basically, it works like this:
The flowing water turns the turbine.
This rotating motion causes the generator to make electricity.
The electricity is then delivered to your house's grid.
How can you be sure that the water stream is enough to make such a system work? There are a couple of method to measure your stream's potential for hydropower. I invite you to read my article on off grid hydropower to learn about these methods.
Wind Power
Similar to the hydropower, you can use the wind to turn a turbine, which will eventually generate free electricity. And just like with the hydropower, you need to make sure that your property meets the requirements for sufficient wind power.
There are several factors that affect your area's potential for wind power, such as:
The quantity of wind throughout the year
The vicinity of other houses – some neighbors might object a tall and view-restricting wind turbine
The availability of open or raised areas
There are a few more significant issues you need to be aware of before deciding to use the wind as a source of your electricity. Which is why I invite you to read a much more detailed article on off grid wind power.
Recycle Waste
I brought up the subject of farming a couple of times earlier. Gardening and farming are very satisfying activities, money-wise as well. Your produce can be sold or traded, helping you live off the grid for free. But no crops can successfully grow without a fertilizer, which is yet another expense.
Waste recycle is your answer. Waste can be turned into compost. Compost can be added to soil in order to improve the plants' growth by enhancing the soil's properties. Some farmers even use compost as a total replacement of soil, growing crops entirely in the compost.
A lot of waste we create can be turned into compost, such as:
Yard trimmings
Food waste
Manure
Human waste
Wood chips (they speed up the process organic materials' breakdown)
Human waste can be turned into compost by installing a composting toilet as a part of your off grid sanitation system. I strongly suggest you read the linked article for detailed information on this topic, since it's also an important part of our off-the-grid lives.
In Conclusion
So there you have, the guidelines to living off the grid with no money. Hopefully, thanks to this knowledge, you are more than ready to face the financial challenges of the new, off-grid life.
A big part of my blog is dedicated to off the grid living. I strongly suggest you also read my full guide on off the grid living. It teaches everything there is to know: costs, best places for your land, energy sources, farming, livestock, legality, communication, water, sanitation, and so much more!
In addition, please take a look at my articles dedicated to alternative ways of living off the grid: living off the grid in a van, living off the grid in an RV, and living off the grid in a city. These articles have tons of useful information that can prepare you for these amazing lifestyles.
Best of luck in wherever you choose to start your new life, my friend!