While RV living is primarily associated with those people who have retired or have saved money to be able to travel, it is important to note that there is also a large group of families and individuals, who sold their homes and now live in off grid vehicles. As a matter of fact, approximately one million Americans are currently exploring the RV living.
Choosing the RV lifestyle comes with a plethora of adventures, but jumping straight into off the grid RV living also brings a myriad of questions. Can an RV serve me as a complete house? Where and how long can I stay in one place? What should I check before buying an RV?
I've done some very extensive research on the subject of off the grid RV living. And while there are a lot of questions, a lot of answers are also available. Let's go through all of them.
Things to Check Before Buying an RV
Is the road calling for an adventure? If you answered yes, then an RV might be a great option for your off grid camping. It is, however, essential to remember that buying an RV can be challenging with so many models that are available in the market.
In fact, it is sometimes relatively hard to recognize in a single glance whether the quality of a particular RV is good enough to buy. So before making an investment, here are the factors that you should take a hard look at as you buy an RV.
1. How Will You Use It?
In buying an RV, the first question you should ask yourself is whether you will use it just for camping or for off grid living. Normally, a camping adventure can last for as long as two weeks. It is also essential to consider the number of essentials you are bringing and the people you are traveling with. This is an excellent way to determine what size of RV is ideal for your companions and your budget.
2. Check for Maintenance Records
Maintenance records are without a doubt the most important thing that you should look at before buying an RV. A company or someone who is satisfied with the functionality of their RV will volunteer to show you the maintenance records of the vehicle. By simply examining the maintenance records of an RV, you are able to assure that the vehicle won't cause any problems if you decide to have off-grid camping with your family.
While examining the records, always look for the constancy in oil changes so that you can thoroughly recognize if they were changed regularly and according to the manufacturer's advice. In addition to checking the frequency of oil changes, it is also important to see whether the timing belt has been modified, especially if the vehicle is right within or more than 60,000 miles.
3. Carefully Check for Leaks and Odors
This is especially advisable if you are purchasing a used RV. Always make sure that every component of the vehicle is in order and does not have any issues that might ruin your off grid camping. What I highly recommend is that you inspect the odors, molds, leaks, awnings and the roof of the RV before making a purchase decision.
It would be helpful if you bring someone with you to make sure that nothing is missed during the inspection. Additionally, bring flashlights that will help you examine the rig and the dark spots of the RV.
If your budget is tight, opting for RVs with a few issues can be beneficial on your part (depending on the cost of repairs, of course). Should you feel that there are too many problems and the price is really high, it is best to negotiate with the seller to make sure that you save money in the process.
Here is a DIY method for detecting leaks in an RV:
4. Evaluate the Tires
Looking for wear and tear on tires is imperative, especially if you are planning to purchase a second-hand RV. Regardless of the quality and the wear of the tire, it is optimal for the owner to replace tire once every six years. Tires are extremely expensive if you are driving top-class rigs, and replacing them could cost you an arm and a leg.
One of the quickest ways to examine the quality of the tire is to use your hands to sense ruptures or faults. Apart from scrutinizing the tires in the vehicle, it is also best to inspect the spare tire to ensure that all tires have the same makes and models.
Another easy way to determine the excellence of a tire is by determining its age. You can easily know the age of the tire by simply looking at letters and numbers that are ingrained on their sidewalls. In most cases, a tire has the word "US DOT" along with a four-digit number which indicates the date it was manufactured.
5. Ask For a Test Drive
You have inspected all the parts and everything seems to check your list. Now, one thing must be done and that is asking the seller for a test drive. A test drive will allow you to get the feel of the RV on the road and your ability to drive it with ease and precision. This can be the deciding factor whether or not full time RV living is for you.
Drive the RV on open roads (especially if you are driving it for the first time) in order to see how it can handle various speeds as well as braking and turning. It is best to carefully listen for things that are bouncing or shaking when the RV moves. It is, however, crucial to note that the RV you go for a test drive is likely light in weight and will be heavier once you bring in your personal possessions.
Naturally, you don't have to buy an RV right away. Maybe you want to test first whether an RV life is good for you. Maybe you want to check a specific RV model before deciding to purchase it. In such cases, head over to RVshare and choose an RV to rent. This site has an extraordinary choice of recreational vehicles that you rent directly from owners near you.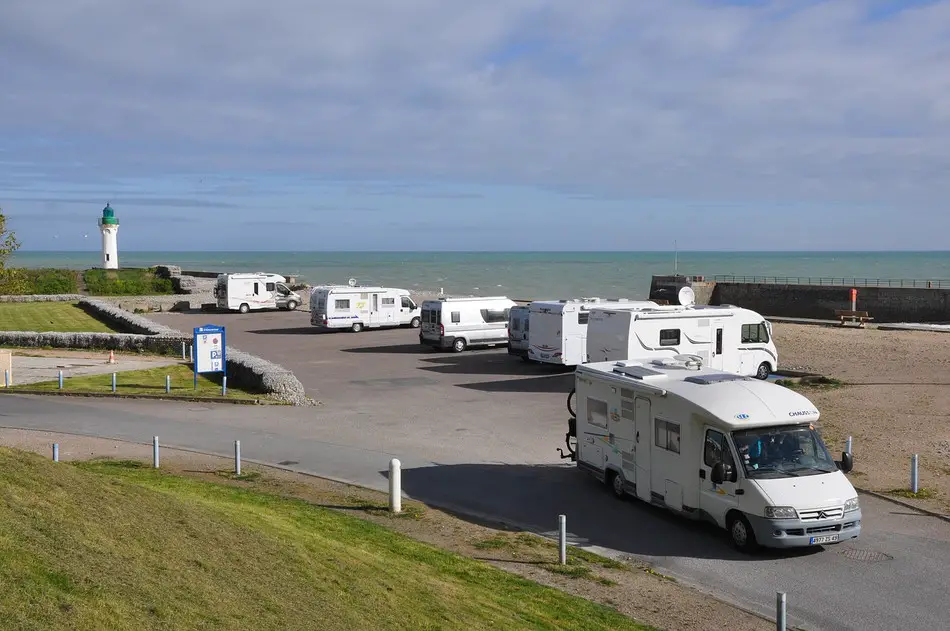 RV Features That Really Matter
In choosing an RV, functionality and the home feeling it gives off are among the things that should be taken into serious consideration. Here are features that every RV should have.
1. Water Tanks
Water tanks normally vary according to the size of an RV. It is always super important to go for an RV with water tanks that can easily be connected to outside water systems. This way, you can get fresh and consistent water supply, especially if you are living in off grid trailers.
Cleaning and using disinfectants on water tanks are perhaps the most important aspect of your RV water system maintenance. Always see to it that waste water or black water are distributed in pipes that are opposite to your drinking water, to avoid illnesses and deadly diseases.
I would recommend getting A.A 16 Gallon RV Fresh/Gray Water Tank for your RV (on Amazon). It's a 16 gallon reliable tank, made from a durable polyethylene, which was approved by the FDA. This tank is constructed as one piece, so you don't have to worry that it may burst at seams – there are simply no seams. The tank can be easily installed, and it also resists corrosion, rust and stains. An excellent choice for your mobile home!
2. Bathroom
Having a bathroom is one of the biggest benefits of RV travel. Majority of off-grid trailers come with a decent bathroom that has a toilet you can shower and sit on. While they don't take much so space, smaller RV bathrooms are normally cramped in a small space and everything in the room will essentially get wet.
If you want good-sized bathrooms, it is always recommended to go after large RVs since it has a small bathtub or stand-up shower as well as a separate toilet and a sink in it.
As for washing of your clothes, perhaps a good portable washine machine will prove to be enough.
3. Electricity
Once upon a time, a typical camper did not have an electricity. I doubt that such a setup can work for everyone nowadays. Most of the RVs now have some sort of an electricity source. For instance, a big DC battery. Many campsites provide you with AC electricity via hookups, so RV manufacturers added AC/DC converters, and now you can charge your battery and have a pleasant stay inside.
But if your RV is equipped with all sorts of appliances, a 12 volt battery might not be enough. A lot of RVs come with a built-in generator. It allows people to travel much further and be independent of electrical hookups. It runs your fridge, your TV, your computer, even your toaster and coffee maker. It's your personal power plant!
Notice that a generator requires fuel, which is usually propane, diesel or gasoline. Therefore, you will need to refill your fuel containers from time to time.
You should also consider getting a portable solar panel to aid your power system.
4. Slide Outs
One of the most attractive features of an RV is slide outs. Ordinarily, a slide out can help expand the size of an RV and make it seem larger than it really is. It is, however, important to keep in mind that slides will dramatically increase the weight of your rig, so it is better to park in a place with a sufficient amount of space to slide them out.
Using a slide out will constantly need regular maintenance. To prolong its condition, it is suggested to use a conditioner twice a year to wash its seals.
5. Kitchen
Off-road trailers also have kitchens that are typically comprised of a fridge, a nice sink and a wide range of cooking appliances. A great RV kitchen will also feature a cabinet where you can put your dishes, cutting boards, cups, Tupperware containers, coffee pots and pans, among others.
More often than not, refrigerators that are found in modern RV systems are operated through electricity and gas. You can also choose to install a small generator in your kitchen if you decide to add a microwave.
6. RV Security
Your RV needs to be secured at night, or when you leave it to hike on foot. Never leave your valuables and your loved ones unprotected. There is a highly rated product on Amazon, RVLock Key Fob and RH Compact Keyless Entry Keypad. It fits almost any type of recreational vehicle and guards your entry door. You can install it in minutes and feel safe for the rest of your journey. Includes a keyless handle, a keypad with over 1 million possible codes, a remote fob (add up to 10), mechanical keys and 4 AA batteries. An ideal setup that that takes care of your RV safety and security at all times.
7. Basement Storage
Another feature a great RV has is a nice basement storage where you can keep your chairs, carpets, outdoor tables, gears and bicycles. Class A RVs have bigger basement and a much larger storage space as opposed to other types of off-road trailers. There are, however, some class C RVs that have a sizable amount of space for your other utilities as well.
8. Flooring
The flooring of an RV should be customizable based on your likings and preferences. This is an effective way to modernize your RV with an exquisite newly-remodeled look. Often times, removing and replacing the flooring design of your carpet can be completed by yourself in less than no time.
9. Sleeping Area
This just goes without saying. Your home on wheels must have a bed. Whenever we think of home or even look for a hotel room, the bed is the central piece that turns any four walls into a place suitable for human beings.
Naturally, just a bed is not enough, unless you're on a tight budget. It's especially true in case of a family. What you really need is a bedroom, a space separate from other spaces within the RV. Family RVs often have two or more bedrooms, for parents as well as for children.
I would personally suggest that you also make sure you're getting an RV with a walk-around bed. Unless you want to save on space and get a particularly small RV, this is a must. If it's a bed for two, then every partner will get their own bed approach without the need for hopping over the other's space. This also makes the chore of bed making much easier.
And finally, if you want privacy from the little ones, then your bedroom should be entered through a door and not a curtain. Some RV sellers replace the doors with curtains to make the vehicle lighter. I don't think that you should compromise on your privacy.
10. Seating and Dining Area
This is another significant RV arrangement that completely depends on how many people will be travelling together. Additionally, you might have guests from time to time. Every family member and visitor should have their own seat for dining and relaxation. Consider these factors and then decide on size, quantity and arrangement of the seating places. If you install a TV or a video game console, see whether the seats are facing the entertainment center properly.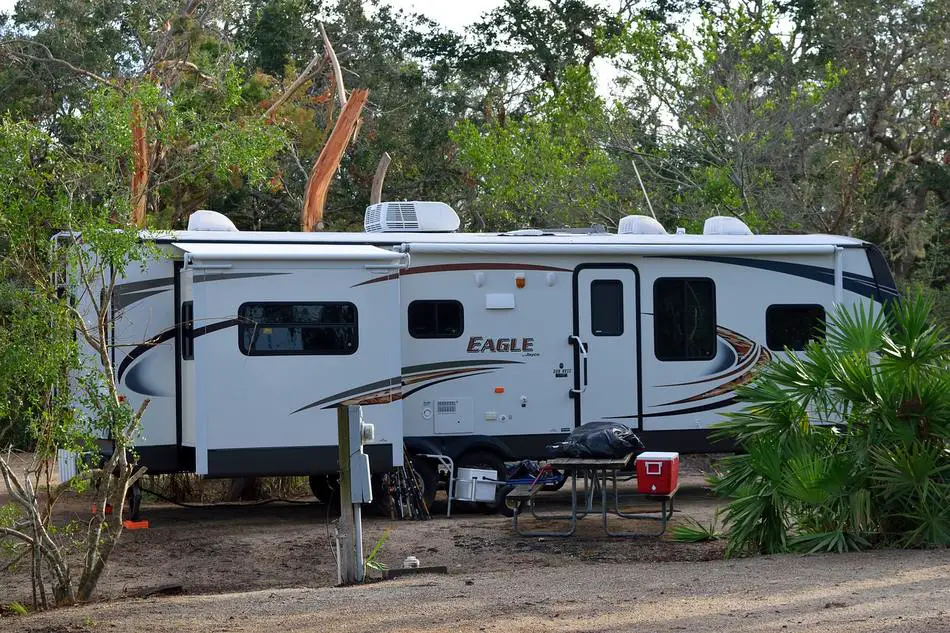 How to Start Living in an Off Grid RV
1. Scout the Location
Your first decision should be the location. The beauty of an RV is that you have the freedom of mobility. You can always find a parking spot or a campsite where you spend a night or two, and then drive on to another destination. There are public lands across the USA, where you can live park for free, although I do believe that they are limited to 14 days stay. I discussed free parking spaces in an article about a self-contained RV. There is also the option of purchasing your own property, where your vehicle can be parked indefinitely.
After you decide where you are going to park, research the weather of the nearby region. What's it like there at nights? Cold, or hot, or humid nights can negatively affect sleeping outdoors in an RV. Then of course, modern RVs come with a great wall isolation, air conditioning, heaters, and so on. Still, decide whether the local climate is going to suit your preferences. Not everyone likes and tolerates every possible weather.
Find the location of important nearby facilities. You would need to locate all necessary buildings, such as a market and a medical facility. Additionally, if you don't want to spend 24 hours in the RV and want a break from exploring the nature, see what entertainment is offered by the current area: movie and regular theaters, restaurants, amusement parks, and so on.
2. Prepare Your RV
As you prepare to live off the grid, take a good look at your RV and decide what tools and equipment it needs before you head for the road. Utensils, plates, fixing tools, electric appliances, and so forth. Do you have a carpet? Then you should get a vaccuum cleaner. Wood flooring? Pack a broom. Make a thorough shopping list, and don't leave for the road until you've crossed out all the items.
Additionally, check your RV's facilities. Does the water tank need to be replenished with fresh water? Maybe it needs some chlorine for additional purification. Was the sewer tank emptied? If not, visit a dumping station as you drive out. Check the propane tanks and fill them, if necessary. And certainly recharge all RV batteries.
After all of this is done, you are ready to go.
3. Settle and Establish Routines
Once you've arrived to your selected location, test various ways to park, so that you fully use the light and the shade of this place. If it's your permanent property, consider making a pad for the RV to stand on. If there are people living nearby, see if you can make some new friends, they can have a lot of useful information about this area.
Establish routines that will keep your RV and its facilities in top shape. Regularly check oil, tires, gas, et cetera, just like you do with a regular car. Create a schedule and commit to it: regularly empty the sewer, refill water and propane, buy groceries.
If you intend to leave after a while, make sure you leave the area pristine clean. We don't want any negative impact on the environment. Repeat steps 1 and 2 and be on your way to freedom.
Can You Fully Live Off the Grid in an RV?
This is a question that deserves a special attention. Let's assume that at this point you've chosen the right RV, got all the necessary tools and equipment, and are now on the road. You are parking whenever you can and living a rent-free, power grid-free life. But can you be 100% off the grid?
The short answer is that with a great, modern RV it is possible. However, there are some extra steps that you need to take.
Most of RVs are, of course, suitable for dry camping. Which means you can travel without relying on hookups. This is also known as boondocking. A typical RV, as explained earlier in the post, comes with a water tank, a waste holding tank and even a generator or batteries. Nonetheless, these vehicles are not always designed for people who intend to go off the grid for an extended period of time. Which means that upgrading is in order.
For instance, a lot of RVs include a nice generator, which makes electricity without the need of connecting to a power grid. But you still need the propane to run it. I would suggest upgrading your electricity source by positioning a few solar panels outside your motorhome.
With solar panels, your electricity is provided by the sun, which is a clean and long-lasting method that does not produce fumes or demands that you drive to a town and purchase more propane. Presto, another string of dependence is cut off, and you are much closer to 100% off grid living. For this very purpose, I would recommend getting Renogy 200 Watt 12 Volt Monocrystalline Solar Starter Kit, a highly rated Amazon's choice product. The kit is designed precisely for customers who are new to solar and can be installed on any off the grid mobile home. It includes everything you need to start enjoying free green energy from the sun. Click the link to read the specifications.
Bear in mind that some contact with the civilization is unavoidable. You will need to periodically visit a nearby town, buy new food, get new water into the tank, empty the waste tank, get rid of the trash, replace broken tools or parts, and so on. But if you conserve water correctly and make an exhaustive shopping list, then you can stay in the wild for even longer. The cost of living off the grid can be reduced if you're being smart with your expenses.
I've also mentioned the issue of the climate. If you wish to stay longer away from humanity, make sure that your RV can handle all seasons. An RV with a good insulation can save you a lot of trouble, as long as it can withstand weather swings. Additionally, consider being on the move when the seasons change, preferably travelling to areas with a comfortable temperature. This way you will save the resources that are usually spent on running the AC and the heaters.
By taking all these additional steps and being wise with your RV maintenance and supplies, a true off the grid experience can be reached. I only ask that you don't damage and pollute your surroundings. Don't start a forest fire, don't leave trash lying around, and in general minimize your impact on the environment. That is the true meaning of being off the grid.
The Best RVs on the Market
1. Airstream Classic

Developed by popular US trailer maker Airstream, the Airstream Classic is one of the most iconic RVs you can see in the market today. Initially released in 1936, this off-road vehicle ranges from 30 to 33 feet and features a dedicated bedroom, lounging, cooking and dining areas.
In addition, it is also packed with a smart control technology which allows you to control the most important features of the vehicle from anywhere. Presently, the starting price for the Airstream Classic is $152,400.
2. Thor Quantum LF31

If you are looking a much cheaper option than the Airstream Classic, the Quantum LF31 by Thor is something that you should take a look at. At a price of about $132,000, this class C motor home is loaded with a queen-sized bed, dual air-conditioners, dual TVs and a well-built refrigerator. By the same token, its chassis is also made up of a Ford E-450 Super Duty and is combined with a 420 feet torque and a 6.8 liter Triton V-10.
3. 2020 Newell Coach P50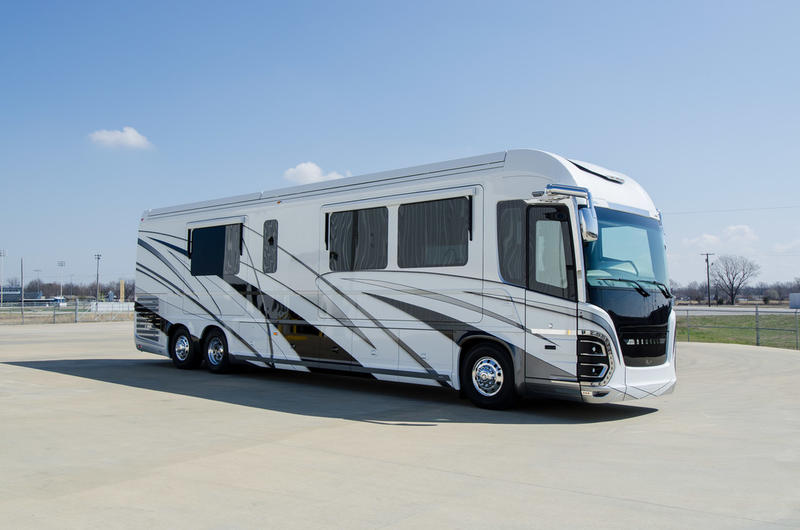 The 2020 Newell Coach P50 is an upgrade of their 2019 model and has a variety of features that include a 6 LED floor lights, four power window awnings, two patio awnings, two sliding storage beds, built-in camera system, multi-function remote and flush mount windows. It also comes with a nice front salon that consists of a premium leather pilot and co-pilot seats which have 6-way power adjustments.
Other than that, the P50 also has a galley, bedroom, sizable bathrooms, indoor and outdoor entertainment appliances, garbage disposals, intrepid monitors and a tire pressure monitoring system. The P50 which is only available in the cities of Oklahoma and Miami is priced at $2,107,450.
4. KZ-RV Sportsmen S330IK

The KZ-RV Sportsmen S330IK flaunts a triple slide that provides a nice interior composition and a very pleasant bedroom arrangement. This off-road trailer is energized with different caps for fresh water, wastewater, LP gas, gray water and water heater.
It is widely known for its industry-grade construction and design as well as for its feather light towability. Other features of the Sportsmen S330IK include tinted windows, self-adjust electric brakes, radial tires, queen mattress, padded headboard and a monitor panel. the cost of this RV is about $28,705.
5. Jay Flight 28BHBE

Constructed by Jayco, the Jay Flight 29BHBE is brimming with impressive features which include a solid slide out to extend your kitchens and living areas. It also has a Sway Command Tow Control Technology which is essential in making sure that your tires won't get out of control when you are hitting the road.
The most recent addition to the Jay Flight 28BHBE series is equipped with a walk-in shower, pass-through storage, double bunk beds, huge U-dinette and slide outs. Additionally, its fresh water tanks have a capacity of 38 gallons while the gray and black water tanks can fill up 39 gallons of wastewater. The selling price is around $24,995.
6. Forrest River Rockwood Tent Camper Trailers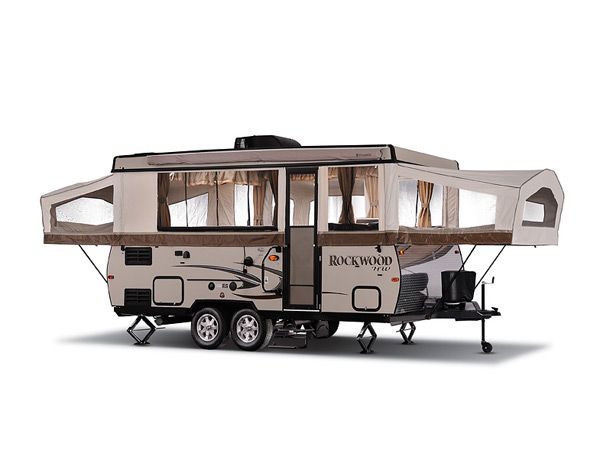 Here is something that's more affordable. This brand's trailers are compact, lightweight, and can be purchased for $10,000 – $20,000. Any SUV can tow them, and you get a lovely folding trailer to take anywhere you'd like. When you fold the trailer out, you get tons of space and features, such as a dining area, shower, complete kitchen and 2 cozy beds. Fold it back, and you get an easily towable trailer, less than 6 feet in height. A lighter trailer puts less strain on your tow rig, which means you can save more on gas. Of course, this is not a drivable RV, but it's the next best thing.
7. Winnebago Intent

Consider starting your RV life with a motorhome from the famous Winnebago company. This Class A vehicle costs only $116,000. It has all the necessary features, and more. Great visibility while driving, huge storage space, terrific lounge and dining areas, and 4 different floor plans to choose from. A powered patio awning is also included.
8. Thor Chateau

Chateau Motorhome from Thor Motor Coach is an excellent Class C option. It's probably the most versatile on this list, since it has 13 different floor plans you can choose from, which range from 24 to 32 feet. You, as a buyer, control what layer suits your needs the most. The plans include bathrooms, impressive kitchens and enough sleeping room for an entire family. The largest plan has a space that can easily host 7 people! The price range is $91,200 – $120,750.
9. Unity from Leisure Travel Vans

This slick Class B beauty is a guaranteed comfort on wheel. Its design is small, yet this RV is entirely aerodynamic and equipped with large frameless windows for clear view. Any traveler and off-gridder will enjoy choosing from six floor plans. Various Unity layouts offer all types of beds (murphy, corner, island and twin bed), as well as a large entertainment area. The use of space is unique and commendable, with a lot of storage space and an option of two separate living spaces. The prices start at $134,210.
10. Winnebago Vista

Another entry from the Winnebago Industries, the Vista lineup is another level in the world of family motorhomes. It has all the useful and luxurious features that turns this vehicle into a true home, such as: pleasant LED lighting, powered patio awning, front shade, stylish dining area, fully equipped kitchen, and much more. It even has a fireplace! There are 4 floor plans that you can choose from, all of them include a double slideout. The price starts at $138,000.
If you wish to learn more about the various types of RVs on the market, then I would like to invite you again to read my article about self-contained RVs and their classifications.
Final Words
I sincerely hope that my article was helpful, and you feel more prepared to start your off the grid RV living. Always remember to thoroughly check everything:
RV's condition
Features
Brand recommendations
RV's systems, see if they need a refill
Locations where you intend to stay
Your plans regarding what to do on a daily basis
And most of all, just enjoy. Enjoy the road, the adventure, the sense of independence. The world is spread in front of you, and you have a reliable motorhome to take you anywhere.