Recent years saw a steep rise in people choosing full time RV living. Yes, many Americans, as well as people around the world, have used a recreational vehicle (RV) for decades. However, swift social and economic changes, and even such factors as pandemics and overpopulation, convinced many of us to live fully on the road, in an RV.
So, what is full time RV living? You live in an RV, 365 days a year, either driving or parking it on a permanent spot. You sleep, eat and conduct your business mostly from the RV. You are free to go anywhere and experience the entire county.
And while this sounds dreamy, there are many things to be aware of before you embark on this adventure. Just to name a few:
Is it legal?
How do I make a transition from home to RV?
How do I choose the best RV for me?
How do I maintain the RV?
How do I make a living?
How do I get my children the best education?
Luckily, I wrote this comprehensive guide before you, covering all possible aspects of full time Rv living. And now, let's answer all your questions.
Table of Contents
Is It Legal to Live Full Time in an RV?
Yes, it is legal to live in an RV, but you have to follow some rules. You see, there is no definitive answer here, and I will explain. You can safely live in an RV for weeks, months or even full time. However, local municipalities demand that you build a permanent place to live in, like a house on your land. So basically, according to the local government, it's illegal to live full time in an RV, even on a land that is yours, because this place is for permanent occupancy.
So, what do you need to do to avoid problems in this matter?
In the USA, it is possible to live full time in an RV as long as you have a mailing address. Therefore, your course of action is to select a state to domicile in. This is where you'll pay the taxes, get a driver's license and a mailing address. Now you're set and legal.
Wherever you park the RV – obey the local rules, restrictions and zoning laws.
If you choose to park the RV on one permanent place, even if it's a land you own, you must have sewer and water access.
The IRS considers an RV as a home if it fulfills the needs of cooking, sleeping and toilet. As a taxpayer, you can designate your RV as the primary residence for purposes of deductions, even if you don't have a permanent location for the RV, or if it is parked on a property. If you need to establish a state residency, then the land where your RV usually parks should be assigned with an address.
What Are the Best States for Full Time RV Living?
There are three states that are known to be the best in the USA for full time RV living, and they are Florida, Texas and South Dakota. There are two other states that are good for full time RV living, and they are Washington State and Nevada.
The states of Florida, Texas and South Dakota all are income tax free, making it easier for the full time RV living. Washington State and Nevada are on this list as well, because they are known for their wide open spaces, which makes it easier to find a cheaper parcel to park your RV legally for extended and longer periods of time. More space means less restrictive zoning and usage laws, as well as more land options for your RV.
The environment and the climate of the area are also factors to consider, because when you live in an RV, you are connected more to the ground and nature, so it's best to pick a place with mild climate. The states I've mentioned have relatively good weather for full time RV living, since the winters there are warmer than in other states, and these states generally lack any extreme weather to deal with.
Another factor (which is more of a bonus if you ask me) is the view and scenery, and these states have amazing views and national parks to enjoy from your RV.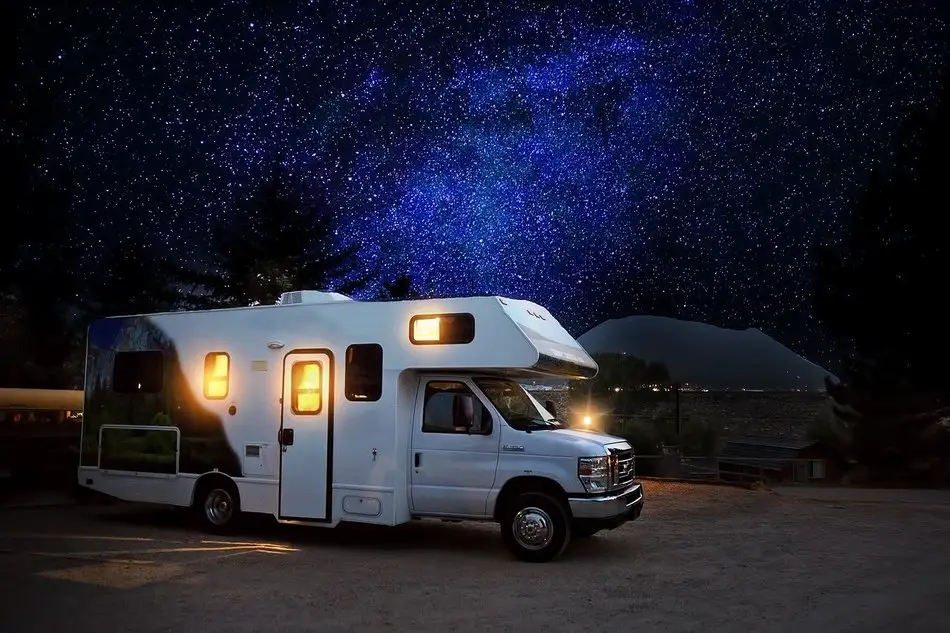 Is Full Time RV Living for Everyone?
I wouldn't say that full time RV living is for everyone. In order to answer this question, there are a few things you need to consider.
Property and Belongings
If you own a house, are you willing to sell it? Rent it? Downsize your living? You see, living full time in an RV means to live with little storage, so you'll have to dispose of many of your belongings. Alternatively, if you wish to save them, then you'll need to pay for storage. However, you will be able to enjoy other new belongings and RV gadgets, like a cell booster, hotpot, satellite dish, Roku, Xbox, etc., which I will talk about later in this article.
Jobs and Earning Money
Living full time in an RV means quitting or changing your job in order to start earning money in other ways. Are you the type of person who can change locations and jobs just like that? Many people who live full time in an RV earn money from blogging, become authors by writing books, and basically establish their own virtual business to earn a living. You can also earn money by looking for seasonal jobs in the state you're in at the moment. I will elaborate more on this topic as well, further down in this article.
Obligations
There are some obligations that you can't just leave or ignore, like insurance, taxes and vehicle registration rates. You are required to officially have a state of residence. Additionally, you need a solution for sending and getting mail. I'd suggest you use a well-known company that specializes in forwarding mail. Some of these companies can help you with the paperwork involved when you need to change your state of residence. As I've mentioned earlier, Florida, Texas and South Dakota are some of the best and most popular states for those who live full time in an RV.
Health Condition
Full time RV living is a real adventure that can be a lot of fun. However, if you need medical assistance or care on a regular basis, then you'll probably want to stay closer to your health provider. Take your health condition into consideration and see that there isn't any problem for you to travel and live in an RV.
Repairs
Things will break one way or another. Remember that an RV is basically a home on wheels. Materials on top of a chassis or a frame bounce as you drive on the road. When things break, you have two choices: fix it yourself or find a service center. If none of these speaks to you, then maybe life on the road is not for you. All RVs suffer issues as time goes by, even the brand new ones, it's just the way it is.
Encountering Surprises
As a full time RVer, you may encounter various surprises on your journey, as you'll probably move constantly from one place to another. Every day will bring new adventures. You'll leave friends and family behind at times, but will also meet new people and make new friends. You will explore different places and parks as you go. Ask yourself, does this lifestyle suit you? Is it really for you and what you want of life? If so, then an RV may be the right answer for you.
How to Prepare for Full-Time RV Living
Starting living in an RV is a huge decision and a big step, not one to be taken lightly, quickly or without planning. So, in this section, I want to share with you a few tips that will help you prepare better for the transition and for full-time off grid living in an RV.
Setting a Date
The first thing that you need to do is decide on a departure date. This is important, because unless you've set a date or a deadline, there is no real sense of urgency that drives you forward. When you set a deadline, everything feels more real (including the planning itself), which in turn only motivates you more to accomplish your goal.
The amount of time needed for planning and preparation differs from one person to the next. If you own a home, you need time to sell it or find someone to rent it. Therefore, the amount of time differs according to every person's circumstances.
You don't have to set one final date for everything. You can do it in progress until you finally move full time to your RV. You can set a date for purchasing the RV, then a date to have your domicile state set up, and so on. You will be moving toward your dream by steps, but still making actions.
Do Your Research
It's recommended to do an intensive research before making such a big step. After the research, the move will be easier and suitable for yours and your family needs. Here's what you should do:
Research which RV suits you the most
Check about domicile residency
Start taking down or storing away unnecessary items you won't take with you
Maybe try a garage sale for things you don't need, and save some money on the way
Learn about earning money on the road
Research about health care plans and policies for full-time RVers
Research about campsites and RV parks for stops and parking
Choose a service for mail
Research about off grid Internet and communication. I wrote a very thorough and up-to-date article on off grid Internet, you should check it out.
Start canceling utilities
Again, some things may vary from one person to another, but these are the general guidelines for a to-do-list prior to moving.
Here is a great video that explains how to prepare to live in an RV:
Make Things Simple
As I've mentioned before, there will be a lot of things that you won't need to take with you. Simplify things, sell what you don't plan to take with you, donate, or store it away if you plan to get it back someday. You don't have to do it all at once. Here is how to do it simply and without hurry.
Schedule an hour a day to decide what you plan to take with you and what goes to a garage sale, donation or storage. Focus on one area at a time. Choose a drawer or a closet, and little by little cover the entire house or property for both needed and unnecessary items. Each item you see or grab, make a decision what to do with it, don't leave it for later. You can even plan a giveaway party with friends, family, and colleagues from work. Not only will you get rid of items you don't need with you in the RV, but it will make things so much more fun and enjoyable for everyone.
As for items that are important to you (like family items and albums for example), consider placing them in a storage unit. I cover this topic later on in this article.
Outline What's Really Important
Believe me, you'll need far less with you on the road than you think right now. Here is what I recommend you do take with you:
Clothing – Underwear, socks, 5 t-shirts, 2 pairs of jeans, 2-3 pairs of shorts, pajamas (optional), 1-2 sweatshirts, 1 sweater, raincoat, long-sleeve shirts, jacket, hiking shoes/boots. If you think you need more clothes, that's fine, just don't take too many items. You want more room in the RV and you won't wear it all, I guarantee it.
Kitchen (tools and dishes) – This is an easy one. Take only the tools that you use most in your kitchen and can't live (or cook) without. Also, consider the amount of space you have for these items in your RV.
Photos and decorations – Consider taking some photos, pictures and things that will make your RV feel like home, cozy, warm and inviting. But again, don't bring too much stuff and always consider the amount of space you have and need to live comfortably. Some of the things to take with you can be phots, rugs, plants and so on.
RVing clubs – Joining RVing clubs will greatly assist you with life on the road. These clubs offer amazing discounts on campgrounds, provide access to a wealth of valuable, information from people who are already Rving full-time and much more. Here are some of the best and recommended clubs to join: Good Sam Club, Passport America, Escapees RV Club, Harvest Hosts.
Tip: Try to pack as little as possible and only what you can't live without. Remember that you need room and space in your RV to live freely and comfortably, and that you can always add more items along the way if necessary.
Tip #2: Preparing to fully live in a recreational vehicle is closely related to preparing to live off the grid. See the linked article for an abundance of tips and important guidelines for this subject.
What is the Best RV for Full Time Living?
There is no best RV for full time living, because the answer to this question is a lot more complex and I'll explain. Everyone has different needs, so there is no one RV that suits all. There are factors to consider when choose an RV for full time living.
Factors to Consider When Choosing an RV
Will you stay in one place for months or move constantly?
Will you stay in campgrounds all the time?
Will you be in places where it snows?
Will you be in places where it's extremely warm?
Will you have pets with you in the RV?
Will you use a vehicle to drive?
Will you be living alone or with family and children?
These are just a few factors you need to consider before deciding on your full time RV, but there are other more important factors as well and I'll elaborate about them now:
Length of stay – If you plan to stay at different places for long periods of time, then I recommend that you get a fifth wheel, as it is bigger and has more space, making the stay a lot more convenient. It can be a bit hard to tow it, but because you plan to stay in one place for a long time, you won't tow it very often.
Quality – Believe it or not, but most manufacturers don't build for durability. This does not mean that there aren't any quality RVs out there that will last for long, but the rule of thumb here is to choose by brand. So, the better the brand is, the more durable it should be (New Horizons RV, Northwood Manufacturing, Outdoors RV Manufacturing, Escape Trailer Industries and others). Of course this will cost more, but you're about to live full time in an RV, so spend on something of high-quality one time then constantly repairing it, which will cost you even more in the future as time goes by, not to mention the frustration that follows it.
Size of family – The more people living in RV, the more room you need, in theory. To save space, you can get bunk beds for the kids. Choose an RV or design the space so you'll have enough space for everything. The toys of the kids, enough space for everyone to eat and dine and so on.
Floor plans – There are a lot of floor plans to choose from, and even if you think you've found the best one for you and your needs, I always suggest to test it yourself. Test the RV, see how everything is designed, sit on the toilet, stand and bend in the shower to see that it's comfortable and there is enough space, sit on the sofa, check if the bed is not too small. Don't be shy, check everything! It's your money and a serious and important investment for you. You deserve the best for your needs.
Climate – This is another factor you need to consider before deciding on your RV. If you plan to stay in places where it is cold, snows, and gets below zero, then you should get an RV with a four-seasons package. This way, the pipes are not exposed and will be in a heated area. They will also keep the interior of the RV warm using the furnace, propane heater, or space heater. Also, the four season package rigs come with double pane. If you plan to stay in hot places, four season package works here as well, providing you with better insulation. But, you should also consider getting an RV with many windows that you can open a good amount. Open windows and fans provide with great airflow if you can't use or don't have an AC. A fifth wheel or motorhome will probably have AC units, just make sure they have enough units to cool the entire rig.
Types of RVs
Now, it's time to have a look at the different types of RVs, so you'll get a notion of what suits you more and answers your needs. There are many different types of RVs, but I will focus on those that have everything that you need to be able to live in it away from home or make it your new home full time. Here is a list of everything that a good RV should include, you can use this as a checklist while shopping for an RV.
Sleeping area – There are many varieties of sleeping areas in different RVs, from full-sized to king-sized, bunk beds, sofa beds, and Murphy beds. Depending on the type of RV, 2 to 8 people should be able to sleep in the vehicle.
Living area – As the living areas go, you can find any sort, from a single seating area with a table for eating or working, to multiple seating areas with lounge chairs, couches and a separate dinette. The larger the RV, the more space and seating options are available.
Kitchen – The kitchens in the RV will most likely contain a refrigerator, microwave, sink, oven, stove, pantry, storage space and counter space. Some RVs can feature dishwashers as well. A refrigerator can be powered by propane or by 120V shore power. A smaller fridge can be powered by 12V only. Big RVs often include large refrigerators that require 120V power supply.
Bathroom – The bathrooms in the RVs contain a toilet, sink, separate shower stall, medicine cabinets and storage areas. RVs that are short may feature a "wet bath", where the toilet and the shower are in the same area which saves space. Some small RV may not contain bathroom facilities, so always check.
Power – The electricity system in a typical RV usually includes 120V and 12V power. The RV's house batteries are in charge to power the 12 volt system, while the 120 volts are provided whenever the system is plugged into an external power source or from the RV's onboard generator, if it has one.
Propane – Propane is the primary source of fuel on most RVs for many of its appliances. Water heaters and furnaces can use propane to work and most RV refrigerators can use propane too. Another way to run a refrigerator is to connect it to a 120-volt power supply.
Holding tanks – Most RVs contain holding tanks or RV septic tanks. These come with a fresh water tank, gray water tank for the shower and sink water, and a black tank for sewage. The size of the tanks differs depending on the size of the RV and their design.
Appliances – If we take for instance a fully self-contained RV, you will find there more appliances than mentioned above, like a water heater, furnace, entertainment systems with TVs and stereos with DVD players or streaming options. Some RVs (mostly large ones) can also feature a clothes washer and dryer. Bear in mind that these appliances use a lot of water and power, so it's best to be hooked to utilities if you plan on using them.
Having all this features together in one vehicle makes a self-contained RV (see the linked article for detailed information).
Motorhomes
These are motorized RVs, so you don't need another vehicle to tow them. When it comes to motorhomes, you will find them ranging from class A to class C, according to their shape and size.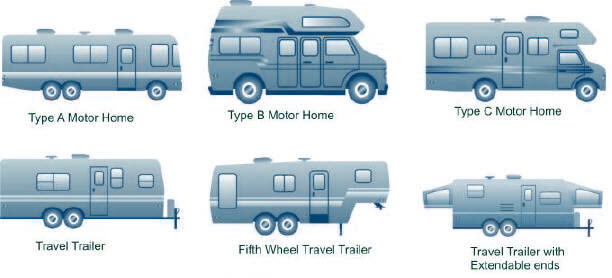 Class A
Of all motorhomes, Class A RV has the largest inside space. It has more storage than any other RV type, making it great if you want or need more space. This RV offers a lot of interior as well as exterior storage and many options for seating areas. The interior furnishing range from Spartan to luxury condos. You can find either gas or diesel engine, a single rear axle on short RVs or a dual rear axle on long RVs.
You can tow another vehicle with the Class A if you wish to leave your home parked and take a drive with a car. This class of RVs have the largest fresh water tanks and holding tanks compared to other RVs, and is truly a self-contained RV that has everything you want and need to make it a full time home.
With that said, bear in mind that because of its size, it may be hard to maneuver it to certain small or tight areas. It is also more expensive than other RV types and classes.
Length: 28-45 feet
Sleep capacity: 4-6 people
Slide-outs (for extra room): 0-4
Price: $100,000 – $400,000+
Now, I know I've said there is no one best RV for full time living, but if I had to choose, the Class A motorhome is probably the best you can get for a full time RV living in style.
Class B/B+
Class B motorhome (or van conversion) is a small RV, yet full self-contained. Because it's smaller than Class A motorhome, it's easier to navigate it in cities and urban areas, or camp in the nature. Another variation is the Class B+ RV, which is wider, has more space and room, yet still shorter than big RVs. This class of RV (B and B+) is suitable for one person or a couple who wish to enjoy wanting all the amenities of a self-contained RV that you can drive (instead of tow), but don't want or need to have a large, full-sized RV that can be hard to maneuver or find a parking space.
The Class B/B+ feature the same things like other motorhomes, only they are smaller in their size, making it easier to drive them. Some of them come with a 4×4 drive, but not all, so check if this is important for you, being able to drive it off-road. The cons of this class are its price range which is a bit high compared to its size, and that you may not get all the storage that you want or require. Also, the fresh water tanks and the waste tanks are smaller than other types of RVs.
Length: 19-27 feet
Sleep capacity: 1-4 people
Slide-outs (for extra room): 0-2
Price: $100,000 – $200,000+
Class C/C+
The Class C motorhome has the nose of a van and a living quarters behind it, a real home on wheels. The interior of this class can range from basic, cheap interior all the way to luxurious interior. Of course this varies accordingly. As for engine type, some run on gas while others on diesel, so you can find both.
Basically, you get here everything that the big and large RV has, only in a smaller package. Because it's smaller than the Class A motorhome, it's easier to drive it and maneuver it, and it's also less expensive. You can say it's kind of a smaller Class A motorhome. This RV is great for those who don't want or need a huge motorhome, yet want to enjoy an RV that doesn't need to be towed.
Length: 24-36 feet (Class C); 32-41 feet (Class C+)
Sleep capacity: 1-6 people (Class C); 1-9 people (Class C+)
Slide-outs (for extra room): 0-2 (Class C); 0-4 (Class C+)
Price: $80,000 – $140,000 (Class C); $200,000 – $700,000 (Class C+)
Fifth Wheel Trailers
Fifth wheel trailers are also very popular amongst people who are interested in full time RV living. This is an RV you can tow by attaching it to the bed of the pickup truck and not to the rear. The fifth wheel trailer provides with plenty of room and space, and is very stable on the road even when it is being towed. It's much cheaper than a motorhome, yet features all that you need for a full time living.
The cons of the fifth wheel trailer are that it's quite tall and heavy, so you'll need a large vehicle to be able to tow it. Also, because of its size, it can be challenging to get and park it on some campsites.
Length: 19-48 feet
Sleep capacity: 1-8 people
Slide-outs (for extra room): 0-6
Price: $18,000 – $225,000
Travel Trailers
Travel trailers are more suitable for camping, but I still thought it is worth mentioning it. The travel trailer is attached to the car and towed wherever needed. Once you arrive at your destination, you can park or camp it and continue traveling with the car only. The travel trailer is relatively cheap (compared to other RVs), and so it is considered a great entry point to those interested in feeling what it is like to experience life in an RV.
In this trailer, you can find sleeping areas, seating areas, a full kitchen, bathrooms, and storage space. It is ideal for camping, but again, because you can still live in it and it's much cheaper than the other RVs, I thought you should get to read about it as well.
There are many different models you can choose from, it can function as a home without problems and you don't need a big vehicle in order to tow it.
Length: 13-39 feet
Sleep capacity: 1-6 people
Slide-outs (for extra room): 0-3
Price: $15,000 – $150,000
Notice: with all this said, there is the option of living in a renovated and affordable RV. Here is a video from someone who dealt with this challenge:
How Much Does It Cost to Live Full Time in an RV?
The cost of living full time in an RV is comprised of various factors which I will now go over. After that, I'll let you know how you can save money in the process, so you spend less on the road. So, let's talk expenses first, yet bear in mind that some of the expenses (mostly the ones concerning RVs) differ from one RV to the next, depending on their size and engine.
The RV
You already know the cost of RVs and as you can see they are not cheap most of the time. However, you don't have to purchase a new RV, do you? You can find used RVs that are in good condition or that require some renovation, but it will probably cost you less than a new RV. Another plan is to purchase an RV (whether used or new) and pay for it on a monthly basis. You can even pay $400 – $600 a month for an RV.
Insurance for the RV
Full time RV insurance can cost on average $1,500 per year. With that said, you should know that the costs as well as the policies may vary. A Class C insurance policy may cost $1,000 per year, while a Class A insurance policy can cost $2,000 per year. The cost of the insurance also varies on the size of the RV. You should also know that insurance is more expensive on new RVs than on used RVs.
When getting a full time RV insurance, see if it covers RV theft, road accidents (that's a must) and cases of burglaries. You should know that many RV insurance policies don't cover personal belongings and interior furnishings. If it's important for you, see if you can add an extra clause in the policy.
Insurance agencies in USA have 3 class sizes when it comes to rating RVs. RVs categorized as Class A are considered being luxury full-time homes. Class B RVs (also known as "camper vans") are smaller than Class A, less lavish, yet still can use as a full-time home. And the last one is the Class C RVs.
Gas
Gas is an expense that you can fairly control, by planning where you're headed, how much and how far you will be driving. You can pay on average $250 per month on gas with months where you'll be travelling every 3-4 days and some months staying in one place. Again, you can control this expense, but remember that the bigger your RV and the more powerful it is, the more gas it will consume.
There are three ways where you can save money on gas:
Stay in different places for longer periods of time and when you do travel, do it in shorter distances.
If your RV requires diesel instead of gas, get a TSD Logistics card and save money.
A Sam Club membership can help you save some money per gallon no matter if your RV runs on gas or diesel.
Maintenance
You've purchased or invested in an RV which is your home now, so you would want it to be in order all the time. You never know when you'll have to change a part that goes bad, damaged, replace tires and so on. Things happen and when it comes to RVs you'll probably have to maintain or fix it from time to time.
That is why when it comes to maintenance, I always recommend to put aside a sum of money each month, just in case something happens that needs attention. You never want some kind of a problem coming out at you out of the blue when you're short on cash, so try putting aside $100 each month just for the purposes of maintenance. Think of it like insurance for repairing your RV.
RV Parks and Campground Fees
You need to pay camping fees and they may differ too from one place to another. The average cost of an RV park is around $35-$50 per night (the west coast is typically more expensive). Private parks can cost $20 – $120 per night. The prices vary depending on the location, season and amenities. Remember, that some parks offer hook-ups, while other do not.
The good news, is that you can save money here as well:
Opt for fewer hook-ups.
Look for sites that provide only water and electricity. You should also utilize their dump station when leaving the park.
Get an RV membership like Good Sam or Passport America and save money with the discounts they offer. You can even save 50% at over 1,450 campgrounds all over USA.
Look for a program called Harvest Hosts. It allows you to stay in over 1,400 places like breweries, wineries, farms, museums, distilleries and other locations for free.
Boondock. This means living in an RV without any external sewer, water and electricity connections. It is also known as dry camping since you're not connected to anything. This can be achieved by camping or staying on public land for free.
The following image summarizes average prices of camping your RV in any US state:
Storage Fees
If you have some property that you put aside and keep in storage, well, you'll have to pay storage fees. There are many options when it comes to storage unites, so I've added a table to organize everything for you:

Groceries
Grocery cost will vary according to the number of mouths you feed, the groceries you decided to buy, and the places where you buy food. Some places are cheaper while others are more expensive. If you are two people and buy fresh foods, you can come to around $400 per month.
Eating Out
Same goes here, as prices vary from different places and locations and the food you order. If you limit your budget on eating out and settle for local restaurants and something like Starbucks, you can spend around $120 – $150 per month, which is very low. Some full-time travelers spend a lot more, as they must explore many restaurants on their way. So, basically it's all about managing your budget appropriately.
Health Insurance
This is a topic that can be discussed on its own, but I'll try to be brief so you'll get the general view of things. Many health insurance plans don't apply to full time RV living, as they don't follow customers from state to state. This means that they are valid only in your domicile state. The only exception is the visits to the emergency room. Usually, any medical insurance plan would cover this.
Not to worry, there are solutions even for full time RVers.
You can visit Health Insurance Marketplace to find a plan that you can afford.
Fixed-benefit insurance
Short-term health insurance
Healthcare sharing ministry plans: the money is pooled from all those who take part in the sharing plan. Once one of the participants meets his or her deductible, the medical bills gets paid.
Health insurance varies from one person to the next and has different factors that determine the plan and its cost, but you should know that Florida is one of the states where insurance is most affordable in general, and can cost you $200 per month for premium plan, and it's worth it.
The Internet
When it comes to the Internet while living full time in an RV, here are some of your options:
Cellular Internet – It's cost effective, has good speed, and requires low maintenance.
Campground/public Wi-Fi – Although it's most likely free, there's no guarantee that is will reach your RV, not to mention that it is slow and not secure. Best to avoid this option unless there is no other way to get online.
Satellite Internet – It's expensive, requires high maintenance, high latency. Nonetheless, it's a very reliable method for off-grid communication (see the linked article for detailed information on how to communicate with others when you're living off the grid).
With that said, let's talk about what you really need in order to enjoy Internet in the RV the proper way. Here is what you should do:
Get a hotspot, mobile cellular device or cellular modem.
Get a data-only plan or add-on from a cellular provider.
Get an antenna that will pick up even more signal.
Get a cellular amplifier to pick even more signal (especially if you plan to work full-time from your RV).
Cellular Internet is probably the easiest and most common way to enjoy Internet connection for full time RVers. It's the most flexible method, and is always with you.
As for price of plans, they vary from one company to the next, so you can expect prices that range between $35-$99 per month, depending on the plan itself and the provider.
These are your big or primary expanses, but of course that there are smaller ones, like purchasing additional clothes, getting a subscription to Netflix, Spotify, purchasing books, movies, paying taxes, various fees, and so on.
Note: If you're planing to use the RV to fully live off the grid, then I warmly recommend you read my article on off-grid RV living.
How to Earn Money While Full-Time RVing
Today, there are many ways to earn money both online and while travelling. When you're on the road and full-time RVing, you won't be working the "regular" 9-5 hours, so how will you earn money? Here are some original and interesting ways to earn money that truly work.
Start a Business
No, you don't need to build or rent a factory, and you don't need to manufacture in China. I'm talking about starting an online business, and it couldn't be easier nowadays. A lot of people are interested in RVs and full-time RVing, so why not tell and share your own story and tips?
You can do podcasts, start a YouTube channel documenting your life and journey on the road, maybe even a blog about your life, RVing, the outdoors, and more. I even recommend you do Internet and affiliate marketing, promoting items and things you think are worthwhile for the full-time RVer and earn money from commissions.
The possibilities are endless these days, you just need to be a little creative and go for it. People love to hear about adventures and true stuff happening around them that can inspire them as well.
Work in a National Park
Each year, thousands of employees are being hired by the national parks and their concessionaires to work in the campgrounds, lodges, restaurants, etc. The work options are pretty wide, and they include jobs in customer service, housekeeping, sanitation, maintenance, and more.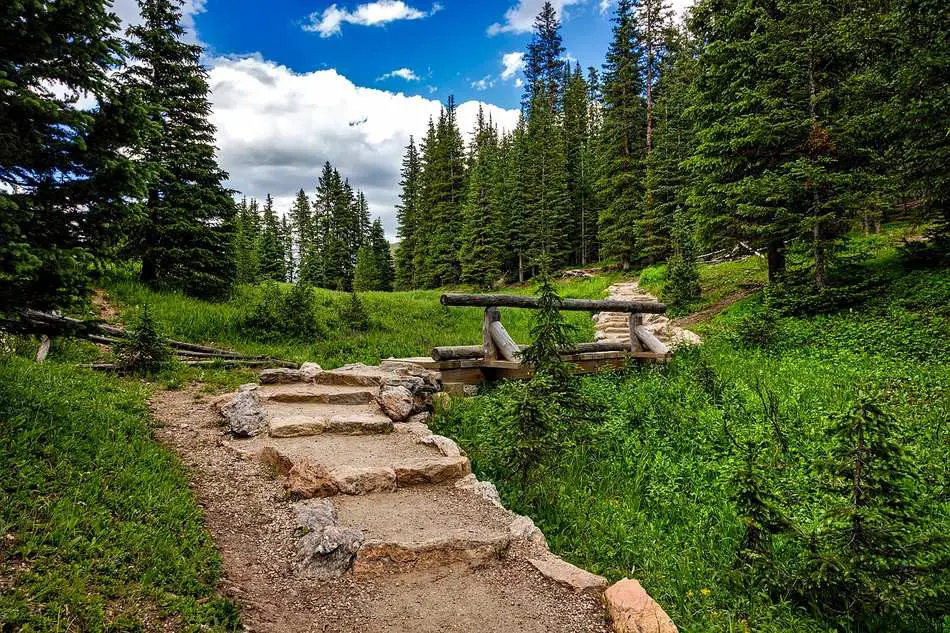 Camp Host/Seasonal Campground Work
A camp host greets the visitor as he arrives, rides in the carts, and is basically there to help and support the campground. State parks, federal parks and private parks all hire camp hosts and other seasonal employees. However, bear in mind that if you're interested in this kind of job, know that there are camp host positions that only offer free camping space and in exchange expect from you a certain amount of work hours. So, that is not the way to earn money, therefore check carefully before you sign-up if they actually pay and how much.
Other seasonal employees that campgrounds hire are workers in maintenance, concession stands, groundskeeping, and so forth.
Theme Parks/Seasonal Attractions
Many places like ski resorts, museums, theme parks and more hire employees for seasonal work. Some of these places may offer you to stay in RV parks during your job there in rides, concessions and other attractions. Dollywood, for example, offers a medical clinic that is only for employees.
Online Teaching
Many people these-days sign-up for remote learning, be it languages, classes, courses and so on. Check out sites like VIPKID and Outschool.com and learn how you too can start teaching online and make money. For example, in VIPKID, which is a company based out of China, you can earn money by teaching English to students in China. And that's just one example for what you can teach online.
Renting Your Home
If you don't plan to sell your house, renting it is a great way to passively earn income. You can also place it on AirBnB. Many full-time RVers earn income from the house they left to go on the road.
Gate Guarding and Energy Work
Energy companies (especially in Texas) hire people who live in an RV to work the gates. Their job is to check anyone who comes in and if he's supposed to be in the premises. The job is usually a 12-hour work which rotates between two workers. This kind of job usually pays well, although it can be remote, lonely and even windy at times.
Another type of job that the energy companies offer is for people to travel with their RVs while working on construction of a pipeline, or inspecting and checking the condition of the pipeline.
Farm Work and Harvesting
Many farms provide work to people who need to quickly earn some money. This is a short term work, with sugar beet harvest being very popular. This kind of work also pays pretty well and you only need to work a few weeks to earn some good money that can get to thousands of dollars. It's hard work and takes all day, but like I said, it pays well and not for nothing.
There are many other jobs and ways to earn money on the road, even as a full-time RVer. Some other options to earn money is to work as a seasonal bartender, mobile RV mechanic, become a freelancer offering graphic design, writing articles, affiliate and Internet marketing, traveling salesman, carnival worker, and so on.
Frequently Asked Questions About Full Time RV Living
In this section, I thought to address some frequently asked questions that a lot of full-time RVers get. So, let's have a look at some interesting ones.
Is Living in an RV Cheaper Than Renting?
Living in an RV is efficient and economical, because you're living in a smaller place. Therefore, you are using less items, less utilities and basically less everything than you would have normally used in an apartment. Cost of rent can range between $600 – $2,500 per month, depending the location and the size of the apartment. Also, price of rent can always change and is not constant.
On the other hand, if you had bought and RV and even took a loan on it, you pay $200 to $800 per month to cover the loan. Eventually, you will cover it entirely, whereas rent needs to be paid each and every month.
Remember that you can always rent an RV, especially if you don't want to fully commit to a long term RV living at the moment. This is the right place to recommend RVshare, the world's leading site for RV renting. RVshare can get you an excellent RV in no time, whether you're just planning a small vacation or intend to test a motorhome before fully committing to it. This is the largest RV marketplace in existence, with thousands of positive reviews.
Where to Dump Black Water Tank?
It may not be fun, but it's something that you'll have to attend to from time to time. Here are 9 places where you can safely dump your black and grey water tanks:
Campgrounds and RV parks – They have designated areas where you can dump your tanks.
Recycling centers
Gas stations – Not all gas stations will be suitable, you'll most likely find places to dump the tanks in truck stops as well as stops near recreational areas.
RV dealerships – For a fee, it is possible to use their services.
Marines – People who own boats have the same needs as RV people.
Wastewater treatment plants – These plants often offer solutions when it comes to sewage in order to dispose waste in a responsible manner.
Septic tank
National parks – Today, fewer parks offer this service as before. It is recommended to call and check ahead.
Sporting goods stores – Again, probably not all stores, so best to check first.
How to Stay Fit While RVing?
When you're living full-time in an RV, you spend many hours on the road, you lack exercise, you don't go to the gym regularly and maybe you're not eating healthy as well. It is extremely important to take care of yourself and your body, especially when you're on the road, so here is how to do it properly and also have fun during the process.
Simple workouts – You don't have to go to the gym in order to do a good workout, thanks to workouts you can do anywhere that are entirely focused on bodyweight exercises. You can easily download and use a fitness app or view online exercises. Bodyweight workouts and exercises are easy, fun and allow you to stay in great shape even while RVing. All you need is to dedicate 15-30 minutes every day, and you're fit and strong like never before. If you wish your exercise to be even more intense, bring with you a small set of dumbbells or resistance bands. They are perfect for this and don't take space in your RV at all.
Exercise on vacation – When you're RVing, you'll be visiting a lot of interesting and amazing places, national parks and so on. Use this time for exercise as well. Enjoy nature and travelling by combining a bit of exercise as well. You'll feel better, renewed and stay focused and in great shape. There's nothing more fulfilling than working out outdoors connected to Mother Nature. Just think how amazing it could be to take a run from time to time in places like The Grand Canyon.
Eating healthy – It can be a bit challenging to eat properly and healthy, especially on the road. But, here are some tips and tricks to help you start eating healthy even when RVing full-time:

Tip #1: Save time and money by planning your meals in advance. It will also help you to maintain a consistent diet when you're on the road. The plan helps cut out the stress and headaches of scheduling stops to eat, whether at fast food restaurants or gas stations and allows you to make and have healthier dinners on the road.
Tip #2: Try avoiding unhealthy snacks and prefer having beef jerky, trail mix and Greek yogurt if you have too.
Tip #3: Use the grill as it helps maintain a healthy diet on the road. You can cook much more than your ordinary chicken or steak on an RV grill. You can grill vegetables as well as fruits and make unique meals and dishes with amazing and tasty flavors.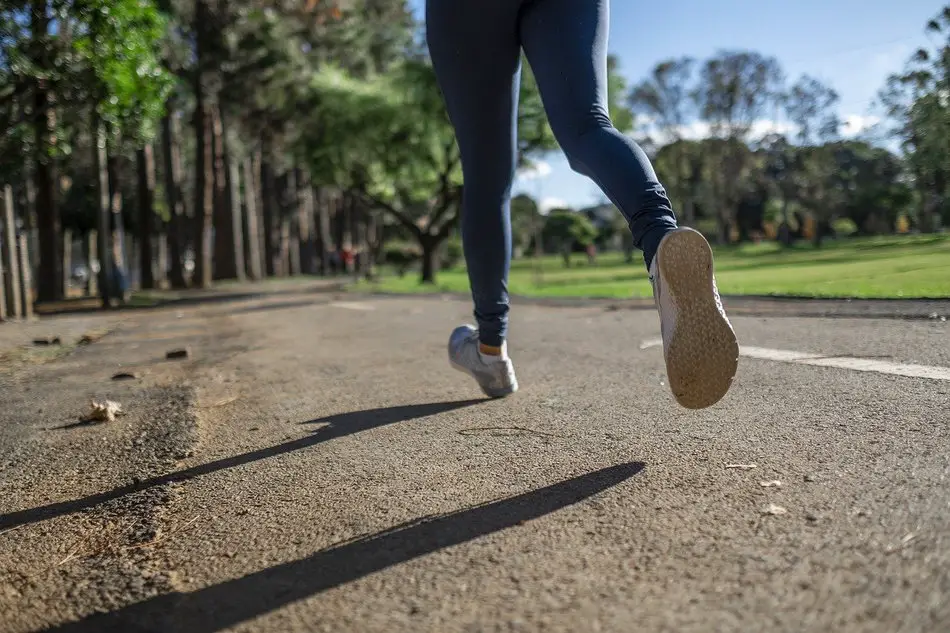 How to Homeschool While RVing (Roadschooling)?
Families with kids that travel the country have a number of options when it comes to teaching and education.
Homeschooling – In the traditional homeschooling, the parents teach their kids at home (or the RV in this matter) from a packaged homeschool curriculum. The kids sit and learn around a desk during specific hours each day, just as if they were in school.
Literature-based school – Charlotte Mason is the most popular and common when it comes to literature-based school. Her curriculum is based on nature study, art and quality books. There are various curriculums of the teachings of Charlotte Mason and you can find them online for free or purchase them.
Unit studies – Unit studies mean to teach the kids all subjects on one topic. English, History, Science, Math, Art and more. All the teaching is based on books, topic of interest, and even field trips.
Eclectic education – In this approach to homeschooling, the kids learn traditional material and subjects as well as literature-based subjects. This style is great for full-time RVers, because you can relax and teach easily, allowing the environment to determine your style of teaching.
Online school – In this approach, you enroll your kids in a form of online school (or online homeschool) and this way you make sure that they meet the standards of the state while at the same time they can still travel.
It's important that each family decides the teaching approach and learning style that they think works best for them and their kids, and to be willing and open to changes if and when necessary. With that said, you should be aware of legal issues when it comes to homeschooling. Laws and requirements regarding the homeschooling differ from state to state. For instance, while in certain states you are not asked to report, in others there are requirements to give grades monthly, as well as have tests on a yearly basis.
Many families that are full-time on the road choose Florida or Texas for their state of domicile, because they are very friendly to full-time RV living, and their laws for homeschooling are less strict. Texas has no requirements. Florida permits to enroll in umbrella schools, where attendance is reported only once in a quarter. In both Texas and Florida, there are online courses from elementary to high school. High school students are even allowed to participate in college classes (either for a small rate, or for free).
Can I Raise a Pet While Full-Time RVing?
You can always raise a pet, but you have to take into consideration a few things. You need to have enough space for both your family and the pet. Make sure you can afford to feed it and take care of it, which means that you need to adjust your budget accordingly. You need to have time to raise a pet. Now, let's assume that you decided to adopt and bring a puppy to live with you on the road. Here are a few important things to know and follow.
Puppy-proof your RV – A puppy is curious and checks everything with his mouth and teeth. You don't want him to nimble or chew your new RV. So, put away anything that is dangerous, so the puppy won't eat it (such as cleaning supplies). Hang electrical cords high, so the puppy won't reach them. Pick up clothing, shoes and anything that is valuable that you don't want to see destroyed. But still, the puppy may chew furniture and things in reach, so take that into consideration.
Training your puppy – One thing you can do is to train your puppy to prefer his own toys and items you don't need, but are safe for him to play with and chew. Teach him important and basic commands like: stay, leave it, sit, wait, and come. A trained puppy is a relaxed puppy. Also, when you work with your dog on tricks and do mental work with him, it's even more tiring for him than actual physical exercise.
Physical exercise – Every dog must have physical exercise. Some dogs more, others less, depending on their size and breed. Physical exercise tires your puppy, and a tired puppy is a better-behaved puppy. Walk with the puppy around the RV park, let him sniff while on those walks, play fetch with your puppy, and more. The American Kennel Club recommends three exercise sessions per day. It is also important to vary the type of exercise that your puppy gets, because repetitive exercise can damage its growth. Two short walks as well as a play session is a good start. Don't overdo the training, walks or exercise, and always watch closely if your puppy gets tired. As your puppy grows, then he can have and enjoy longer walks and play sessions, but you must increase the amount of exercise time slowly.
Final Words
So there you have it, the most comprehensive guide on full time RV living you can find online. The free road awaits you, as long as you are fully prepared and aware of all the challenges you will face. Do everything properly, just as I explained. Never go against the law and the common sense. And moreover, enjoy the biggest adventure of your life!
I have two more useful articles on RVs. You have probably heard an expression "self-contained RV" and wondered what it stands for. I posted earlier a full explanation on self-contained RV, you should really read it. Additionally, if you're dreaming about living off the grid, then read my article on off-grid RV living.
Finally, if you're looking for a similar off the grid experience, but on a smaller budget, then take a look at my article on living off the grid in a van.
Safe travels, my friends!