Off grid communities have been around for decades, but they drew an increased attention and interest in the recent years. Social unrest, economic and political instabilities, natural disasters, unwelcome pandemics – everything that's been happening recently is driving people toward simpler and freer lifestyle.
Off grid life is not something illegal or unusual, like the mainstream media would want you to believe. It basically means living without being dependent on public utility companies and official power grid. Off grid lifestyle often entails producing your own energy (from the sun or wind), growing your own crops and livestock, and living in a house away from the urban life. Some do it on their own or just with their families, while others unite in small off grid communities.
I did an extensive research and made the most comprehensive list of such communities around the globe. Since this is an article in English, I mostly list the communities in the English-speaking countries, but I will mention off grid communities in other countries as well.
Here is a table of contents for easier navigation:
And now, let's have a look at off grid communities in each region.
The following video summarizes this article:
Off Grid Communities in USA
The United States has always been an encouraging nation, as far as off grid living is concerned. There are states such as Florida, Arizona, Colorado and Missouri, where the combination of climate, land availability and local laws creates very welcoming conditions to live off the grid. I would like invite you to read my full review of the best places to live off the grid in the USA.
Emerald Earth in Mendocino County, California, is based on 189 acres of meadows and forest. The community was established in 1989 by their own non-profit organization. Like-minded individuals and families are invited to apply for membership. The community grows their own food and strives to enrich their environment instead of depleting it. Emerald Earth's members have an extensive knowledge of natural building and sustainable agriculture. They also conduct workshops, harvest seaweed at the coast and raise their own livestock. Although everyone involved do a lot of communal work, they also have plenty of spare time and energy for personal projects.
Dancing Rabbit Ecovillage is an off-grid community located in the northeast part of Missouri. Dozens of its members enjoy living in houses made from recycled materials that are powered by renewable energy. This ecological village has been flourishing for over two decades. Visitors to Dancing Rabbit can gain a lot by learning organic gardening, production of alternative energy, self-governing management, and other useful off-grid skills. The ecovillage functions as a living laboratory, testing how permaculture can serve as a better approach to farming. The community also holds annual events, such as the Women's Retreat, singing gatherings and Open House, and everyone is invited to visit! Here is a video from Rae Machado, who started living in Dancing Rabbit with no prior experience in farming or living off the grid:
Off Grid Communities in Canada
The off-grid lifestyle is flourishing in Canada. Thousands of groups, families and individuals are settling on their own land, away from the bustling cities. The areas around Rocky Mountains, Okanagan Valley and New Brunswick are especially sought after. At the same time, other parts of Canada are less suitable for the off grid life, as I explain in details in my "Where Is the Best Place to Live off the Grid in Canada?" post. Just look at the following map that includes many off-grid places across the country: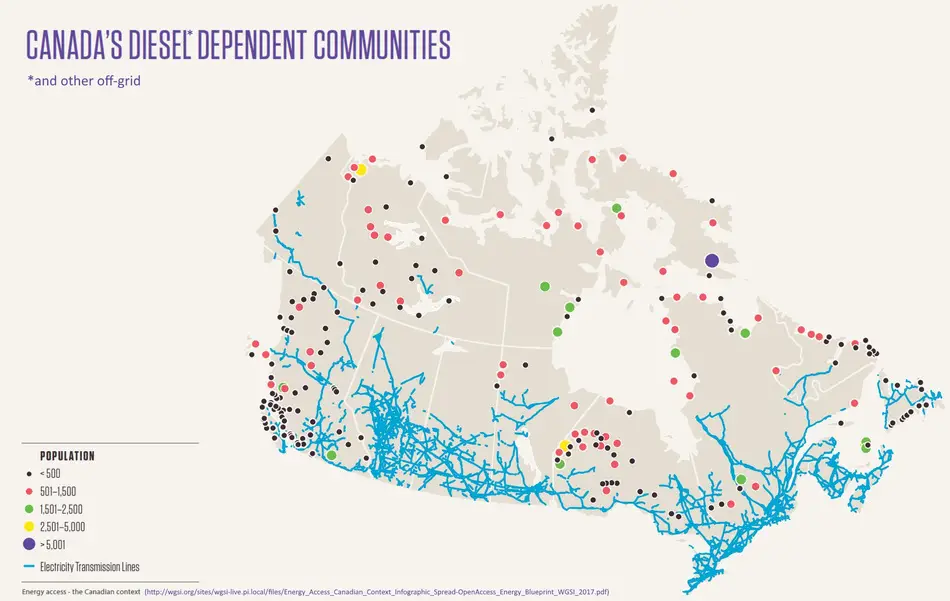 Let's have a look at a few established off grid communities in Canada.
Off Grid Communities in United Kingdom
The off grid life in UK can be challenging, but then again, it's challenging in other places around the globe, too. You will need to locate an arable land, preferably close to a water source, so some scouting across the UK is in order. And unless you intend to dwell in a hut or a caravan, you will need to deal with UK Planning Permission System before establishing a permanent homestead. I go into more details about my post on UK off grid living. Here are a few off grid places in UK that make it work.
Brithdir Mawr is a large farm in Pembrokeshire, West Wales. It does not use the country's water lines and power lines, therefore it's completely off the grid. The residents conserve and recycle resource, dedicate their time to organic farming and generally take care of the nature and the environment. There are currently 20 people living on an area of 165 acres, and they welcome visitors as well as new members. Adult members are required to work 3 days per week for the community, and the rest of their time can be directed to their personal projects. Brithdir Mawr's vision is to keep educating future generations regarding sustainable lifestyle and the preservation of natural resources.
Findhorn Foundation's Community Eco-Village Project is located in the northeastern part of Scotland. There are over 400 people living here, from 40 different countries! Together, they participate in this huge experiment, running an intentional community, cooperating and creating together. The eco-village is open to more members and visitors from all over the world. The natural conditions at the Findhorn peninsula are challenging, yet the residents were able to establish beautiful gardens that flourish on the sand dunes. From its humble start as a caravan park, this community has significantly grown over the years, constantly evolving and expanding.
Tinkers Bubble, situated in rural Somerset, England, is a charming woodland community that runs without any use of the fossil fuels. The small houses with thatched roofs create the illusion that you stepped into Tolkien's Shire. Nonetheless, this is a great off grid community with solid goals and principles. They make sure that their impact on the environment is minimal. They use compost toilets, spring water connected to the taps and solar energy. The small village always welcomes volunteers and curious visitors. Here is a story that BBC recently did on them:
Off Grid Communities in Australia
Off grid living is definitely on the rise in Australia. People are drawn to the eco-friendly aspect of this life style, as well as more affordable housing costs. It's not illegal to live off the grid there, but some rules and limitations do apply. I have even more information in a separate article about living off the grid in Australia. And now, let's have a look at the local off grid communities.
Off Grid Communities in New Zealand
New Zealand is a very appealing off-grid destination, thanks to its remoteness and the astonishing nature. Both the Tasman Sea shore and the West coast are suitable locations; especially the West coast, thanks to its richness of fresh water sources. There are a couple of off-grid NZ communities as well.
Kotare Village is a community in Hawke's Bay Region. This eco-village is a home to dozens of self-reliant families, who want nothing more but to enjoy their independent life style as well as a regenerative future. Currently, their main power source is solar panels, and they plan to establish their own energy grid. The community's trust owns the land, so you never have to worry about the government reclaiming it. The village is planned to be sustainable for many years in the future, offering an alternative to the unstable global economy. See the following video for further impression of this wonderful off grid community.
Te Manawa is another eco-village, located in the Motueka Valley. This small and charming community always welcomes guests and volunteers. There is a scenic natural views wherever you look, with mountains, valley, sea and even 2 fresh springs nearby. There is a story about a Dutch family that fell in love with the place and completely relocated there. They now live in a yurt and enjoy every moment of this peaceful and fulfilling lifestyle. Everyone in the community feels like they are the guardians of this land. The power is supplied by solar and hydro systems. It's a completely sustainable eco-village that exists in harmony with the surrounding environment.
Wilderland was established in 1964 on the Coromandel peninsula. It started as one of New Zealand's earliest organic farms, and eventually transformed into a well-known sustainable community. People who live or visit Wilderland learn significant skills that help them to practically and intelligently live off the land. The Wilderland Trust is always focused on developing both the land and the people tending to it. Wilderland carries experimentation that explores eco-balance while growing new crops and plants. On a more personal level, the local community encourages creativity and education, while discouraging any use of drugs and substances. This is truly a great place to be and grow.
Off Grid Communities in Other Countries
The off grid situation in other countries widely varies. Obviously, some of the countries are not yet fully modernized, so a large part of the local population already lives off the grid (if a grid even exists there). In other places, a strict religious or Communist regime does not allow any form of personal freedom. This why I will mostly mention off grid communities in democratic countries.
Related Questions
Where can I live off grid for free? There is no completely free option to start an off grid life. You will need to invest at least some amount of money into your tools, equipment and a tiny house. As for the land itself, it's pretty rare to find a lot that costs next to nothing and yet includes fertile soil. I would like to direct you to my additional article, "How Much Does It Cost to Live Off the Grid?", where you can get exact information regarding the expected expenses.
Is it illegal to live off the grid in the United States? Technically speaking, it's not illegal. No one forces you to connect to the power grid lines. However, before establishing your off-the-grid homestead, you should become familiar with the local laws and regulations. An independent house is still required to abide by building codes and restrictions. For more information on this topic, here is an article about whether it's legal to live off the grid in the USA, as well as about the best places to live off the grid in the USA.
Where is the best place in the world to live off the grid? Although I listed quite a few off grid communities, not all of them are welcoming new dwellers. And you're probably wondering at this point, "Where should I choose to live off the grid? Maybe I should move into another country?" There are quite a few countries and places that welcome the off-grid life style, such as USA, Italy, Portugal and even Japan. As it happens, I also have an article on this subject, so feel free to read my complete list of best places in the world to live off the grid.