One of the best things about hiking is that there's such a variety of styles and trails to choose from. Whether you want to take a leisurely stroll through the woods or tackle a strenuous climb up a mountain, there's bound to be a hike that suits your needs. And with so many different types of hiking out there, it can be tough to decide which one is right for you.
To help you narrow down your options, I've put together a list of 25 different types of hiking, suitable for every physical ability, age, gender, objective, length of available time, and so on. So, whether you're looking for a gentle nature walk or an adrenaline-pumping adventure, I've got you covered.
What are the different types of hiking?
1. Day Hiking
Day hiking is a great way to get outside and enjoy the beauty of nature. There are many different trails to choose from, so you can find one that suits your fitness level and interests. Day hikes can be short or long, easy or challenging.
If you're new to hiking, start with an easy trail. You can gradually work your way up to more difficult hikes as you build your stamina and confidence. Be sure to dress appropriately for the weather and wear comfortable shoes. The right hiking clothes can make all the difference; see the linked article for the best suggestions. Bring plenty of water and snacks and let someone know where you're going in case of emergency.
2. Night Hiking
Night hiking is all about getting some exercise and enjoying the outdoors after the sun goes down. There are a few points to remember when night hiking, such as staying on marked trails, bringing a flashlight, and wearing bright clothing. Night hiking can also be a bit more challenging than daytime hikes, so take extra care and pay attention to your surroundings.
In addition, it's usually colder during the night, even if you're hiking in summer or spring, as suggested in my article that discusses the best time to hike. Make sure you're dressed warm enough to avoid being bothered by the chilly air.
There are a few more useful tips you need to know, such as how to use your natural night vision, how to stay focused and safe, what headlamps and flashlights you should bring, and so on. All this information can be found in my post on how to hike at night.
3. Overnight and Weekend Hikes
Hiking can be done at any time and in any place. Whether you want to hit the trails on a weekday afternoon or spend all weekend exploring the backcountry, there's a hike out there for you. Those of us who want to turn a hike into a small vacation prefer going on a hike that lasts 2 to 3 days.
Some of my favorite overnight and weekend hikes are:
The Appalachian Trail: This world-famous trail stretches from Maine to Georgia and covers some of the most beautiful terrain in the eastern United States. If you're up for a challenge, attempt to thru-hike the entire trail in one go. Or, if you prefer a more relaxed pace, pick a section to hike over several weekends. Either way, spending time on the Appalachian Trail is sure to be an unforgettable experience.
The John Muir Trail: This 220-mile trail runs through California's Sierra Nevada mountains and is considered by many to be one of the most scenic trails in North America. The John Muir Trail is usually hiked as a point-to-point trek over 3-4 weeks, but it can also be done as shorter sections over multiple weekends. Whichever way you choose to tackle it, this stunning trail is definitely worth checking off your bucket list.
The Pacific Crest Trail: Another well-known long-distance trail, the Pacific Crest Trail spans 2,650 miles from Mexico to Canada through California, Oregon, and Washington state. Like the other two trails mentioned above, attempting to thru-hike the PCT is an epic undertaking (one that takes most people 5-6 months). However, there are also plenty of shorter sections that make for great weekend getaways. No matter where you hike along this incredible trail, breathtaking views are guaranteed.
4. Solo Hiking
Solo hiking is a great way to clear your head, get some exercise, and enjoy nature. But hiking alone has its own challenges. Consider the following questions before you set out on your own:
Are you comfortable being alone in the wilderness? If you're not used to being by yourself, solo hiking can be lonely and stressful. You need to be mentally prepared for some time alone before you go.
Do you have the right gear? Hiking solo means you'll need to be self-sufficient. Bring plenty of food and water, a first-aid kit, and map and compass. And know how to use them! If you're not sure which compass to choose, please check out my article on types of compasses.
Are you familiar with the area? If not, do some research before setting out. Know where the trails are, what the terrain is like, and what kind of weather to expect. And always let someone know where you're going before heading out into the wilderness alone.
For additional information and tips, please read the article on hiking alone and enjoying every moment.
5. Hiking for Women
Hiking as a group of women can be extremely rewarding. There's nothing like getting out in nature, enjoying the fresh air and incredible views, and spending time with good friends. But before you hit the trail, it's important to choose the right hike for your group.
So, how should you approach the idea of hiking with other women?
Consider the fitness levels of everyone in your group. You don't want to end up on a strenuous hike that leaves half the group exhausted. Instead, look for trails that offer different difficulty levels so everyone can find their perfect pace. It's also recommended that your group maintains the speed of its slowest member.
Think about what kind of scenery you're hoping to see. Do you want to stick close to home or venture further into the wilderness? Are you looking for waterfalls or mountain vistas? Knowing what everyone wants to see will help you narrow down your options.
Factor in how much time you have for hiking. If you only have a couple hours, there's no point in driving several hours just to get to the trailhead. However, if you're planning an overnight trip, distance won't be as big of a concern.
Get the right clothing for hiking. If you're not sure which clothing is considered the best for hiking, I recommend checking my guides to the best hiking hats and best hiking pants for women.
Naturally, you always have the free choice to hike on your own as well, just like Alice Ford demonstrates in her video:
6. Over 40 Hiking
Hiking can be especially beneficial for those of us, who are over 40. According to the Mayo Clinic, hiking can help reduce the risk of developing heart disease, improve blood sugar levels, boost bone density, and increase muscle strength.
As always, it's important to choose the right type of hike for your abilities. If you're over 40, you may want to consider an easy hike that doesn't require too much exertion. Here are a few tips for finding the perfect hike:
Look for trails with gentle slopes and well-maintained paths. Steep inclines can be challenging, even for experienced hikers.
Avoid hikes that are too long. You don't want to push yourself too hard and end up exhausted half-way through the trail. Stick to shorter hikes or ones with frequent rest stops.
Get appropriate shoes and clothing. Hiking boots are essential for a hiking trip, see the linked article for top recommendations. And always remember to wear layers, so you can adjust to changing temperatures as you hike.
7. Elder Hiking
If you're an older hiker, you might be looking for a more relaxed pace and scenic routes. Here are some great options for elder hikers:
Carriage roads: These gentle paths are perfect for a unhurried stroll or hike. Many of them are located in national parks, so you can take in the beautiful scenery while getting some exercise.
Rail trails: These flat, wide trails are often used by cyclists and joggers, but they make great hiking routes too. They're usually well-maintained and offer stunning views.
Urban hikes: If you live in a city, there are probably plenty of places to go for an urban hike. Look for parks with good walking trails or even just quiet streets with interesting architecture.
8. Romantic Hiking for Couples
One of the best ways to enjoy nature with your significant other is by going on a romantic hike together. This type of hiking is all about enjoying each other's company while taking in the beauty of your surroundings. Here are a few tips for planning a romantic hike:
Choose a scenic location: A big part of the romance factor when it comes to hiking is the stunning scenery. Do some research ahead of time and pick a location that you know will be visually appealing.
Plan ahead: Don't try to wing it when it comes to packing for your hike – make sure you have everything you need, including snacks and plenty of water. It's also important to map out your route before setting off so that you can avoid getting lost (which isn't very romantic!).
Go at your own pace: One person shouldn't be dragging the other along – take breaks as needed and go at whatever pace works best for both of you. The goal is to relax and enjoy each other's company, not see how fast you can finish the trail!
9. Hiking With Kids
Hiking with kids can be a great way to get them outside and exploring nature. Here are a few things to keep in mind when planning a hike with little ones:
Choose an easy trail. A short, flat trail is best for young children who may not have the stamina for a longer, more difficult hike.
Pack snacks and drinks. Kids will likely need more frequent breaks than adults, so come prepared with snacks and drinks to keep their energy up.
Bring along some toys or games. A few small toys or games can help occupy restless kids during rest stops or while waiting for slower hikers in the group.
Be patient and flexible. Hiking with kids requires some extra patience – they may move at a different pace than you're used to, and they may need more frequent breaks than grown-ups do. But ultimately, hiking as a family can be a fun and rewarding experience for everyone involved!
10. Hiking With Dogs
Dogs have been man's best friend for centuries and there's no denying the special bond between people and their pups. Hiking with dogs can be an incredibly rewarding experience for both owner and pet, but it's important to do your research before hitting the trails. Different types of hikes will present different challenges (and opportunities) for your four-legged friend, so it's important to choose wisely. Here are some points to consider when picking a hike that's perfect for you and your pup:
Level of difficulty: Some dogs are born adventurers while others prefer an easygoing stroll. Consider your dog's fitness level and energy levels when choosing a hike. If you have an older dog or one that doesn't get much exercise, stick to shorter, easier trails. Conversely, if you have a young pup full of energy, look for longer or more challenging routes.
Terrain: The terrain on the trail can also make a big difference in how enjoyable the hike is for your dog. If the trail is too rocky or has difficult footing, it could be tough on your dog's paws (not to mention their joints). Likewise, hot sand or pavement can quickly wear out even the most energetic pups. Pay attention to the surface of the trail, as it should not be too tough on Fido's feet.
Length of time: Another thing to consider is how long you want to spend hiking. If you only have a limited amount of time, opt for a shorter route so you don't end up rushing through the experience (which isn't fun for anyone!). On the other hand, if you have all day or even multiple days to explore, pick something longer so you can really take your time enjoying nature with your furry friend by your side.
Dealing with hot weather: It is important that you two take some breaks and rest once in a while, especially if you are hiking during hot weather. Another thing to remember is to take enough water for both you and the dog. If it's exceptionally hot, pour water on the dog's paws and fur to cool the dog. Dogs do not sweat; they cool themselves down using their tongue, so it's important to keep them cool and hydrated.

Tip: There's a way to know if the pavement or ground is too hot for the dog's paws. Put your hand on the ground and see if you can hold it there. If it's too hot for your hand, then it's too hot for your dog's paws.
Here are a few trainer tips on hiking with your dog:
11. Summit Hiking
Whether you're a beginner or a seasoned hiker, summiting a mountain is an exhilarating and rewarding experience. If you're up for the challenge, here is how you can plan your summit hike:
First, choose your mountain wisely. It should be one that you can reasonably complete in a day, taking into account your fitness level and the time of year. Snowy conditions will obviously make this endeavor more difficult. Once you've selected your peak, do some research on the best route to take and map it out before setting off.
Second, start early! This will help ensure that you reach the summit before afternoon weather sets in. Be prepared for all types of weather though – even if it's sunny when you start out, conditions can change quickly at high altitudes. Pack layers of clothing, so that you can add or remove them as needed throughout the day.
Last but not least, don't forget to fuel up properly before embarking on your hike. A big breakfast will give you the energy you need to power through to the top. And of course, plenty of water is essential – bring more than you think you'll need just in case.
With this plan in mind, go forth and conquer those summits!
12. Long-Distance Hiking
If you're the type of person who likes to really get away from it all and explore the great outdoors, then long-distance hiking may be for you. This type of hiking entails spending extended periods of time out on the trail, often carrying all your gear with you in a backpack. Long-distance hikes can last anywhere from a few days to months at a time, and typically cover distances of 100 miles or more.
One popular long-distance hike is the aforementioned Appalachian Trail, which extends for over 2,000 miles along the East Coast of the United States. Other well-known long-distance trails include the Pacific Crest Trail and Continental Divide Trail, both located in North America. If you're interested in undertaking a long-distance hike, there are many resources available to help you plan and prepare for your adventure.
Long-distance hiking demands bringing durable clothing that can serve you in any weather. For instance, having the best possible socks should be among your priorities. This is why I warmly recommend Dickies Dri-tech Moisture Control Socks Multipack. They will protect your feet even in the coldest weather, while keeping them perfectly dry, thank to the patented Dri-tech. These socks come with fully cushioned bottom, which makes them highly cozy. They also have reinforced toe and heel areas, which significantly increases their durability. And with over 57,000 positive reviews on Amazon, you know that their quality is guaranteed.
13. Rain Hiking
Hiking in the rain can be a great way to get out and enjoy nature while getting some exercise. However, it is important to be prepared before heading out on a rainy-day hike. Here are a few tips to help you make the most of your rain hike:
Dress accordingly: Wear layers that will keep you warm and dry, including a waterproof outer layer. Be sure to wear boots or shoes with good traction to prevent slipping on wet trails.
Protect your gear: Pack everything in waterproof bags or containers so it doesn't get soaked. This includes your electronics!
Be aware of hazards: Watch out for slippery rocks, roots, and mud when hiking in the rain. Pay attention to trail markings and take extra care if crossing streams or other bodies of water.
If you are combining hiking with camping, you definitely need to read how to camp in the rain; this article will answer a lot of important questions regarding this challenging adventure.
14. Winter Hiking
Winter hiking can be a great way to get outside and enjoy the beauty of nature. But it's important to be prepared before you head out on the trail. Here are some tips for winter hiking:
Dress in layers: You'll want to wear warm clothes, but also allow you to regulate your body temperature as you hike. Start with a base layer of wool or synthetic fabric, followed by an insulating layer such as fleece, and then a waterproof outer layer.
Wear proper footwear: Your shoes or boots must be well-insulated and have good traction for walking on icy or snowy trails.
Pack essential gear: In addition to food and water, pack extra clothing in case you get cold, a first-aid kit, and a flashlight or headlamp. Winter hikers should also carry avalanche safety gear if they're going into areas where avalanches are possible. Bring along traction devices such as microspikes or crampons for your footwear, too. And verify that someone knows your plans before you go – tell them your intended route and when you expect to return home.
15. Weight Loss Hiking
One of the best ways to lose weight and improve your fitness is to go hiking. There are different types of hikes you can do, from short day hikes to multi-day backpacking trips. The type of hike you choose will depend on how much time you have available and your level of fitness. If you're new to hiking, start with a short day hike on a well-marked trail. As you get more fit, you can try longer hikes or more challenging trails.
Hiking is a great way to burn calories and build muscle, both of which can help you lose weight. A 160-pound person will burn approximately 438 calories per hour while walking at a moderate pace on level ground. And, since hiking often takes place in scenic areas, it's also good for your mental health. So what are you waiting for? Lace up those boots and hit the trails!
Here is a table that compares between different physical activities and how many calories they can burn. As you can see, hiking is among the activities that can burn the most calories without requiring you to be an experienced athlete.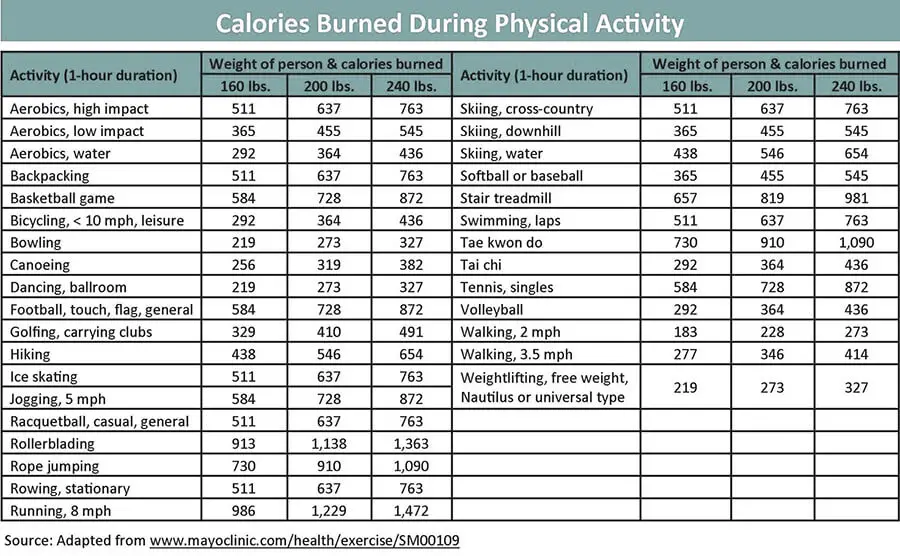 16. Backpacking
Backpacking is a great way to see the world and get some exercise at the same time. But what exactly is backpacking? And what are the different types of backpacking?
Backpacking is simply hiking with a backpack. This can be done for day hikes, overnight trips, or even multi-day expeditions. The key difference between backpacking and other types of hiking is that you will be carrying all your gear in the backpack, which means that you need to carefully select and pack everything you need.
There are three main types of backpacking: ultralight, lightweight, and traditional:
Ultralight backpackers carry only the absolute essential items in their packs, resulting in lighter loads and faster travel times.
Lightweight backpackers sacrifice some creature comforts for a lighter load, while still being able to enjoy many of the amenities of home (such as a tent).
Traditional backpackers follow more of the "Leave No Trace" principles, packing heavier gear but being prepared for anything Mother Nature might throw their way.
So which type of backpacking suits you best? If you're looking to travel fast and light, ultralight backpacking might be for you. If you want to go light but still have some comforts from home, then lightweight backpacking could be right up your alley. Or if you're someone who likes to be prepared for anything and enjoys spending time in nature, then traditional backpacking could be the perfect fit!
Whichever backpacking you choose, your gear must include a shirt that will keep you dry throughout the entire trip. NAVISKIN Quick Dry Long Sleeve Hiking Shirt does exactly that – it keeps you dry and comfy, while protecting you from the sun.
Its breathable fabric provides UPF 50+ sun protection, making it a perfect fit for any outsdoor activity. The fabric is also lightweight and moisture wicking, so you will never have to worry about the shirt becoming soaked and heavy.
There are over 6,000 positive reviews for NAVISKIN Quick Dry Long Sleeve Hiking Shirt on Amazon! Click here to read the reviews and compare prices.
17. Geocaching
Have you ever heard of geocaching? If not, you're in for a treat! Geocaching is a type of hiking that combines elements of scavenger hunting and orienteering. Participants use GPS devices to find hidden "caches" (containers) that are often filled with small toys or other items. It's a great way to explore new areas and have some fun at the same time.
If you're thinking about giving geocaching a try, remember these 3 basic rules:
First, ensure you have a good quality GPS device.
Second, be prepared for some light bushwhacking as you search for caches off the beaten path. See "Bushwalking" below.
Finally, don't forget to sign the logbook when you find a cache – it's tradition!
18. Mindful Hiking
We all know how good it feels to get out into nature and go for a hike. But what if we could make our hikes even more beneficial by being more mindful of our surroundings and ourselves? That's where mindful hiking comes in!
Mindful hiking is about being present in the moment and paying attention to your senses. It's about noticing the sights, sounds, smells, and textures around you and letting them affect you. And it's also about being aware of your own body and how it feels as you move through the landscape.
This type of hiking can be hugely beneficial for both your mental and physical health. Studies have shown that spending time in nature can help reduce stress, anxiety, and depression. And research has also shown that walking can improve brain function, memory, and concentration. So if you're looking for a way to boost your mood, lower your stress levels, or improve your cognitive functioning, give mindful hiking a try.
19. Pilgrimage Hiking
Pilgrimage hiking is a great way to see some of the most beautiful and sacred sites in the world. Whether you're looking to hike to a specific destination or just enjoy the journey, pilgrimage hiking can be a rewarding experience. If you're interested in embarking on a pilgrimage hike, here are a few points for you:
Choose your route carefully. There are many different pilgrimage routes to choose from, so it's important to pick one that suits your abilities and interests. If you're not sure where to start, there are plenty of resources available online and at local bookstores.
Be prepared for long days of walking. Pilgrimage hikes can often be longer than traditional day hikes. You must be mentally and physically prepared for the challenge. Bring plenty of food and water and take breaks often to rest your body.
Have respect for the sites you visit. Remember that you're visiting places that are special to many people, so treat them with care and respect. Don't litter or leave behind any trash, and be respectful of other hikers' experiences as well.
20. Exploration Hiking
If you like to wander and explore without following a set trail, then exploration hiking is for you. Exploration hiking is all about venturing off the worn-out paths and discovering new terrain. This type of hike can take place in any terrain, from forests to mountains. You can even do it in your own backyard!
The key is to let yourself be open to wherever the day takes you. Bring a navigational device, so you don't get lost, and pack plenty of snacks and water since there won't be any designated stops along the way.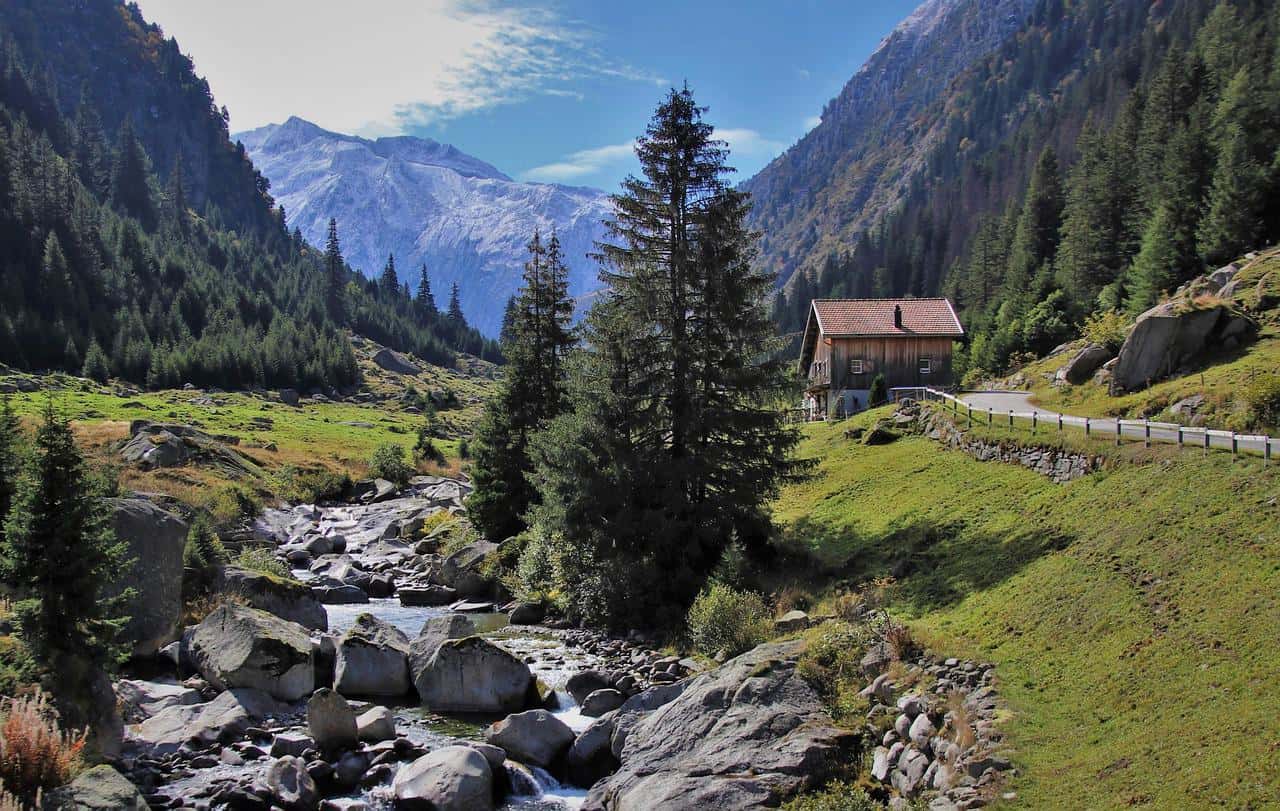 21. Competitive Hiking
Hiking can also be a competitive sport. There are many different types of hiking competitions, ranging from short day hikes to multi-day treks. If you're looking for a challenge, competitive hiking may be right for you.
If you're interested in competing in hiking races, ask yourself the following questions:
What type of competition interests you? There are competitions for all levels of hikers, from beginners to experienced trekkers. Choose an event that's within your skill level so that you can have fun and stay safe.
What is the format of the race? Some races are timed, while others are based on distance travelled or elevation gain. Make sure you know what kind of competition you're signing up for so that you can train appropriately.
What do I need to bring? Most importantly, bring the proper gear for whatever type of race you're doing. For example, if you're doing a long-distance hike, you'll need plenty of food and water as well as other supplies like a map and compass. Check the race website or contact the organizers ahead of time to find out what exactly you'll need to bring.
How do I train? Depending on the length and difficulty of the race, training could take anywhere from a few weeks to several months. Start by gradually increasing your mileage and then add in hill work and speed workouts as your race date gets closer. Listen to your body and give yourself adequate rest so that you don't get injured before the big day!
22. Base Hiking
Anyone can go for a walk in the woods, but true hiking requires a bit more preparation. Base hikes are perfect for beginner to intermediate hikers who want to explore trails without having to worry about carrying all their gear with them. These walks usually follow well-marked paths and don't require any special equipment, although you should always carry water and snacks with you.
It's advisable to plan your base hiking, so that before the sun sets down – you're already back at your base. The base can be a local hotel or inn, or even a camping base with your tent or RV. You can safely leave most of your belongings at the base and enjoy exploring the surrounding area.
23. Section Hiking
If you enjoy spending time in nature but don't want to commit to an overnight hike, then section hiking could be for you. This involves tackling smaller sections of trails over multiple days or even weekends. It's a great way to get some fresh air and exercise without having to dedicate too much time to it. Plus, you can break up the monotony of your everyday routine by exploring new parts of the trail each time you go out.
24. Bushwhacking
If you're looking for a challenge, why not try bushwhacking? Bushwhacking is all about making your own path through the wilderness. It can be tough going, but it's also incredibly exhilarating. There's nothing quite like forging your own way through the undergrowth and coming out into a beautiful clearing.
Of course, bushwhacking isn't for everyone. It takes a certain kind of person to enjoy this type of hiking. If you're up for a challenge and aren't afraid of getting a little bit dirty, then give it a try!
25. Trekking
Trekking is a type of hiking that usually refers to multi-day hikes, often in remote areas. Trekkers typically carry all their gear with them, including food and camping equipment.
Trekking can be an extremely rewarding experience, allowing you to really get away from it all and explore some amazing places. However, it does require a certain amount of fitness and preparation. If you're thinking of embarking on a trekking adventure, do your own research and choose the right route for your abilities.
For a detailed comparison between the challenging trekking and the regular hiking, please see the trekking vs. hiking post.
Final Words
So there you have it, every type of hiking in existence! I am positive that you can find a couple of types that are perfect for you.
I have written several additional posts about hiking, and I strongly recommend that you check them out. First of all, you need to know what to bring for a hiking trip. The linked article lists every essential item that you need to bring, in order to make you trip a pleasant and safe experience.
Additionally, if you plan to combine hiking with camping, please read my 80+ camping tips for beginners. They will certainly enrich your camping and hiking knowledge, since they cover a lot of important topics. As a tasty bonus, also take a look at the complete checklist of food to pack for camping.
And finally, you must always remain vigilant and careful while hiking in an unfamiliar environment. Should an emergency happen, you will need to survive before help arrives. Please read my highly crucial guide on how to survive in the wilderness, even if you don't have any special gear.
Happy trails, my friends!